Six Times Donald Trump's White House Has Refused to Answer Reporters' Questions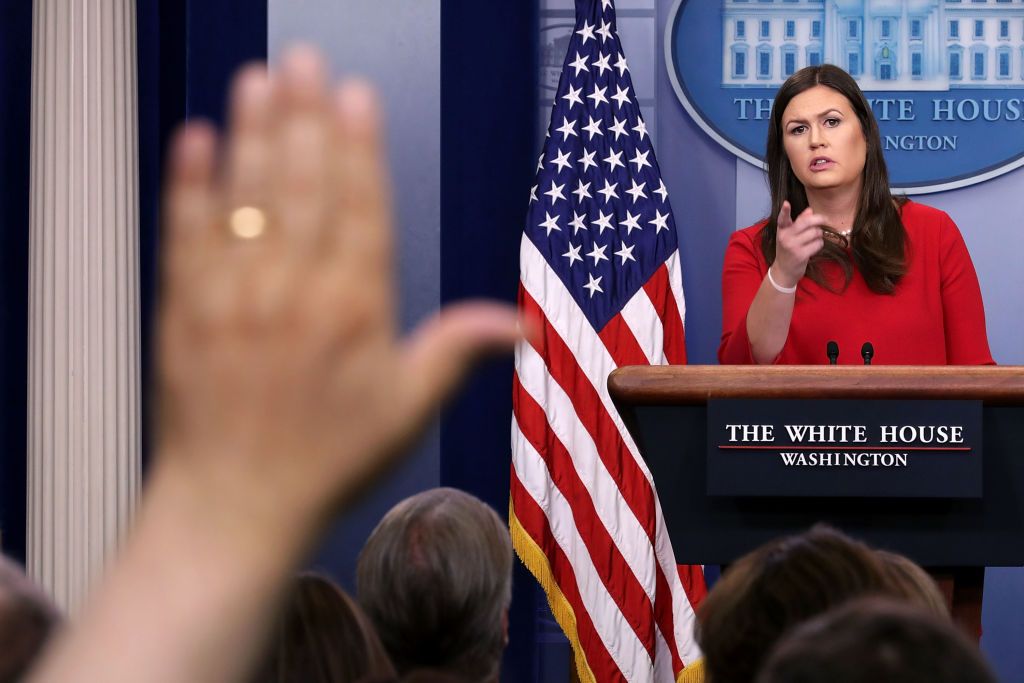 White House officials are quick to use the term "fake news" for any reporting that casts the president or his administration in a negative light—yet they routinely refuse to answer reporters' very real questions.
The Trump administration has more or less blacklisted reputable news outlets like CNN, The New York Times, The Washington Post, Politico, NBC and several others, rousing President Donald Trump's supporters with the now familiar battle cry of "fake news." Standard operating procedure in the Trump White House? Deny requests for comment, refuse to appear on the outlets' cable news shows and favor outlets like Fox News that air overwhelmingly positive coverage of the president.
"When you consistently undermine, erode and invalidate the trust the public has in journalism, you're eliminating a critical piece of a free and functioning society," Angelo Carusone, president of Media Matters for America, tells Newsweek. "The manner of these attacks has consequences for a healthy democratic society."
Here are just a few examples of how the Trump White House responded to legitimate and vital requests for public information or comment.
1. "No matter how much information we give you, you would never write a fair piece."
On October 21, New York Times investigative reporter Eric Lipton published a report on the Environmental Protection Agency's (EPA) move to obscure the health and environmental risks associated with toxic chemicals.
Lipton wrote that the EPA declined the Times's requests for comment and answers to specific fact-based questions. In an email to Lipton, an EPA spokeswoman explained the agency wouldn't respond to Lipton—even inventing an entirely new term for Times coverage: "elitist clickbait."
"No matter how much information we give you, you would never write a fair piece," Liz Bowman told Lipton. "The only thing inappropriate and biased is your continued fixation on writing elitist clickbait trying to attack qualified professionals committed to serving their country."
Lipton said on Twitter that he was "disappointed" because he wanted to air the EPA's side of his story, which was based on documents.
"Sure, every news story is a collection of facts arranged by a writer," he wrote. "But fairness is very important to me."
2. "Anything to the contrary is simply false."
Jason Zengerle, a contributing writer for The New York Times Magazine, published a profile on Secretary of State Rex Tillerson last week after reports said Tillerson once called Trump a "moron."
When Zengerle reached out to the White House with questions relating to Tillerson and his relationship with Trump, an unnamed White House spokesperson declined to answer his questions. Instead, the spokesperson told Zengerle anything critical he wrote about the Trump administration was categorically false.
"The president has assembled the most talented Cabinet in history, and everyone continues to be dedicated towards advancing the president's America First agenda," the spokesperson said. "Anything to the contrary is simply false and comes from unnamed sources who are either out of the loop or unwilling to turn the country around."
Zengerle later retweeted a Twitter user who joked that he should "hunt down sources committed to U.S. decline."
3. It's "highly inappropriate" to question "a four-star Marine general."
Other reporters have been told it's best not to ask any questions at all.
As part of an ongoing battle between the administration and a Florida congresswoman, White House chief of staff John Kelly mischaracterized an event at which the lawmaker allegedly overstated her role. After a video exonerated the congresswoman and undermined Kelly, White House press secretary Sarah Huckabee Sanders advised a reporter not to question Kelly's account.
"Well, he was wrong yesterday in talking about [Representative Frederica Wilson] getting the money," CBS correspondent Chip Reid pointed out to Sanders.
"If you want to go after General Kelly, that's up to you," Sanders told Reid. "I think that if you want to get into a debate with a four-star Marine general...that's highly inappropriate."
After considerable flak, Sanders released a clarification: "Of course everyone can be questioned, but after witnessing General Kelly's heartfelt and somber account, we should all be able to agree that impugning his credibility on how to best honor fallen heroes in not appropriate."
Reporters said the statement wasn't going to cut it.
"It is our job as journalists to ask questions of every public official whether they're in the military or in the government as a civilian," Washington Post White House bureau chief Philip Rucker said later in an interview with MSNBC. "[Kelly] was not speaking yesterday in the capacity as a general. He was speaking as the White House chief of staff...trying to get his boss, the president, out of a public relations crisis."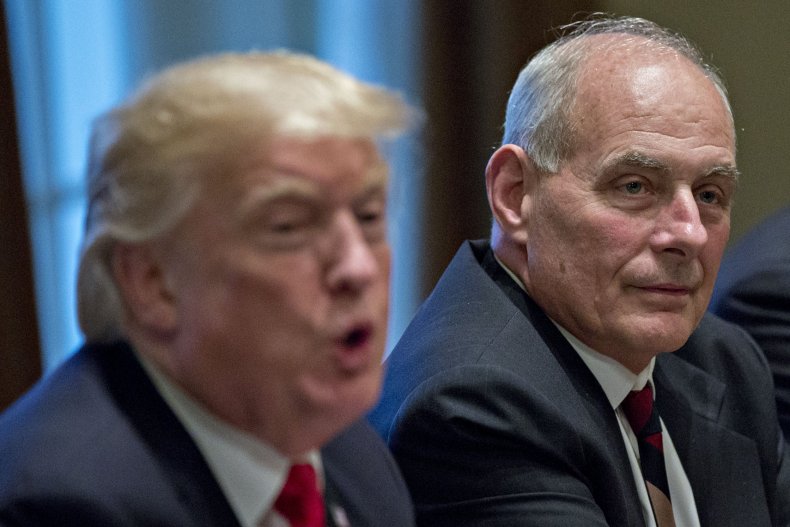 4. "Tell the story back home about what an unprecedentedly and historically successful trip this was."
Following Trump's first foreign trip, in May, an unnamed senior administration official urged reporters to produce only positive coverage of the visit to Saudi Arabia, Israel, Italy, Vatican City and Belgium.
After emphasizing Trump's "extraordinary rapport" with foreign leaders and his ability to unite "the entire Muslim world," the official said:
I'll just implore you all, whether you're talking about our successes on trade and migration in the G-7 or summit in Saudi Arabia, to tell the story back home about what an unprecedentedly and historically successful trip this was by an incredible leader and an amazing man who has done extraordinary things in a very short time for the country he loves and the people of America that he serves so faithfully.
In a Washington Post column, correspondent Philip Bump noted that these kinds of anonymous comments are almost guaranteed to lead to "stories Trump doesn't like." By refusing to answer reporters' questions on the record, Trump administration officials create the perfect opportunity to paint the media as biased and untrustworthy.
How convenient.
5. "Anything to the contrary is yellow journalism."
The Associated Press butted heads with the EPA in September when it reported that the agency hadn't sent any staff to potentially toxic Houston flood sites after Hurricane Harvey.
"Once again, in an attempt to mislead Americans, the Associated Press is cherry-picking facts, as EPA is monitoring Superfund sites around Houston and we have a team of experts on the ground working with our state and local counterparts responding to Hurricane Harvey," the EPA's Bowman said in a statement. "Anything to the contrary is yellow journalism."
She went on to accuse one of the two reporters on the story of writing it from the "comforts of Washington."
Bowman could have responded sooner. The AP report she took issue with stated clearly that the EPA hadn't responded to questions about why personnel hadn't visited the flood sites.
Following Bowman's outcry, the AP released its own statement, standing by its reporting:
AP's exclusive story was the result of on-the-ground reporting at Superfund sites in and around Houston, as well as AP's strong knowledge of these sites and EPA practices. We object to the EPA's attempts to discredit that reporting by suggesting it was completed solely from 'the comforts of Washington' and stand by the work of both journalists who jointly reported and wrote the story.
6. "I wish you guys had asked before you tweeted."
In February, then-White House press secretary Sean Spicer employed a similar tactic, calling an Associated Press report on a leaked memo "100 percent false." Spicer told reporters, "I wish you guys had asked before you tweeted."
But the Associated Press's reporters had asked. The AP said its reporters had reached out to both the White House and the Department of Homeland Security for comment on the story before it was published and received no response.
It was only after Spicer blew the fake-news dog whistle all morning that a Department of Homeland Security official said the leaked memo was legitimate. The official said it had been a "very early draft" on the National Guard's strategy for handling undocumented immigrants.
After the debacle, reporters and political analysts began to catch on to the White House's insidious tactics.
"AP says they requested comment from both WH and DHS on their story, why did they wait to deny after it drops?" NBC reporter Benjy Sarlin wondered on Twitter at the time.
"Because then they can decry the press for reporting 'fake news,'" FiveThirtyEight Editor-in-Chief Nate Silver replied. "White House has used this tactic several times already."
Newsweek has reached out to the White House for comment on these incidents but hasn't heard back.
Carusone says that the Trump administration has worked to systematically knock down institutions of journalism while simultaneously building up "alternative, hyper-ideological media," like The Gateway Pundit or Breitbart. Carusone says it's this trend that will have the most damaging effect on journalism and the American people.
"These things have a cumulative effect that can get lost in the day-to-day," Carusone says. "They're replacing institutions that function as arbiters of truth with sycophants and propaganda. That has damaging, long-lasting effects."