5 Upsets That Wrecked Brackets, Shaped Day 1 of March Madness 2021
It's been two years since basketball fans and bracket-filling enthusiasts got to enjoy March Madness. The global pandemic wrecked any chance of the tournament happening in 2020.
And in 2021, it was the underdogs raking in the headlines, wrecking many brackets along their way.
The first big upset happened Friday in the first round when Oral Roberts, the No. 15 seed in the South Region, took No. 2 seed Ohio State into overtime. Oral Roberts then got its first NCAA tournament win since 1974 when they knocked off the heavily-favored Buckeyes, 75-70.
That set the table for a day of five double-digit seeds getting wins in the first 16 games of the tournament. Throw in No. 9 seed Wisconsin's rout of North Carolina, then six higher seeds won on Friday.
The University of North Texas, which is a 13 seed in the South Region, knocked off No. 4 seed Purdue, 78-69, also in overtime. The Mean Green led most of the game and staved off a furious Purdue comeback in regulation.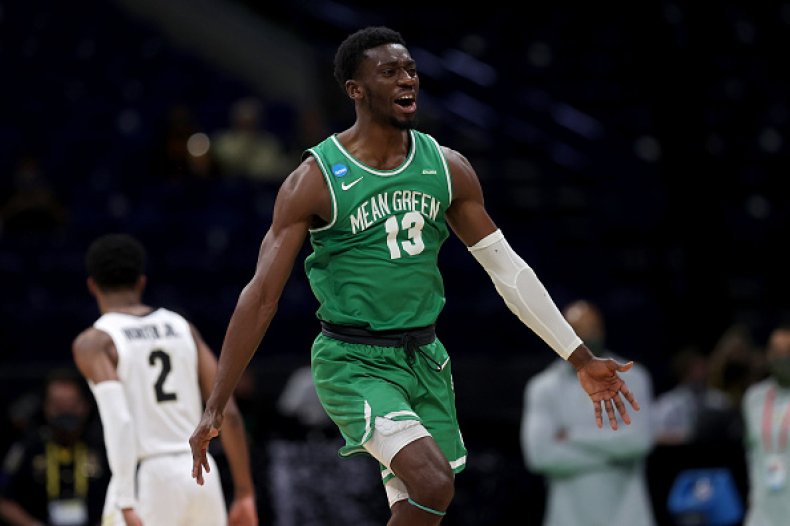 Not to be outdone, Oregon State (No. 12 seed in Midwest Region) whipped No. 5 Tennessee, 70-56. Then, Syracuse (No. 11 in Midwest) throttled No. 6 San Diego State, 78-59, that wasn't as close as the score indicates. Topping things off was Rutgers (No. 10 in Midwest) holding off No. 7 Clemson, 60-56. It was the first tournament win for Rutgers in 38 years.
Virginia Tech, who is the No. 10 seed in the South Region, led by 10 points over No. 7 Florida. The Gators crawled back and took a late lead, and Virginia Tech drained a 3-pointer to send the game into overtime. Florida squeaked out the win to advance and face Oral Roberts.
Other games that stayed interesting were Winthrop (No. 12, South Region) falling to No. 5 Villanova and Morehead State (No. 14, Midwest Region) kept it close but fell to No. 3 West Virginia.
Here are the results from Friday's games:
South Region
(1) Baylor 79, (16) Hartford 55
(9) Wisconsin 85, (8) North Carolina 62
(5) Villanova 73, (12) Winthrop 63
(13) North Texas 78, (4) Purdue 69 OT
(6) Texas Tech 65, (11) Utah State 53
(3) Arkansas 85, (14) Colgate 68
(7) Florida 75, (10) Virginia Tech 70 OT
(15) Oral Roberts 75, (2) Ohio State 72 OT
Midwest Region
(1) Illinois 78, (16) Drexel 49
(8) Loyola Chicago 71, (8) Georgia Tech 60
(12) Oregon State 70, (5) Tennessee 56
(4) Oklahoma State 69, (13) Liberty 60
(11) Syracuse 78, (6) San Diego State 62
(3) West Virginia 84, (14) Morehead State 67
(10) Rutgers 60, (7) Clemson 56
(2) Houston 87, (15) Cleveland State 56
Here are the Saturday's games in the first round (all times Eastern):
West Region
(1) Gonzaga vs (16) Norfolk State (9:20 p.m., TBS)
(8) Oklahoma vs (9) Missouri (7:25 p.m., TNT)
(5) Creighton vs (12) UC-Santa Barbara (3:30 p.m., TruTv)
(4) Virginia vs (13) Ohio (7:15 p.m., TruTV)
(6) USC vs (11) Drake (4:30 p.m., TNT)
(3) Kansas vs (14) Eastern Washington (1:15 p.m., TBS)
(7) Oregon vs (10) VCU (9:57 p.m., TNT)
(2) Iowa vs (15) Grand Canyon (6:25 p.m., TBS)
East Region
(1) Michigan vs (16) Texas Southern (3 p.m., CBS)
(8) LSU vs (9) St. Bonaventure (1:45 p.m., TNT)
(5) Colorado vs (12) Georgetown (12:15 p.m., CBS)
(4) Florida State vs (13) UNC-Greensboro (12:45, TruTV)
(6) BYU vs (11) UCLA (9:40 p.m., CBS)
(3) Texas vs (14) Abilene Christian (9:50 p.m., TruTV)
(7) Connecticut vs (10) Maryland (7:10 p.m., CBS)
(2) Alabama vs (15) Iona (4 p.m., TBS)