Five-Year-Old Attacks Gunmen Who Threaten Mother During Indiana Home Invasion, Police Say
A brave 5-year-old boy used his toys to attack gunmen who burst into his Indiana home and threatened his mother, police say.
Little David Johnson was caught on video launching himself at the raiders, who had their hoods pulled up and were carrying guns.
The family's terrifying ordeal unfolded at around 10.30 a.m on September 30 as Tamika Reid was ironing some clothes at her home in South Bend, while David played nearby.
Another child answered a knock on the door and four men ran inside, three of them holding guns.
In the home surveillance footage, men can be seen striding into the room and looking around before forcing Reid at gunpoint into another room.
However, Johnson can be seen picking up a toy car and hurling it at one of the gunmen, who then goes into another room.
Without giving up, the youngster follows the man and then appears to launch himself at another who is holding a gun, grabbing his arm and trying to drag him away from his mother.
Speaking to news channel WSBT, Reid called her five-year-old son her "hero" and said she heard gunshots before the men ran into her home in 500 Block of South Grant Street.
Referring to the video footage, she said: "What you see was me ironing our clothes, getting our clothes ready to start our day."
Reid was terrified something might happen to her children during the incident and said: "I'm just, my whole thing was my hero right here. He was trying to hit the guys. My thing was I need to get him out of the house before they do something to my son."
And Johnson told the television channel that he was trying to protect his mother.
He said: "I hit him and I tried to throw my car at him."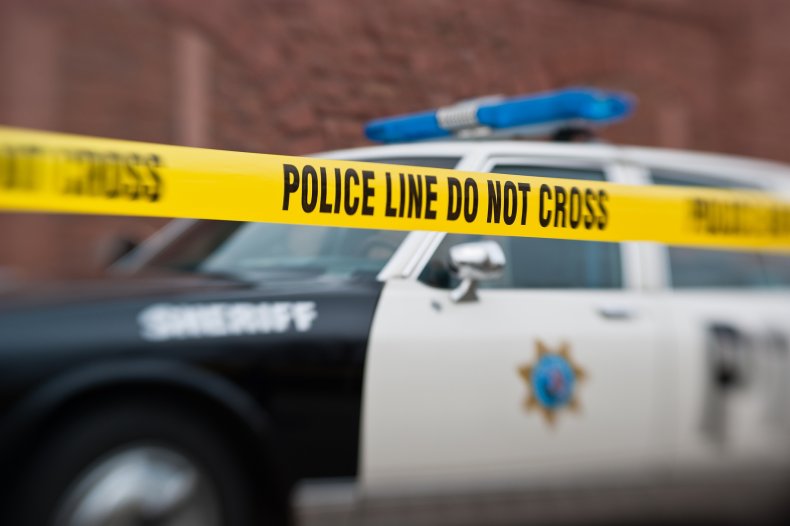 Now police have released the home surveillance footage in the hope of finding the men, who left without taking anything.
On its Facebook page, South Bend Police Department encourages people to share the footage and the post says: "This video is extremely disturbing. You can see a little boy hitting one of the armed suspects as he tries to defend his home. It is our job now to defend him.
"If you have any information on who these men are, please call Michiana Crime Stoppers at 574-288-STOP or 800-342-STOP. You can also call our South Bend Police Department Investigative Bureau at 574-235-9263."
Newsweek has contacted the South Bend Police Department and is awaiting a response.