5-Year-Old Boy Becomes One of the Youngest People Ever to Hike the Appalachian Trail
A five-year-old boy in Virginia just completed the entire Appalachian Trail, an estimated 2,190-mile hike from Georgia to Maine. The boy, Harvey, and his parents started the journey back in January and finished the trail in 209 days.
Harvey, who adopted the trail name "Little Man," is believed to be one of the youngest people to ever hike the full trail. He and his parents, Cassie and Josh Sutton, documented their travels on their Facebook accounts and on their family Youtube channel, Live Sutton.
The channel contains vlogs following their eight-month hike and includes tips for families who are interested in hiking the trail. It shows their time spent averaging 10-miles a day, playing cards and meeting other hikers.
While the journey was nothing short of challenging, the family is grateful for the months spent together sleeping in tents and waking up at 5:30 a.m. to hike. "We're closer than ever before," Cassie Sutton told the Associated Press.
A post from the family's last day hiking shows Harvey with his red backpack and hiking boots as they climbed the 5.3-mile summit of Mount Katahdin in Maine. This was the summit that marked the end of the journey, the tail end of the Appalachian Trail.
"We had made it. The journey of 2,193.1 miles was complete," reads a post on Josh's Facebook page. At last, a shout broke out of Harvey's throat. On August 9th, at 11am, Harvey at 5 years, 4 months and 11 days completed a Northbound thru hike of the entire Appalachian Trail on his own feet. An accomplishment that roughly 25% of hikers that begin, complete. Today's the day another puzzle piece of filling our lives full of extraordinary stories fell into place."
Harvey's parents kept his imagination going throughout the days and said he felt distracted from the pain of hiking miles a day, sometimes all uphill, he told the Associated Press. But hiking is nothing new to Harvey who's been hiking with his parents since he was two.
Harvey was four-years-old when the family started their hike so he was able to celebrate his fifth birthday during the trip. One of the vlogs posted on the family's channel showed Harvey meeting some other hikers who are close to his age as well as his birthday party.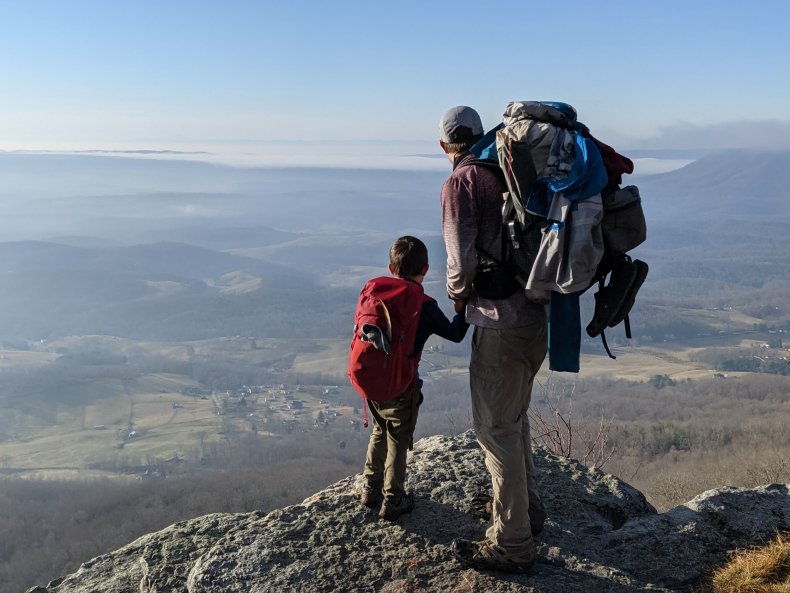 Previously, Christian Thomas aka "Buddy Backpacker," held the record as the youngest person to hike the AT back in 2013. Now, Harvey aka "Little Buddy" can claim the title. However, many claim that four-year-old Juniper Netteburg, who finished the trail in October 2020 is the youngest.
Updated 08/27/2021 at 12:16 p.m. ET: This story has been updated with additional photos from Harvey Sutton's hiking trip.