5-Year-Old Boy Trapped Deep in Moroccan Well for Second Straight Day
Rescue workers are on their second day of digging near a well in Morocco for a 5-year-old boy who became trapped Tuesday.
Meanwhile, the plight of the boy, named Rayan, and the rescue effort has spread across social media, even attracting attention from a football club.
Rayan's father, Khalid Agoram, went searching for his son Tuesday and found he had fallen down the well, according to statements made to a local broadcaster in Morocco. The well is 32 meters (105 feet) deep and the opening is narrow, about 25 centimeters (9.8 inches) in diameter, making it difficult for rescue workers to go in for a simple rescue.
Five bulldozers have been brought in to dig a hole parallel to the well, according to the Associated Press. Workers have been able to reach 19 meters so far, according to local officials report. However, there is concern about possibly triggering a landslide that could, in turn, hurt Rayan and make the rescue attempt more difficult.
Civil Protection Services attached a mobile phone to a rope and lowered it down to monitor Rayan and his surroundings, as well as communicate with him, according to Middle East Eye. It is clear from the surveillance he has injuries to his head; however, he is conscious. Food, water and oxygen are being supplied to him via pipes that are lowered to him.
The BBC reported Thursday that workers have about 9 meters (30 feet) left to dig until they reach Rayan. A large group of onlookers have appeared at the site and, according to Abdel Hadi Temrani, a member of the rescue committee, a helicopter is standing by, prepared to transport Rayan to a hospital upon his rescue. Medical staff is also on site to do a general check, as well.
According to the AP, Mustapha Baytas, a Moroccan government spokesperson, said the government is monitoring the situation and looking for different ways to help the rescue operation.
Thousands of viewers have been watching the rescue of Rayan on social media, according to the BBC, and auxiliary forces, civil protection officers, police and the Royal Gendarmerie have appeared at the scene and are now involved in the rescue as well.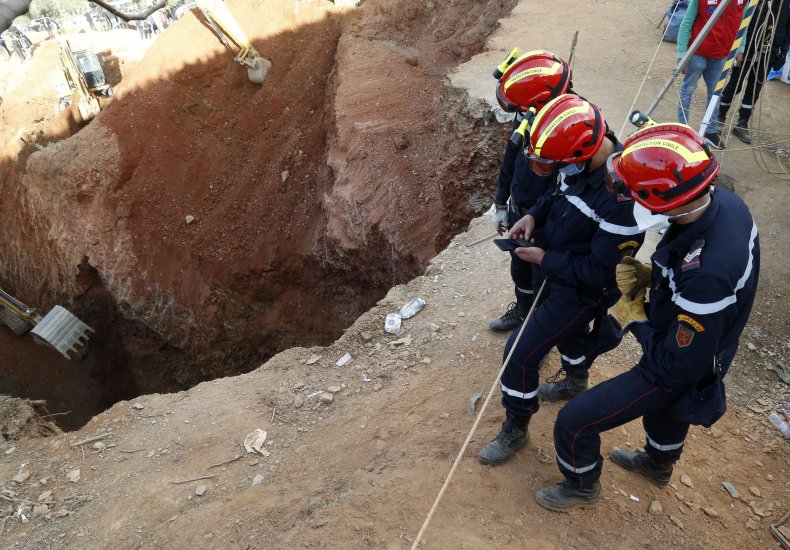 The hashtag #SaveRayan has circulated around social media, along with several images of art from those supporting the effort.
According to the Middle East Eye, Raja Casablanca, a football club, posted an image saying, "God be with you little Rayan." Atimad Salam, a Moroccan journalist, tweeted "Thinking of Rayan and his parents, we follow the continuous and complex rescue operation with our hands on our hearts. May God bring this painful experience to a happy ending tonight."