5-year-old Foo Fighters Fan Rocks Out on Stage After He's Invited Up by Dave Grohl
A 5-year-old boy impressed Foo Fighters fans with his dancing when he was invited on stage by band frontman Dave Grohl.
The boy, identified as Taylor, was asked on stage by Grohl when he ostensibly spotted him in the crowd at the band's show in Belfast on August 19.
Taylor danced to "All My Life" at the show in Northern Ireland. Foo Fighters were performing at the Vital Festival at the Boucher Road Playing Fields.
The band played a sped-up version of the song, and Grohl asked the boy, "Can you show them how to dance?"
Newsweek subscription offers >
Twitter user Stuart Robinson posted the video footage that went viral in the days after the show. In a Twitter post, he wrote: "The amazing moment the @foofighters invite 5 year old Belfast fan Taylor up on stage, his first ever concert, and he absolutely killed it!!!! @BelfastVital #CoolSaturdayShow."
Newsweek subscription offers >
Robinson, who is a radio and television presenter in Northern Ireland, interviewed Taylor before the show and posted the conversation to his Twitter page. The boy held a poster saying that the show was his "first-ever gig."
During the show, when he was called on stage, he made a point to enjoy the concert to the fullest. Sporting a set of yellow ear protectors and a matching hooded sweatshirt, he began punching the air and hopping around to keep pace with the double-time rhythms of the song. At several points, Grohl stood next to Taylor strumming his aqua blue guitar and headbanging as the band's small but energetic fan continued to dance.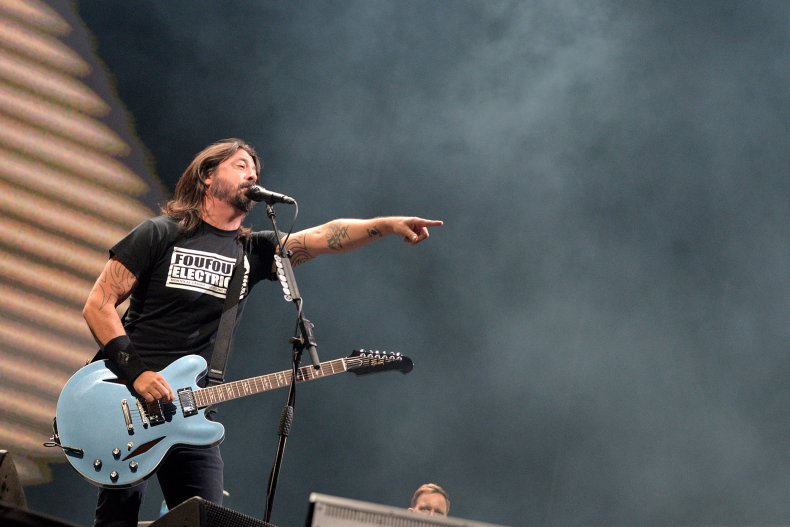 The crowd matched the boy's enthusiasm with resounding cheers.
"Let's hear it for the little man!" Grohl told the crowd as the tune wound down. The frontman, who used to be the drummer for legendary rock band Nirvana, took a bow with Taylor as the crowd applauded.
The band was so taken with Taylor they retweeted footage of Taylor's performance.
A woman named Nikki Hooper, who appears to be Taylor's mom, tweeted video from the stage, of the boy rocking out.
"Insanely proud of our wee rockstar. Life long memories made at Vital Belfast last night," Hooper wrote.
In a conversation with Robinson before the show, she revealed that Taylor was named after Foo Fighters drummer Taylor Hawkins.
The band's summer tour continues on August 21 at the RDS Arena in Dublin, before they perform at the Reading and Leeds Festivals on August 23 and August 25, respectively.
5-year-old Foo Fighters Fan Rocks Out on Stage After He's Invited Up by Dave Grohl | Culture