5-Year-Old Garrett Matthias Writes Own Obituary Before Cancer Death: 'See Ya Later, Suckas'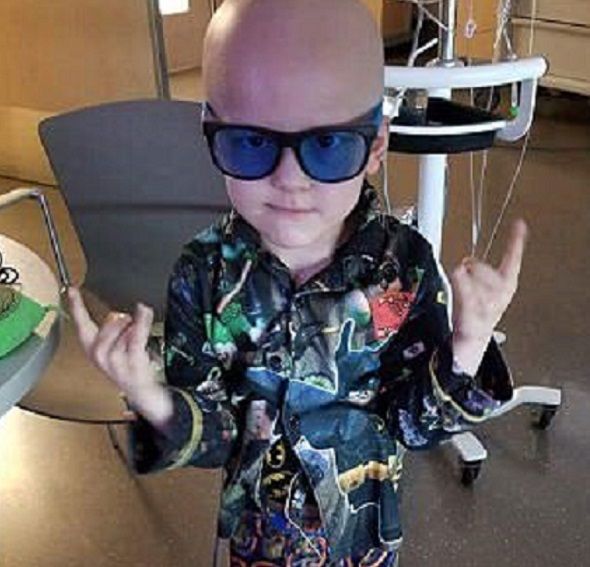 A 5-year-old boy, who was diagnosed with terminal in June, helped his family write his own heartwarming obituary before his death earlier this month.
Garrett Matthias, of Des Moines, Iowa, was diagnosed with alveolar fusion negative rhabdomyosarcoma last September, a rare form of cancer which attacked his temporal bone, cranial nerve and inner ear, reports the Des Moines Register.
After enduring months of treatment, Garrett ultimately died from the cancer on July 6.
In the months before his tragic death, Garrett's parents, Emilie and Ryan Matthias, attended several funerals, prompting the boy to ask about them.
"He would say, 'Why are funerals so sad? I'm going to have bouncy houses at mine," Emilie Matthias told the Des Moines Register.
She added she talked to the boy about death after the pair watched a particular sad movie.
"I'd say things like, 'When I die, I want to turn into a star,'" she said. "He'd say, 'I want to be burned like in Thor, and then I want to become a gorilla.'"
The parents then started taking notes on the boy's unique perspective on death, as well as asking how he would like his funeral to look like.
The result was the "Celebration of Life" in honor of the 5-year-old, due to take place Saturday in Van Meter, Iowa, complete with "5 bouncy houses (because I'm 5), Batman, and snow cones."
As well as the celebratory event, Garrett also helped write his own obituary after his parents wrote down his answers to several questions, including what things he loves the most—"Playing with my sister, my blue bunny, thrash metal, Legos, my daycare friends, Batman and when they put me to sleep before they access my port"—and things he hates—"Pants!, dirty stupid cancer, when they access my port, needles, and the monkey nose that smells like cherry farts."
The unique obituary for Garrett, A.K.A. the Great Garrett Underpants, also includes information on his favorite superheroes (Batman, Thor, Iron Man, the Hulk and Cyborg) what his wants to be when he grows up (professional boxer) and his address (I am a Bulldog!).
"We really tried to use his words, and the way that he talked," Emilie Matthias said. "Garrett was a very unique individual. What I really didn't want was for his obituary to be ordinary and to have a really sad funeral. We've cried oceans of tears for the last nine months."
Continuing the theme of his love of comic books, the obituary says that after the funeral a "symbolic Asgardian burial ceremony" will take place in reference to the fictional realm in the Marvel Comics universe, as well as a fireworks display.
"Garrett endured nine months of hell before he lost his battle with cancer," the family added. "During that time he never lost his sense of humor and loved to tease the doctors and nurses. From whoopy cushions and sneaking clothes pins on their clothes to 'hazing' the interns and new staff doctors, he was forever a prankster. Nothing caught people off guard as his response to 'see ya later alligator':
"See ya later, suckas! - The Great Garrett Underpants."
Elsewhere, the online fundraising page to help the family has since gone on to raise more than $56,000.
"Garrett touched more lives during his short life than many of us can ever dream of reaching," a description of the GoFundMe page read.