Over 50 suspected undocumented immigrants were reportedly seen fleeing a semi-truck after it was pulled over by police in San Antonio, Texas on Thursday.
Police arrived at a truck stop on Interstate 10 after a witness reported something "suspicious" about the 18-wheeler truck. Another witness said that there were 80-100 people inside the truck, most of whom began to flee when the first officer on the scene approached the truck's driver, according to Fox affiliate KABB.
"A passerby called the police after noticing some suspicious activity, maybe some people in the back of the big rig," San Antonio Police Lt. Jesse Salame told reporters gathered at the truck stop. "As soon as the [responding officer] went to contact the driver, the back door opened and several people left from the back portion of the rig."
"We were able to contact 29 individuals," he continued. "One of those individuals was transported to the hospital."
Salame went on to confirm the "guesstimate" of 80-100 total migrants, while adding that "we don't have a solid number on that." All of those on the truck were believed to be adult men and women.
A spokesman for the San Antonio Fire Department said that the one person who was transported to the hospital was taken there as a "precaution" for dehydration. The possibility that those who fled the scene could also be suffering from dehydration was described as a "concern."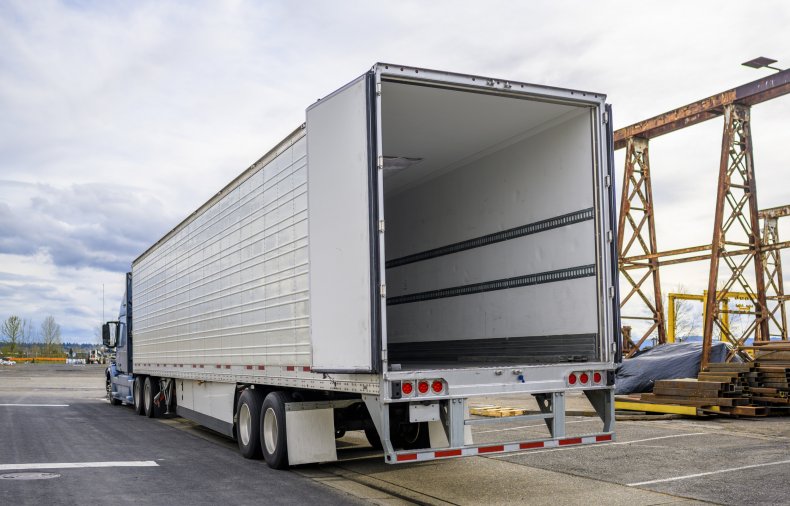 The 49-year-old truck driver was arrested, while the 29 migrants who stayed inside the truck were given food and water before being placed on buses for transportation to Department of Homeland Security (DHS) processing centers. DHS initiated an investigation, which is ongoing.
Newsweek reached out to DHS for comment.
On April 22, San Antonio Police dispatcher received a 911 call from a man speaking Spanish who said that he and 60 to 70 other migrants were struggling to breathe inside the back of an 18-wheeler. After some confusion about the man's location, police in Laredo, located on the U.S.-Mexico border over 150 miles away, discovered the truck and rescued 50 people inside.
In February, an investigation was launched near San Antonio after a man called 911 and told dispatchers that he and 80 others were "dying" while trapped inside a tanker truck. Immigration and Customs Enforcement detained one person in connection to the suspected human smuggling incident but the people inside the truck were not found. In 2017, nine people died and 20 others were hospitalized after authorities in San Antonio discovered them packed into a semi-truck in a Walmart parking lot.