The 50 Best Horror Movies on Netflix, According to Critics
Horror as a genre has been having a moment, with the style embracing an ever-increasing period of creativity.
That fact, combined with the ongoing coronavirus pandemic, has seen many of us turn to movies for entertainment and comfort. And not much else is going to set pulses racing while quarantining so why not scare yourself silly with these critically acclaimed movies that also happen to be easily available via Netflix.
The list below reflects horror films that are ranked by either Metacritic or Rotten Tomatoes that also are currently on Netflix U.S.
The 50 Best Horror Movies on Netflix, According to Critics
I'm Thinking of Ending Things
Metascore rating: 78
The latest film from Charlie Kaufman. Despite second thoughts about their relationship, a young woman (Jessie Buckley) takes a road trip with her new boyfriend (Jesse Plemons) to his family farm. Trapped at the farm during a snowstorm with Jake's mother (Toni Collette) and father (David Thewlis), the young woman begins to question the nature of everything she knew or understood about her boyfriend, herself, and the world.
His House
Metascore rating: 72
After making a harrowing escape from war-torn South Sudan, a young refugee couple struggle to adjust to their new life in a small English town that has an unspeakable evil lurking beneath the surface.
Under the Shadow
Metascore rating: 83
After Shideh's building is hit by a missile during the Iran-Iraq War, a superstitious neighbor suggests that the missile was cursed and might be carrying malevolent Middle-Eastern spirits. She becomes convinced a supernatural force within the building is attempting to possess her daughter Dorsa, and she has no choice but to confront these forces if she is to save her daughter and herself.
Creep 2
Metascore rating: 75
A video artist looking for work drives to a remote house in the forest to meet a man claiming to be a serial killer. But after agreeing to spend the day with him, she soon realizes that she made a deadly mistake.
The Blair Witch Project
Metascore rating: 81
On October 21, 1994, Heather Donahue, Joshua Leonard and Michael Williams hiked into Maryland's Black Hills Forest to shoot a documentary film on a local legend, The Blair Witch. They were never heard from again. One year later, their footage was found. The Blair Witch Project is their legacy.
Caliber
Metascore rating: 76
Two lifelong friends head up to an isolated Scottish Highlands village for a weekend hunting trip. Nothing could prepare them for what follows.
Creep
Metascore rating: 74
When a videographer answers a Craigslist ad for a one-day job in a remote mountain town, he finds his client is not at all what he initially seems.
The Endless
Metascore rating: 80
Two brothers return to the cult they fled from years ago to discover that the group's beliefs may be more sane than they once thought.
The Blackcoat's Daughter
Metascore rating: 68
In the dead of winter, Kat and Rose, two very different girls, find themselves spending winter break at their prestigious prep school. What they don't know is that Kat is being stalked by an evil entity, and their lives are about to change forever. Meanwhile, Joan, a young, troubled woman, makes her way across a frozen landscape towards the school. But why?
Hush
Metascore rating: 67
A deaf woman is stalked by a psychotic killer in her secluded home.
It Comes at Night
Metascore rating: 78
Secure within a desolate home as an unnatural threat terrorizes the world, a man has established a tenuous domestic order with his wife and son, but this will soon be put to test when a desperate young family arrives seeking refuge.
Gerald's Game
Metascore rating: 77
When her husband's sex game goes wrong, Jessie (who is handcuffed to a bed in a remote lake house) faces warped visions, dark secrets and a dire choice.
The Ritual
Metascore rating: 57
A group of college friends reunite for a trip to the forest, but encounter a menacing presence in the woods that's stalking them.
Apostle
Metascore Rating: 62
In 1905, a man travels to a remote island in search of his missing sister, who has been kidnapped by a mysterious religious cult.
Cargo
Metascore Rating: 65
After being infected in the wake of a violent pandemic and with only 48 hours to live, a father struggles to find a new home for his baby daughter.
Ravenous
Rotten Tomatoes score: 88%
In an isolated rural community of Quebec, Canada, some inhabitants attack other people, hungry for human flesh. A few survivors gather and go deep into the forest to escape them.
Cam
Metascore Rating: 71
A young camgirl discovers that she's inexplicably been replaced on her site with an exact replica of herself.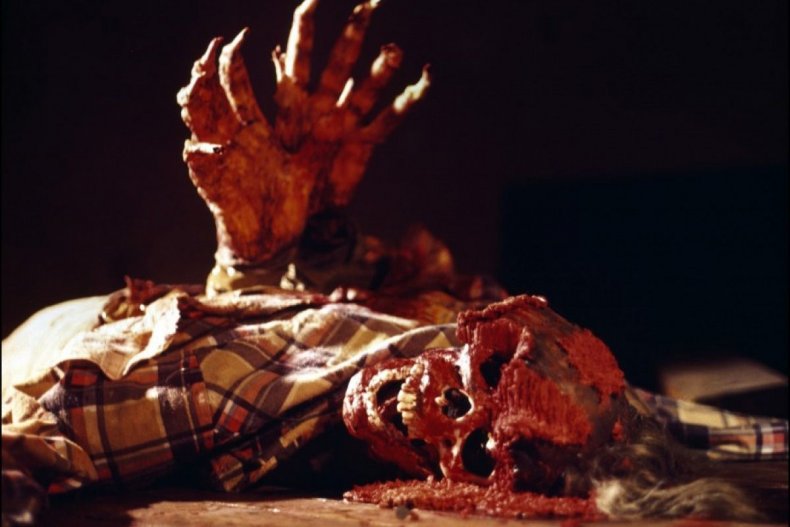 Piercing
Metascore Rating: 63
In this twisted love story, a man seeks out an unsuspecting stranger to help him purge the dark torments of his past. His plan goes awry when he encounters a woman with plans of her own.
Vampires vs. the Bronx
Metascore Rating: 76
Three gutsy kids from a rapidly gentrifying Bronx neighborhood stumble upon a sinister plot to suck all the life from their beloved community.
Sweetheart
Rotten Tomatoes score: 95%
Jenn has washed ashore a small tropical island and it doesn't take her long to realize she's completely alone. She must spend her days not only surviving the elements, but must also fend off the malevolent force that comes out each night.
Veronica
Rotten Tomatoes score: 99%
Madrid, June 1991. After celebrating a session of Ouija with her friends, Verónica is besieged by dangerous supernatural presences that threaten to harm her entire family.
1922
Metascore Rating: 70
A simple yet proud rancher conspires to murder his wife for financial gain, convincing his teenage son to participate.
The Perfection
Metascore Rating: 70
When troubled musical prodigy Charlotte seeks out Elizabeth, the new star pupil of her former school, the encounter sends both musicians down a sinister path with shocking consequences.
Horns
Metascore Rating: 46
In the aftermath of his girlfriend's mysterious death, a young man awakens to strange horns sprouting from his temples.
Before I Wake
Metascore Rating: 68
An orphaned child's dreams—and nightmares—manifest physically as he sleeps.
The Babysitter
Rotten Tomatoes score: 72%
When Cole stays up past his bedtime, he discovers that his hot babysitter is part of a Satanic cult that will stop at nothing to keep him quiet.
Elizabeth Harvest
Metascore Rating: 54
The newly married Elizabeth arrives with her new husband, the scientist Henry, at a magnificent house. He tells her that she can do there anything she pleases, except to enter a certain closed room.
1BR
Metascore Rating: 56
When Sarah lucks into a sweet one-bedroom at Asilo Del Mar Apartments in Los Angeles, she thinks she's hit the jackpot. It's got plenty of space, friendly tenants, group BBQs and even a cute neighbor next door. All is not what it seems: loud noises start keeping her awake at night; her cat is missing; everyone seems to be a little too helpful and friendly, except for the weirdo, Lester. Soon, Sarah learns she didn't choose this apartment—it chose her.
Dark Skies
Metascore Rating: 50
A thriller centered on an alien disguised as a human and a boy tagged for abduction.
Berlin Syndrome
Metascore Rating: 70
A passionate holiday romance leads to an obsessive relationship when an Australian photojournalist wakes one morning in a Berlin apartment and is unable to leave.
Bird Box
Metascore Rating: 51
Five years after an ominous unseen presence drives most of society to suicide, a survivor and her two children make a desperate bid to reach safety.
Girl on the Third Floor
Metascore Rating: 65
Don Koch tries to renovate a rundown mansion with a sordid history for his growing family, only to learn that the house has other plans.
The Guest
Metascore Rating: 76
A soldier introduces himself to the Peterson family, claiming to be a friend of their son who died in action. After the young man is welcomed into their home, a series of accidental deaths seem to be connected to his presence.
He Never Died
Metascore Rating: 72
Jack is a solitary man with a mysterious past. His strange habits will soon become stranger when his past catches up with him.
I Am the Pretty Thing That Lives in the House
Metascore Rating: 68
A young nurse takes care of elderly author who lives in a haunted house.
The Invitation
Metascore Rating: 74
Will and his new girlfriend Kira are invited to a dinner with old friends at the house of Will's ex Eden and her new partner David. Although the evening appears to be relaxed, Will soon gets a creeping suspicion that their charming host David is up to something.
It Comes at Night
Metascore Rating: 78
Secure within a desolate home as an unnatural threat terrorizes the world, a man has established a tenuous domestic order with his wife and son, but this will soon be put to test when a desperate young family arrives seeking refuge.
The Killing of a Sacred Deer
Metascore Rating: 73
Dr. Steven Murphy is a renowned cardiovascular surgeon who presides over a spotless household with his wife and two children. Lurking at the margins of his idyllic suburban existence is Martin, a fatherless teen who insinuates himself into the doctor's life in gradually unsettling ways.
Knock Knock
Metascore Rating: 53
When a devoted husband and father is left home alone for the weekend, two stranded young women unexpectedly knock on his door for help. What starts out as a kind gesture results in a dangerous seduction and a deadly game of cat and mouse.
Pan's Labyrinth
Metascore Rating: 93
Living with her tyrannical stepfather in a new home with her pregnant mother, 10-year-old Ofelia feels alone until she explores a decaying labyrinth guarded by a mysterious faun who claims to know her destiny. If she wishes to return to her real father, Ofelia must complete three terrifying tasks.
The Platform
Metascore Rating: 73
A mysterious place, an indescribable prison, a deep hole. An unknown number of levels. Two inmates living on each level. A descending platform containing food for all of them. An inhuman fight for survival, but also an opportunity for solidarity...
Rust Creek
Metascore Rating: 59
When an overachieving college senior makes a wrong turn, her road trip becomes a life-changing fight for survival in rural Kentucky.
Unfriended
Metascore Rating: 59
While video chatting one night, six high school friends receive a Skype message from a classmate who killed herself exactly one year ago. At first they think it's a prank, but when the girl starts revealing the friends' darkest secrets, they realize they are dealing with something out of this world, something that wants them dead.
Velvet Buzzsaw
Metascore Rating: 61
Big money artists and mega-collectors pay a high price when art collides with commerce. After a series of paintings by an unknown artist are discovered, a supernatural force enacts revenge on those who have allowed their greed to get in the way of art.
We Summon the Darkness
Metascore Rating: 55
Three best friends attending a heavy-metal show cross paths with sadistic killers after they travel to a secluded country home for an after-party.
What Keeps You Alive
Metascore Rating: 66
Majestic mountains, a still lake and venomous betrayals engulf a female married couple attempting to celebrate their one-year anniversary.
The Evil Dead
Metascore Rating: 71
When a group of college students finds a mysterious book and recording in the old wilderness cabin they've rented for the weekend, they unwittingly unleash a demonic force from the surrounding forest.
In the Tall Grass
Metascore Rating: 46
After hearing a child screaming for help from the green depths of a vast field of tall grass, Becky, a pregnant woman, and Cal, her brother, park their car near a mysteriously abandoned church and recklessly enter the field, discovering that they are not alone and because of some reason they are unable of escaping a completely inextricable vegetable labyrinth.
The Boy
Metascore Rating: 46
An American nanny is shocked that her new English family's boy is actually a life-sized doll. After she violates a list of strict rules, disturbing events make her believe that the doll is really alive.
The Forest
Metascore Rating: 34
Set in the Aokigahara Forest, a real-life place in Japan where people go to end their lives. Against this backdrop, a young American woman comes in search of her twin sister, who has mysteriously disappeared.