Volcanoes from Space: 50 Breathtaking Astronaut and Satellite Photos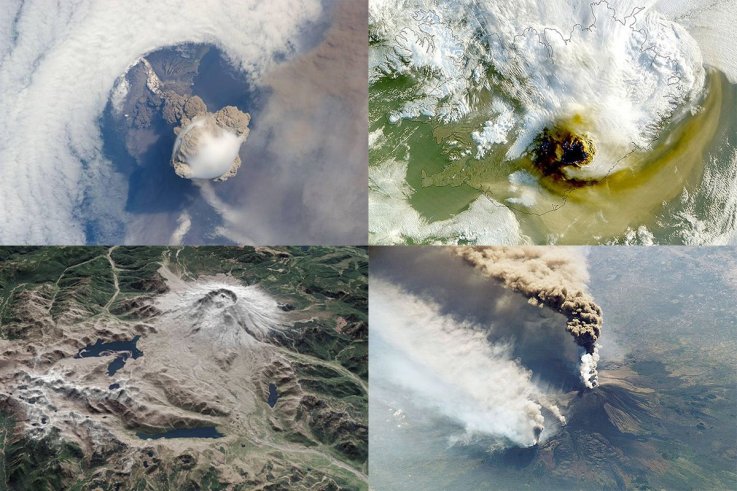 The ongoing eruptions at Hawaii's Kilauea volcano have reawoken the country to the terrifying power of an active volcano.
The eruptions, which began on May 3, have killed nearly 60 people and destroyed around 600 homes, according to University of Hawaii geologist Scott Rowland, as quoted by Reuters. Photos from the scene show burning-hot magma, raining lava and a web of ground fissures.
Ash, lava and toxic gases are still spewing across Hawaii's largest island.
The volcano's eruption is so huge that it can be seen from space. Images from NASA's International Space Station show a plume of smoke rising from the volcano's crater, dispersing smoke for miles.
It is not the first volcano to be captured from space mid-eruption. Alaska's Cleveland Volcano was photographed billowing smoke 20,000 feet above sea level in 2006.
Mount Etna, an active volcano on the Italian island of Sicily, has been spotted from space a number of times as it belches lava and smoke. It is still highly unpredictable: An eruption in March 2017 injured 10 people, including a BBC News television crew, after magma exploded upon contact with snow.
A volcano occurs when a rupture in the crust of the Earth allows hot lava, volcanic ash and gases to escape from below the surface. The lifespan of a volcano can vary from months to several million years. Most scientists consider a volcano active if it has erupted in the last 10,000 years.
Volcanoes are a very real threat to many people's lives—around 500 million people live near active ones. Kilauea is one of the most active in the world, alongside Mount Etna and Mount Yasur.
From Iceland to Chile, we have collected fifty photos of these volcanoes, captured by astronauts. They offer a new perspective on the eruptions, but still reinforce their fearsome natural power.