50 Cent's 'Responsibility to Tell the Whole 'BMF' Story' and How He Got Eminem Involved
Curtis "50 Cent" Jackson continues his successful career transition into a major television creator with his new Starz show, BMF.
BMF tells the true story of the rise of the organized crime group Black Mafia Family, with a focus on the founders Demetrius and Terry Flenory. Originating in southwest Detroit in 1989, by the 2000s the BMF had become one of the most influential crime families in the country with a drug distribution network stretching across the United States, and a hip hop music label which was used for money laundering.
Ahead of BMF's debut on Starz on Sunday, September 26, Newsweek spoke to 50 Cent about the show, in which he acts as executive producer and occasional director.
Keeping BMF in the family
The Black Mafia Family story has been well-publicized in books, documentaries, and across hours of news coverage dedicated to the crimes and eventual arrest of its members.
50 Cent said he felt compelled to tell the BMF story because it was a refreshing change from his previous television shows. He told Newsweek: "Coming off of the success of a fictional story, like Power, this is something I feel like people will watch for more intensity, knowing that it actually happened, that it's a true story."
The Black Mafia Family's connection to the hip hop and music culture adds a new element which Power, Power Book II: Ghost and Power Book III: Raising Kanan lack, something which 50 Cent admits appealed to him.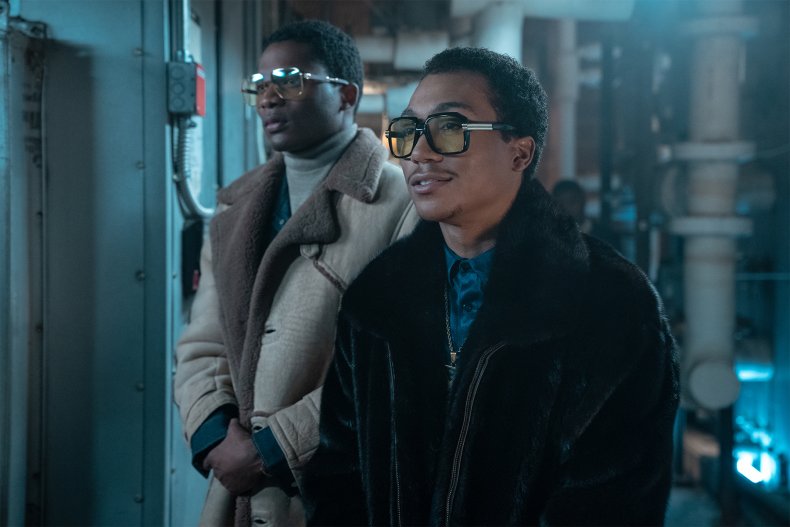 "Even with the success of the business on the street side, Meech [Demetrius Flenory] was able to keep himself associated with successful artists in the culture. I think that passion for music drove him."
The casting of BMF replicates the movie Straight Outta Compton, as the role of Demetrius "Big Meech" Flenory is being played by his real life son Demetrius Flenory Jr.
50 Cent says the difference between the casting of O'Shea Jackson Jr. and Demetrius Jr. is that the BMF star didn't have an acting background. "I don't think that this is ever gonna happen like this again."
Thousands of people read for the part in Atlanta, casting agents searched in California but in the end 50 Cent decided to put "Lil Meech" in acting classes. "Moving him to a different environment [in California] made him have a full on focus for acting. I was getting updates from the acting coaches on him and having Tasha Smith direct him in the first and last episodes of BMF helped him feel comfortable too."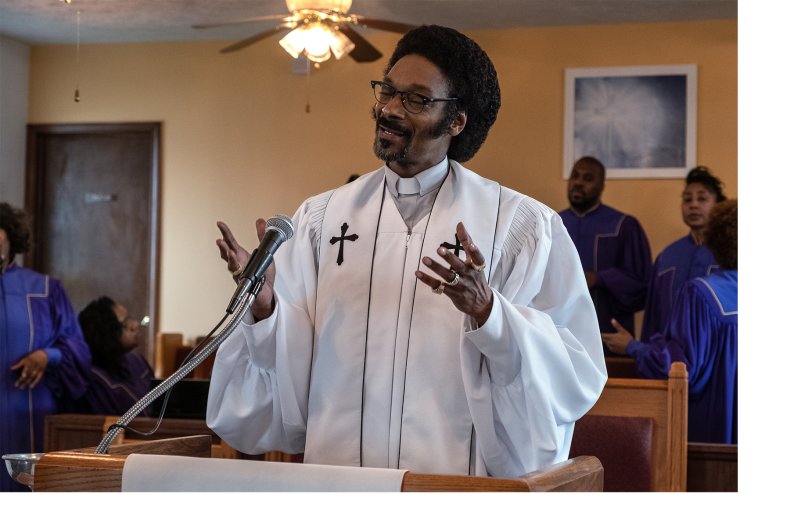 Replacing himself with Snoop Dogg
While 50 Cent had a say in who he wanted to cast in the roles, he also made the choice of who not to cast—namely, himself.
"I actually threw myself out of this one. I was originally cast to play Pastor Swift, the role that Snoop [Dogg] is now playing," 50 Cent revealed. "It's because I knew I had to market this whilst also doing promotional stuff for Raising Kanan which I did a voiceover for, and I didn't want that to be in people's minds when I reappeared in BMF.
"I thought Snoop did a very good job and I got the chance to direct him. He was very prepared, he worked on it. Snoop went in there with the attitude to bring the character to life."
Snoop isn't the only legendary rapper to star in BMF, as 50 Cent also recruited his long time friend, mentor and collaborator Eminem.
Eminem as White Boy Rick in BMF
Eminem hasn't turned in a dramatic performance in film or television since 2002's 8 Mile. In BMF he's playing the role of White Boy Rick, whose story was famously told in the 2018 drama White Boy Rick, starring Matthew McConaughey.
"It was not that difficult to get Em, because we have a great relationship and if he ever finds a point where he could do something to help or support me, or catapult me to the next level, he's the first guy in line to do it," 50 Cent said.
Although there were times in the past where Eminem could have played White Boy Rick previously, 50 Cent said this time, once Eminem found out the project would be in his hometown of Detroit and he was available, he was on board.
When considering the logistics on how they made the performance work across Rick's different ages, 50 Cent said he told Eminem, "'Yo, they have this technology they used in The Irishman where we can bring you back down to your teenage age' and he was like 'yo, let's do it.'"
Proud of their work together, 50 Cent thinks people will love the episode focusing on Eminem and White Boy Rick, and he expects academy recognition. "I think people are going to be blown away by it, it may even end up winning an award. If they don't give me one, I'm gonna buy a trophy for it."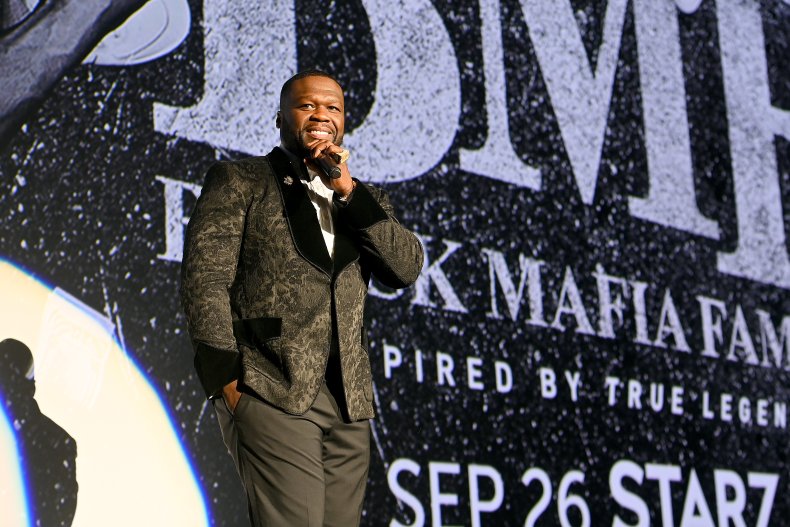 The BMF weren't heroes
Though the Black Mafia Family story is dramatized in BMF, 50 Cent feels the true story is told but in no way glorifies or glamorizes them.
He asserted, "You can't consider them heroes. They sold drugs, they're drug dealers, right?
"But I think at the end of the day, you have a responsibility to tell the whole story because otherwise there would be no pathway to sympathy for them at all. When you tell an origin story, you see the innocence in the choice. You see how the decision was made under the circumstance of poverty, and they're just trying to work their way out," 50 Cent said.
BMF stars Demetrius Flenory Jr. and Da'Vinchi in the lead roles as Big Meech and Sweet T Flenory, respectively, while the supporting cast includes Russell Hornsby, Ajiona Alexus, Steve Harris, Kash Doll, La La Anthony and the aforementioned Snoop Dogg and Eminem.
Episode 1 of BMF, "See It... Touch It... Obtain It" airs on Starz on Sunday, September 26 at 9 p.m., directly after the season finale of Power Book III: Raising Kanan.
From Episode 2 onwards, BMF airs at 8 p.m. on Starz on Sundays.