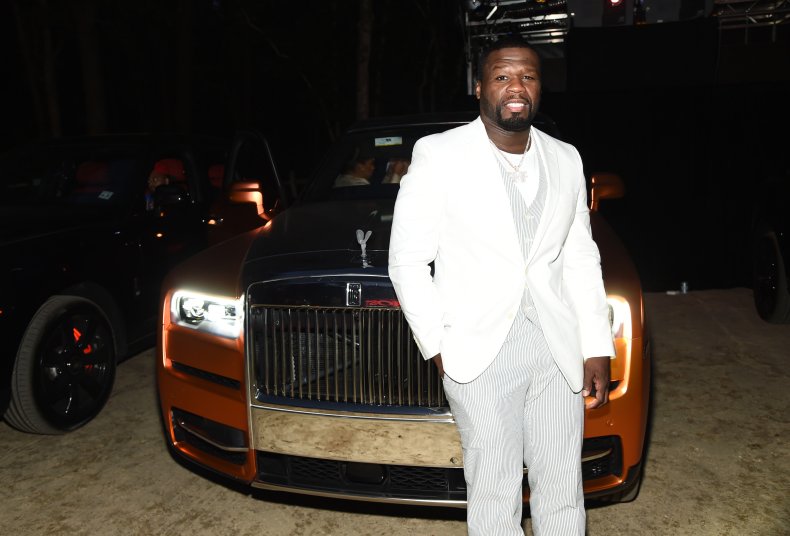 50 Cent apparently endorsed President Donald Trump and vowed to move away from New York City while sharing an analysis finding that Democratic presidential nominee Joe Biden's tax plan could be costly for wealthy New Yorkers.
The rapper and entrepreneur, also known as Curtis Jackson, made the remarks as he shared an image from the CNBC program Power Lunch to social media on Monday. The image included figures from a Tax Foundation analysis of Biden's plan, finding that the top 1 percent of earners living in New York City could face a combined, federal, state and city statutory tax rate of 62 percent.
"WHAT THE F*CK! (VOTE ForTRUMP) IM OUT," tweeted 50 Cent. "F*CK NEW YORK The KNICKS never win anyway. I don't care Trump doesn't like black people 62% are you out of ya f***ing mind."
Jared Walczak of the Tax Foundation told CNBC that the top rate for New York City's wealthiest could reach a combined rate of 62 percent. Top combined rates would not be uniform throughout the country, since state and local taxes vary widely depending on where a person lives.
The top federal income tax rate, for those earning more than $400,000, would go from 37 percent to 39.6 percent under Biden's plan, the highest level under former President Barack Obama. In addition, a new 12.4 percent payroll tax, evenly split between employers and employees would apply for those earning more than $400,000.
However, top earners in New York City are unlikely to pay anywhere near 62 percent if they use an accountant or understand how to file taxes themselves, due to deductions and other means of lowering tax burden. The impact of Biden's plan for top earners also would depend on how much more than $400,000 an individual makes, since the raised top tax bracket and the new payroll tax would only apply to amounts exceeding $400,000.
Biden's plan does not raise income taxes for anyone earning less than $400,000 per year. For most Americans, Biden's plan would either have no effect on the amount of taxes they pay or lower their burden. An analysis from the Tax Policy Center found that those making between $25,000 to $160,000 per year would get a tax cut under Biden's plan, ranging from $750 to $420.
50 Cent's vow to support Trump despite his belief that he "doesn't like black people" is at odds with the president's repeated claim that he has "done more for" Black people than any president except for former President Abraham Lincoln. Black voters have remained largely unimpressed, with multiple polls showing they overwhelmingly favor Biden in the election and disapprove of Trump's job performance.
Newsweek reached out to the Trump and Biden campaigns for comment.