What 50 Cent Said About Lil Wayne's Endorsement Payment From Donald Trump
50 Cent has opened up about Lil Wayne's endorsement of Donald Trump in the run-up to the election, saying his fellow rapper "easily got paid" $1 million.
The New York rapper, real name Curtis Jackson, was himself offered a sum to publicly support Trump—an offer he eventually turned down.
Wayne—who was served a federal weapons charge this week—received backlash for supporting Trump ahead of the election last month.
"[They were] offering me a million dollars to come to Trump's inauguration, right? I passed on it," Jackson said during an appearance on the radio show The Breakfast Club.
"[It was] $500,000, and then it went up to $1 million while I was still confused with whether I should do it."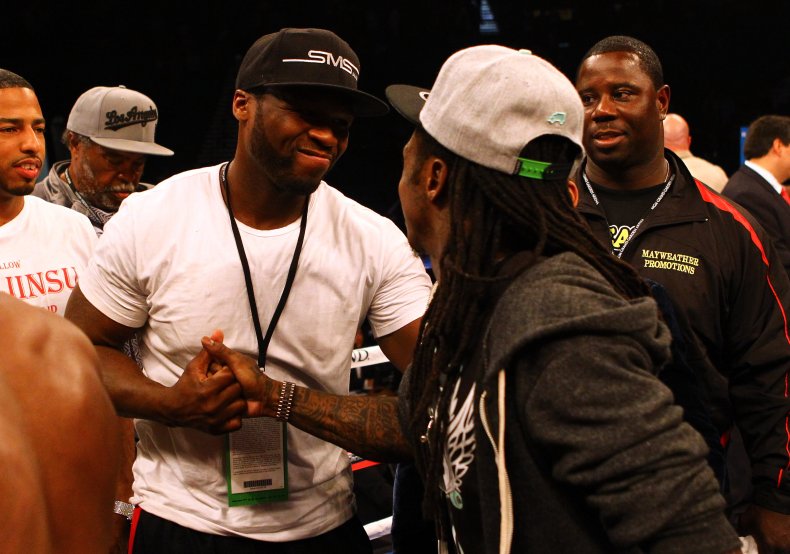 Co-host Charlamagne tha God speculated that Lil Wayne, real name Dwayne Michael Carter, "definitely" received a large sum from the Trump administration for the endorsement.
"Oh yeah, I'm sure. Easily. He got paid," Fiddy replied.
Jackson went on to explain that Trump was campaigning for Black voters by approaching certain hip-hop artists.
"He participated with different artists and shit like that for the Black vote... And I'm going, 'Nah, I ain't gon' put myself in that position,' 'cause I didn't know what I was got to do to recover from it, right? To be honest with you," he said.
Jackson had initially shared his support for Trump after expressing concern about Joe Biden's proposed tax plan for high earners. He then recanted his support after receiving backlash.
Carter however, said he approved of the White House's Platinum Plan for Black Americans after a positive meeting with the president.
The "Lollipop" hitmaker shared a photo of himself alongside Trump with the caption: "Just had a great meeting with @realdonaldtrump @potus besides what he's done so far with criminal reform, the platinum plan is going to give the community real ownership. He listened to what we had to say today and assured he will and can get it done."
The reaction online was swift with Carter being lambasted on social media for choosing to support the Trump administration.
The rapper is currently facing up to 10 years in prison if convicted of federal gun charges.
The charge relates to an incident in December 2019, when feds searched a plane that Carter was a passenger on.
Following the announcement of the charges, Jackson urged Carter to give his friend Trump a call for help.
"[W]ait a minute Trump still got 63 days left, call him wayne. get [sic] that fool on the phone. they [sic] gonna try to put you in jail for supporting trump [sic]," 50 Cent tweeted Tuesday afternoon.