50 Cent has mocked Floyd Mayweather's appearance following the boxer's appearance at a media event to promote his fight against YouTuber Logan Paul.
The rapper posted an image of the champion fighter to Twitter and mocked his beard to his 12 million followers.
"WTF going on, on champ head I heard he had his pubic hairs put on his face. Lol #bransoncognac #lecheminduroi," he tweeted.
The New York rapper—whose real name is Curtis Jackson—has a long-standing beef with Mayweather after they apparently fell out over a business disagreement.
In 2012, there were rumors that 50 Cent had signed on to promote Mayweather after he got a license to promote fights through his company TMT Promotions.
50 Cent's Twitter jibe today is not the first time the 44-year-old has publicly thrown shade at the athlete. He challenged him numerous times to "read one full page of a Harry Potter book" in return for a $750,000 charity donation.
"We don't wanna put pressure on you," he told the boxer in a video he made. "We know you can't pronounce those words in a Harry Potter book so we're gonna let you read Cat In The Hat."
The "In Da Club" hitmaker recently suggested putting an end to the feud with a fight.
Speaking on V-103's The Morning Culture, he said: "I'd fight Floyd," he said.
However, he then added: "I don't think I could make weight though. ... Or he'd just have to let me not get down to 150. I tried. I looked like a homeless person. I could make it down to probably, like 180."
Mayweather is making headlines at the moment ahead of his highly anticipated fight on June 6 with Logan Paul.
Chaos broke out yesterday (May 6) at a media event for the spectacle fight when the social media star's younger brother, Jake Paul, star ripped Mayweather's hat off with a massive scuffle ensuing.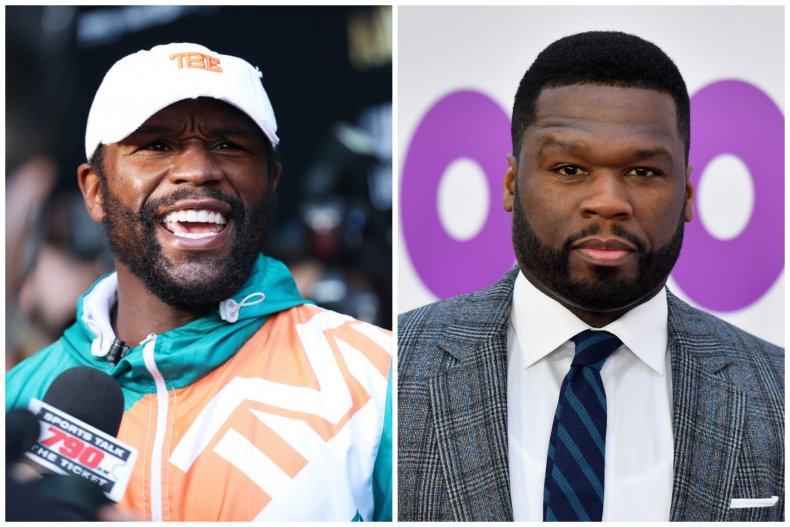 "Don't be calling out on me, let's make it happen," Paul said to Mayweather at the Hard Rock Stadium in Miami Gardens.
Mayweather replied: "I'm a homeboy."
Jake Paul then reached out with his left hand, snatched the cap off Mayweather's head, and said, "Got your hat" as he took off walking away from Mayweather, sparking the brawl from both sides.
Since retiring Mayweather took part in a highly publicized exhibition boxing match with UFC fighter Conor McGregor in 2017, where he won in the 10th round.
He also knocked out Japanese kickboxing star Tenshin Nasukawa in 2018 in another exhibition event, winning by TKO in the first round.
Logan Paul's only fight was with fellow YouTuber KSI in 2019, which he lost, while Jake Paul's most recent fight saw him knock out Ben Askren.