Counting Down the 50 Craziest Moments of the Election Cycle: Nos. 40–31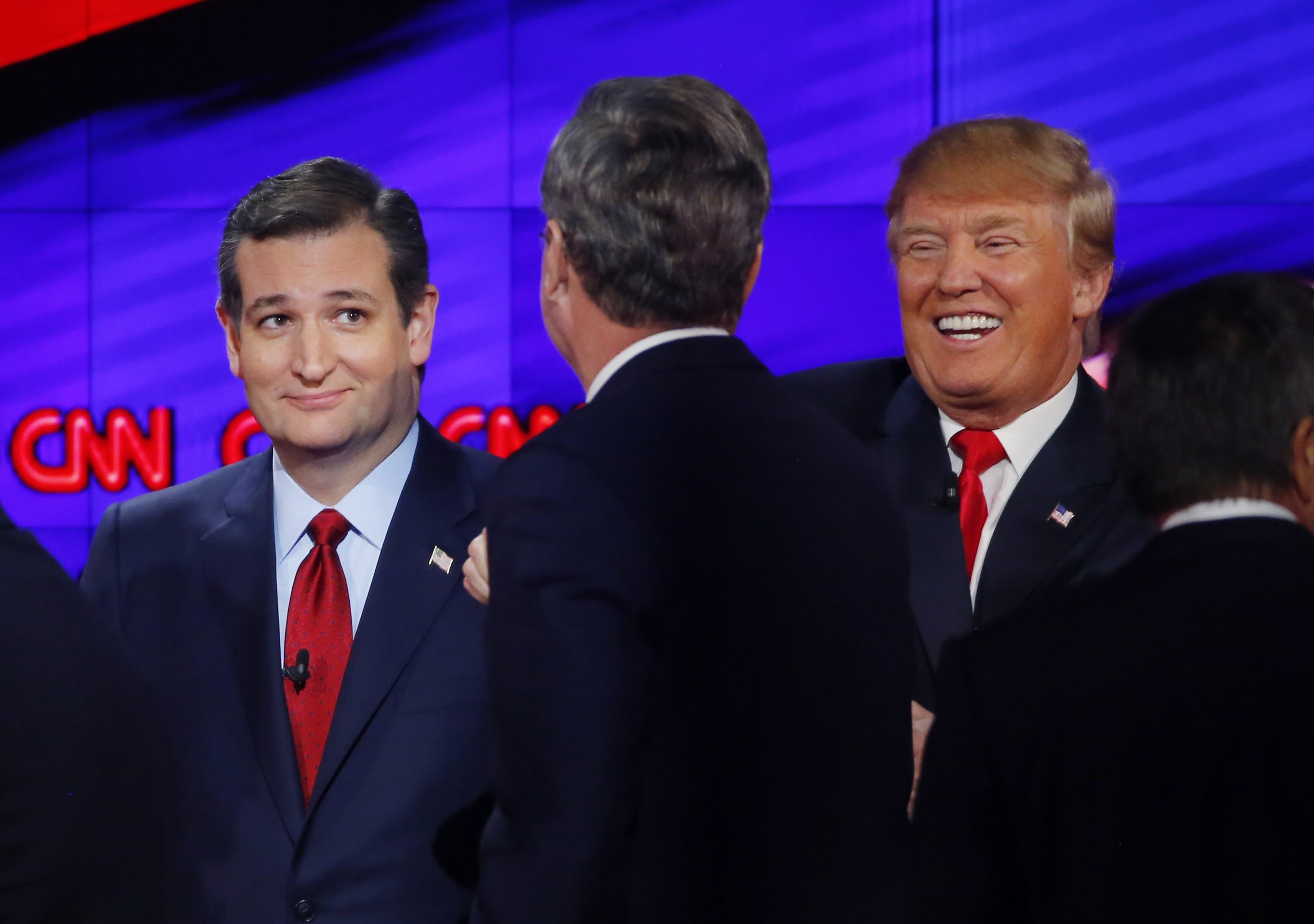 Mass debaters, haters and demonstrators. The first dozen months of the 2016 presidential election have endured all that and more, and we still have over five months remaining until we cast our ballots. We're counting down the 50 craziest moments of the election thus far. Check out Nos. 50-41, and see what made the cut for Nos. 40-31 below:
40. 'Is Joe Flacco a ELITE Quaterback?'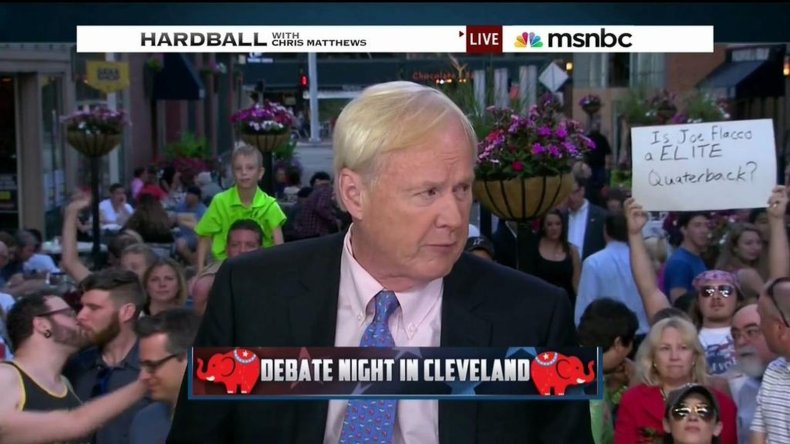 Before the first Republican debate in Cleveland last August, hosted by Fox News, MSNBC erected an ESPN College GameDay–style outdoor set. In the crowd, a then-relatively-obscure sports blogger for the site SB Nation, PFT Commenter, hoisted a sign that would become the sports and politics meme of the fall. Check out the couple smooching in the background to the left of the stage.
39. Feign Your Enthusiasm
This note-perfect mash-up of New Jersey Governor Chris Christie's endorsement of Donald Trump with the theme of Curb Your Enthusiasm said it as articulately as any verbiage possibly could have.
38. You Down With CPT? Yeah, You Know Me
Appearing in a skit with New York City Mayor Bill de Blasio in April, leading Democratic candidate Hillary Clinton made a tone-deaf CP Time joke. The former first lady explained to a Hamilton cast member, who is black, that CP stands for "cautious politician" (as opposed to "colored people") time. Two weeks later, at the White House Correspondents Dinner, President Barack Obama apologized for being late, blaming his tardiness on "CPT"—and then explained that the acronym stands for "jokes white people should not make."
37. The Walking Jeb (Part I)
Reticent Republican candidate Jeb Bush, the Stannis Baratheon of this election, dared to engage in a war of words against Trump at the South Carolina primary in March. Upset at Trump for taking swipes at his immediate family members, three of whom are former occupants of the White House, Bush said, "My mother is the strongest woman I know." Countered Trump, "She should be running."
36: Newphemism*: 'Bigly'
Adverb, of or relating to how "yuuuge" something can be done. Trump coined this term first at the February Republican debate in Houston and resuscitated it earlier this month after winning the Indiana primary.
*A newphemism is a newly coined term that serves as a euphemism and is itself, thusly, a newphemism.
35. Everybody Hates Ted (Part I of a Recurring Tragedy)
Former Republican Speaker of the House John Boehner, who retired last autumn, appeared at a forum at Stanford University earlier this spring. Boehner was asked about Ted Cruz. "Lucifer in the flesh," the former speaker said. "I have Democrat friends and Republican friends. I get along with almost everyone, but I have never worked with a more miserable son of a bitch in my life."
34. Down Goes Rubio!
At the Republican debate in New Hampshire last February, Christie delivered the most devastating knockout since the Holly Holm–Ronda Rousey UFC bout in November. The New Jersey governor chided Marco Rubio for parroting the same memorized talking point about President Obama four times within five minutes. The Florida senator, once thought to be the most formidable challenger to Trump for the GOP nomination, finished fifth in the "Live Free or Die" state's primary (but ahead of Christie, who finished sixth).
Six weeks later, after finishing a distant second (45 percent to 27 percent) in his own state's primary, the 45-year-old Rubio dropped out of the race. Let us pay tribute to his presidential run with this tune, sung to the melody of Phil Collins's "Sussudio":
There's a pol who can't find his base,
And now he has to leave the race,
Marco Rubio, oh oh,
He may as well have sealed his fate.
When he let Chris Christie clean his plate,
Marco Rubio, oh oh,
Oh, if there's an election he'll be there,
He'll come running from anywhere,
It's all he needs, he won't be swayed,
From saying he's the son of a bartender and a maid,
Marco Rubio, just say the words,
Oh, Marco Rubio.
33. Torah! Torah! Torah!
In what otherwise might appear to be an hilarious outtake from Annie Hall, Republican candidate John Kasich meets ultra-Orthodox Talmudic scholars in a Brooklyn bookstore and attempts to educate them on the finer aspects of the Old Testament.
32. Deez Nuts vs. Those Nuts
In a poll taken in North Carolina after the first Republican debate last August, a candidate known only as "Deez Nuts" polled higher than every candidate except Trump and Clinton. Deez Nuts, who in reality is a teenage Iowa farm boy named Brady Olson, told news outlets that he would choose Limberbutt McCubbins, a cat from Kentucky who earlier had announced its presidential aspirations online, as his running mate.
31. Paging Dr. Carson! Dr. Ben Carson, Please Report to the Stage, Stat!
At the Republican debate in New Hampshire, the ever-inscrutable Ben Carson failed to hear his cue to walk onstage and waited in the wings as Ted Cruz, Rubio and Bush, all of whose names were called after his, passed him by. Trump, who was also summoned after Carson, waited with him offstage. Look closely at the 0:32 mark of the clip, and you will spot someone (Trump, perhaps?) attempting to wave Carson onto the stage.