50 Dishes, 50 States: A Look at Each State's 'Official' Food
There are some foods that we might automatically associate with a place, such as potatoes in Idaho or Mississippi mud pie in... well, Mississippi! Though some selections are not quite as obvious. Did you know that New Jersey is the "birthplace" of the blueberry? Neither did we.
This list will take you on a virtual food tour of all 50 states to explore which food the state has claimed as their own. From Alaska to Maine and everywhere in between here are the 50 fruits, veggies and sweet treats of the United States.
1. Alabama: Pecan
In 1982, the pecan became the official nut of Alabama. They are grown all over the United States but mostly in the south. They are used in many southern dishes like pralines or of course, pecan pie.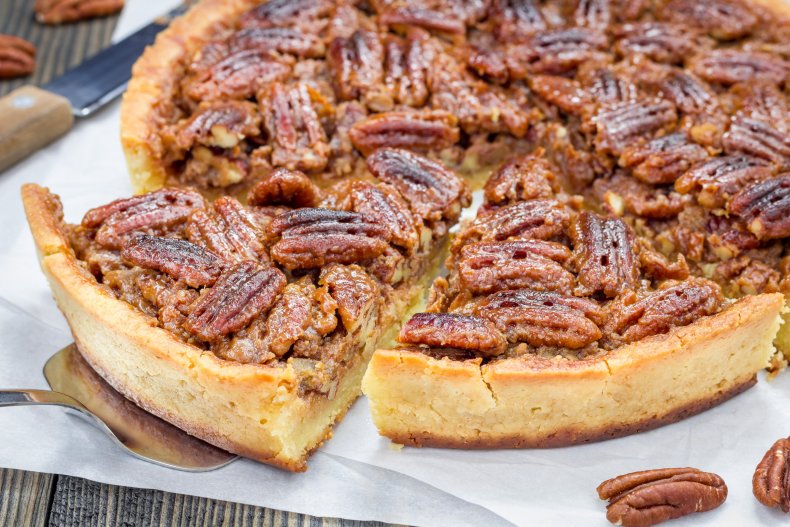 2. Alaska: Reindeer sausage
Alaska has yet to designate an official food, although there are popular dishes that are pretty special to the state. One of those being reindeer sausage which is made of...you guessed it...reindeer which are common around Alaska.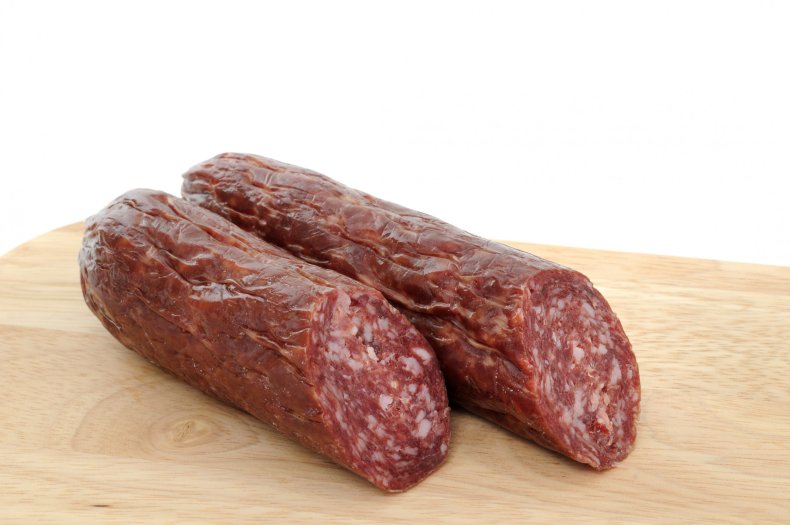 3. Arizona: Chimichanga
Though Arizona does not have an "official food" to date, many would argue that that title should be given to the Chimichanga. At least two longtime restaurants in the state claim to have invented the deep-fried dish: El Charro Cafe in Tucson and Macayo's, which has locations around the state.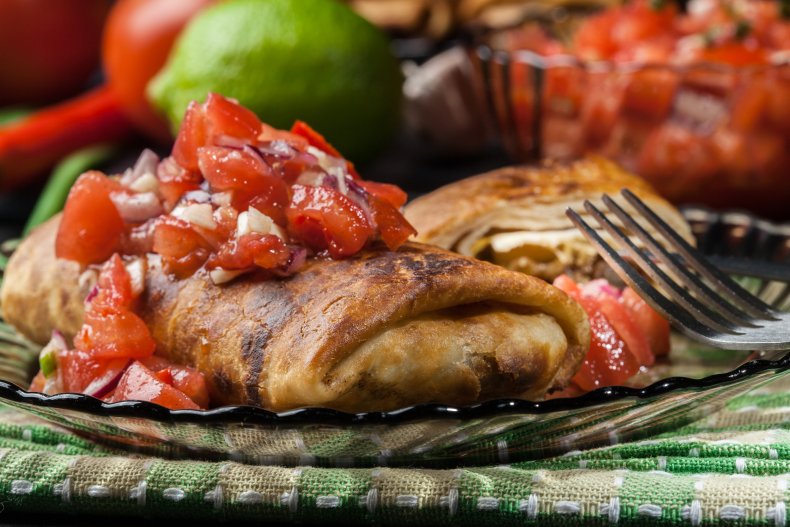 4. Arkansas: Cynthiana grape
Some states make their selections for foods very specific, in the case of Arkansas there is a state grape—not fruit, but grape. The Cynthiana grape was named the official grape of Arkansas in 2009. The state is actually home to many vineyards and wineries.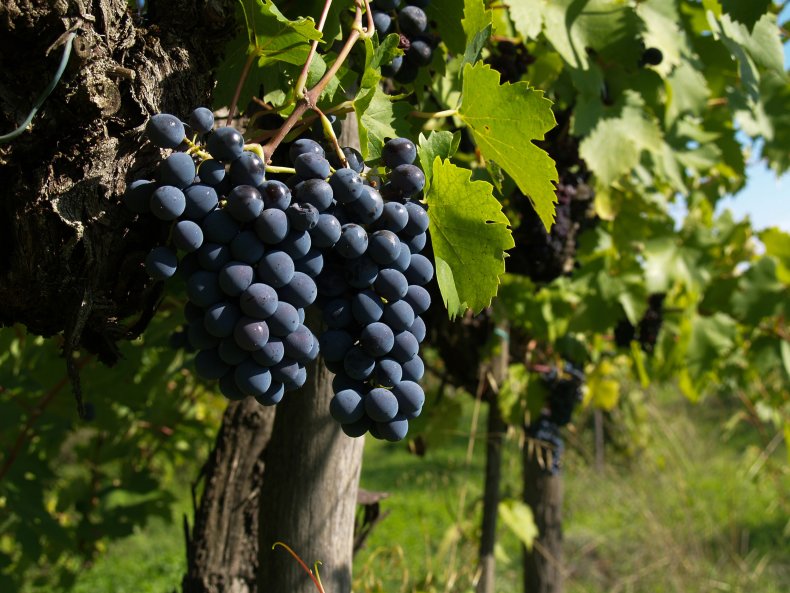 5. California: Avocados
Avocados have made quite the name for themselves as a trendy snack. But, in California they are not just a trend they are the state's official fruit. Yes, it might be strange to think of avocados as fruits, but they are. Then Lt. Governor Gavin Newsom made the title official himself.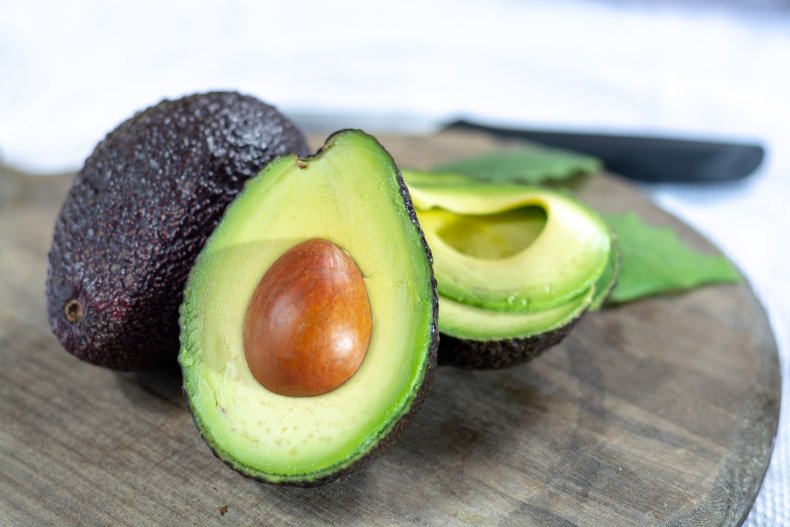 6. Colorado: Melon
Colorado does not have an official state food, but like other states, it has created a name for itself based on its production of certain produce. The town of Rocky Ford is the self-proclaimed "melon capital of the world" growing both cantaloupe and watermelon.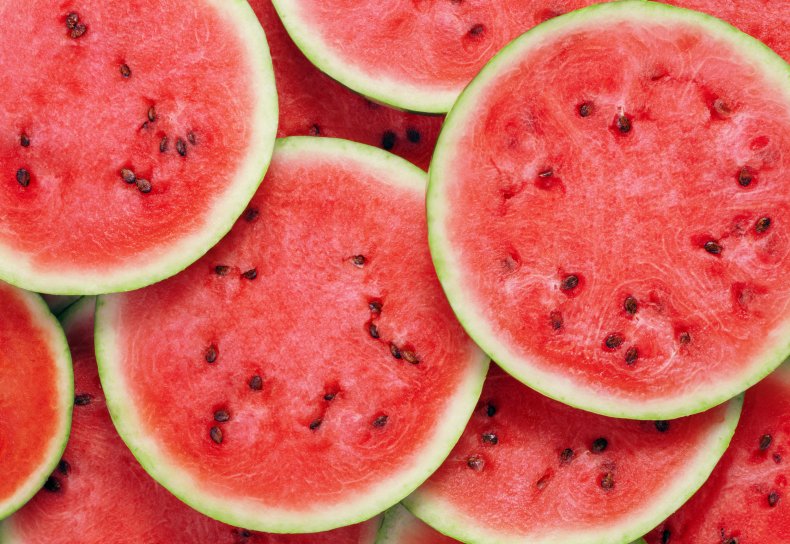 7. Connecticut: Connecticut Lobster Roll
Though this New England state does not have an official food designation, there are a few dishes that are special to the state. One is the Connecticut Lobster Roll, which was invented 80 years ago. Rather than served cold in mayo sauce like a Maine Lobster Roll, the Connecticut version is served hot in a butter sauce.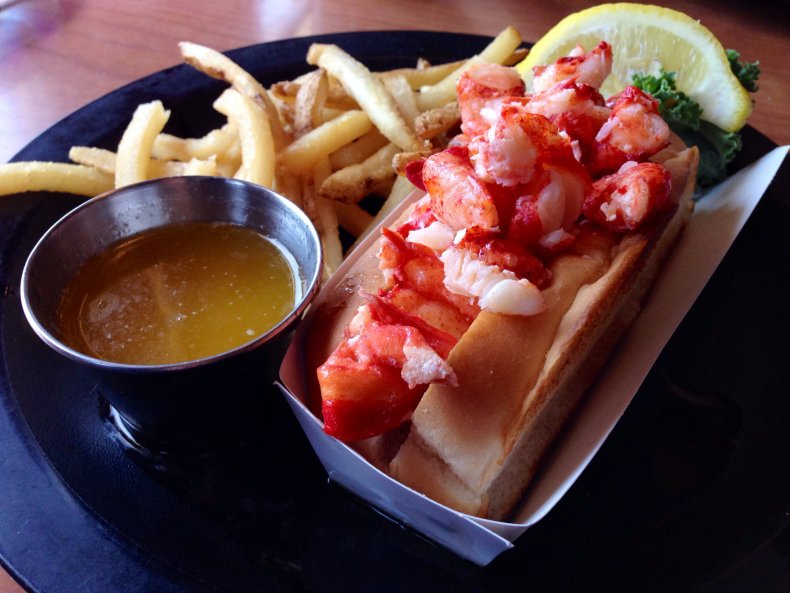 8. New Jersey: Blueberries
The New Jersey town of Whitesbog is said to be the "birthplace of the blueberry"—who knew? The fruit was first cultivated in Whitesbog in 1910, and each year the town celebrates with a blueberry festival. Though, it was not until 2004 that blueberries became the state's official fruit.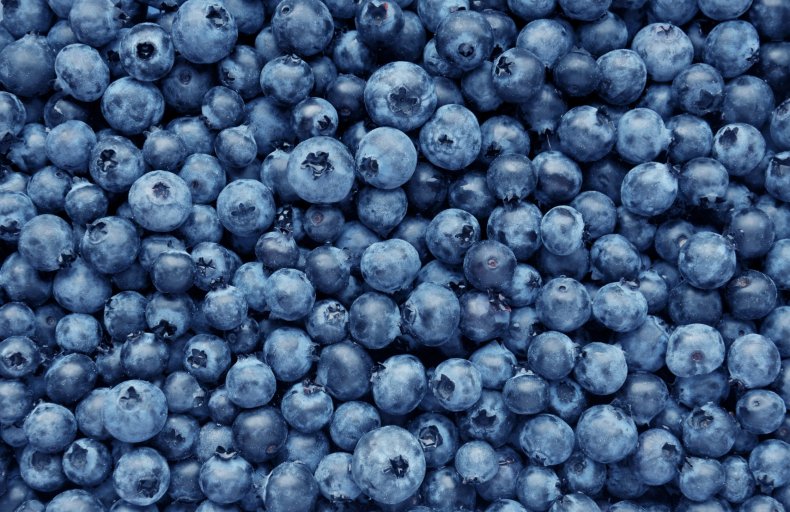 9. New York: Apple Muffins
We all know New York City is the big apple, but apple is also the official fruit of New York state. Not only is it the official fruit, but the state took it one step further with its official muffin—you guessed it—apple!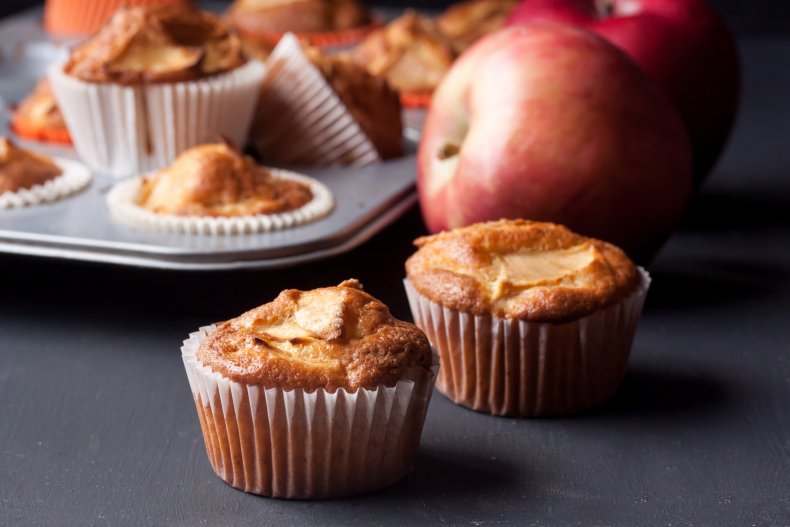 10. Delaware: Peach Pie
Peaches have been an agricultural staple in Delaware since the colonial times. At one point in the 19th century, Delaware was actually the leading producer of the fuzzy fruit. All of that is to say, in 2009, peach pie was named the official state dessert.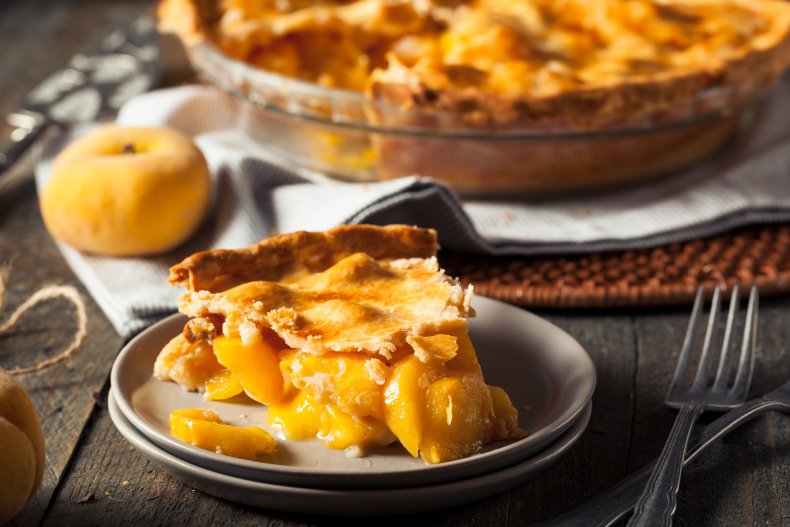 11. Florida: Oranges
It's very little surprise that Florida's state beverage is orange juice. Oranges are pretty synonymous with sunny Florida. In fact, Florida is the second-largest producer of orange juice in the world, second to Brazil.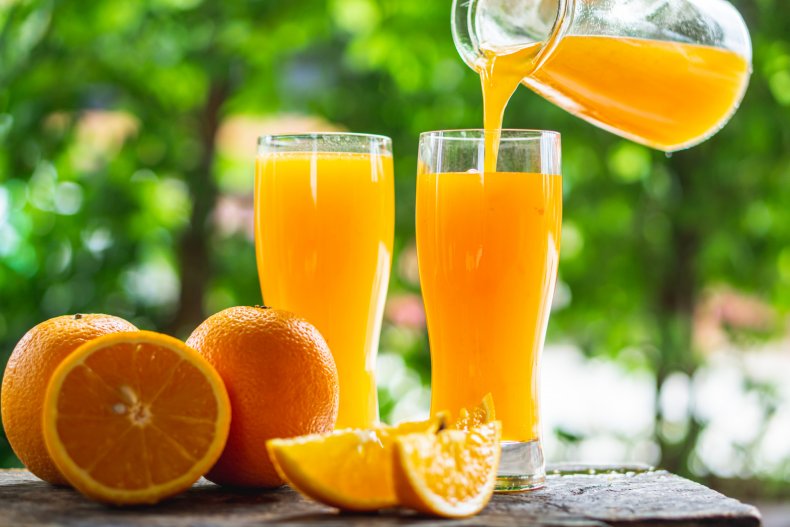 12. Georgia: Grits
Grits is a classic Southern staple that was made the official prepared food of Georgia in 2002. Corn is a prominent crop throughout the state, which is the main ingredient in grits. The dish was first produced by Native Americans centuries ago.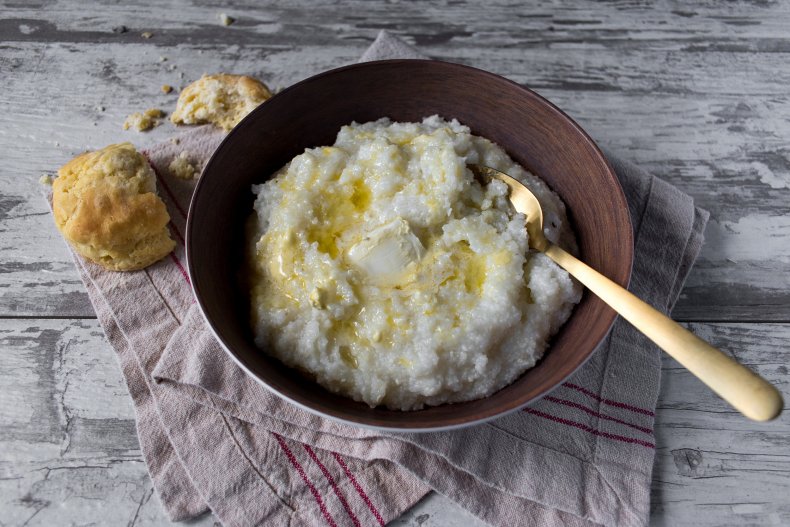 13. Hawaii: Kukui Nut
While Hawaii does not have does not have a state food, it does have a state tree: a kukui nut tree. This tree, as the name suggests, produces the kukui nut, which goes by many names and is used in Indonesian and Malaysian cuisine.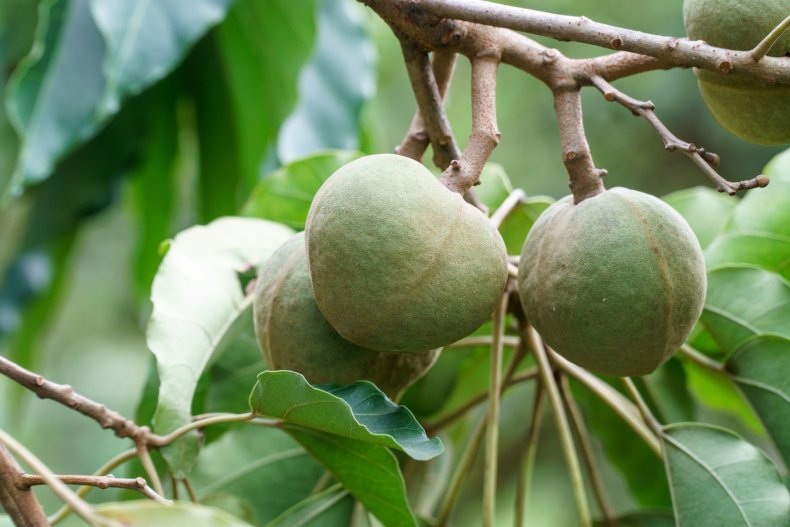 14. Idaho: Potato
Idaho produces about 13 billion pounds of potatoes each year so it sounds about right that its state vegetable would be a potato. Idaho likes potatoes so much that it is home to the world's only potato hotel. Yes, it's a giant steel potato that has been converted into a hotel.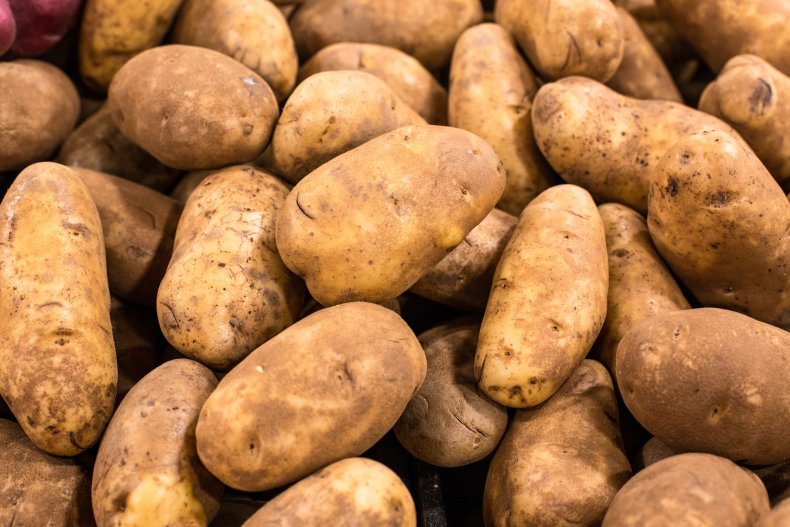 15. Illinois: Popcorn
If you've ever taken a trip through Illinois, you'd know that much of it is covered in sprawling fields of corn. It is one of the leading producers of the crop in the country. As delicious as an ear of corn is on its own, the official snack of Illinois is popcorn.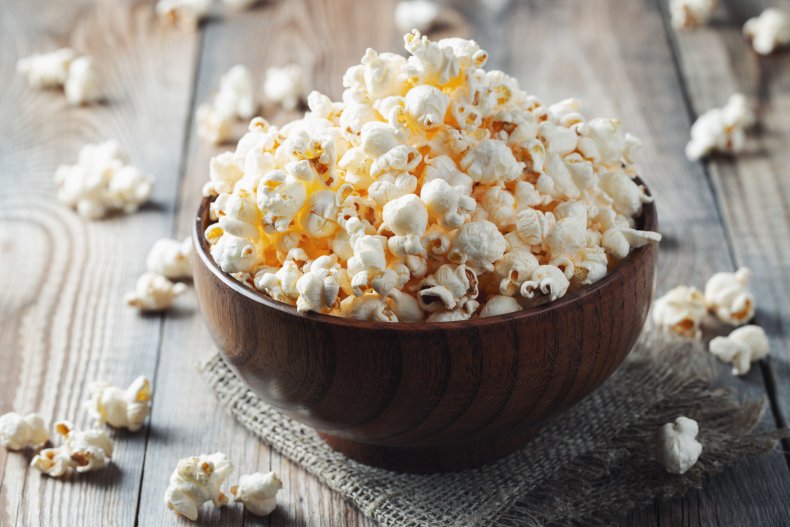 16. Indiana: Sugar Cream Pie (Hoosier Pie)
The sugar cream pie, also known as a Hoosier pie, is known as the unofficial state pie of Indiana. The state is nicknamed the Hoosier state, though the root of that nickname is up for debate. The pie is made with vanilla, cinnamon and butter—yum!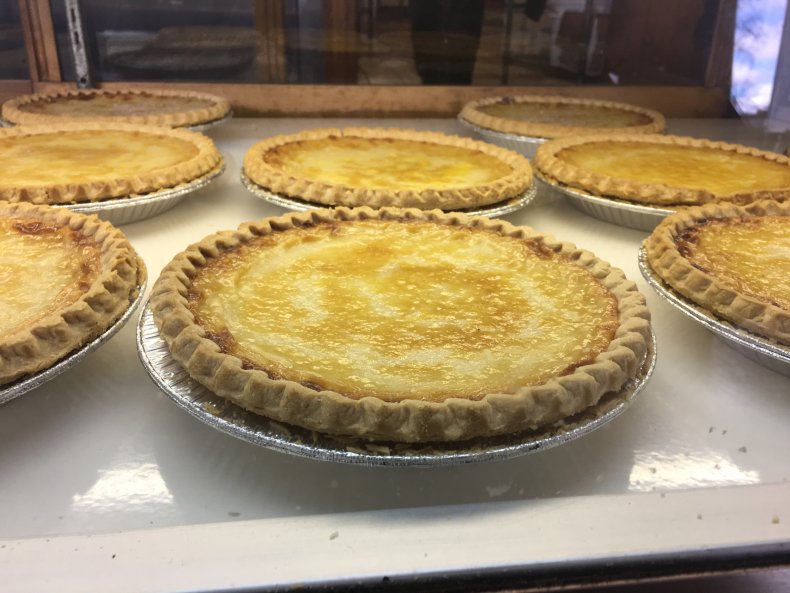 17. Iowa: Pork
Iowa does not have an official food, but its status as a pork producer means that pretty much any dish made with pork is going to be high quality. At any given time, about 22 million hogs are being raised in the state. Breaded pork tenderloin is a popular choice.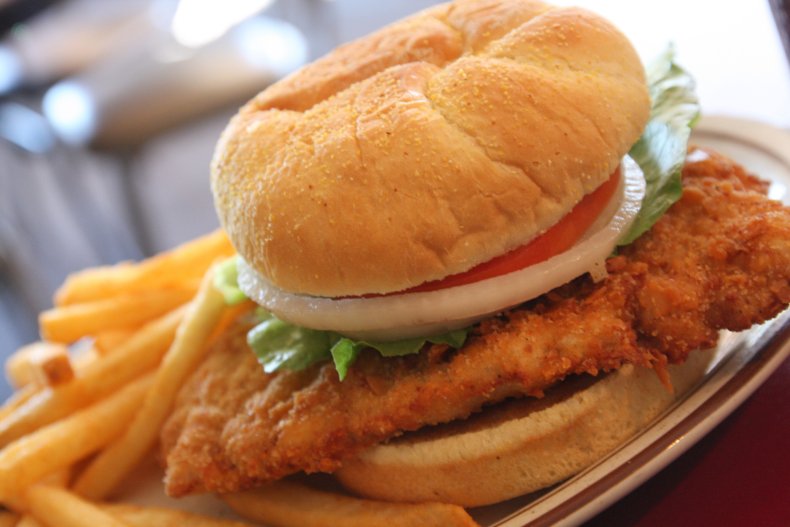 18. Kansas: Fast-Food Hamburgers
Kansas does not have an official food like other states do, but it is where the fast-food hamburger originated in 1921, so for the sake of this list, we will be talking about that. While hamburgers existed before this time, it was not until the first White Castle opened in Wichita that hamburgers were cooked on an assembly line.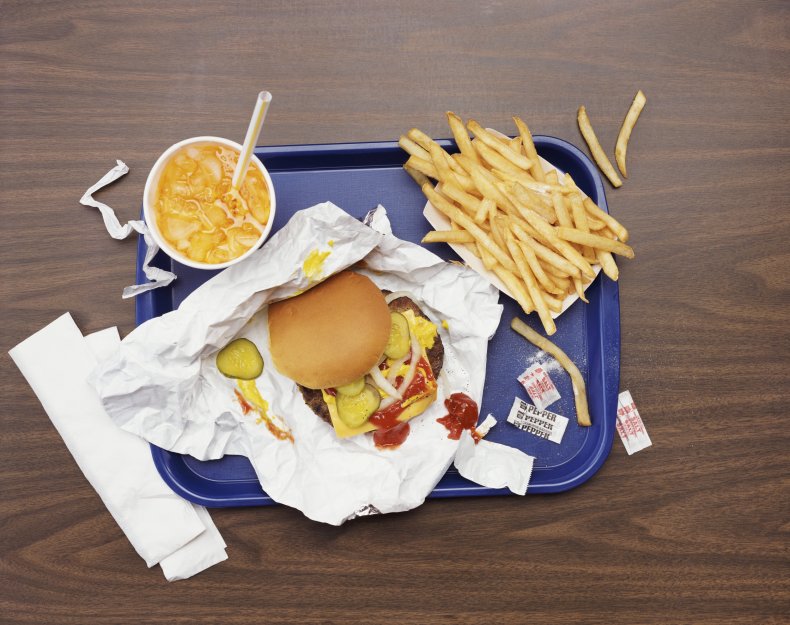 19. Kentucky: Hot Brown
Kentucky is another state without a designated official food, but that does not mean there are not any dishes the state is known for. One of those is the Hot Brown, which was created in 1926 at Louisville's Brown Hotel and consists of a hot, open faced turkey sandwich covered in a creamy sauce.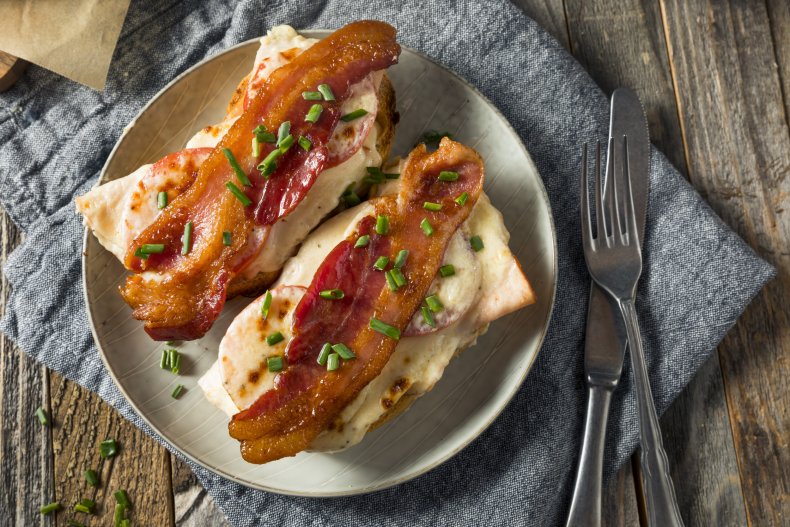 20. Louisiana: Fried Catfish, Baked Sweet Potatoes and more...
Louisiana is one of two states to have an "official state meal" rather than a single dish or fruit. It is technically the official meal of "Northern Louisiana" created by chef Hardette Harris that showcases Northern Louisiana heritage. It's a smorgasbord of fried catfish, to baked sweet potatoes to turnips cooked with smoked neck bones and/or smoked ham hocks and more.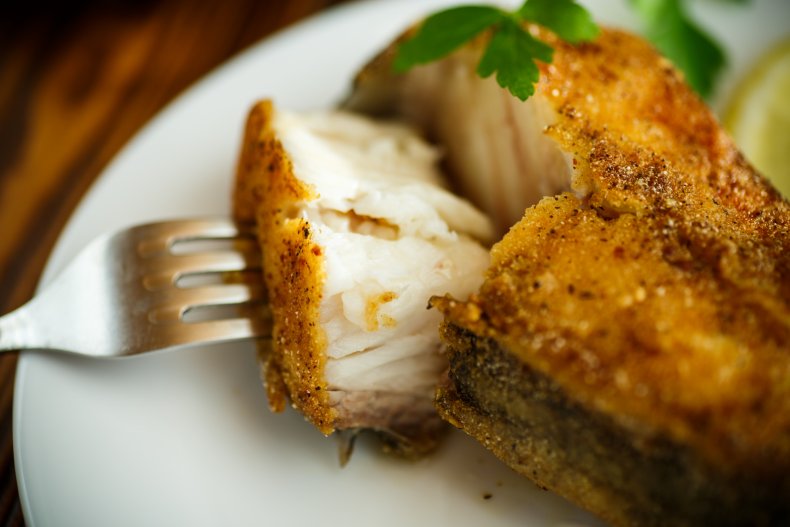 21. Maine: Whoopie Pie
Maine has one of the more random selections for their "official" food. In this case, it's actually their "official state treat"—a whoopie pie. Though it originated in the Amish communities in Lancaster, Pennsylvania, Maine has been baking up these sweet treats for almost 100 years and in 2010 became the official treat.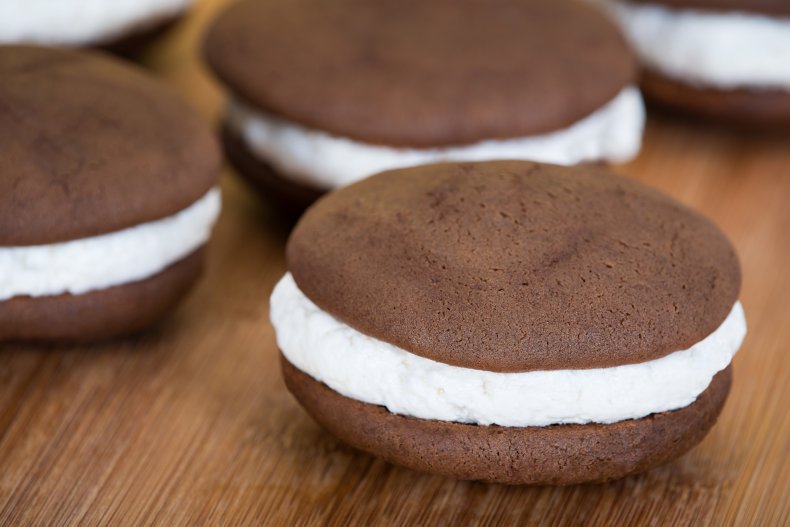 22. Maryland: Smith Island Cake
Smith Island cake was designated the official state dessert in 2008. The cake is made of many thin layers of cake pancaked between layers of frosting—yum! Named for Smith Island, the last inhabited island in Maryland.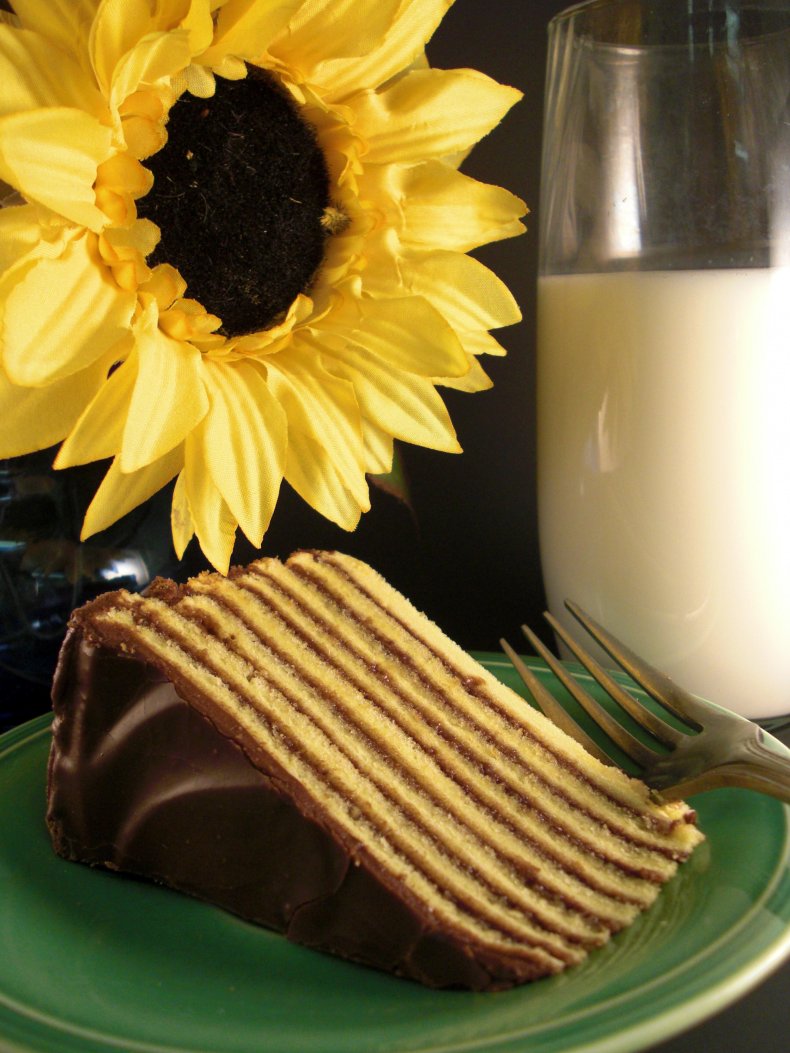 23. Massachusetts: Boston Cream Pie
Boston cream pie has been the official dessert of Massachusetts since 1996 after a Massachusetts high school class sponsored a bill. It's more of a cake than a pie, but delicious nonetheless. It's filled with the famous Boston creme, which of course can be found in smaller form in a donut as well.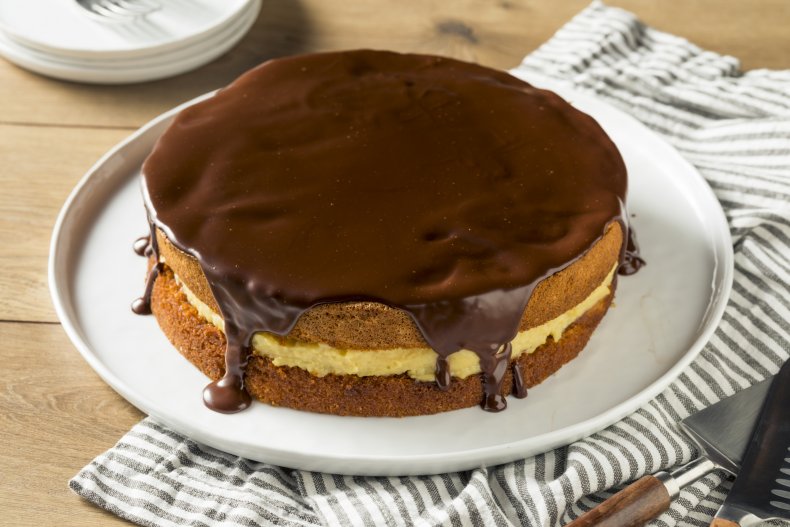 24. Michigan: Coney Dog
While you might think a Coney dog was invented in New York's Coney Island it is actually said to have been created in Detroit by Greek immigrants. "Coney islands" were the name given to Greek-American owned diners. A coney dog consists of a hot dog topped with chili—or coney sauce.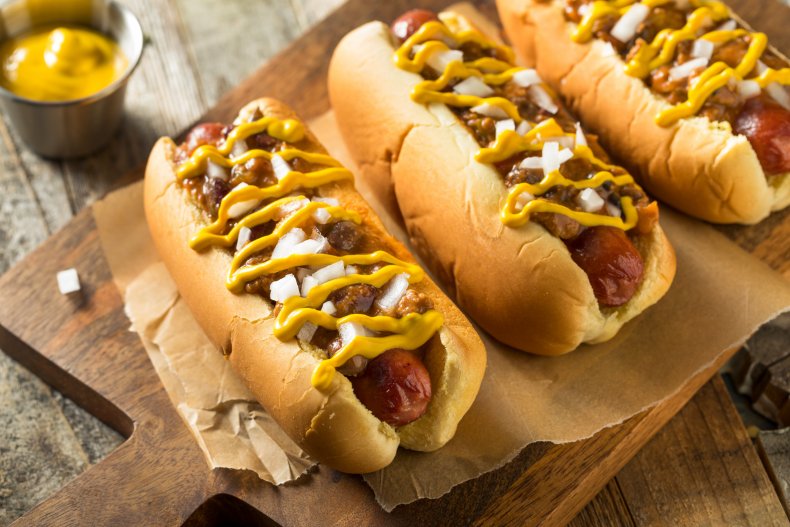 25. Minnesota: Blueberry Muffin
As is the case with many of the foods on this list, the blueberry muffin was named the official muffin of Minnesota after a group of students requested the decision in 1988. Wild blueberries are common in northern Minnesota.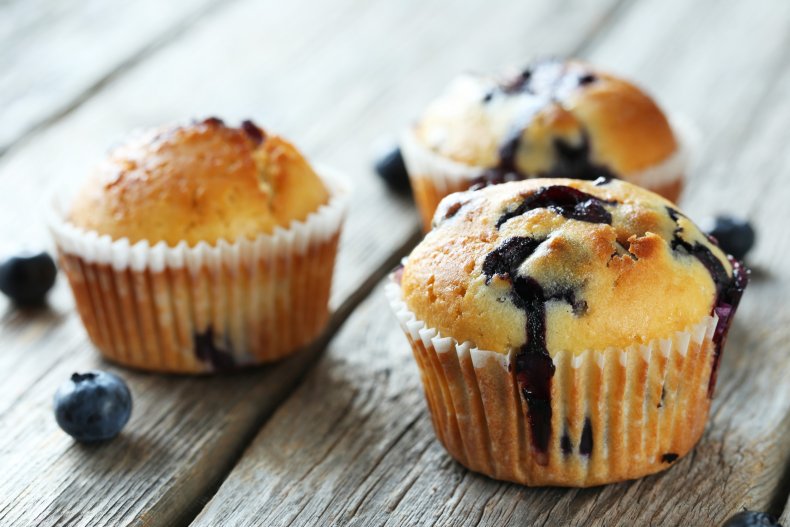 26. Mississippi: Mississippi Mud Pie
Well, there is no official treat associated with Mississippi, but one dish of course comes to mind when we think of this state: Mississippi mud pie. The origins of this dessert are debated—as many of them are—but most signs point to that this pie originated near the river for which it takes its name.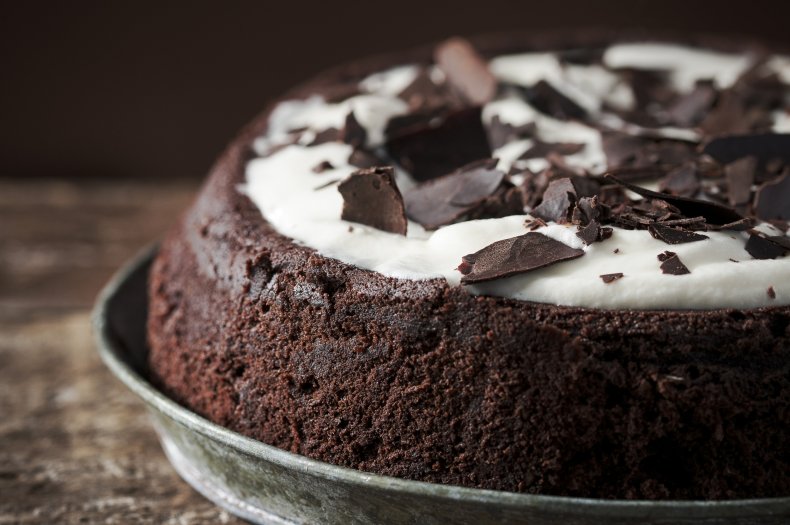 27. Missouri: Ice Cream Cone
The Louisiana Purchase Exposition, aka St. Louis World's Fair in 1904, was the site of many firsts in the United States and Missouri's choice for official dessert was taken off of that list. In 2008, Missouri designated the ice cream cone as the official state dessert. Ice cream sold separately.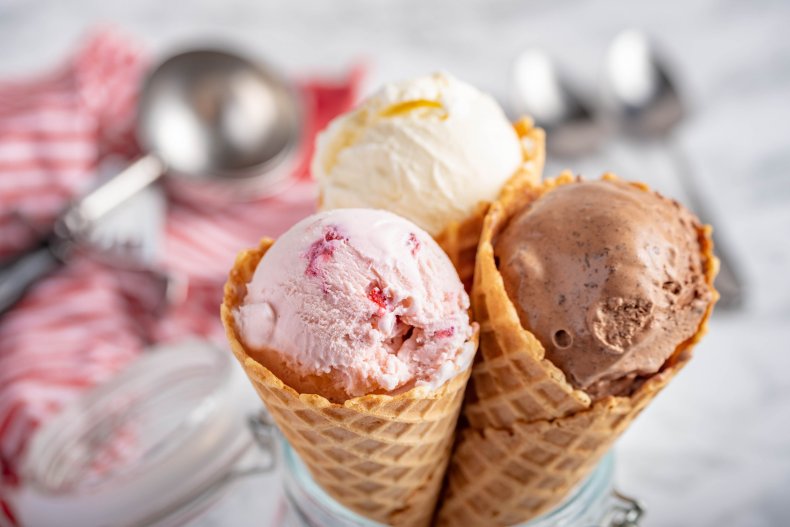 28. Montana: Huckleberries
Huckleberries are not the official fruit of Montana, but they sure do grow a lot of these little blue fruits. Similar in appearance to the blueberry, huckleberries grow in abundance around Montana. They are used in cooking from huckleberry pie to jams.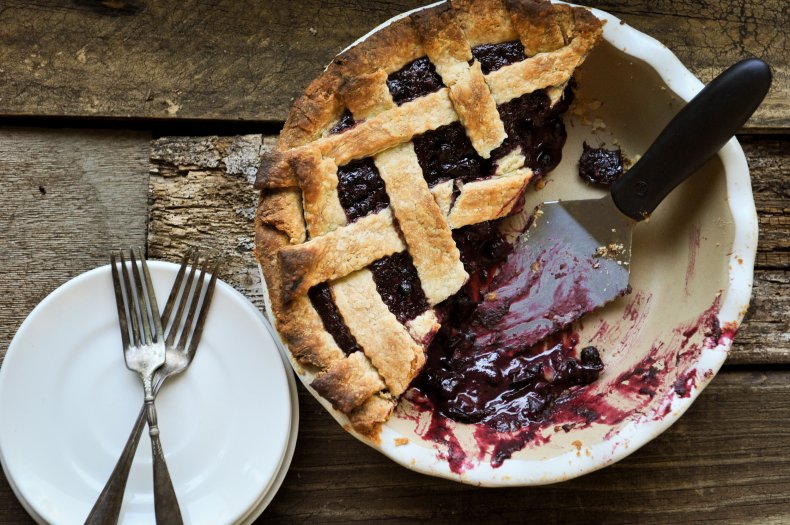 29. Nebraska: Kool-Aid
One of the most creative selections on this list is Nebraska's official soft drink: Kool-Aid. The sugary fruit-flavored powdered drink was developed by Edwin Perkins and his wife Kitty who were from Nebraska. It was designated the official drink in 1998.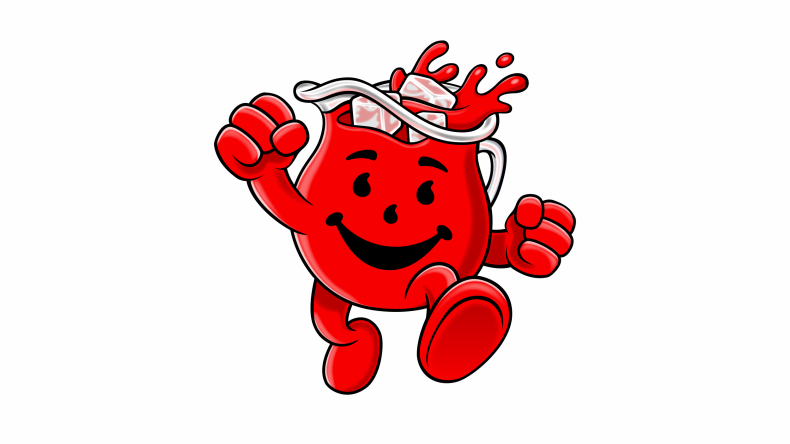 30. Nevada: Basque Cuisine
Nevada does not have an official state food, but as surprising as it might be, it does have a prominent Basque dining scene. Dating back to the 19th century, the American West saw the arrival of many immigrants from Basque country in Spain. A Basque meal in Northern Nevada will often consist of steak or chops cooked with lots of garlic.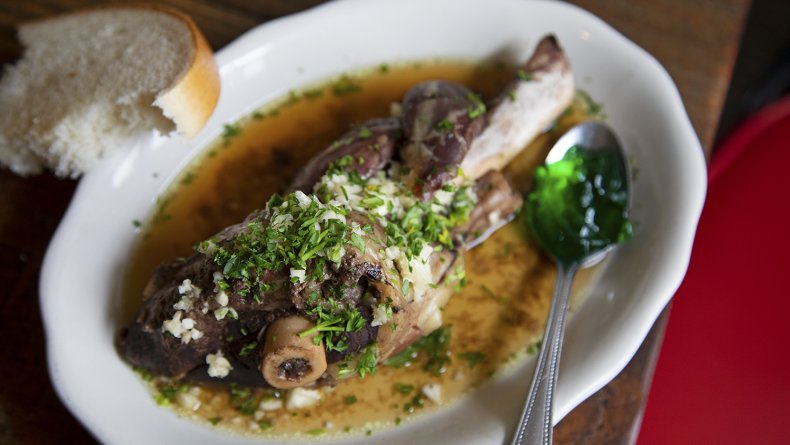 31. New Hampshire: Boiled Dinner
There's a bit of a debate about what should be the official food in New Hampshire. There are tons of yummy New England foods like clam chowder or lobster rolls, but one of the top contenders could be a boiled dinner. Apparently the dish that consists of boiled corned beef with veggies has been claimed as the signature dish by few, New Hampshire Public Radio reported.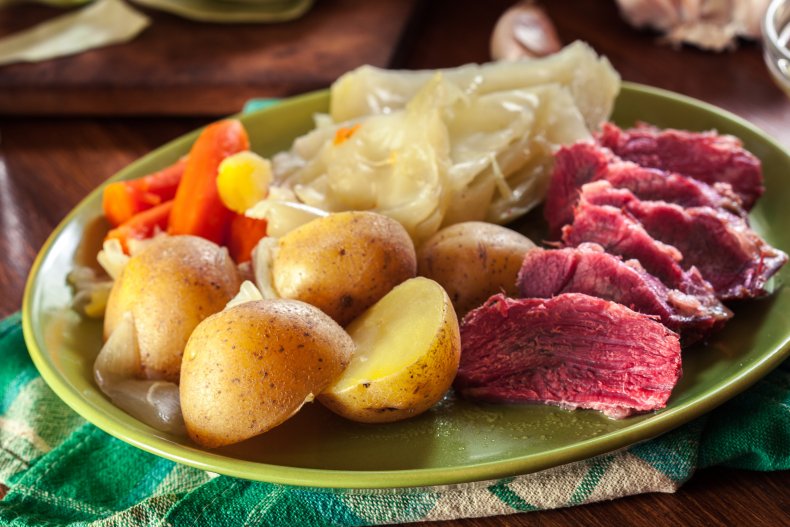 32. New Mexico: Chile and Frijoles
New Mexico has two official vegetables that go together well in many dishes: chile and frijoles—or pinto beans. Chiles have been grown in the state for centuries and now come in many variations.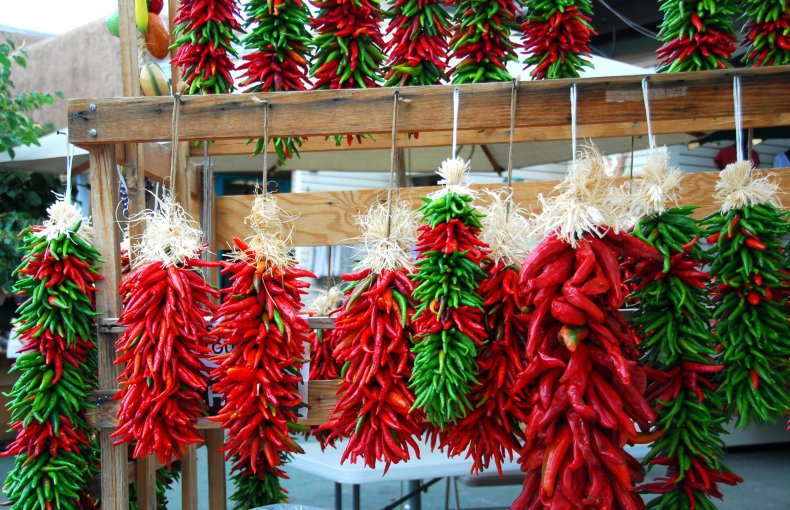 33. North Carolina: Sweet Potatoes
In 1995, the sweet potato became the official vegetable of North Carolina. One of the reasons for this must be that North Carolina is the top producer of the vegetable in the United States. In 2015 almost 95,000 acres of the sweet veggie were harvested—that's a lot of potatoes!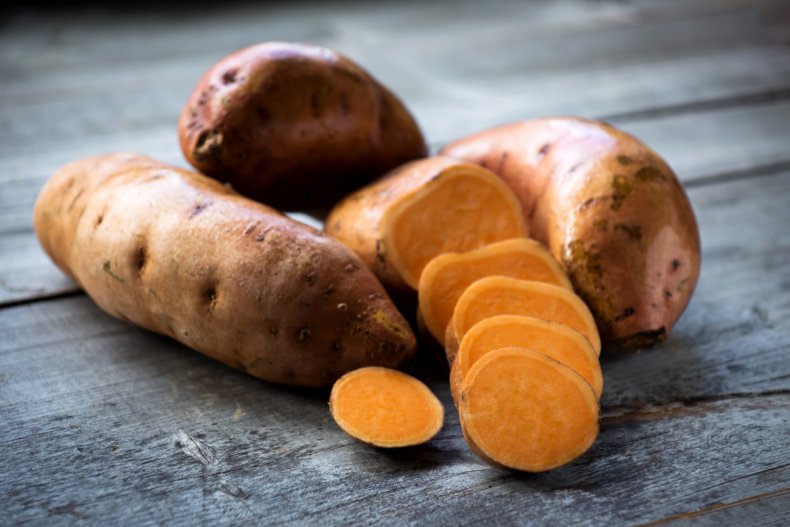 34. North Dakota: Chokeberries
The chokeberry—yup we had never heard of it either—is North Dakota's official fruit as it is commonly grown across the state. The fruit itself is a bit too bitter to eat on its own, but it can be made into jams, jellies and wines.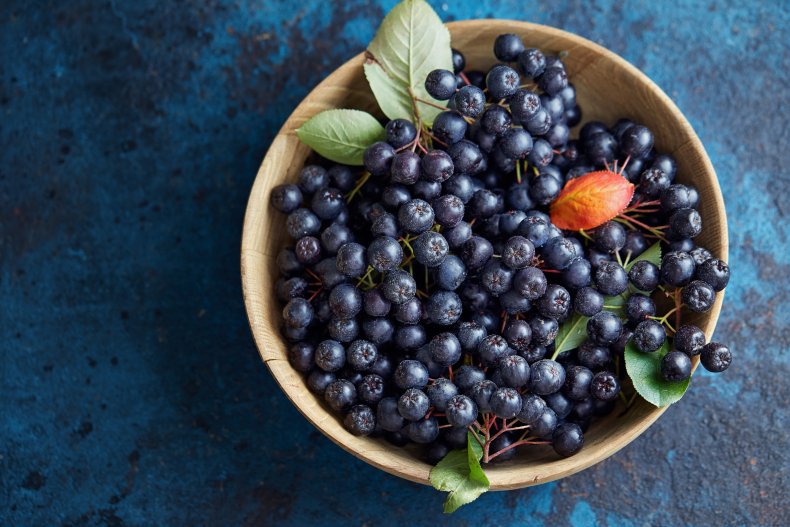 35. Ohio: Tomatoes
In 2009, the tomato became the official fruit of Ohio after years and years of being at the forefront of boosting tomato production and popularity in the United States. An Ohioan seedsman, Alexander W. Livingston, is responsible for developing the Paragon tomato as well as 30 other varieties.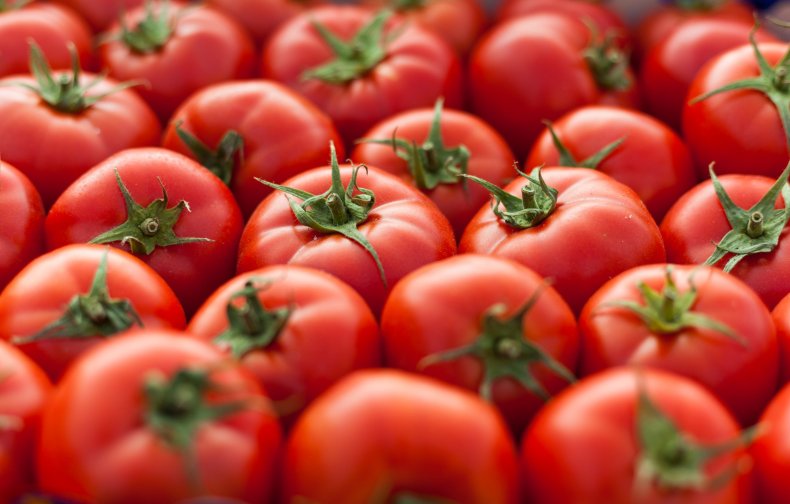 36. Oklahoma: Fried Okra, Barbecue Pork and more...
As mentioned earlier on in this list, only two states have an official meal: Louisiana and Oklahoma. The Oklahoma meal was established in 1988 and includes fried okra, cornbread, barbecue pork, squash, biscuits, sausage and gravy, and more.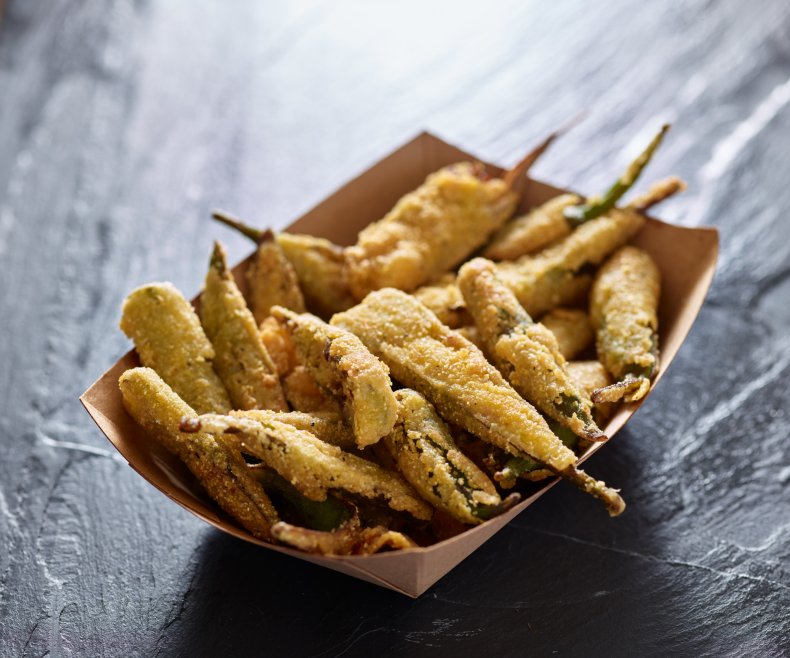 37. Oregon: Pear
The pear is the top-selling tree fruit in Oregon which is likely one of the reasons for the 2005 decision to make the pear Oregon's official fruit. Most of the pear production in the United States happens in the Northwest.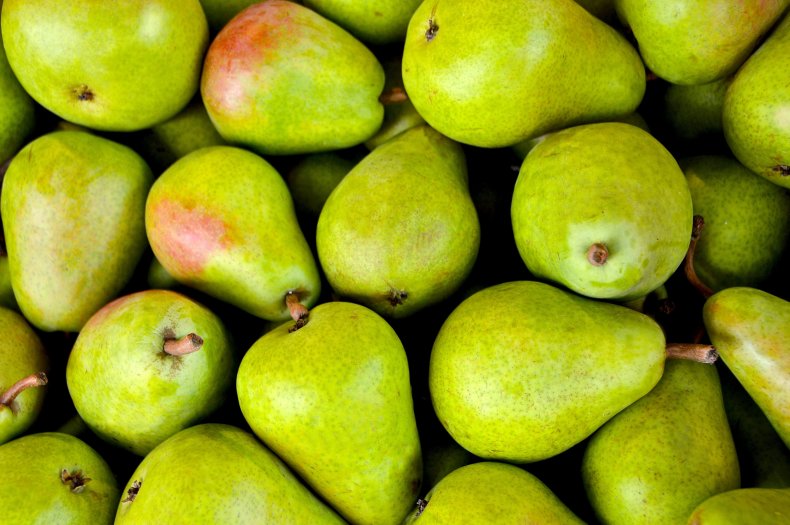 38. Pennsylvania: Banana Split
Pennsylvania does not have an official food, but it does lay claim to inventing a popular dessert treat: the banana split. The frozen treat is said to have been invented in 1904 by David Strickler in Latrobe.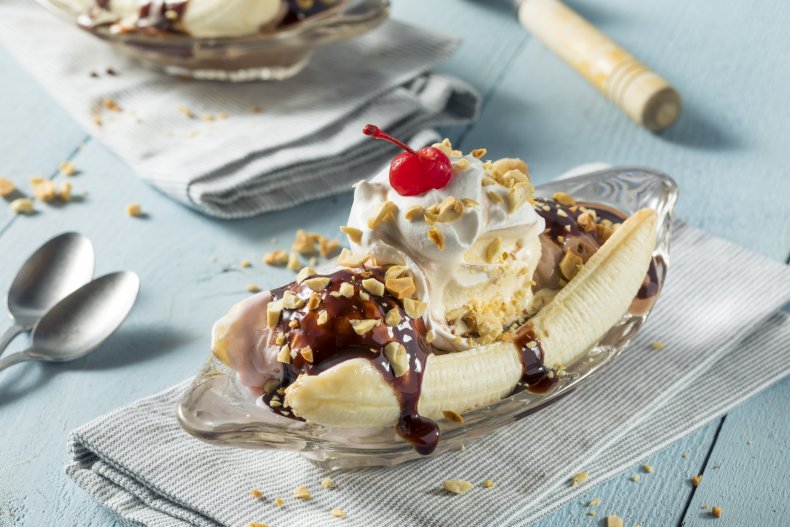 39. Rhode Island: Coffee Milk
In 1993, Rhode Island named its official drink as coffee milk. It's the same concept as chocolate milk but it's made with coffee syrup rather than chocolate. A popular dessert is made with the drink called a "coffee cabinet" made with coffee milk and ice cream.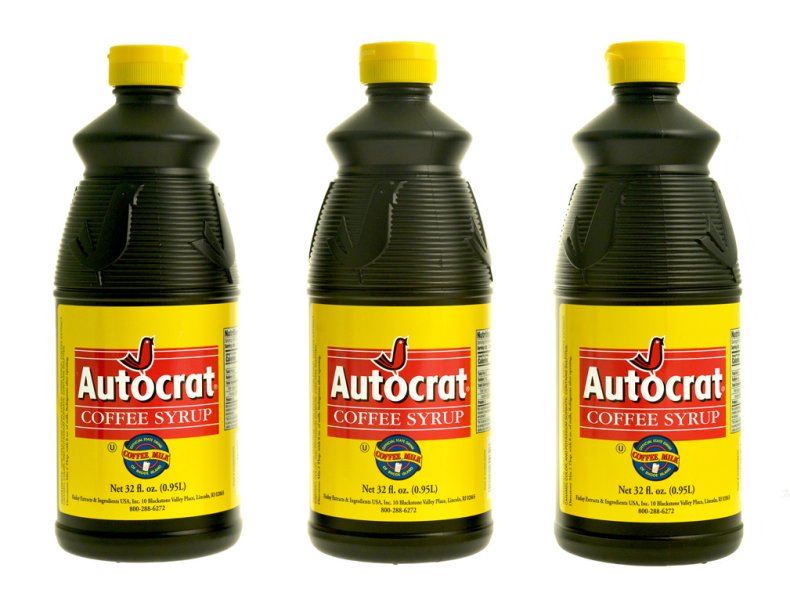 40. South Carolina: Barbecue
The official state picnic food of South Carolina, which should come as no surprise given that people travel far and wide for a taste of South Carolina style barbecue. It is the only state where you can find all four finishing sauces: vinegar and pepper, mustard, light tomato, and heavy tomato, the 2014 decision explained.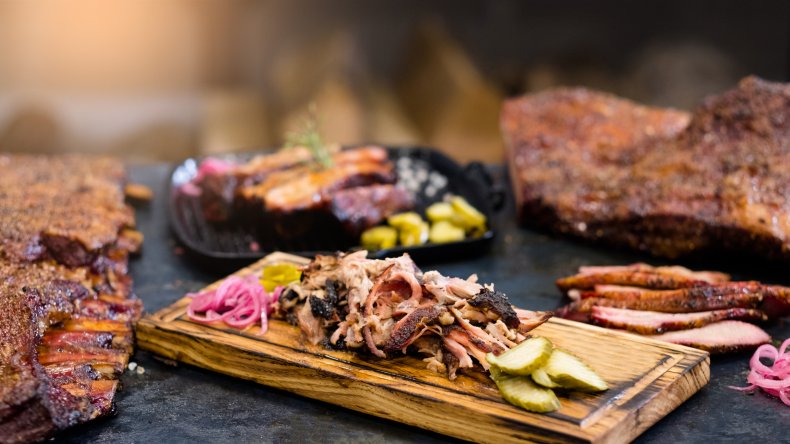 41. South Dakota: Fry Bread
In 2005, the official bread of South Dakota was designated as fry bread. It's a dish that is part of Native American cuisine and made with flour, sugar, salt and oil and then fried in oil. There are nine tribal governments within the state of South Dakota.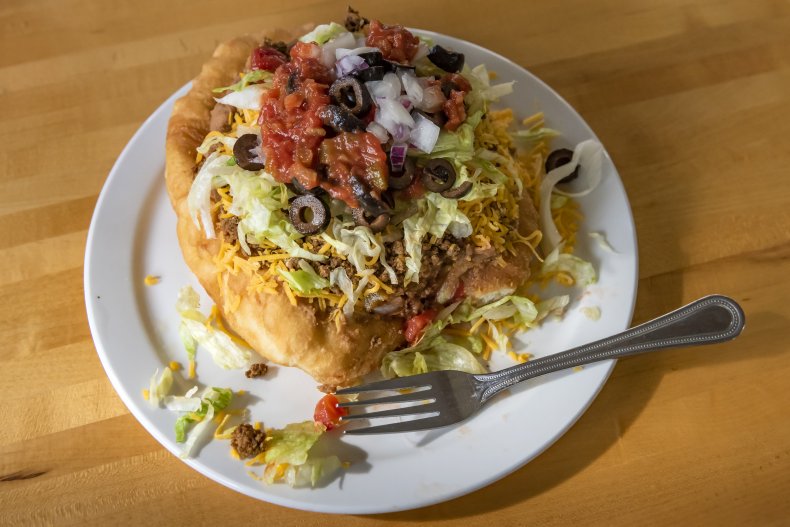 42. Tennessee: Tomatoes
Just like Ohio, Tennessee has also designated the tomato as its official fruit. In 2003, that decision was made official though interestingly enough Tennessee is not one of the top producers of a tomato.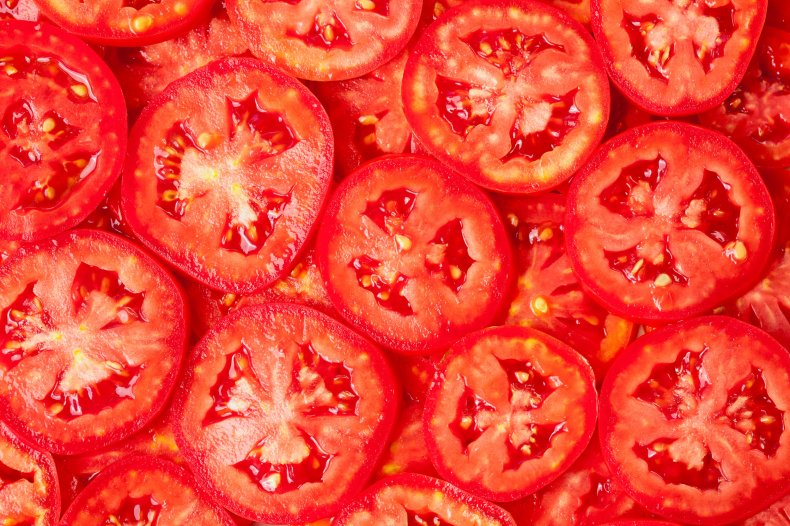 43. Texas: Chili
The official dish of Texas is a bowl of chili—well it does not have to be in a bowl—however you prefer to eat it is fine. The decision was made in 1997, and it is said that chili was invented in the state of Texas.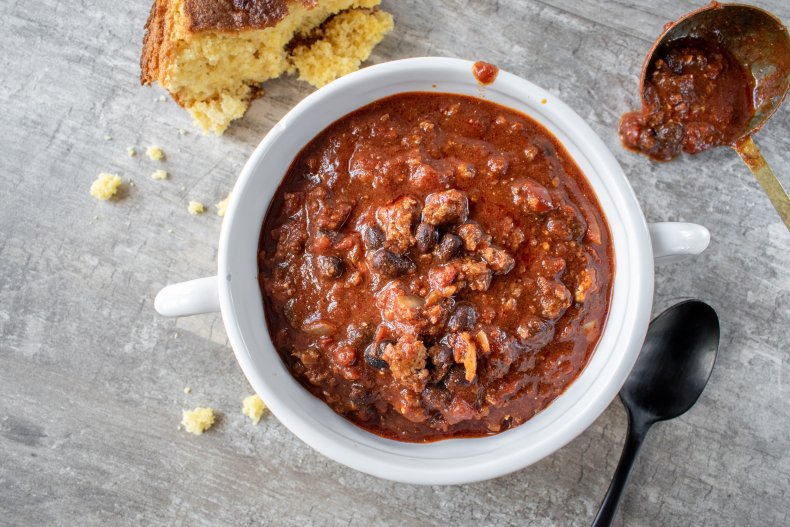 44. Utah: Cherries
In 1997, the cherry was named the official fruit of Utah. Both sweet and tart cherries are grown in the state and are the second largest producer of tart cherries in the United States. About 2 billion cherries are harvested each year in Utah.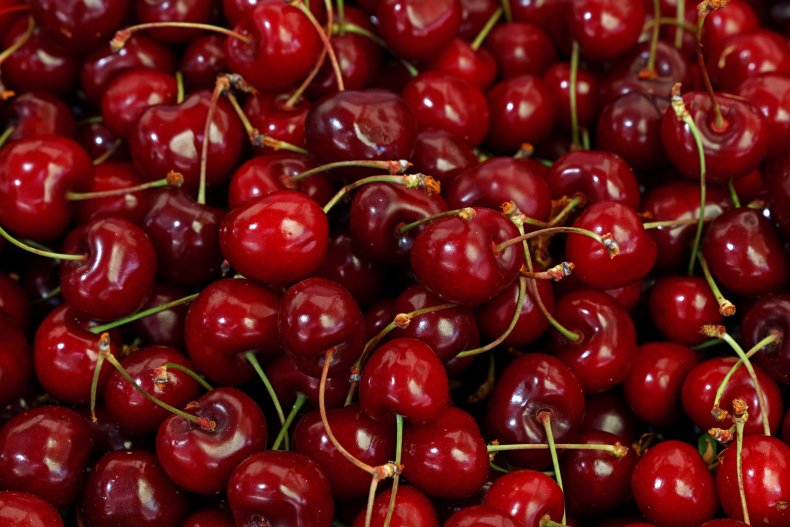 45. Vermont: Apple Pie
The state fruit of Vermont is an apple, so it makes sense that the state pie would be apple pie. The 1999 decision even went as far as to make recommendations as to how a piece of pie should be served: with a glass of milk, a slice of cheddar cheese weighing the minimum of half an ounce or a large scoop of vanilla ice cream.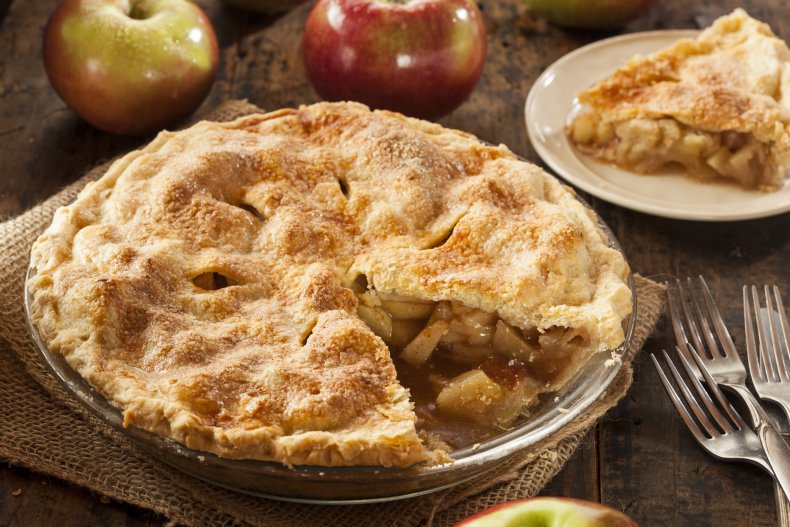 46. Virginia: Virginia Oyster
Virginia's "first food" as it is referred to is the Virginia oyster, which grow in and around the Chesapeake Bay. There are numerous oyster festivals throughout the year that celebrate the local catch.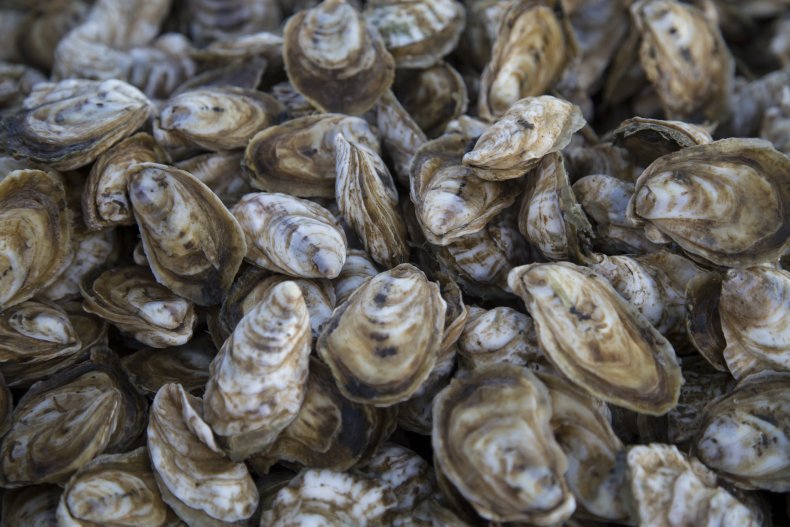 47. Washington: Walla Walla Sweet Onion
The Walla Walla sweet onion was designated the official vegetable of Washigton state in 2007. It is named after the Walla Walla valley in Washington which is the only place it can be grown properly.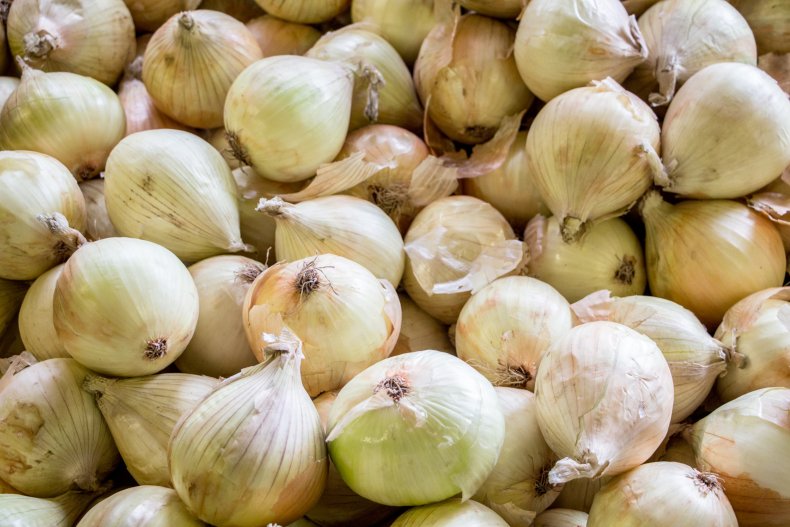 48. West Virginia: Golden Delicious Apples
For about 20 years the West Virginia official fruit was simply the plain apple, but in 1995 it was changed to the golden delicious. This type of apple was discovered in the area in 1905.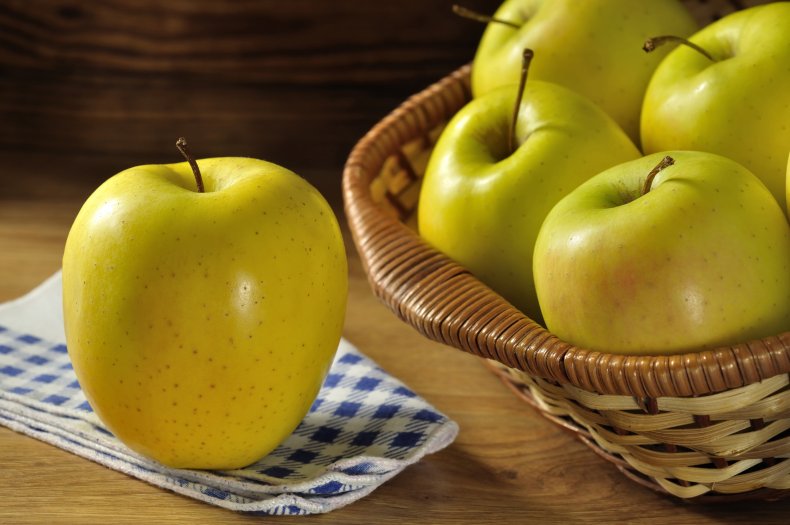 49. Wisconsin: Kringle
In 2013, Wisconsin made the kringle the official dessert. The flaky Danish pastry that can be filled with fruit or nuts and topped with frosting is mass-produced in the city of Racine.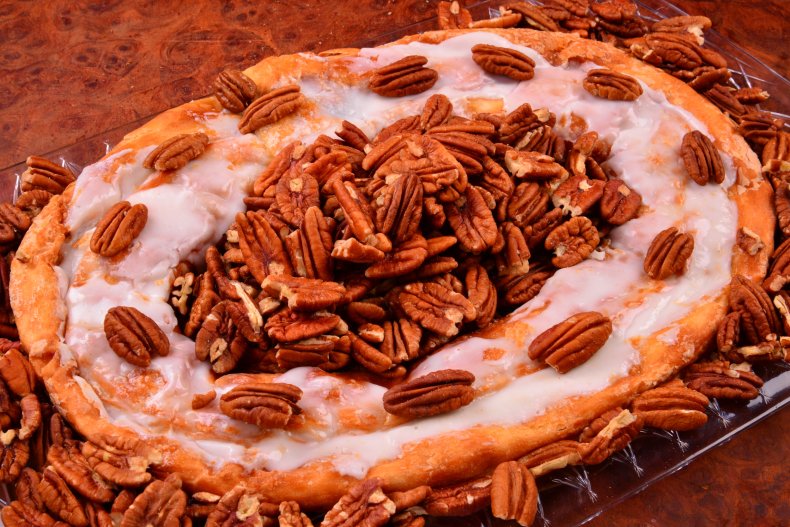 50. Wyoming: Bison
Wyoming does not have a state food, but it does have a state mammal: the bison. The bison, of course, is a large, powerful animal, and it is used as a food source in steaks and burgers. Compared with beef, bison is actually a bit lower in calories and fat.