50 Images that Defined May 2018, from Royal Wedding to Hawaii Volcano and French Open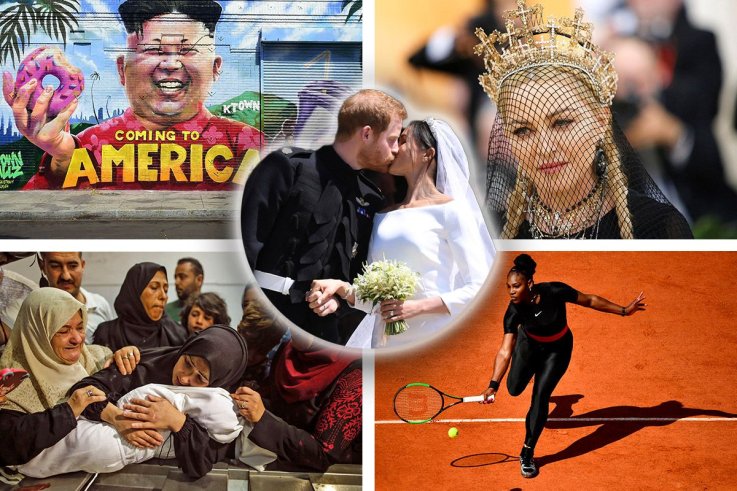 The news over the past month was so dominated by the Royal wedding that it may have been easy to think that it was the only thing happening in the world. You may have missed natural disasters, drama on the sports field, an ebola outbreak, political disputes—and even Rihanna dressed as a blinged-out Pope. But don't worry, we've got you covered with this photo roundup of the news in May.
Kilauea Volcano on Hawaii's Big Island started erupting in early May and continues to spew rivers of lava which have already destroyed a number of homes. Towards the end of the month, Cyclone Mekunu, the most intense tropical cyclone ever to make landfall over the Arabian Peninsula, caused tragedy in Oman and Yemen.
May got off to a tragic start in the Middle East, with six Palestinian protesters being killed in a blast as they clashed with Israeli forces. Violent protests intensified on the 70th anniversary of Israel's founding, when Israeli forces killed 60 Palestinians near the Gaza-Israel border during demonstrations against the opening of the U.S. embassy in Jerusalem.
In early May, New York's Met Gala fashion extravaganza caused a stir with its controversial Catholic-inspired theme "Heavenly Bodies." Rihanna was praised by fashion commentators for her John Galliano dress resembling traditional Papal garb, but it was called "religious appropriation" by conservative Twitter users. Cannes film festival also produced a number of surreal fashion moments, including a red-carpet Chewbacca.
We've rounded up the 50 most spectacular photos of the past month, including a fiery Tesla crash, Real Madrid's Champions League victory and a terrifyingly realistic robot. And we've included plenty of pictures of a certain white dress.