The 50 Most Outrageous Items Riders Left in Ubers Last Year
Uber's annual list of lost items left behind in vehicles has plenty of teeth—literally.
The 2022 Uber Lost & Found Index is in its sixth year and lists the most unique and outrageous items commonly forgotten by passengers, in addition to the cities where the items are most forgotten and even the days of the week where forgetfulness seems to take hold.
Riders themselves reported missing items that compose the annual list.
The top 10 "most commonly forgot" items, in order from most to least, were:
Phones/cameras
Wallet
Keys
Backpack/purse
Headphones/speaker
Glasses
Clothing
Vape
Jewelry
ID
"We started the Lost & Found Index six years ago as a fun way to remind folks how to get lost items back using the Uber app," Lexi Levin Mitchel, senior communications manager at Uber, told Newsweek. "We release it annually tied to Mercury going into retrograde, which astrologers have linked to forgetfulness."
Mitchel said riders are responsible for their belongings and when items are left behind, riders then contact drivers in an effort to get their items back—which involves a $15 fee for "their time and effort."
But if items left behind in vehicles are unaccounted for, the driver can choose to discard the item at an in-person Local Greenlight Hub. Uber then keeps the items "for a few months" in case a rider does eventually reach out regarding an item.
The top 10 most "forgetful" cities, from most to least, were as follows:
Austin, Texas (second year in a row at No. 1)
Charlotte, North Carolina
Houston, Texas
Indianapolis, Indiana
Dallas, Texas
Kansas City, Kansas
Atlanta, Georgia
Tampa, Florida
Columbus, Ohio
Phoenix, Arizona
"The 'most forgetful cities' are calculated annually by looking at the number of trips with items reported lost as a percentage of total trips," Mitchel said.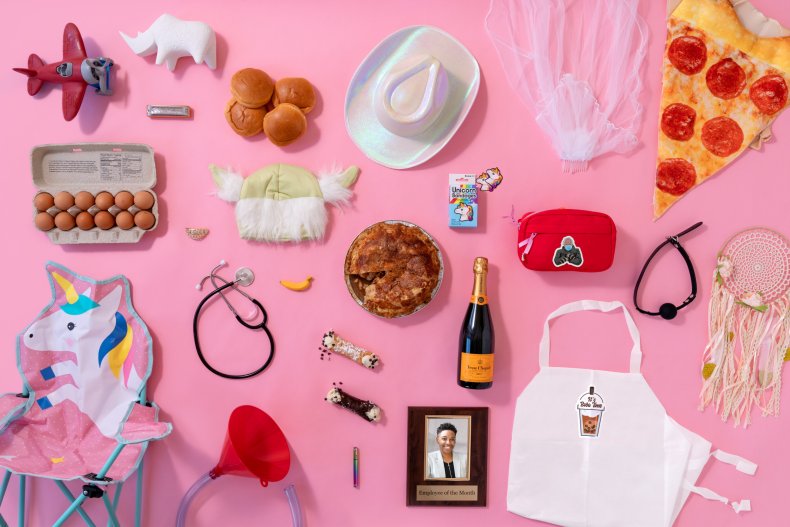 Aside from the usual items lost in transit, there is a list of 50 of the "most unique" items lost and found and many will have people scratching their heads.
The items, from most unusual to least according to Uber, are:
Some tater tots
A fingernail on the seat
"It's Boba Time" apron
Foldable unicorn kid chair
500 grams of caviar
A rider's grandma's teeth
A Buddha locket
Cat litter and a reptile heating bulb
"Life is tough but so are you" blanket
A grass cutter and tree trimmer
Supreme underwear
Pizza costume
A "sh**ty" painting of a moose
Unicorn band-aid box
Pie
A Billie Eilish ukulele
Six pool drains and an "Employee of the Month" plaque
Breathalyzer
40 chicken nuggets
Bernie Sanders fanny pack
Harmonica
A crochet strawberry
Toy airplane
Star Wars Yoda headband and Darth Vader helmet
Part of a soft-serve ice cream machine
Metal leg
Painting of Kung Fu Panda and pink air pump shaped as a pig
A piece of a broom
Antique walking cane with a sword
17 flowers and three milk teas
Urn with pet ashes plus the urn of family member
"Very expensive" tube for chugging drinks
Two pairs of snorkeling goggles and a passport from China
A power washing machine and a wooden carved fish
Dream catcher and a deck of tarot cards
Diamond grill
Loose pear-shaped diamond (included a $1,000 reward if found)
A bucket of slime
Small rhino sculpture
A wig and a cloth
Brown tortoise
A single blonde strand of hair
Spray tan machine
Paw Patrol blanket
Breast pump and a white cowboy hat
10 pounds of hamburger meat
Burger and banana fridge magnets
A dart that says "unleash the beast"
Ball gag and stethoscope
A windmill
Speaking of teeth, Uber riders reported losing dozens of different kinds of teeth—including over 30 forgotten retainers and over 20 riders forgetting their gold- or diamond-encrusted grills. Five people also left their dentures in vehicle backseats.
Most users forget items at about 5 p.m. each day, while the 4 p.m. to 6 p.m. window is when most items are reported as missing. Riders across the United States tend to forget or lose items on Saturdays and Sundays, while St. Patrick's Day weekend and the Fourth of July are the most forgetful holidays.
Certain lost items also peak on certain days, according to Uber, as people are most likely to forget:
Glasses, chargers and cardholders on Mondays
Child items like car seats, pacifiers, milk and strollers on Tuesdays
Passports and books on Wednesdays
Groceries and laptops on Thursdays
Cash and fanny packs on Fridays
Clothing, ID and keys on Saturdays
Phones, wallets, jewelry and makeup on Sundays
The list goes on. Uber said the most reported musical instruments last year included flutes, drums, trombones, ukuleles and DJ equipment. Over 40 riders left their CPAP machines, which treat sleep apnea, in vehicles. Toyota keys were the most frequently left behind, followed by Honda, BMW and Jeep.
Nike apparel was the most "beloved brand" left behind by riders, followed by Louis Vuitton, Gucci, Samsung and Apple products. And for the sports aficionados, Uber reported that more than 50 jerseys from the New York Rangers, Golden State Warriors, San Francisco Giants, Philadelphia Eagles, Los Angeles Dodgers and others were all left behind by fans.
According to a 2017 lost-and-found survey from Pixie, which uses smart location services on iPhones to find lost items, Americans spend about 2.5 days annually looking for lost items.
TV remotes were the most lost item, with over seven in 10 Americans losing it at least once a month. The other most misplaced items were phones, car and house keys, glasses and even shoes.
It was estimated that approximately $2.7 billion is spent annually to replace lost items, even affecting timeliness for work or school due to looking for such items.
Sometimes, Uber drivers don't just take human beings while in transit.
A recent Uber driver drove an injured bird to a nonprofit rescue sanctuary in Indian Trail, North Carolina, that specializes in wildlife rehabilitation, housing and saving injured animals.
The bird had a broken wing and nobody was able to drive it 45 minutes to the center, so an Uber driver named Timothy buckled the bird box in with a seatbelt and made the trek himself.
In April Uber stopped requiring passengers to wear face masks during rides.