The 50 Most Valuable Sports Teams in the World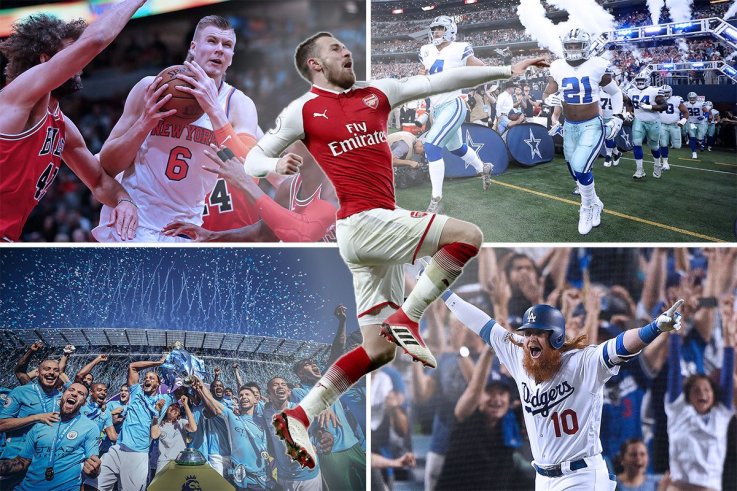 Having long dethroned baseball as America's number one sport, football's popularity has turned the NFL into one of the most lucrative leagues in the world.
An NFL franchise tops Forbes' list of the most valuable sports teams in the world—despite going over two decades without claiming the Super Bowl—with 29 of the league's 32 teams claiming a spot in the top 50.
The NFL's transformation into a commercial juggernaut continued apace last season. Figures released by ESPN in July showed the league distributed over $8 billion in national revenue in 2017, a 4.9 percent increase from the previous year.
The improved return was attributed to the growing profitability of TV deals, in particular the increase in value of the league's Thursday Night Football package.
However, Super Bowl LII recorded an audience of just 103.4 million, the smallest for TV's biggest yearly event since 2009. The figure was considerably down from the 111.3 million recorded for Super Bowl LI and over 10 million lower than the 114.4 million who tuned in to watch the New England Patriots beat the Seattle Seahawks in 2015.
Football's only rival is soccer, which takes the second, third and fourth spots on the list. Considering research company GlobalWebIndex estimated over 3.4 billion people watched some of the 2018 World Cup last month, finishing ahead of soccer is no mean feat for the NFL.
The MLB's first representative on the list takes fifth place but the league has only six teams in the top 50, while the NBA has three teams in the top 10 and a further five in the top 50.
The NBA, however, boasts some of the most upwardly mobile teams in the ranking. The Houston Rockets' value increased by 33 percent after the franchise finished with the best regular season record and came within a whisker of reaching the NBA Finals for the first time since the 1994-95 season.