50 Surprising Facts About Elon Musk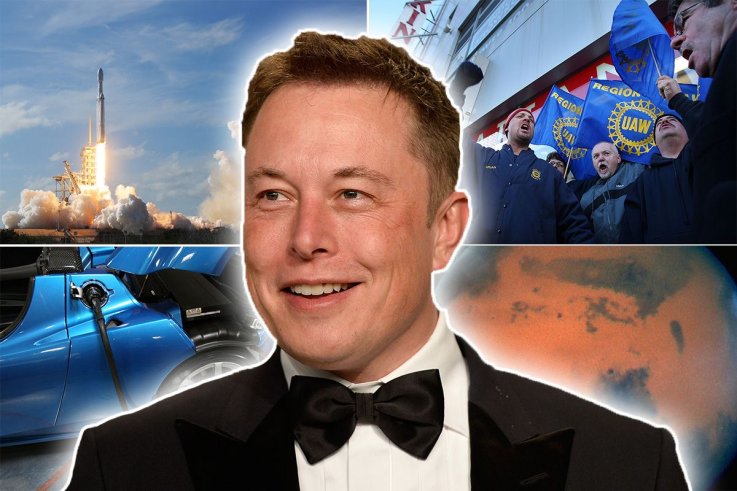 Lately, it seems as though Elon Musk is never out of the news. Whether it's attacking the media over negative coverage of his car company Tesla, offering to help in the Thai cave rescue, or poaching staffers at satirical site The Onion, it's hard to guess what the billionaire entrepreneur's next move will be.
Most people know the basics of Musk's journey to becoming one of the world's most powerful and talked-about men. The 47-year-old was born in the South African city of Pretoria, moving to his mother's home country of Canada at 17 before eventually making his way to the U.S.
Once there, he founded a string of successful tech companies before turning his attention to space exploration with company SpaceX. He's famously obsessed with colonising Mars, reportedly hoping to send 80,000 people to the planet for $500,000 per trip.
It's not just space exploration on his mind. He became CEO of electric car company Tesla in 2008 and has since gone on to explore and develop environmentally-friendly power sources, high-speed transportation systems and artificial intelligence.
His journey hasn't been without controversies. He's been accused of suppressing unions at his Tesla factories, something which he vehemently denies. While celebrated by some, his recent moves to help the boys trapped in a cave in Thailand were branded as narcissistic by others.
So what's the real story behind the idiosyncratic entrepreneur, and what makes him tick? We've found the most interesting facts about Musk which shed light on his motivations, desires and beliefs, as well as detailing the strangest incidents of his life so far.
Did you know he was almost a teenage arcade game mogul? Or that he was the inspiration for Robert Downey Jr.'s portrayal of Iron Man? How about his mysteriously fluctuating hairline? Brush up on your Musk knowledge with these 50 surprising facts about the tech billionaire.