50 Things Turning 100 in 2021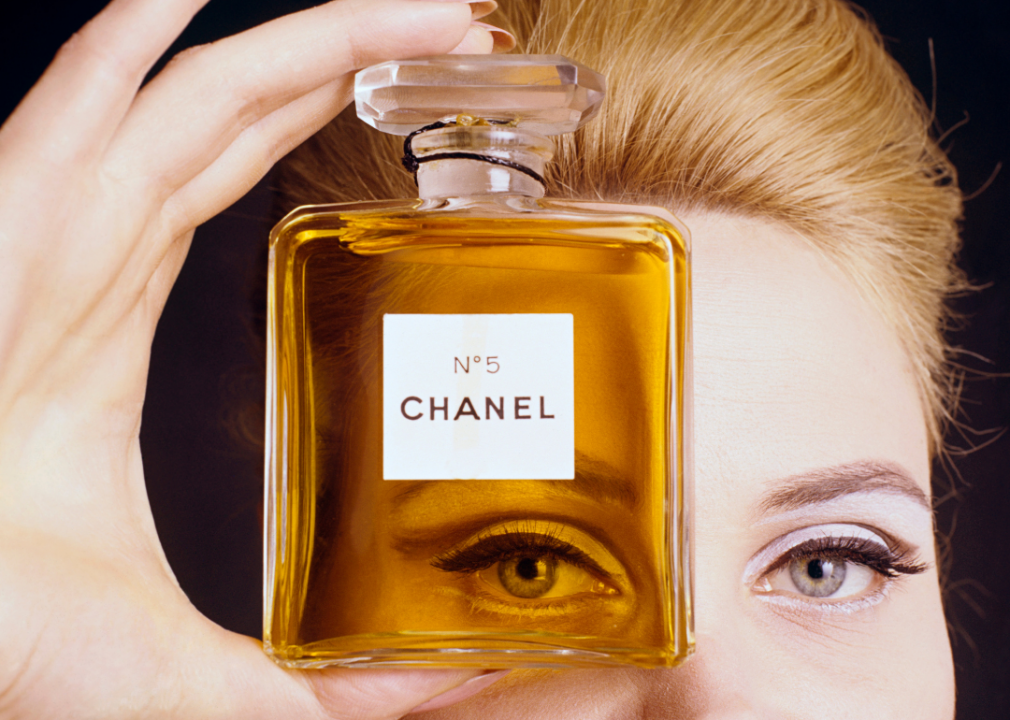 One hundred years is a very long time. When it is broken down, it is approximately 36,500 days (depending on leap years, of course), or 1,200 months, or 10 decades, or one century. To last for such a long period is a remarkable achievement that takes stamina, wit, flexibility, and resilience. It is also a feat worth mentioning, which is why we have come up with a list to celebrate those people and things hitting such a momentous milestone.
To create a list of 50 things turning 100 in 2021, Stacker looked at primary documents in historical records, pop charts, newspaper articles, and other matters of public record. This list includes animate and inanimate objects. You will find people, places, and things. It includes movies, poetry, companies, famous artwork, and scientific discoveries—and even a few birthdays.
It is a list so diverse it features silent films from another era, the longest-serving British consort in history, several notable centenarians, a life-saving medical breakthrough, a classic cupboard staple you may recall from childhood, the first grand movie house, a candy bar that may or may not have been named after a baseball great, and a science-fiction term with an interesting beginning. The one thing that ties everything on this list together is their respective staying power.
Join Stacker as we celebrate the 100th birthdates of some amazing people, places, and things that have withstood an entire century and continue to remain in our hearts and minds.
You may also like: 50 famous paintings and the stories behind them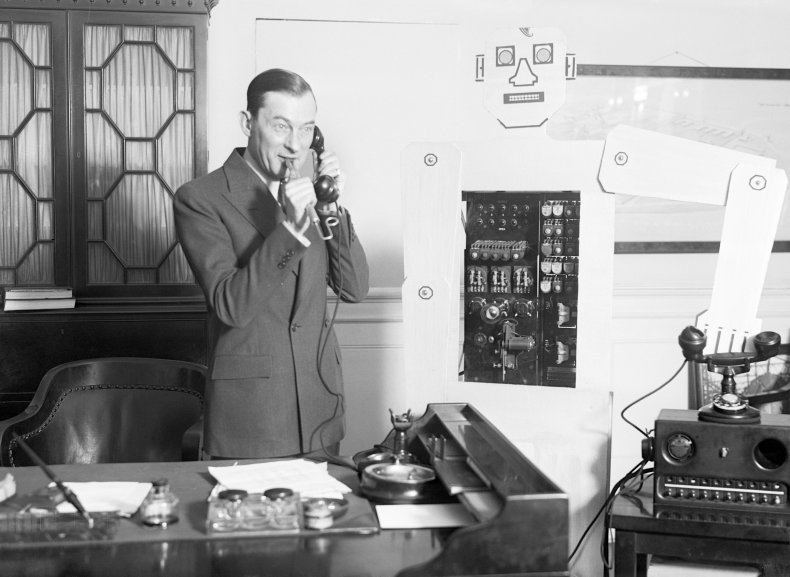 The term 'robot'
Robot was used for the first time in a play called R.U.R., which stood for Rossum's Universal Robots. The play premiered at the National Theatre in Prague, and the term referred to an artificial person. It was based on the Czech word for "forced labor" and was invented by Karel Capek.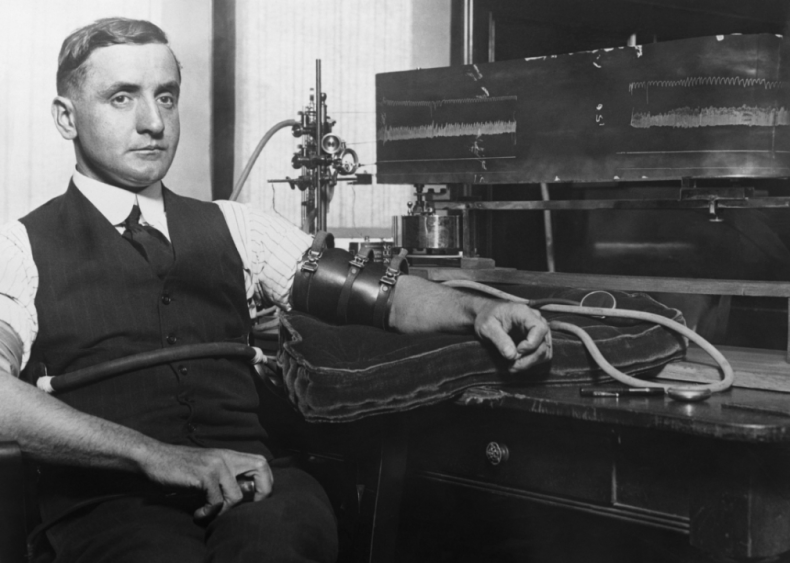 Lie detectors
This first polygraph machine was invented in Berkeley, California, by police officer John Augustus Larson, who used it in forensics to determine the guilt or innocence of criminals. Its credibility has been disputed ever since. Psychologist William Moulton Marston, who would go on to create Wonder Woman, pioneered a systolic blood pressure test on which the machine was based.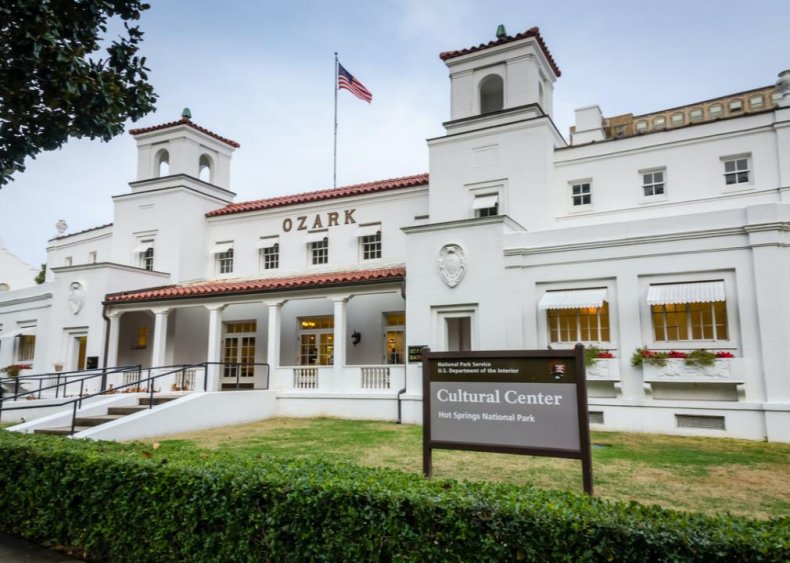 Hot Springs National Park
President Andrew Jackson set the hot springs aside as a national reservation in 1832, though it was not designated as a national park until March 4, 1921. Hot springs were used as a spa treatment for a multitude of ailments ranging from bunions to rheumatism. This 5,550-acre park in Hot Springs, Arkansas, has bathhouses that still remain today.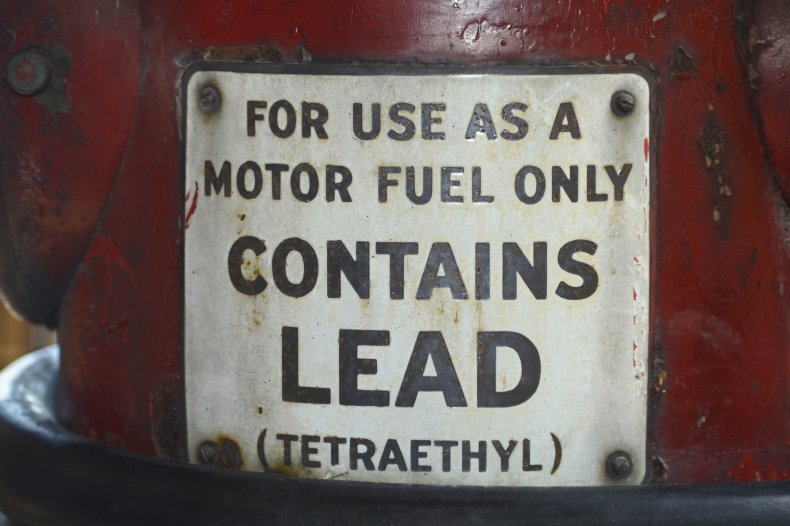 Leaded gasoline
Known as tetraethyl lead, leaded gasoline was found to reduce engine knocking by raising the octane of gasoline. This discovery made by General Motors automotive engineers was an important one because lead became the preferred gasoline due to its low production cost. In the mid-1970s, the United States Environmental Protection Agency (EPA) began phasing it out because it discovered the serious health impact of lead exposure.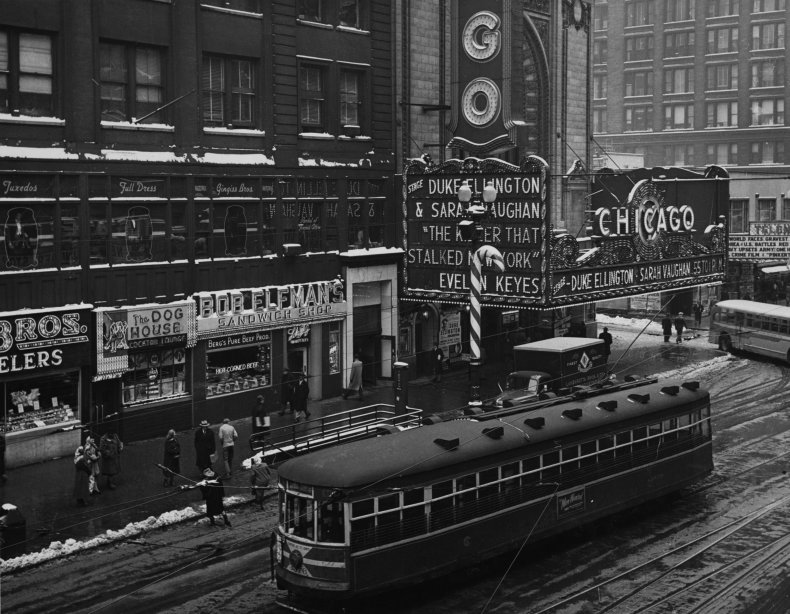 The Chicago Theatre
The Chicago Theatre was the first grand movie house and became the one all others were modeled on. It opened on October 26, 1921, with a 1 p.m. 25 cent showing of The Sign on the Door. In 1986, the seven-story high, 3,600 seat theatre was saved by Chicago Theatre Restoration Associates and the City of Chicago and continues to host a variety of acts.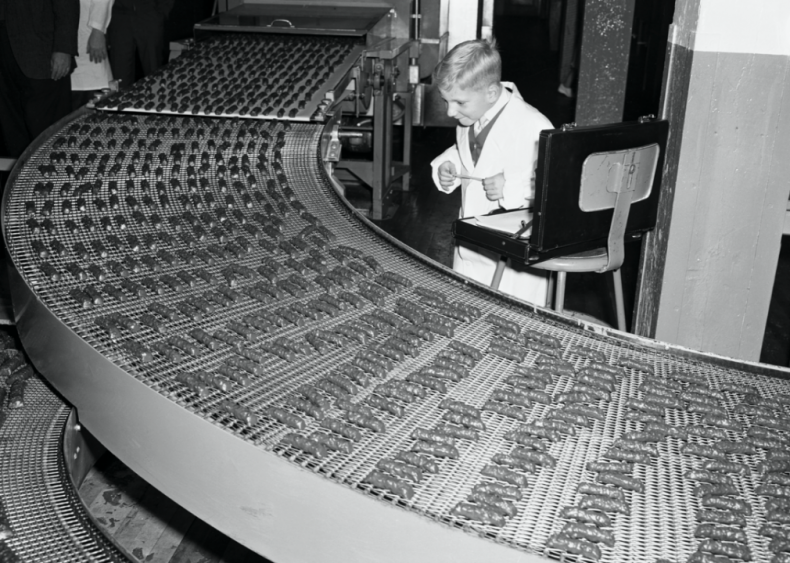 Baby Ruth
In 2006, Baby Ruth, a candy bar invented in 1921 by the Curtiss Candy Company, was the official candy bar of Major League Baseball. While it is often thought that the candy concoction was named after baseball great Babe Ruth, this is hotly debated. No matter who it was named for, the candy bar still manages to make people happy and was awarded the 2020 Product of the Year in its category.
[Pictured: A boy watches candy bars come off the production line at the Curtiss Candy Company in Chicago.]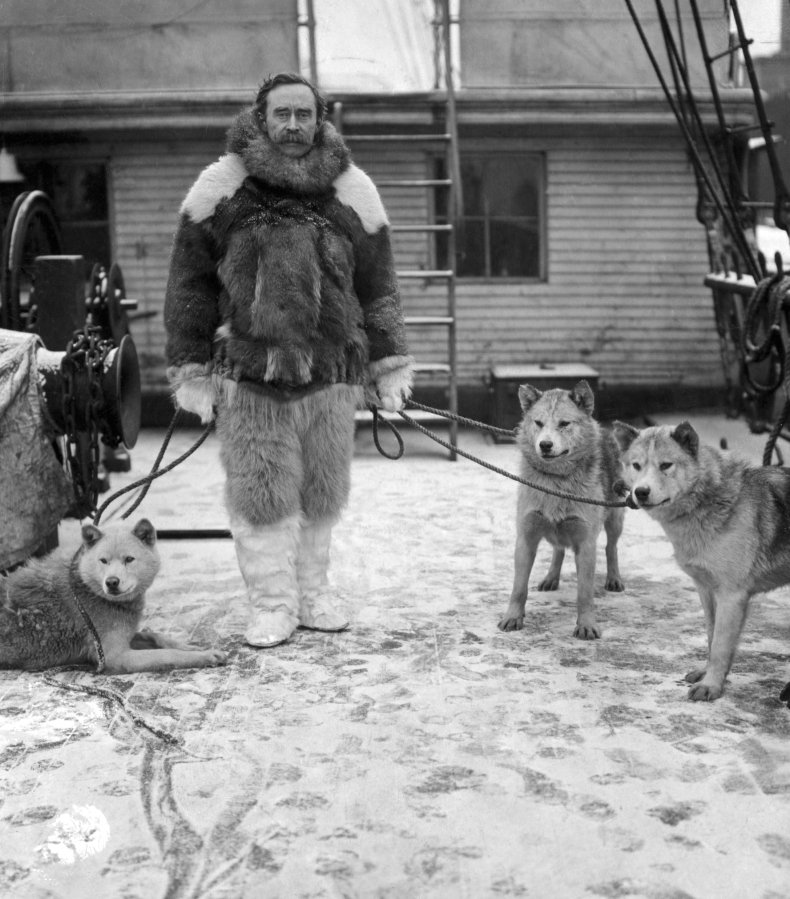 Kaffeklubben Island
Robert E. Peary, an American explorer who many believed was the first person to reach the North Pole, discovered this island off the coast of Greenland's Cape Morris Jessup in 1900. Danish explorer Lauge Koch named the island after the coffee club in Copenhagen's Museum of Mineralogy in 1921. The desolate island is one of the northernmost points of land on Earth and is part of Northeast Greenland National Park.
[Pictured: Robert E. Peary with his sled dogs after returning from the North Pole expedition of 1909.]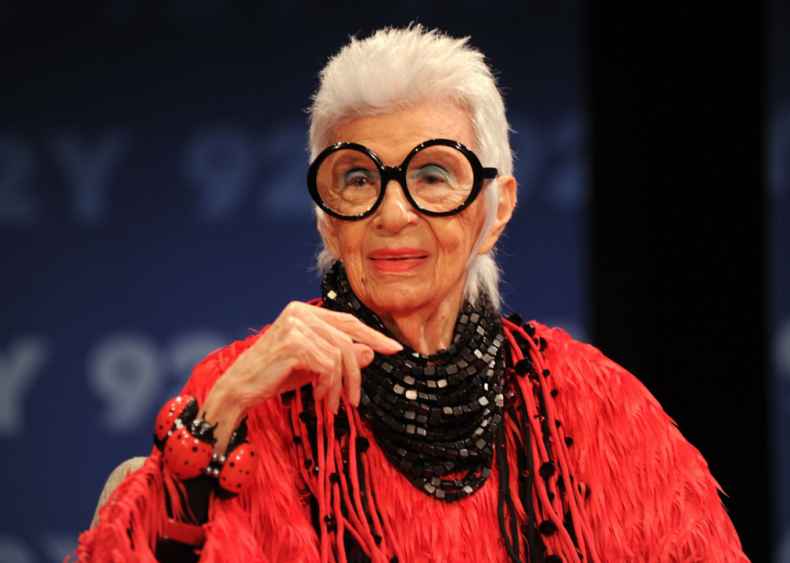 Businesswoman Iris Apfel
Fashion icon Iris Apfel was born on August 29, 1921, in New York City. Apfel was the subject of a 2014 documentary and penned a book in 2018. She is known for her daring style and for her age-defying attitude.
Picasso's 'Three Musicians'
This painting, photographed on the right, by legendary painter Pablo Picasso resides in the New York Museum of Modern Art and is an example of Synthetic Cubism. He painted it in the summer of 1921 while vacationing with his family in Fontainebleau, France.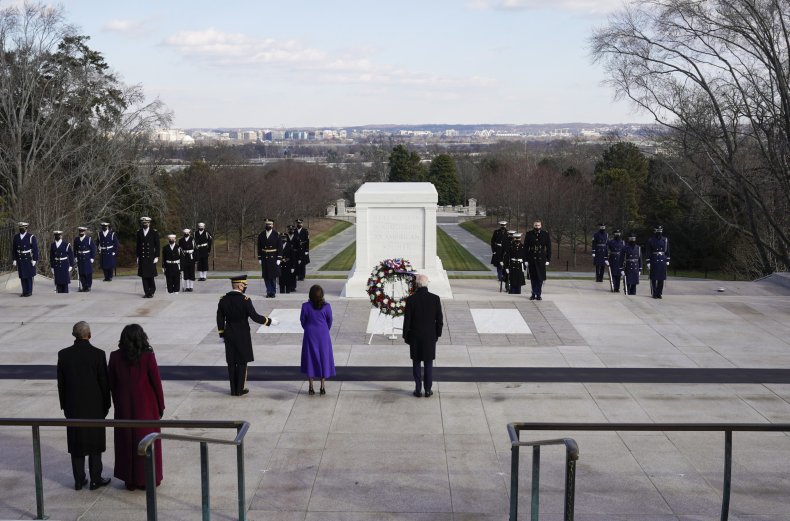 The Tomb of the Unknown Soldier
This memorial in Arlington National Cemetery marks the final resting place of an unidentified World War I service member as well as unknown soldiers from later wars whose remains were laid to rest in the marble-white sarcophagus in 1958 and 1984. The inscription on the tomb reads, "Here rests in honored glory an American soldier known but to God."
[Pictured: President Joe Biden and Vice President Kamala Harris attend a wreath-laying ceremony at the Tomb of the Unknown Soldier on January 20, 2021 in Arlington, Virginia. ]
You may also like: Major Civil Rights Movements in All 50 States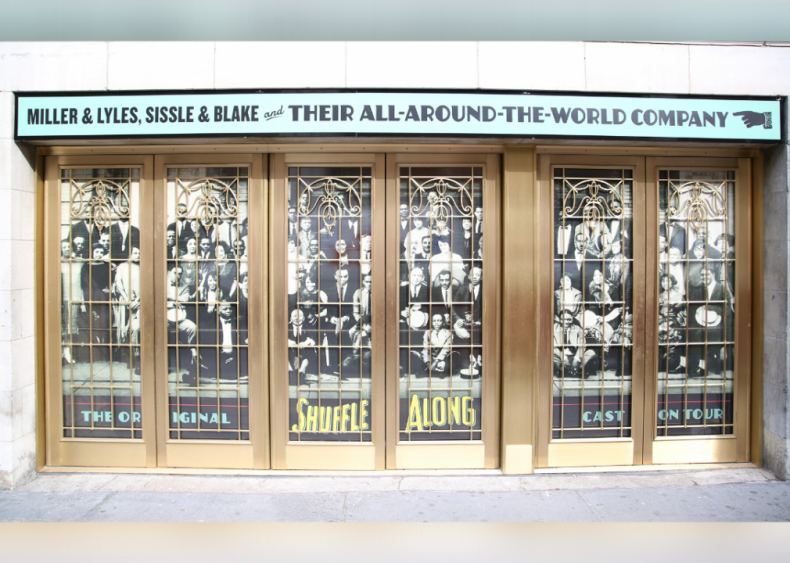 'Shuffle Along' musical
When this Broadway musical debuted in 1921, it marked an important moment in Black history. Shuffle Along was written by and starred African Americans. Black audience members were allowed to sit in the orchestra, instead of the segregated seating they were normally made to occupy in the balcony.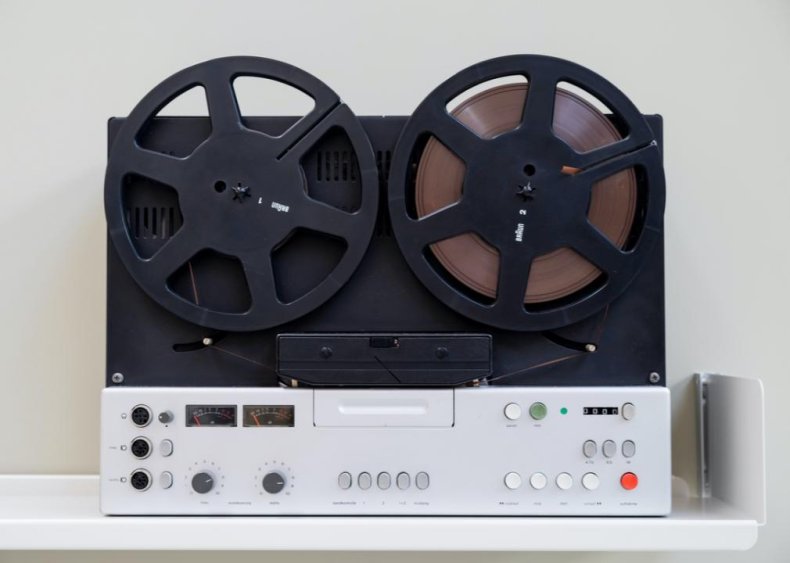 Braun
Braun is known for its electrical appliances, although the most well-known is probably its shavers. Started 100 years ago, it is now a part of Procter & Gamble, which acquired Gillette in 2005.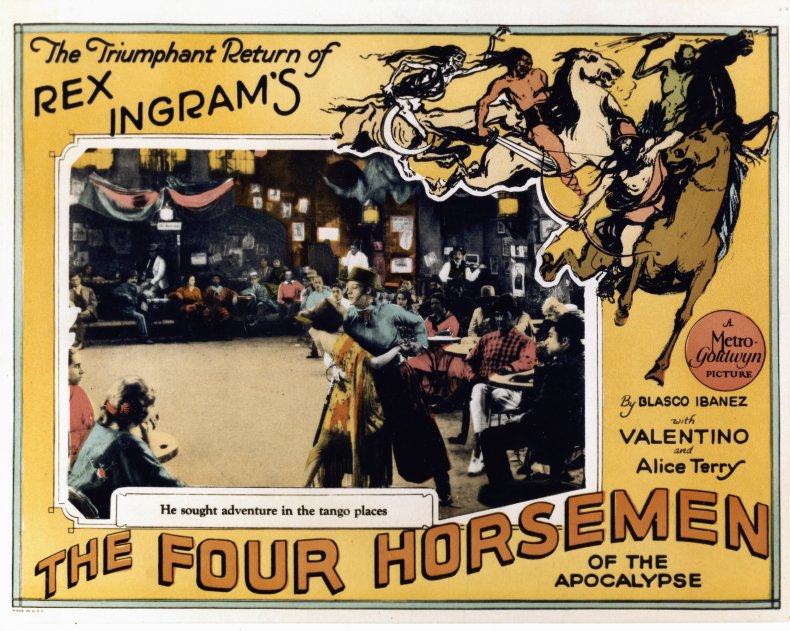 'The Four Horsemen of the Apocalypse' film
In this film by director Rex Ingram, a family finds themselves on opposite sides of the battlefield during World War I. This film classic was added to the Library of Congress' National Film Registry in 1995. It is one of the highest-grossing silent films ever made.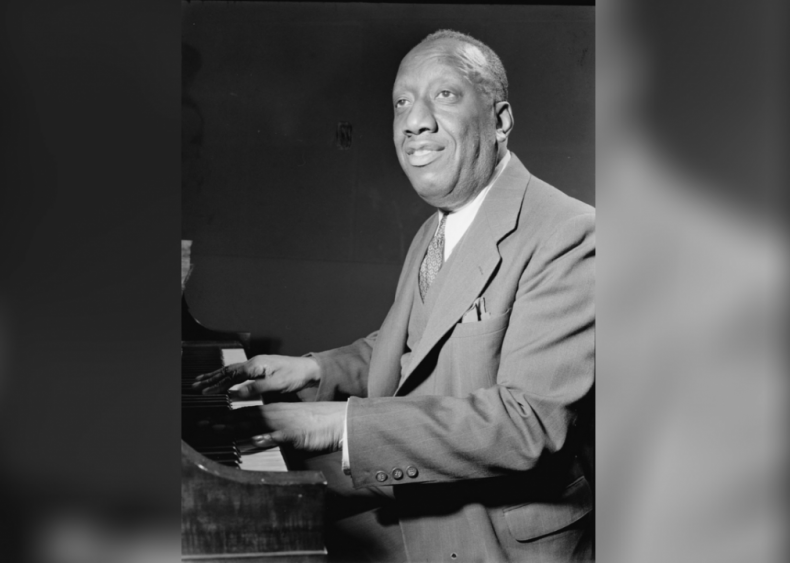 Jazz piano solos (Recordings of James P. Johnson's compositions 'Harlem Strut', 'Keep Off the Grass', 'Carolina Shout', and 'Worried and Lonesome Blues')
James P. Johnson is often referred to as the "Father of Stride Piano." Merriam-Webster defines stride piano as, "a style of jazz piano playing in which the right hand plays the melody while the left hand alternates between a single note and a chord played an octave or more higher." Johnson's compositions have had a profound impact on jazz music.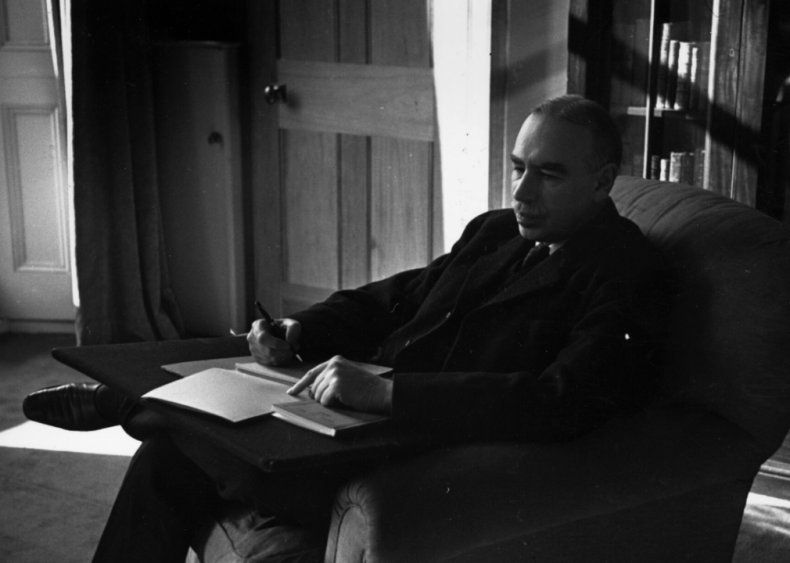 John Maynard Keynes' 'A Treatise on Probability'
This famous work by economist John Maynard Keynes introduced what has become known as the "logical-relationist" theory after it upset the classical theory of probability. It was published while Keynes was at Cambridge University and is considered one of the most important works on probability.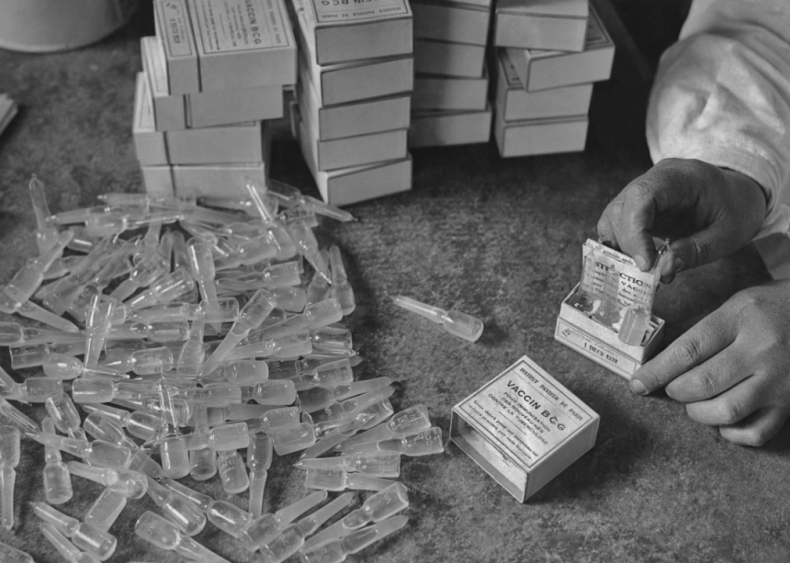 Tuberculosis vaccine BCG
Bacille Calmette-Guérin (BCG) is a vaccine created to fight tuberculosis. French bacteriologists Albert Calmette and Camille Guérin worked on the vaccine for 13 years before its completion in 1921. The first trial of the vaccine took place at Charité Hospital, Paris.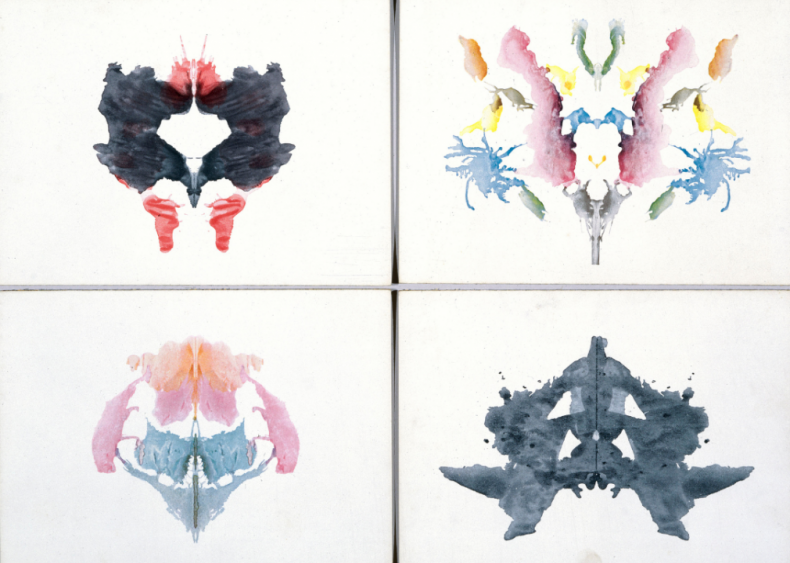 Rorschach inkblot test
This psychological test consists of 10 inkblots pictured on cards. Five of the cards feature color, and five are black and white. Swiss psychiatrist Hermann Rorschach created the test, which was first introduced with the publication of Psychodiagnostik in 1921.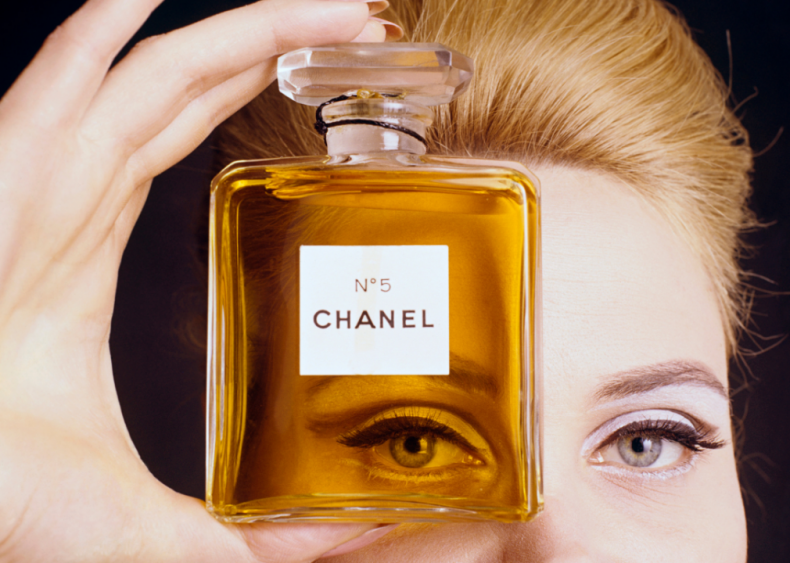 Chanel No. 5
Coco Chanel wanted a scent that embodied the modern woman she represented. Using aldehydes in the perfume, Chanel wanted a fragrance that smelled fresh and clean. With a bottle designed to look like a whiskey decanter and a mix of vanilla, sandalwood, jasmine, and rose, a classic fragrance was born.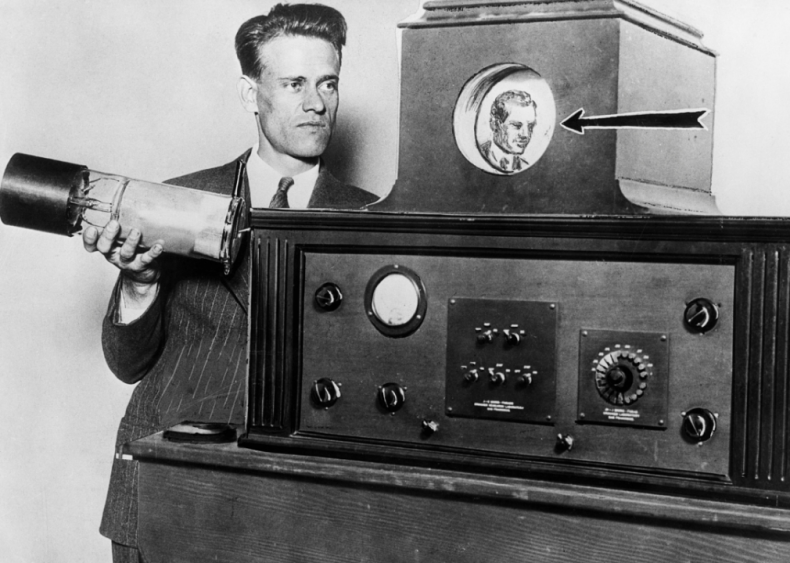 TV's precursor, the 'image dissector'
Teenage farm boy Philo Taylor Farnsworth came up with the idea for the image dissector a century ago. It was an electron tube also known as a television transmission tube that was essential in the creation of modern television. Farnsworth went on to invent many useful things in his lifetime and hold hundreds of patents.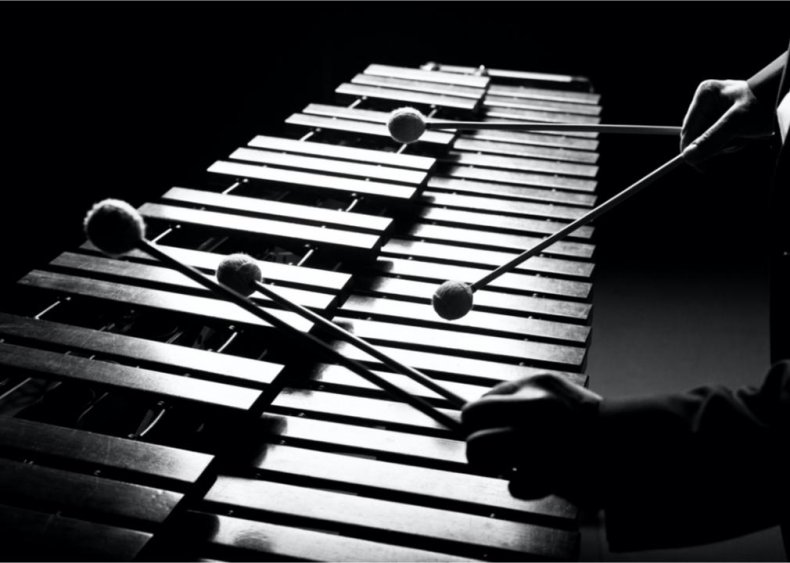 The vibraphone
The vibraphone was invented in the United States by Hermann Winterhoff of the Leedy Manufacturing Co. It is a percussion instrument similar in shape to a xylophone that uses metal bars and resonating tubes to create sound.
You may also like: 101 Popular Trends From the Year You Were Born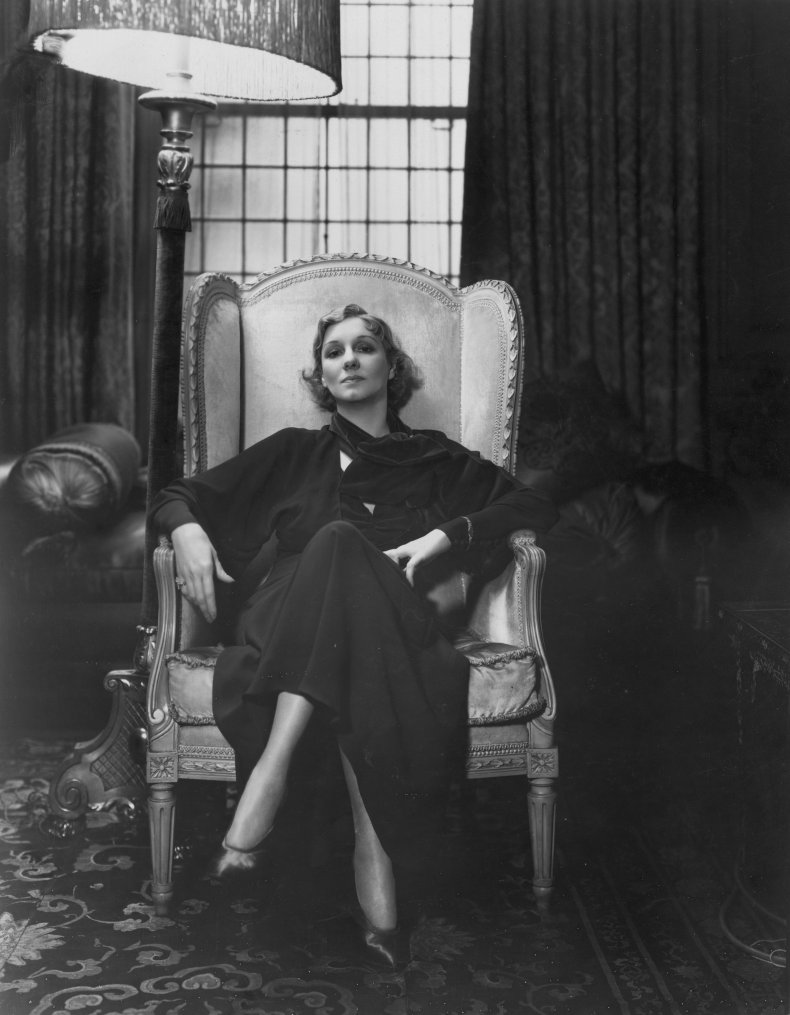 Marion Harris' 'I Ain't Got Nobody' (No. 1 on pop charts)
Recorded in April 1920, "I Ain't Got Nobody" went No. 1 in 1921. Marion Harris was an actress and the first widely known white singer of jazz songs. The song was written by Roger Graham and composed by Spencer Williams.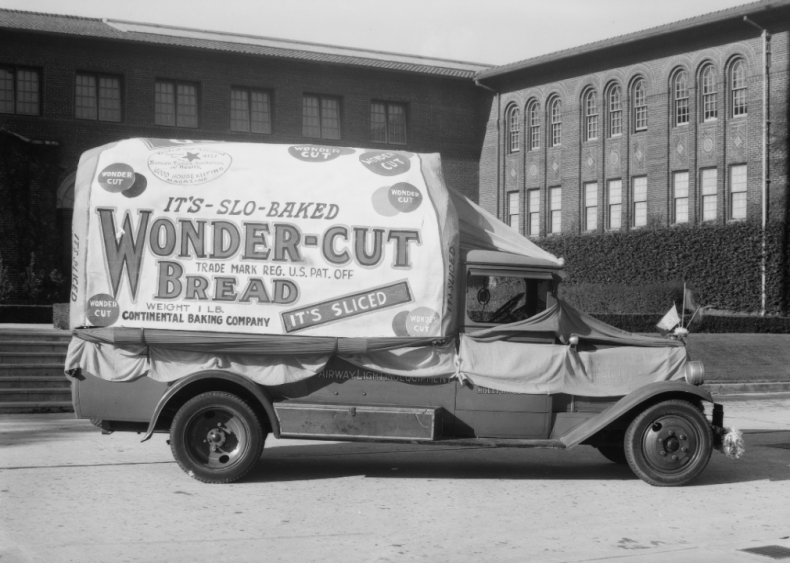 Wonder Bread
This classic cupboard staple was introduced to the public in May 1921. Its name and colorful packaging were inspired by hot air balloons seen by Taggart Baking Company executive Elmer Cline.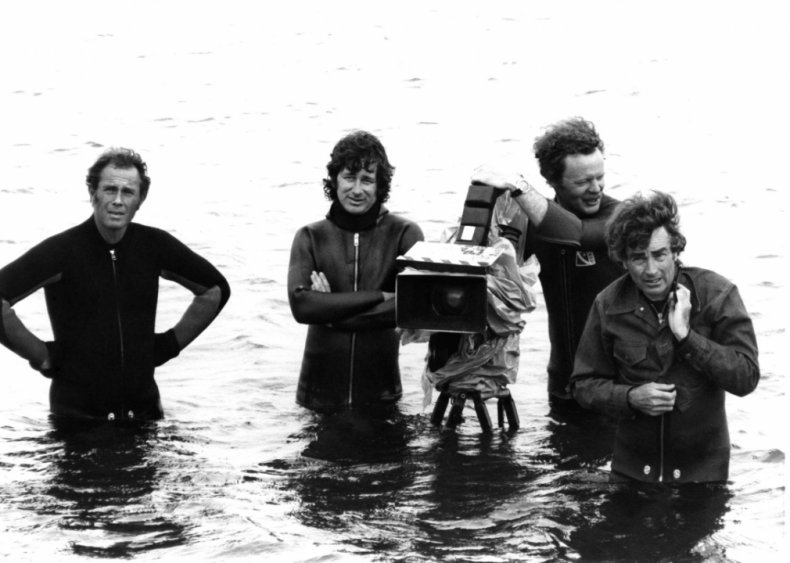 Cinematographer Bill Butler
Born on April 7, 1921, in Cripple Creek, Colorado, Bill Butler is known for his cinematography in several well-known films, including One Flew Over the Cuckoo's Nest, Grease, and Jaws. The award-winner's career dates back to the early 1960s.
[Pictured: Director Steven Spielberg, camera operator Michael Chapman and cinematographer Bill Butler (R) on the set of the Universal Pictures production of Jaws in 1975 in Martha's Vineyard, Massachusetts.]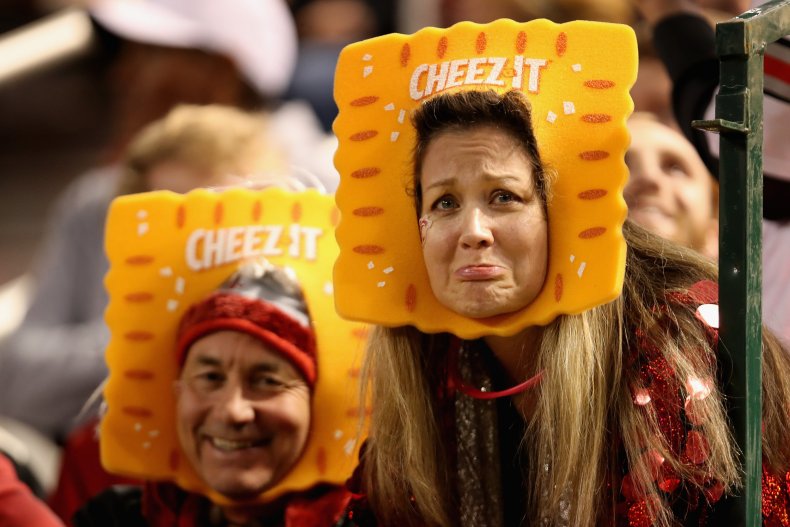 Cheez-It
Green & Green Company first introduced Cheez-It crackers in Dayton, Ohio, on March 31. Through a series of acquisitions, Cheez-It is now owned by Kellogg. There are several variations of the cheesy cracker.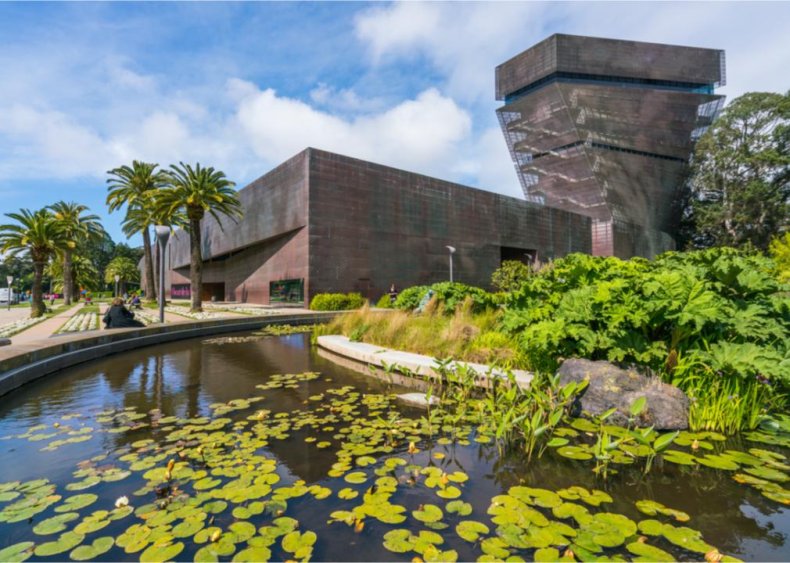 de Young Museum in Golden Gate Park
While its beginnings came as the Fine Arts Building in 1894 in San Francisco's Golden Gate Park, the de Young Museum truly came to be known by its current name in 1921. That was the year Michael de Young added a central section, that along with the building's tower, became the museum's signature feature. After suffering extensive damage in 1989 due to the Loma Prieta earthquake, the museum was rebuilt and the new de Young opened its doors on October 15, 2005.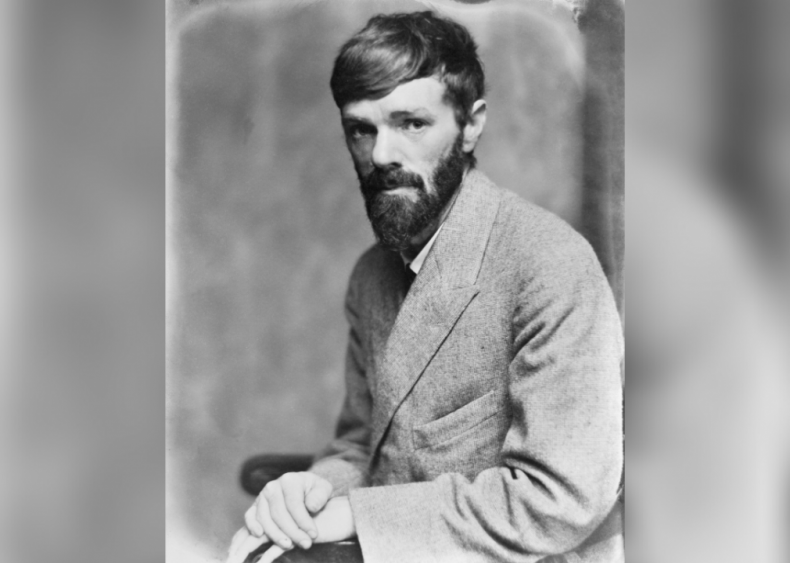 D.H. Lawrence's 'Sea and Sardinia'
This travel book by English writer D.H. Lawrence documents an excursion he took with his wife in January 1921. It was written while Lawrence was living in Sicily after the first world war and remains a beautiful portrayal of Sicilian life.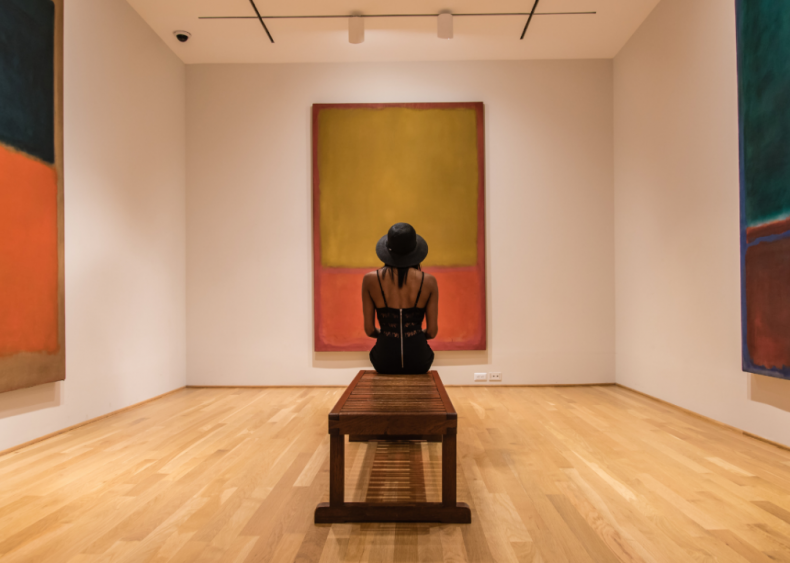 The Phillips Collection, America's first museum of modern art
Located in Washington D.C., the museum is honoring its 100th anniversary with several centennial exhibits. Opened by collector and philanthropist Duncan Phillips who founded the museum with his mother in 1918, it didn't open until the fall of 1921. The Phillips employs a Chief Diversity Officer who helps to make sure a diverse range of artists, including women and people of color, are represented.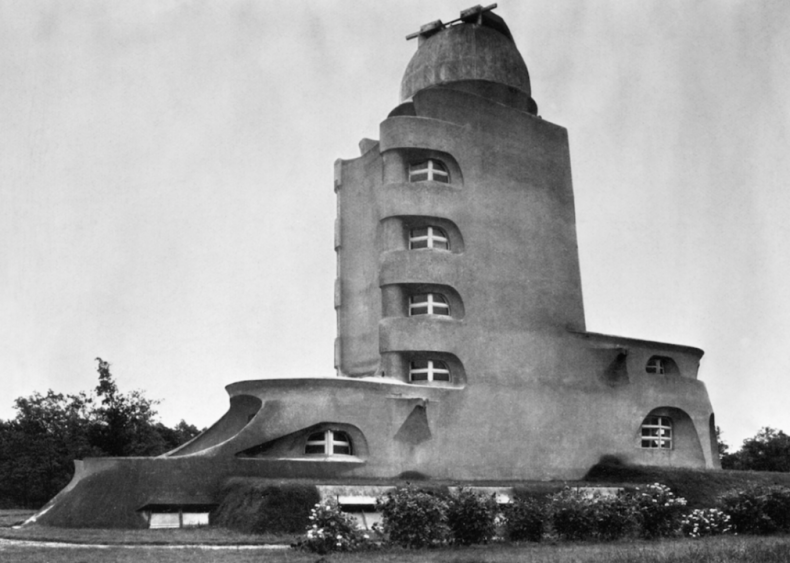 Einstein Tower in Germany
This solar observatory is also an example of expressionist architecture. Located in Albert Einstein Science Park in Potsdam, Germany, it was built to find evidence to either support or refute Einstein's General Theory of Relativity. German architect Erich Mendelsohn designed the observatory.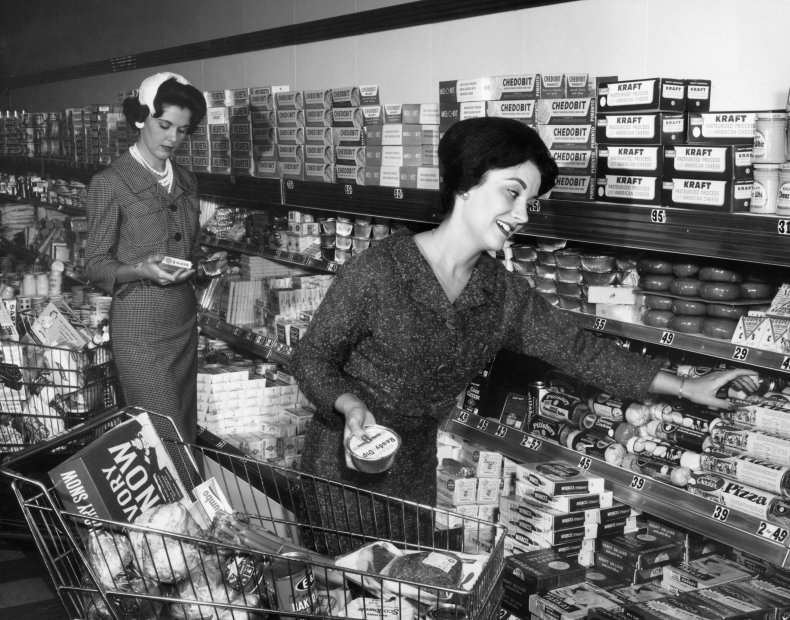 Betty Crocker
Born in 1921, Betty Crocker inspired women in the kitchen, helping them with some of their most pressing questions and issues. Or at least that was the idea that the Washburn-Crosby Company had in mind when they created Betty Crocker as part of an advertising campaign. Her surname came from the retired director of the company, and the name Betty was simply considered wholesome, even her signature was artifice as it came from a signature writing contest.
[Pictured: A woman reaches for a container of Betty Crocker pizza dough mix, in the dairy section of a grocery store circa 1965.]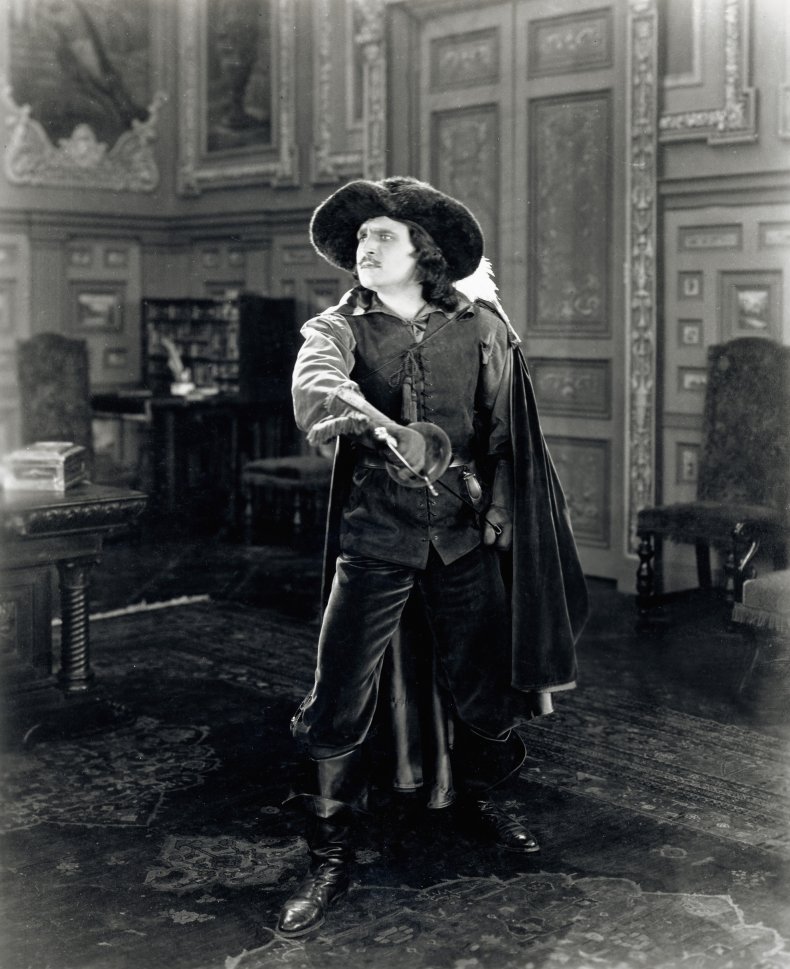 'The Three Musketeers' movie
Directed by Fred Niblo, the film starred Douglas Fairbanks. Based on the book by Alexandre Dumas, it premiered at the Lyric Theatre in New York on August 28, 1921. There have been several film adaptations of The Three Musketeers.
You may also like: What Winter Was Like the Year You Were Born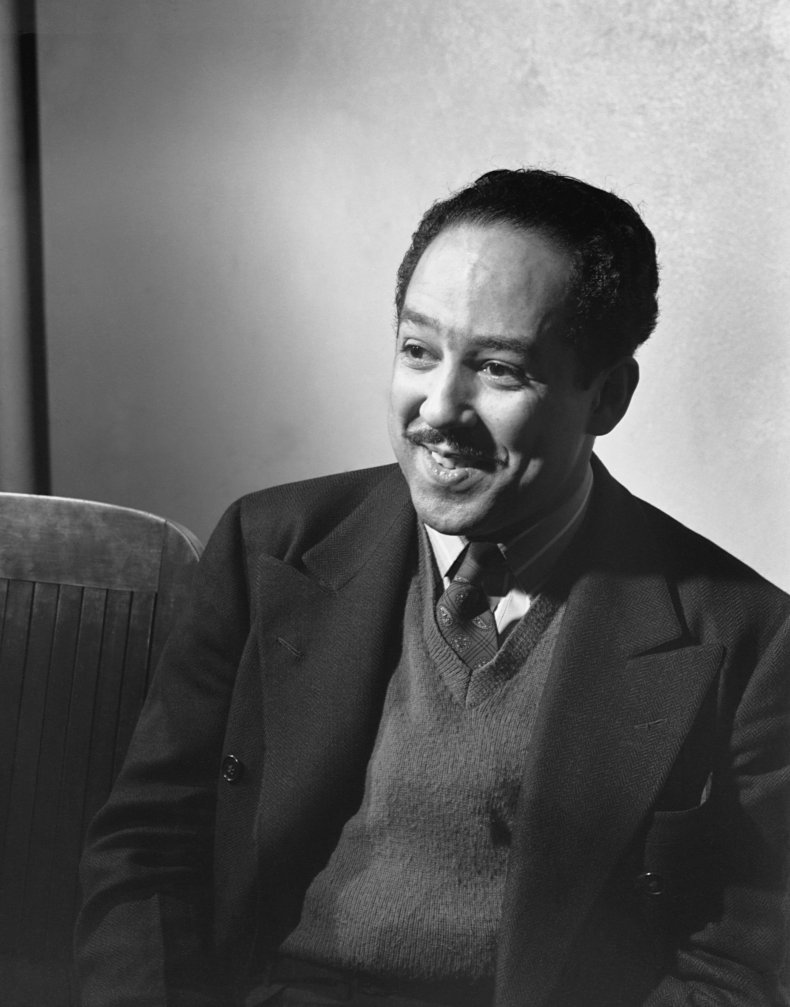 Langston Hughes' poem 'The Negro Speaks of Rivers'
The Negro Speaks of Rivers was first published in the NAACP magazine The Crisis in June 1921. Harlem Renaissance poet Hughes wrote the famous poem at the age of 17 and dedicated it to W. E. B. DuBois.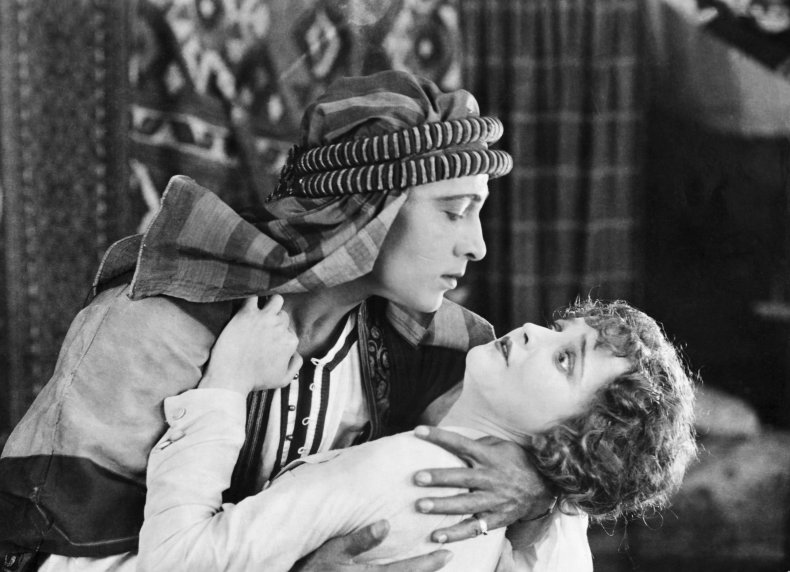 'The Sheik' movie
A modern Englishwoman becomes the object of a sheik's infatuation in this film starring Rudolph Valentino and Agnes Ayres. The silent film, directed by George Melford, was a career-maker for Valentino.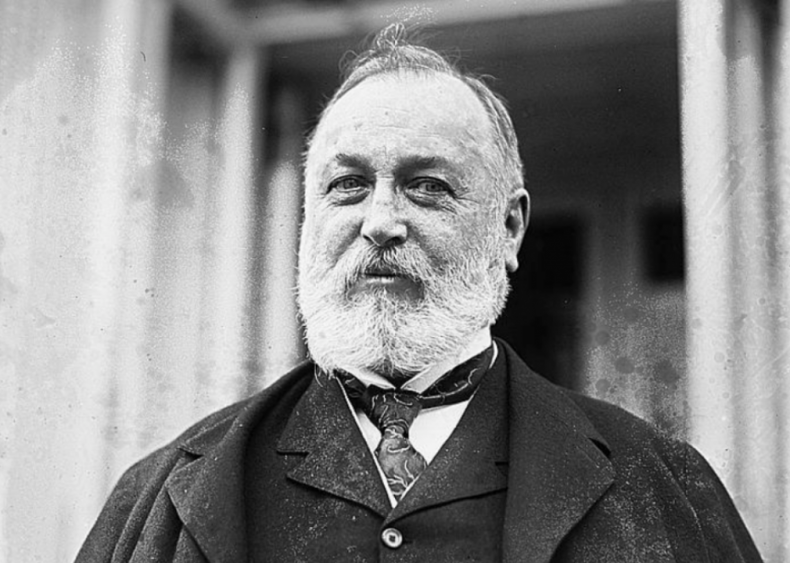 'Barron's' magazine
Barron's is a weekly newspaper focused on finance and investing. Founded in 1921 by Clarence Barron, as a sister publication to The Wall Street Journal, the magazine is still in print today. It is owned by Dow Jones & Company, a division of News Corp.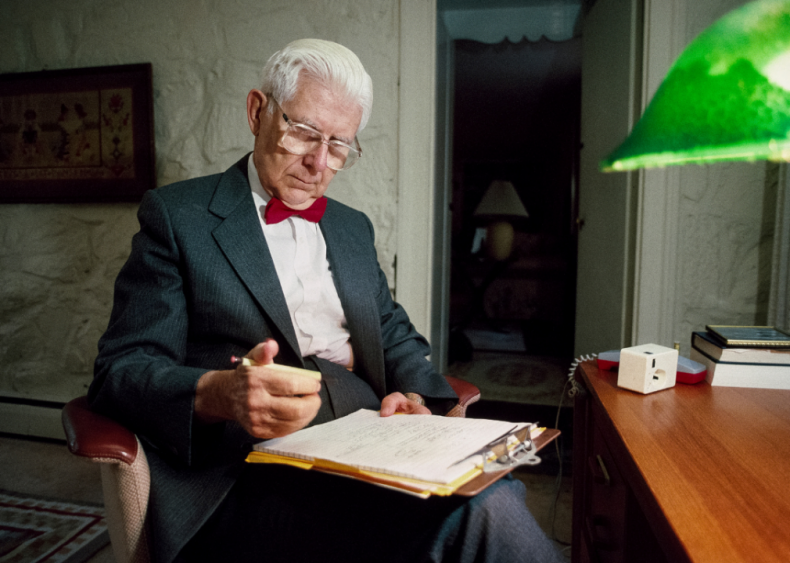 Lauded American psychiatrist Aaron T. Beck
Born July 18, 1921, American psychiatrist Aaron Temkin Beck is regarded by many as the father of cognitive therapy. Also a professor emeritus at the University of Pennsylvania in the psychiatry department, many of the theories he pioneered are used to treat clinical depression.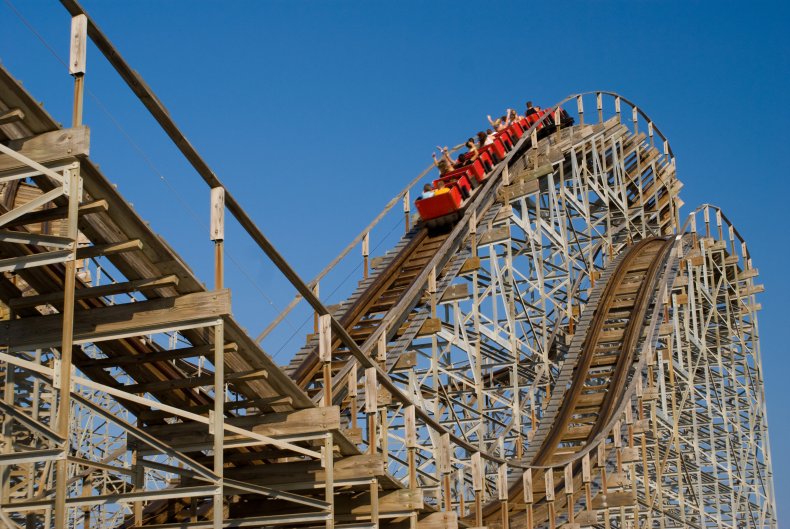 The Roller Coaster (aka the White Roller Coaster) in Farmington, Utah
This wooden roller coaster is located at Lagoon Park. Designed by John Miller, who worked on the design of several Coney Island roller coasters, the max speed of the White Roller Coaster is 45 mph. A fire in 1953 damaged the front of the historical coaster, and it was rebuilt in 1954.
[Pictured: A wooden roller coaster much like the ones designed by John Miller. ]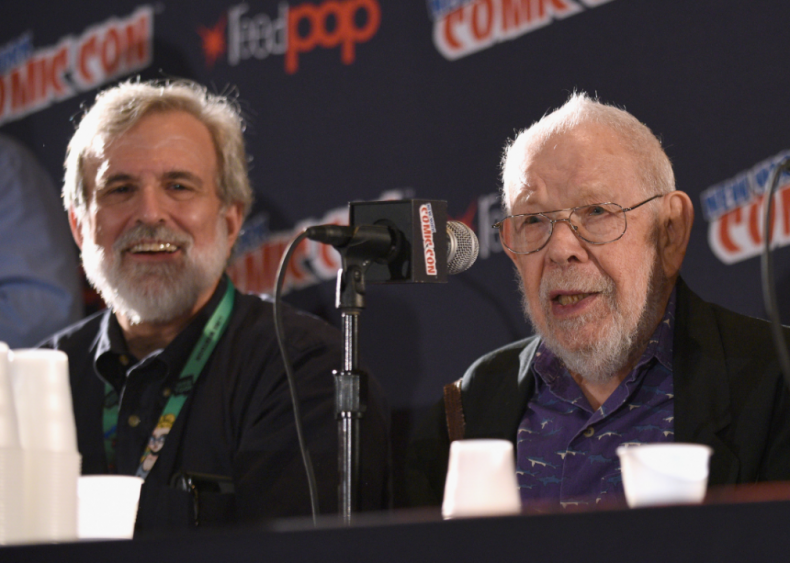 Cartoonist Al Jaffee
Al Jaffee contributed to Mad magazine from 1964 until his retirement in June 2020 at the age of 99. In his time at the magazine, Jaffee created the Mad Fold-In and Snappy Answers to Stupid Questions. On March 13, 2021, the cartoonist will become a centenarian.
[Pictured: Mad magazine artists Sam Viviano and Al Jaffee at New York Comic Con on October 6, 2017 in New York City.]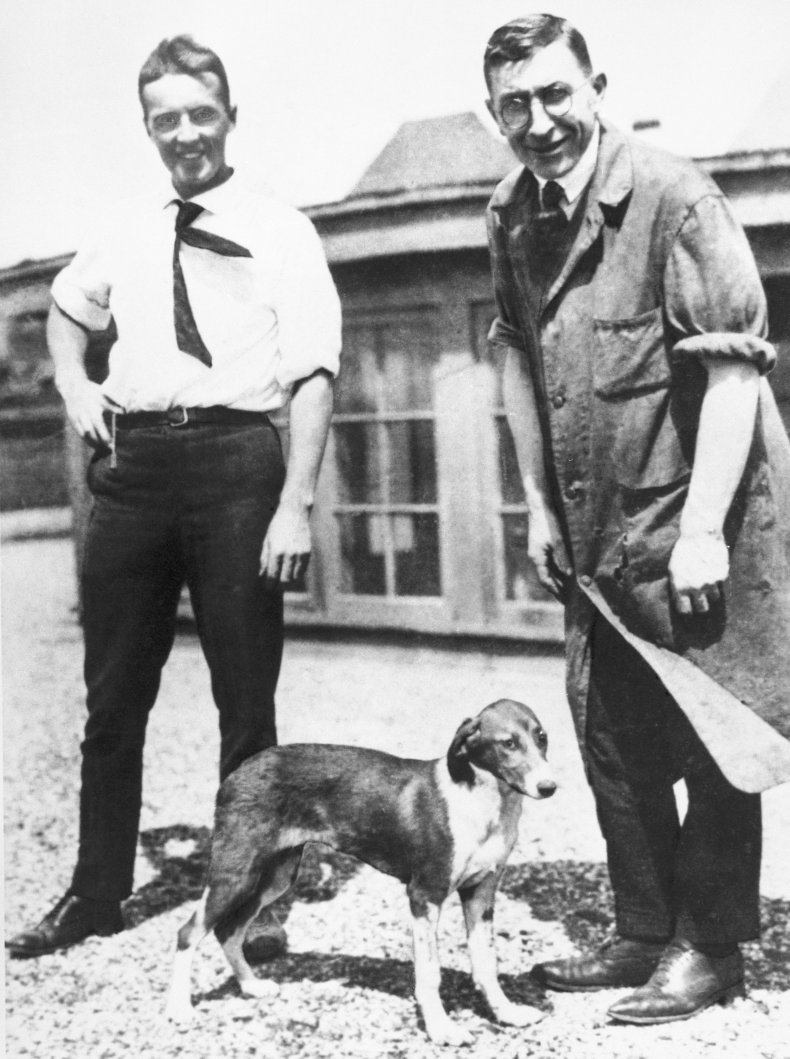 Insulin
Before insulin was discovered, people with Type 1 diabetes weren't expected to live for long. That changed in 1921 when Frederick Banting and his assistant Charles Best managed to remove insulin from a dog's pancreas. They enlisted the help of two colleagues, J.B. Collip and John Macleod for the first human trial in January 1922 on a 14-year-old boy named Leonard Thompson who was dying in a Toronto hospital of diabetes. Thompson's blood glucose levels dropped to near-normal levels, and the researchers won the Nobel Prize in Medicine.
[Pictured: Sir Frederick Banting and Dr. Charles Best co-discoverers of Insulin on the roof of their lab with the first dog to be kept alive by Insulin in the Summer of 1921.]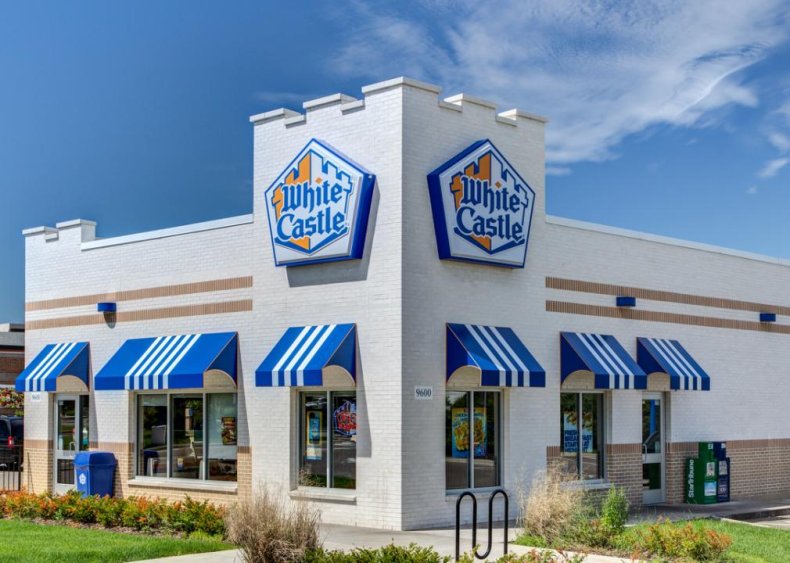 White Castle
The family-owned burger business now in its fourth generation was started by Billy Ingram who sold square burgers for 5 cents back in 1921. The slider had such an impact on the burger industry that Time magazine named the Original Slider the most influential burger of all time in 2014.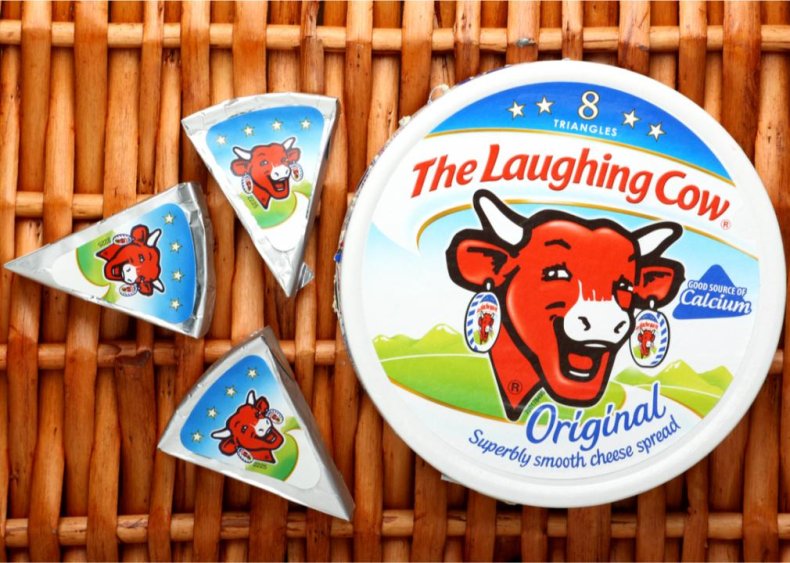 The Laughing Cow cheese
Created in Lons, France, the cheese wrapped in aluminum foil in individual wedges was manufactured in the U.S. beginning in 1975. In 2016, they added a new product called Cheese Dippers. Fromageries Bel, the parent company of Laughing Cow cheese, is headquartered in Paris.
You may also like: 30 of the Best Dog Breeds for Seniors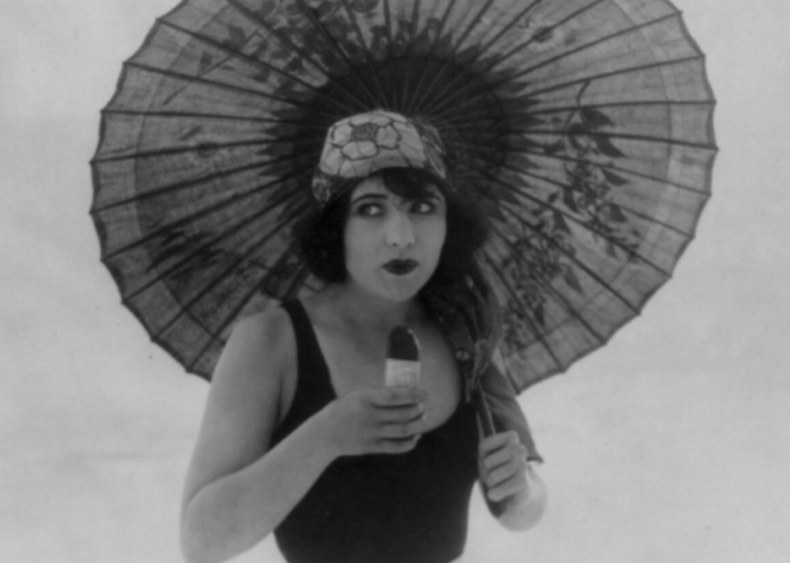 Edy's Pie
The first chocolate-covered ice cream bar, the I-Scream Bar, was created by Christian Kent Nelson. In 1921, the dessert changed its name to Eskimo Pie. In 2021, it will undergo another name change to Edy's Pie after one of Dreyer's Grand Ice Cream founders, Joseph Edy.
[Pictured: Movie star Betty Compson poses eating an Eskimo Pie in 1922.]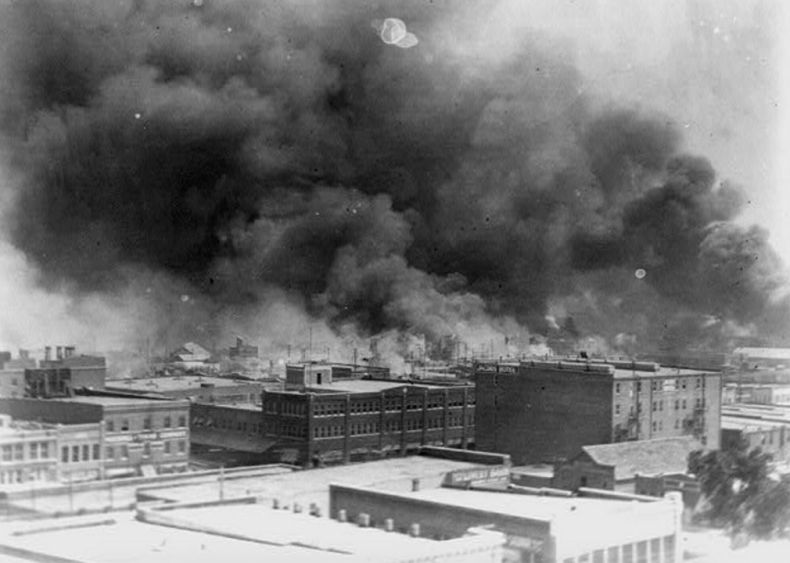 100th anniversary of the Tulsa Race Massacre / Tulsa Race Riot
In 1921 on Memorial Day Weekend, Jim Crow segregation laws seized the county. In Tulsa, Oklahoma, rumors about a Black man assaulting a white woman gave a white mob the excuse to head to a prosperous neighborhood called "Black Wall Street," where they looted and killed. On the 100th anniversary, a commission has been created to commemorate the Massacre.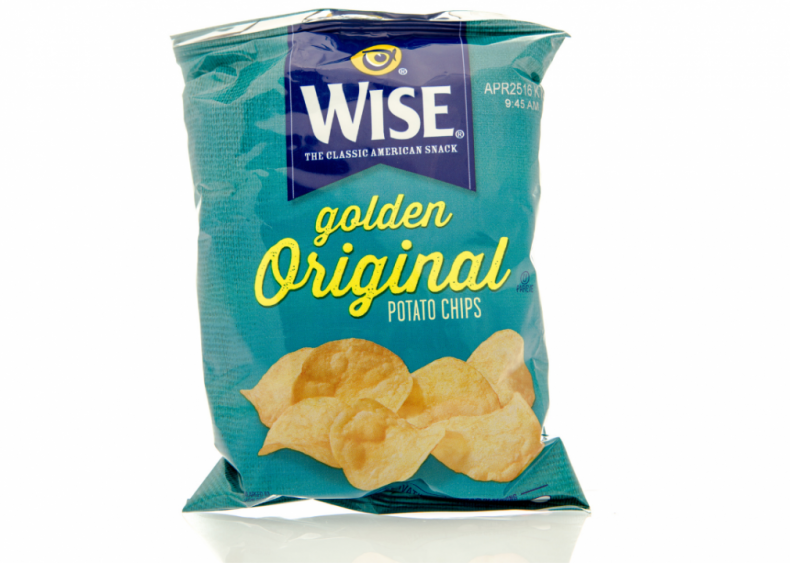 Wise Potato Chips
In 1921, grocer Earl Wise, Sr., found himself with a problem; he had too many potatoes. He used them to create the hand-made chips that would evolve into Wise Potato Chips. In 1925, Wise opened his first production plant, and even today, the company continues to expand its product line.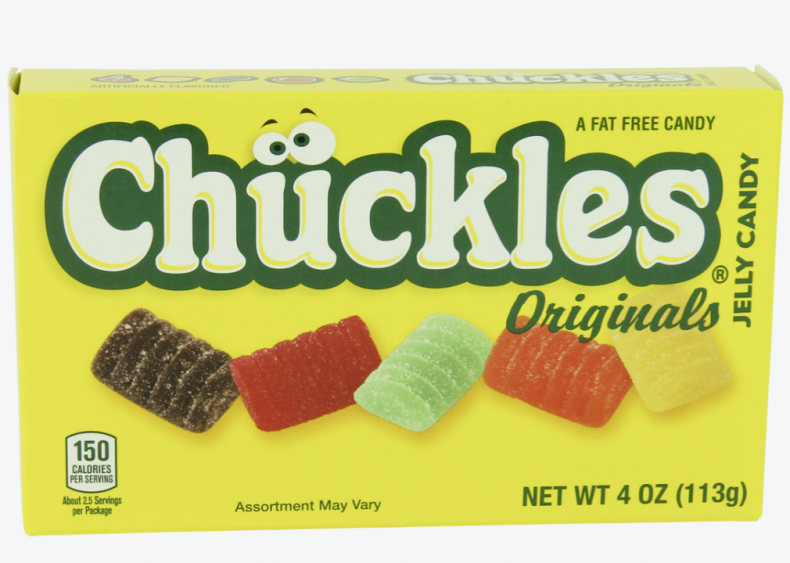 Chuckles candy
These sugar-coated jelly candies were created by Fred W. Amend and are produced by the Ferrara Candy Company, which also makes classic sugary treats Now and Later, and Fruit Stripe Gum. They come in a package with five different flavors that include: cherry, lemon, lime, orange, and licorice.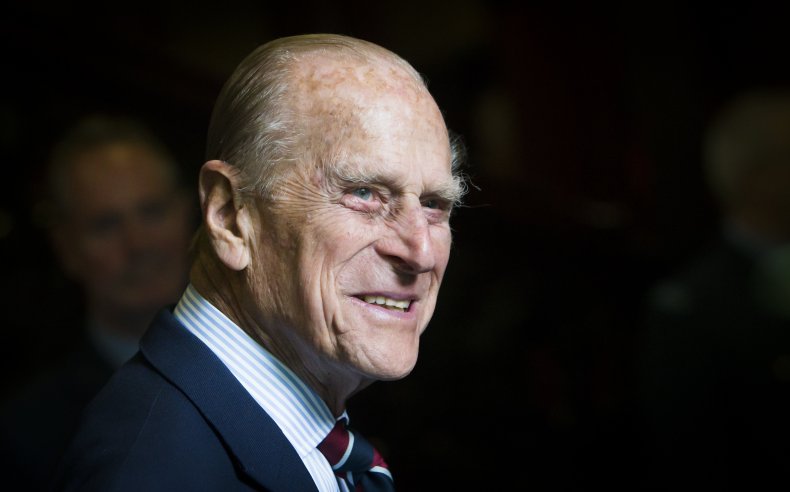 Prince Philip, Duke of Edinburgh
Married to the United Kingdom's Queen Elizabeth II since November 20, 1947, Prince Philip will celebrate 100 years on June 10, 2021. He was born into royalty himself. His father was Prince Andrew of Greece and Denmark, and his mother was Princess Alice of Battenberg. The Duke of Edinburgh is the longest-serving British consort in history.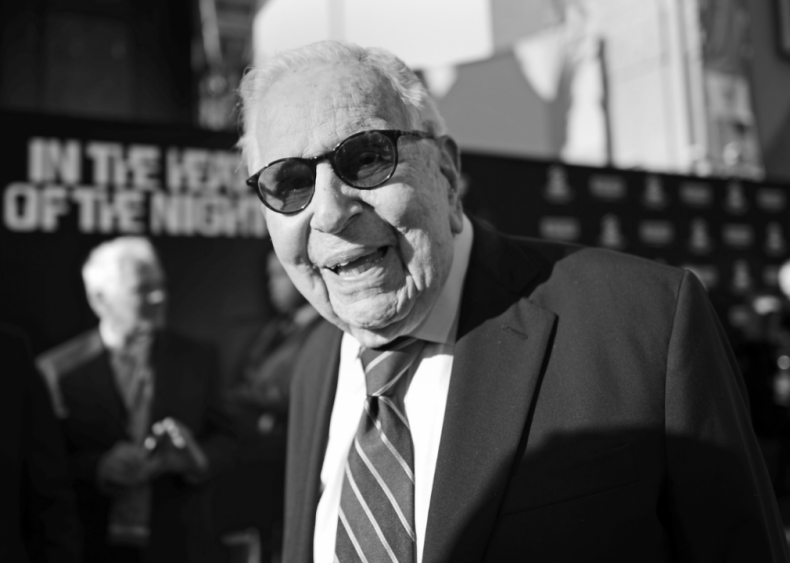 Producer Walter Mirisch
The American film producer got his start producing low-budget film features before founding his own independent film production company, The Mirisch Corporation, in 1957 with his brothers, Marvin and Harold. The prolific producer took home the Oscar for Best Picture as the producer of the 1967 film, In the Heat of the Night. Some of the notable films Mirisch produced include Fiddler on the Roof, The Pink Panther, and Some Like It Hot.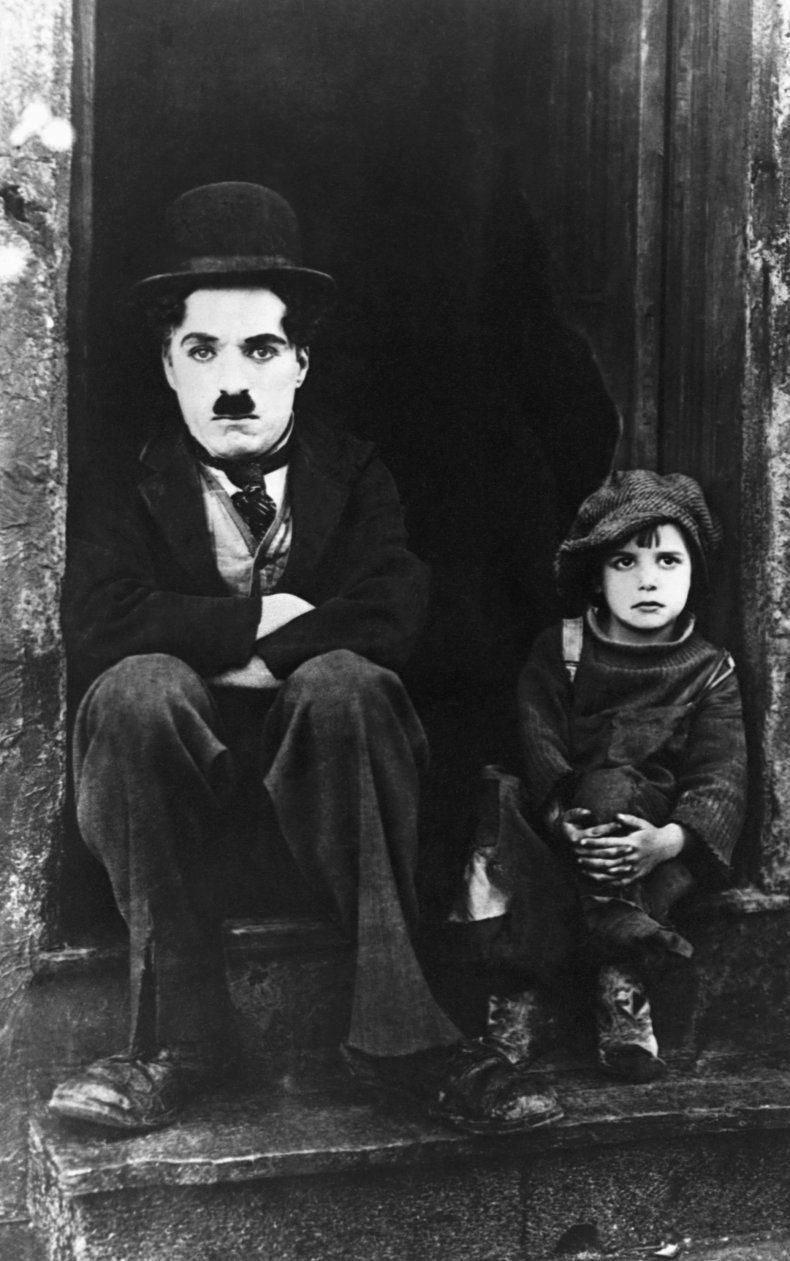 Full-length silent comedy-drama 'The Kid'
The Kid was written, produced, and starred silent film great Charlie Chaplin, and it marked his full-length directorial film debut. In the film, Chaplin cares for an abandoned child played by Jackie Coogan. Child-star Coogan would go on to play Uncle Fester on the 1960s sitcom The Addams Family.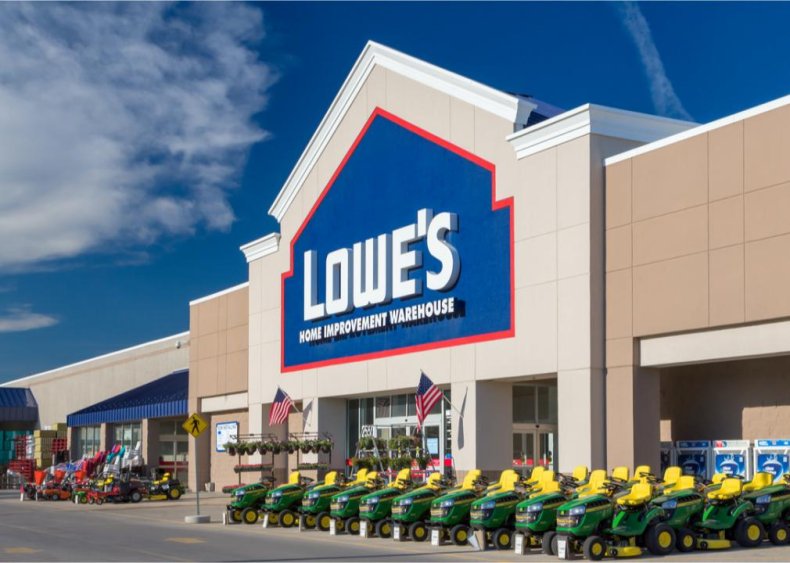 Lowe's
The Lowe's we know today started out as Lowe's North Wilkesboro Hardware, a small-town hardware store in North Carolina. When founder L.S. Lowe died in 1940, his son Jim Lowe took over the hardware store. In 2016, Lowe's expanded its reach when it acquired RONA in Canada.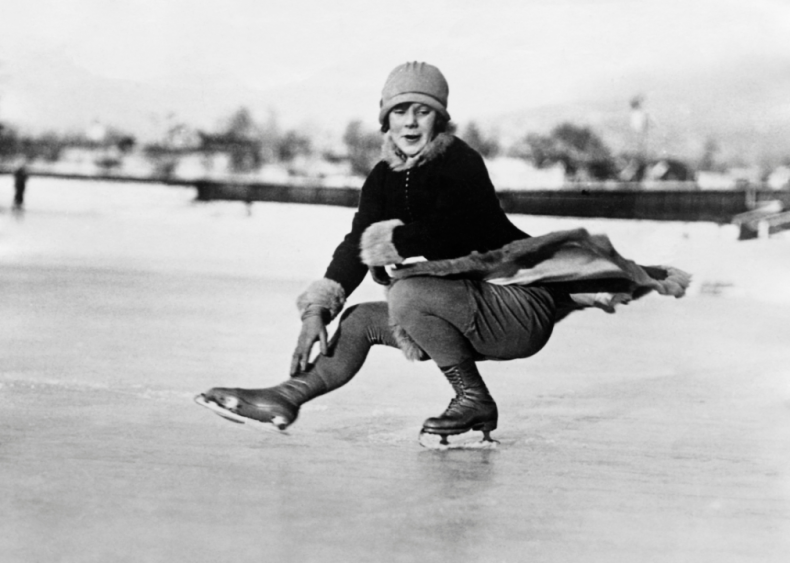 United States Figure Skating Association
The United States Figure Skating Association is the national governing body of the sport of figure skating. When it was founded in 1921, there were only seven charter member clubs. One hundred years later, the association has more than 800 member school-affiliated and collegiate clubs.
[Pictured: World champion figure skater Sonja Henie in 1928.]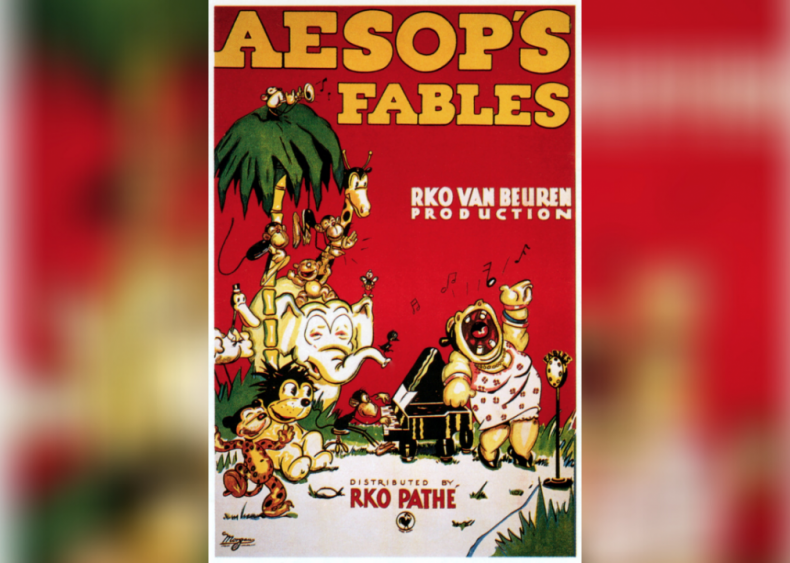 'Aesop's Fables' animated shorts
Created by American cartoonist Paul Terry, the animated shorts were produced from 1921 to 1933. While the silent cartoon series was named after the ancient fables, only the earliest stories were loose adaptations of them. The later shorts had nothing to do with them but rather, focused primarily on Farmer Alfalfa.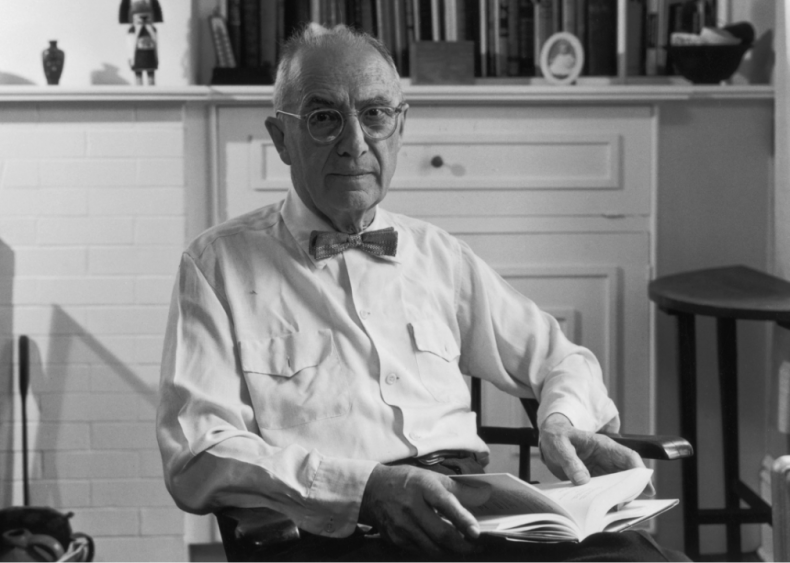 William Carlos Williams' 'Sour Grapes'
This early work by William Carlos Williams was a book of poetry published by The Four Seas Company in Boston and includes the poems, "The Widow's Lament in Springtime," "Queen-Anne's-Lace," and "The Great Figure." Not just a poet, William Carlos Williams was also a medical doctor, novelist, essayist, and playwright. His poetry fell into the Imagist movement.
You may also like: Pop Culture History From the Year You Were Born