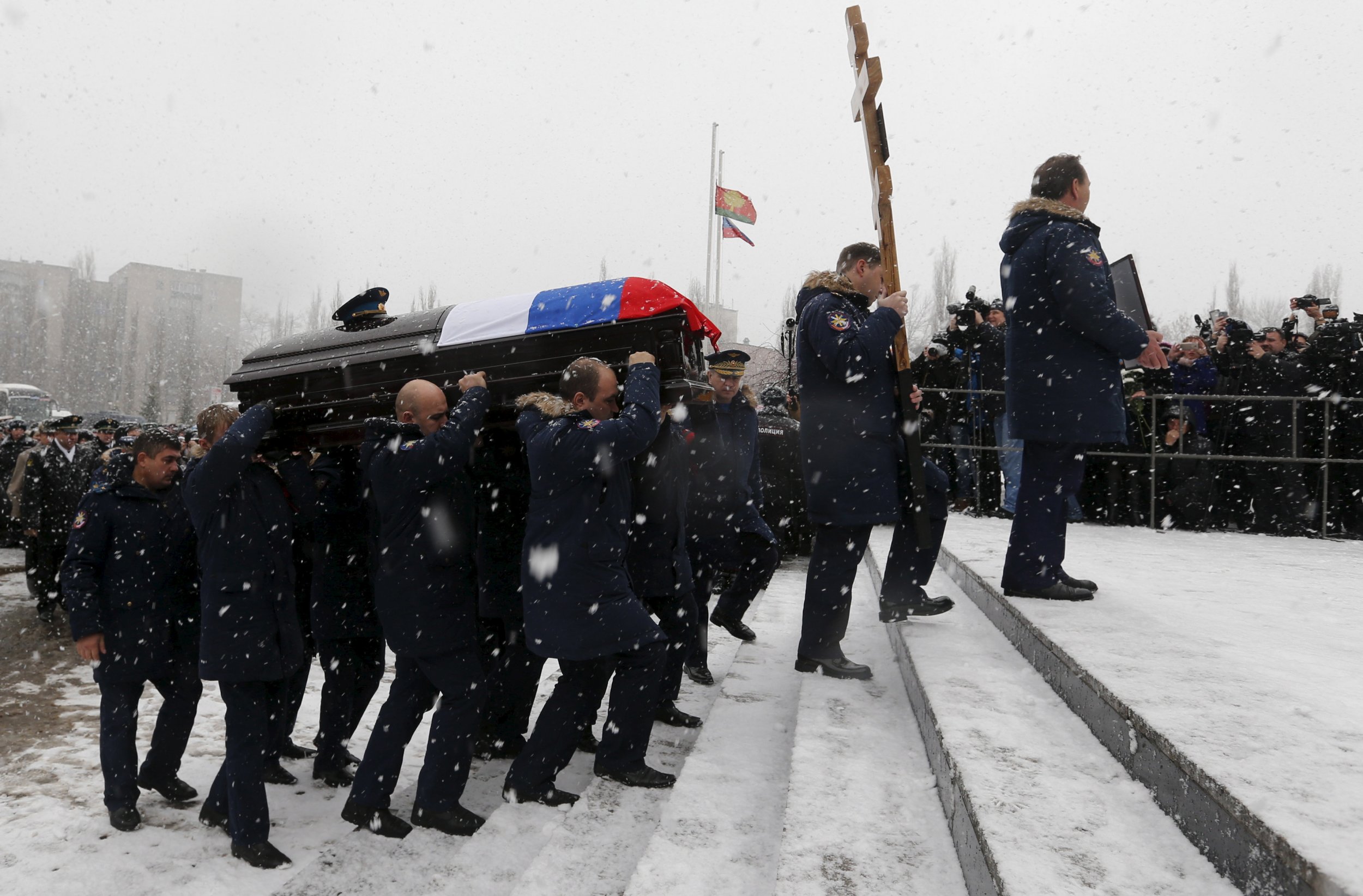 Over 5,000 people attended the open funeral of the Russian pilot who was killed when Turkish F-16s shot down his plane near the Syrian border in November, Russia's Ministry of the Interior told state news agency Itar-Tass.
Lieutenant Colonel Oleg Peshkov's body was flown to Ankara on Monday and arrived in Moscow later that day. He was buried in the city of Lipetsk on Wednesday morning, after being posthumously awarded the Hero of Russia award.
The governor of Lipetsk region has set aside 1 million roubles ($15,000) to give to Pehkov's family as compensation, and according to the city's administration Lipetsk citizens are discussing the possibility of setting up a monument to the deceased pilot.
The city already has an "Aviators Square," with a large statue celebrating Russia's air force and monuments dedicated to two Soviet airmen who died while diverting a cargo plane from crashing into the city. Independent news agency Interfax reports that the idea currently being discussed by citizens and officials is to add a statue of Peshkov to the square.
The mayor of the neighboring city of Tambov has also floated the idea of naming a street after Peshkov, according to local news site Gorod48 reports.
"Oleg Peshkov, hero of Russia, is a man who gave his life for us," Tambov mayor Yury Rogachev said on Monday. "We ought to honor his memory and think about naming a street after him in Tambov in one of the new suburbs currently being built."
The downing of Peshkov's Su-24 last month has sparked a row between Russia and Turkey, with the Turkish government insisting it was justified in shooting at the plane after it entered Turkish airspace and refused to leave despite 10 warnings. Turkey had previously warned Russia about entering Turkish airspace on two other occasions since the start of Russian airstrikes in Syria.
Meanwhile, Russia has denied that its plane was in Turkish airspace at any point and has accused Turkey of shooting down the jet as an act of support for the Islamic State militant group (ISIS). As a result, Russia has put import sanctions on Turkish food products, while Turkey's President Recep Tayyip Erdogan has vowed to resign if Russia can prove allegations that his government is involved in any illicit trade with ISIS.