50,000 Chickens Die After Fire at Illinois Egg Facility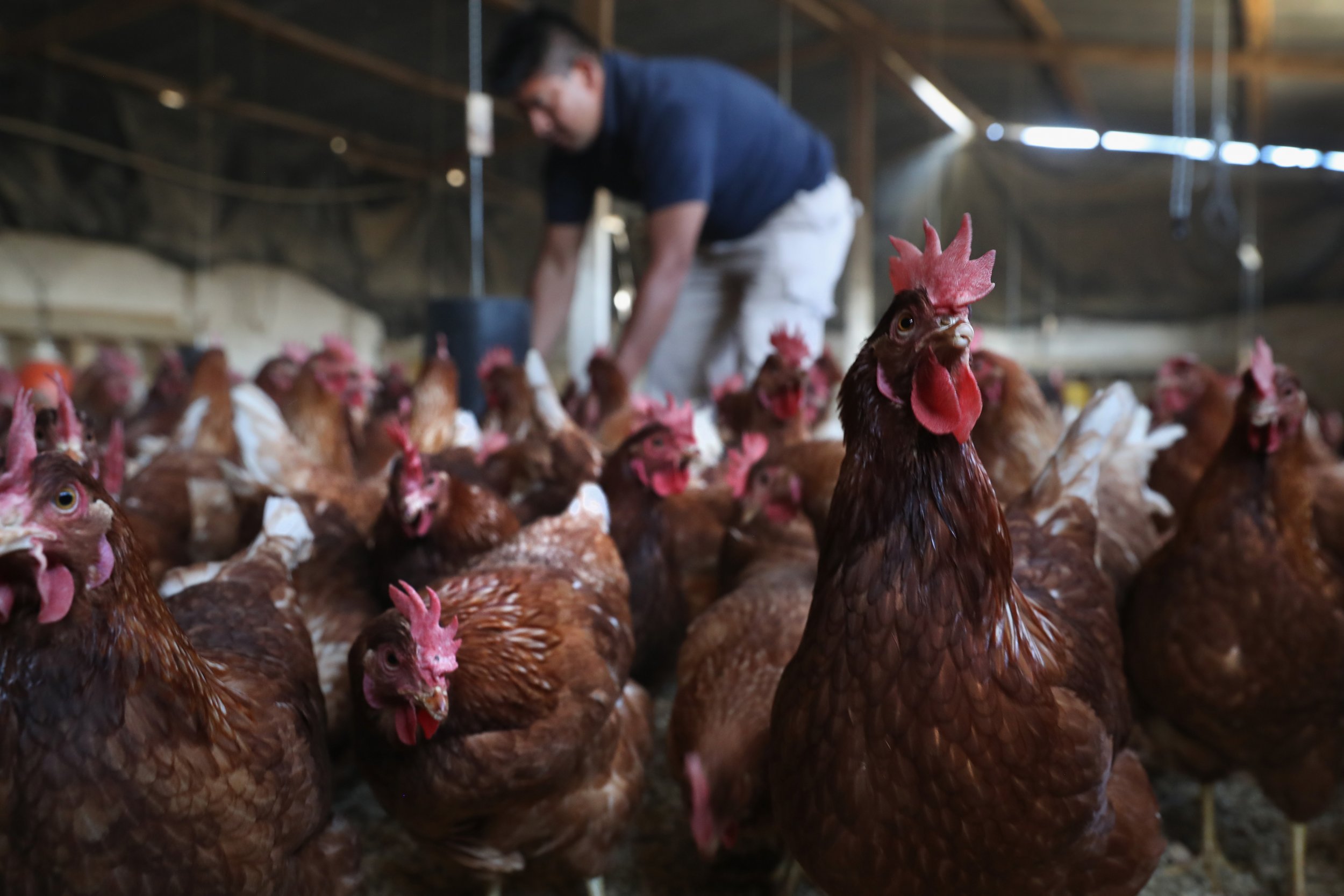 Between 50,000 and 80,000 hens died in a fire at an Illinois egg production facility, a spokesman from the owner of the farm told Newsweek. The blaze burned two farms on the facility, a statement from the facility's owner company, Konos, said.
A blaze erupted at around 2:30 a.m. at Mussman's Back Acres Tuesday morning, the Associated Press reported. MLive.com reported that at least 35 departments were involved in containment efforts before the fire was put out. First responders needed more than 10 hours to extinguish the flames.
About 750,000 gallons of water were needed to stop the burning, and firefighters had to bring water from a hydrant 7 miles away from the blaze, according to NBC Chicago.
"The first priority at all of our farms is the welfare and safety of our employees and the health of our hens," vice president of operations at Konos Rob Knecht said. "We are thankful for the work of all the fire departments that helped yesterday."
Approximately 350,000 birds were kept at the facility before the fire. Mussman's Back Acres provides more than 10 million eggs to retailers each year, but did not expect its operations would be disrupted.
Brian Burch, a spokesman for Konos, told Newsweek the cause of the blaze was still unknown. He also said the company did not know how long rebuilding efforts would take.
Animal rights groups have documented the close quarters that chickens live in, which can mean death tolls rise quickly.
In October 2017, a fire at an Indiana egg production facility killed more than one million chickens and caused extensive damage. First responders from 22 departments fought the flames for seven hours before containing the blaze, WANE reported.
A similar incident took place in Utah the month before, according to The Salt Lake Tribune. A fire at an egg farm in Tooele County, started by an electrical or mechanical problem with manure-handling equipment, led to the deaths of between 120,000 and 150,000 chickens.
The North Carolina Department of Agriculture reported that 3.4 million chickens died during Hurricane Florence, which hit the U.S. in September.
"Livestock casualties in such numbers are in fact not unusual," Vox reported. "Most Americans vastly underestimate just how many animals we farm. In 2017, 830 million chickens were slaughtered in North Carolina alone. In 1960, about 1.5 billion chickens were slaughtered in the United States; in 2015 farmers killed nearly 9 billion. The increase has vastly outpaced population change. Worldwide, about 50 billion chickens are raised for food every year—nearly all of them on industrial farms— and there are more chickens than any other species of bird."