'At 51, I Discovered I Had A Twin Brother Living 7 Blocks Away'
I was born in Anderson, Indiana in November 1969 and I was adopted when I was three months old. I grew up in Elwood, Indiana and I had a good life, I didn't actually know that I was adopted until I was around eight or nine years old and even when I found out, it didn't bother me. I just assumed there was a good reason why I was adopted and I was OK with that.
I have been married twice, I raised three children and we have had a good life. I have sometimes wondered what caused my biological mother to feel that she needed to put me up for adoption, but at the same time, I'm very thankful that it happened. I believe there is a reason for everything, and in giving me up for adoption, she certainly gave me a better life.
In 2018 I saw in the news that a law had passed in Indiana allowing people adopted before January 1, 1993 to access their adoption records. I contacted the Indiana State Department of Health and I eventually received my records in April 2019.
They state that I am a female who was born at Saint John's Hickey Memorial Hospital in Anderson, Indiana on November 18, 1969 at 5.47am. The records show my biological mom's full name and they also detail that I am a twin with a brother born just after me.
As soon as I saw that I had a twin, I called my daughter. I was crying and saying: "Oh my gosh, I have a twin brother!" I was so excited that she had to tell me to calm down!
Soon after, I began to look into finding my twin and contacted the Indiana Adoptee Network who connected me with a number of search angels. I also took a DNA test through Ancestry.com, but I still wasn't able to locate my twin brother. I even hired two private investigators but ultimately my search came to nothing because we didn't have a name or any information about where my brother was. By the summer of 2020 my search had ground to a halt.
Then, in November 2020, I visited a local trustees office for help with a utility bill and it so happened that the trustee had been following my story and knew I was looking for my twin. She suggested that I look at the Indiana public voter records to see if I could trace my brother that way. I was then able to find three names of men that had the same date of birth and were born at the same hospital as me. Two of those I had already been able to veto through work with search angels, but the third name was Michael Jackman.
Michael and I had actually attended the same middle school and high school, so we knew of each other but we had never really spoken or hung out. Earlier in 2020 I had happened to see that he was on Facebook through the "people you may know" function. At the time I just thought, "oh cool, it's Mike!" and sent him a friend request.
As soon as I got this new information I contacted Michael through Facebook and asked him three questions. The first question was: "Were you by any chance adopted?" and he responded "yes." The second question was: "Do you know the hospital you were born at?" He did, and his answer was that he was also born at Saint John's Hickey Memorial Hospital. My final question was: "Do you by any chance know any of your biological family's information?" He told me that all he knew was the last name of his biological mom, which was the same last name as my biological mom. I paused and said: "Oh my gosh, I think you are my twin brother"
Michael told me he was shaking, but he gave me his phone number and asked me to call him. Not only did we realize we live seven blocks away from each other now, but, before I moved into the apartment building where I currently live, Micheal lived here about three doors down. He moved out a few years before I moved in. I remember seeing him in the neighborhood and I'd honk my car horn and wave at him, but I had no clue that he was my twin brother.
Since we discovered we are twins we've been talking and spending lots of time together. Michael also did a DNA test and the results came back about six weeks later to say that he was my brother and fraternal twin. We've also discovered that we have so many similarities; we finish each other's sentences and Michael will often know exactly what I'm going to say. We also both love chocolate, NASCAR racing and animals. It's bizarre and amazing.
Another unusual coincidence is that I had a traumatic brain injury in 2007 and Michael actually experienced one three years prior to mine, which I didn't know about until we connected recently. We both have issues with memory, but his problems are mainly with short term memory and mine are mainly with long term memory, so we sort of complement one another.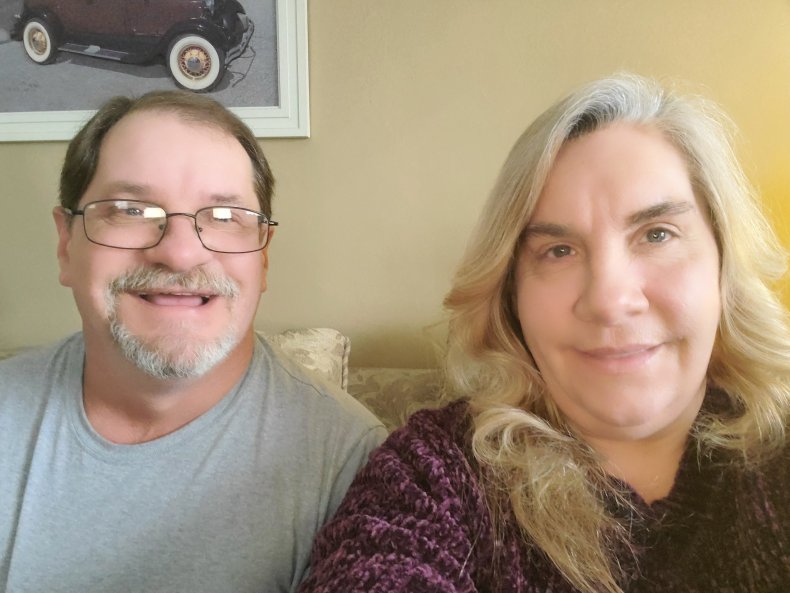 Everyone in our lives is extremely happy for us, and we're now getting to know each other's family. Our biological parents and Michael's adopted parents are no longer alive but my adopted parents are so happy that Michael is a part of the family. He has met all my family and my children and I've met his daughter. Michael also has an adopted sister who calls me "sis", so it's really just been amazing.
We discovered that we also have two biological half-brothers and one biological half-sister. Sadly, there was another brother who passed away and a one brother who was stillborn. But we speak to our three other half-siblings on the phone and message them frequently.
In some ways it's a little sad that I have only made this discovery now, because there have been 51 years of my life I've missed spending with my twin. But, I now have the rest of my life to build that friendship and sibling relationship with him, and I am very happy about that.
It's hard to explain, but I had always felt like there was some kind of emptiness in my life. Looking back, I think that perhaps I tried to fill that void using relationships with different men; none of which worked out. Perhaps what I was actually looking for was that other half of me: my twin brother. Now that I've found him, it's wonderful. I feel at peace.
Karen Warner lives in Elwood Indiana. Her fraternal twin brother, Michael Jackman lives seven blocks away in Elwood. They are looking forward to spending the rest of their lives getting to know one another.
All views expressed in this article are the author's own.
As told to Jenny Haward.