51 Percent of Republicans Think Trump Deserves No Blame For Capitol Riots: Poll
Just over half of Republicans do not believe President Donald Trump bears any blame for the Wednesday riot at the U.S. Capitol that resulted in the death of 5 people, according to polling data released on Friday.
Trump has been widely held responsible for encouraging thousands of his supporters to march on the Capitol building while Congress was certifying the Electoral College victory of President-elect Joe Biden. Trump had long insisted, without evidence, that the election had been rigged against him, making him the true winner.
Rioters gained access to the Capitol building, forcing lawmakers to go into hiding. Five people died as a result of the riot. In the aftermath of the riot, a number of lawmakers called for Trump's removal from office.
Not all Republicans place the responsibility for the riot on Trump's shoulders. According to Friday's PBS NewsHour/Marist poll, 51 percent of Republicans believe Trump is "not at all" to blame for the event. Only 3 percent of Democrats polled share that opinion.
A majority of Democrats—85 percent—blame Trump for the riot "a great deal" with only 22 percent of Republicans agreeing with that assessment.
Newsweek reached out to the White House for comment.
During a Wednesday address at a Stop the Steal rally in Washington, Trump told his supporters that Republicans who had agreed to issue formal challenges to Biden's certification needed their support.
"We're going walk down to the Capitol, and we're going to cheer on our brave senators, and congressmen and women," Trump said. "We're probably not going to be cheering so much for some of them because you'll never take back our country with weakness. You have to show strength, and you have to be strong."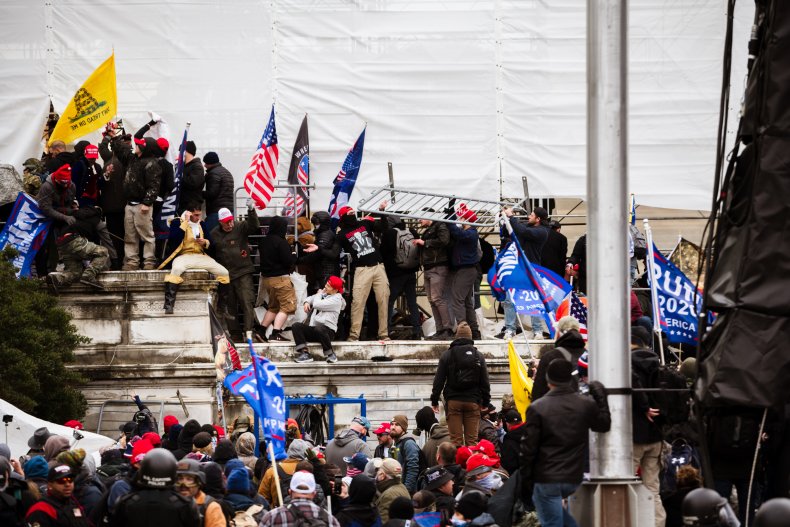 Trump called for an end to the riot in a since-deleted video posted to social media on Wednesday, in which he told the rioters they "had to go home," but also that they were "special people" whom he loved. The video also repeated Trump's claims that he had won the election. However, Trump did not make a statement explicitly condemning the violence at the Capitol until Thursday.
"Like all Americans, I am outraged by the violence, lawlessness and mayhem," Trump said in a video that was removed by Twitter.
"America is and must always be a nation of law and order," Trump added. "The demonstrators who infiltrated the Capitol have defiled the seat of American democracy."
Some lawmakers claimed that Trump was complicit in creating an environment that allowed the violent riot to occur by continuing to baselessly claim that the election had been rigged. Lawmakers from both parties encouraged Vice President Mike Pence to invoke the 25th Amendment, which allows for the removal of a sitting president found to be unfit.
Illinois GOP Representative Adam Kinzinger said in a Thursday video posted to Twitter that Trump had "invoked and inflamed passions that only gave fuel to the insurrection that we saw here."
"It's time to invoke the 25th Amendment and end this nightmare," Kinzinger added.
Republican Senator Lisa Murkowski of Alaska said told the Anchorage Daily News on Friday that she wanted Trump to resign. "I want him out," Murkowski said. "He has caused enough damage."
Pence did not publicly endorse the idea of using the 25th Amendment against Trump, leading Democratic lawmakers to draw up articles of impeachment against the president.
In a Friday statement, House Speaker Nancy Pelosi said that if Trump does not leave office "immediately," then the House will "preserve every option—including the 25th Amendment, a motion to impeach or a privileged resolution for impeachment."
Articles for impeachment have already been drafted and are expected to be introduced in the House on Monday. If the impeachment is approved, Trump would be the only U.S. president to impeached twice.
In a Friday statement, the White House said a "politically motivated impeachment against a President with 12 days remaining in his term will only serve to further divide our great country."