52 Chinese Warplanes Fly Through Taiwan Defense Zone Amid Growing Tensions
The Chinese military once again flew a record-breaking number of warplanes through Taiwan's air defense identification zone (ADIZ) amid simmering tensions.
This recent round of flights by the Chinese People's Liberation Army was observed on Monday, according to a report from American Miltary News. In the days prior, an increasing number of Chinese warplanes have flown through Taiwan's ADIZ, including 39 on Saturday and 38 on Friday.
In response to these escalating military displays, Joseph Wu, the Taiwanese Foreign Minister, told Australia's ABC News that Taiwan is ready to retaliate against China should the need arise.
"The defence [sic] of Taiwan is in our own hands, and we are absolutely committed to that," Wu told ABC's Stan Grant on Sunday. "I'm sure that if China is going to launch an attack against Taiwan, I think they are going to suffer tremendously as well."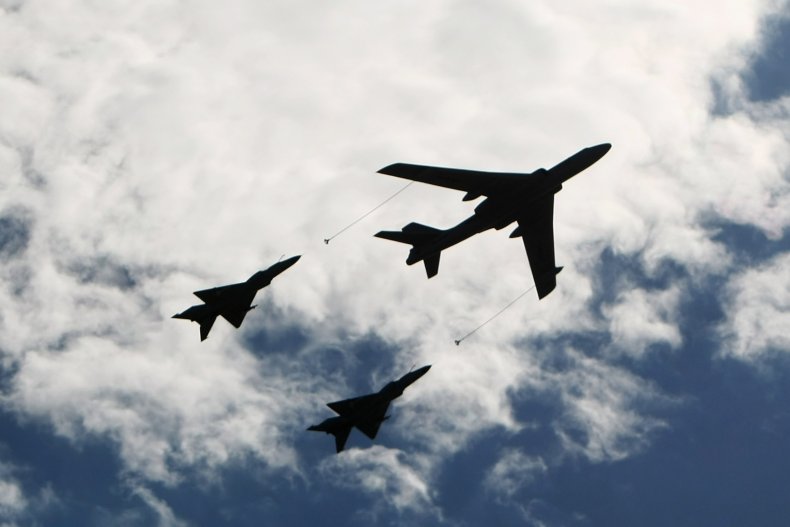 On Friday, in response to earlier breaches of the ADIZ, Taiwanese premier Su Tseng-chang criticized China for its aggressive actions.
"China has been wantonly engaged in military aggression, damaging regional peace," the premier said.
Among the warplanes that China flew through the area on Monday, American Military News reports that 12 of them were H-6 Bombers with nuclear capabilities and two were Y-8 anti-submarine warfare crafts. Most of the planes, 36 in total, were J-16 and Su-30 fighter jets.
The political relationship between China and Taiwan is extremely contentious. While Taiwan operates its government autonomously, China continues to claim the country as its own territory, creating a fraught dynamic for the two nations as well as their many allies.
In a statement released over the weekend, the U.S. State Department decried China's recent military flyovers and reiterated the country's support of an independent Taiwan.
The U.S. is "very concerned by the People's Republic of China's provocative military activity near Taiwan, which is destabilizing, risks miscalculations, and undermines regional peace and stability," State Department representative Ned Price said. "We urge Beijing to cease its military, diplomatic, and economic pressure and coercion against Taiwan. We have an abiding interest in peace and stability across the Taiwan Strait. We will continue to assist Taiwan in maintaining a sufficient self-defense capability, and we will maintain our commitments as outlined in the Three Communiqués, the Taiwan Relations Act, and the Six Assurances."
In the same ABC interview, Wu called on Australia, another of Taiwan's allies, to stand beside the country in any future conflict with China.
"We would like to engage in security or intelligence exchanges with other like-minded partners, Australia included, so Taiwan is better prepared to deal with the war situation," Wu said. "And so far, our relations with Australia [are] very good and that is what we appreciate."