53 Percent of Americans Disapprove of Donald Trump's Handling of Iran: Poll
A majority of Americans are unhappy with President Donald Trump's handling of Iran, according to a new poll conducted after the assassination of Iranian General Qassem Soleimani.
The latest survey by Ipsos and Reuters found that 53 percent of American adults disapproved of the president's handling of Iran to some degree, a 9 point increase on polling in December.
Just under four in ten Americans (39 percent) told pollsters they "strongly disapprove" of Trump's actions regarding Iran, while 7 percent said they "somewhat" disapprove and 8 percent "lean towards disapprove."
Reuters reported that the proportion of surveyed Americans who "strongly" disapproved of the commander-in-chief's Iran policy had jumped by 10 points since last month.
Its latest poll results were published at 10 p.m. last night, as Iran fired missiles on an air base in Iraq housing U.S. and coalition troops in response to the killing of Soleimani on January 3.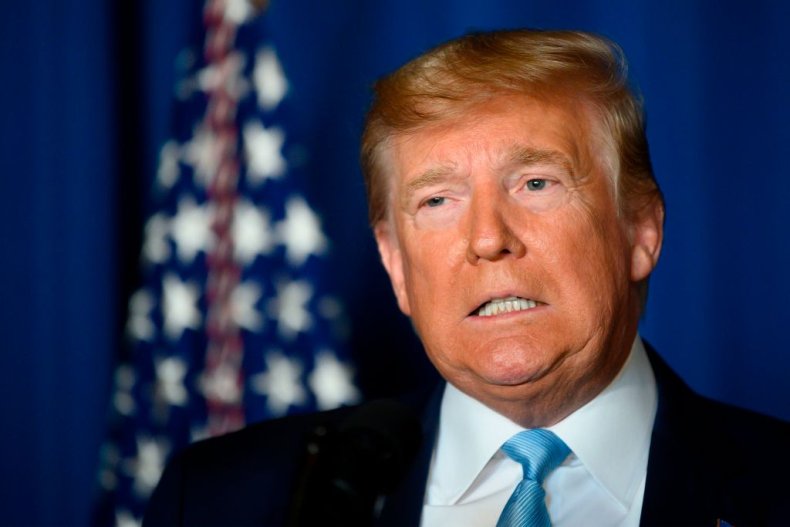 The Iranian Revolutionary Guard claimed responsibility for the attack, which does not appear to have resulted in casualties at the time of writing. Iran's Foreign Minister Mohammed Javad Zarif said the strikes "concluded proportionate measures in self-defense under Article 51 of UN Charter," adding that the country did not "seek escalation or war."
In a tweet following the missile strike on the air base, President Trump tweeted: "All is well! Missiles launched from Iran at two military bases located in Iraq. Assessment of casualties & damages taking place now. So far, so good! We have the most powerful and well equipped military anywhere in the world, by far! I will be making a statement tomorrow morning."
Responding to the Reuters/Ipsos survey conducted before last night's development in the tit-for-tat exchange between the U.S. and Iran, almost nine in ten (86 percent) of Democrats said they disapproved of President Trump's actions against the Islamic Republic while 79 percent of Republicans said they approved of his policy.
Just under half (48 percent) of Independent voters were unhappy with the administration's actions around Iran, compared to 36 percent who approved to varying degrees.
A little more than one in ten said war and foreign conflicts were the "most important problem facing the U.S. today," putting the issue behind healthcare among American adults.
Among those who told pollsters that the prospect of foreign conflicts was the greatest issue facing America at the present time, almost two-thirds (63 percent) of those surveyed said they were most concerned about war with Iran. By comparison, only 20 percent fretted over a conflict with Iraq.
When asked for their view on how President Trump was handling U.S. foreign policy matters in general, 53 percent of all respondents said they disapproved, while just 39 percent approved.
The Reuters/Ipsos poll was conducted through online interviews between January 6-7 with a sample of 1,115 U.S. adults weighted to reflect the demographics of America. Pollsters said the margin of error was 3.3 percentage points.
The graphic below, provided by Statista, shows the share of poll respondents who approved and disapproved of President Trump's handling of Iran.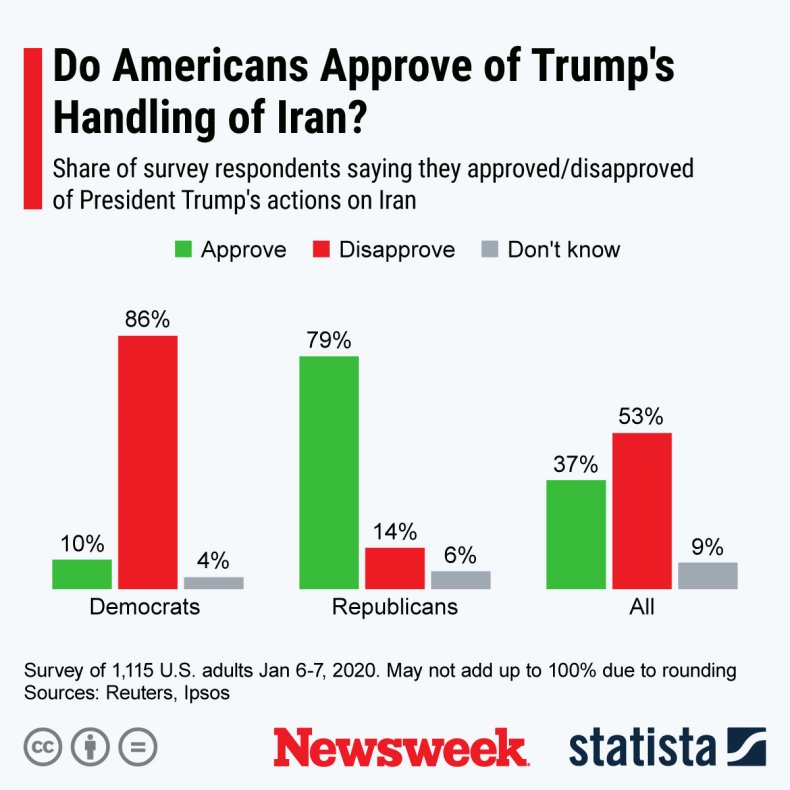 Correction 1/8/20, 8:30 a.m. ET: This article has been corrected to state that 79 percent of Republicans polled by Reuters/Ipsos approve of Donald Trump's handling of Iran.