53,000 Nerf Water Guns Recalled From Target for Potential Toxic Effects
Hasbro has issued a recall of Nerf water blasters sold at Target stores due to labels on the toys being potentially contaminated with lead.
"The decorative sticker on the water tank of the water blaster toys contain levels of lead in the ink that exceed the federal lead content ban," reads a notice issued by the U.S. Consumer Product Safety Commission on Wednesday. "Lead is toxic if ingested by young children and can cause adverse health effects."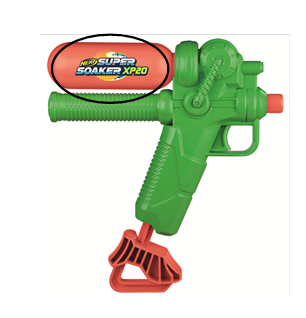 The recalled "Nerf Super Soaker XP20" is shown in this photo from the U.S. Consumer Products Safety Commission.
United States Consumer Products Safety Commission
Although the government recall notice was published on Wednesday, Hasbro initially issued the recall on July 30. The recall includes about 52,900 units of the "Super Soaker XP 20" and the "Super Soaker XP 30" models, which are exclusively sold in the U.S. at Target. Additional recalled units are being sold at various outlets in Indonesia and in several countries throughout Europe, including the United Kingdom, Germany, France, Russia and Finland.
Hasbro is asking all consumers to "immediately stop using" the products. U.S. consumers can contact the company by email at SuperSoakerRecall@Hasbro.com or using the website SuperSoakerRecall.com to initiate the process of receiving a full refund. Hasbro says the refund will be given after consumers "unscrew the tank from the blaster and return the tank to the manufacturer using a postage prepaid label."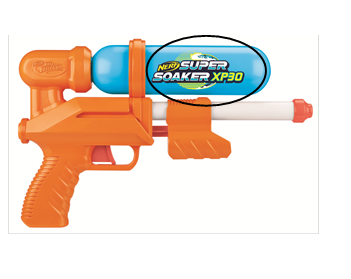 The recalled "Nerf Super Soaker XP30" is shown in this photo from the U.S. Consumer Products Safety Commission.
United States Consumer Products Safety Commission
The Super Soaker XP 20 hand-held water blaster is green and orange and sold for around $7.99, while the XP 30 blaster is orange and blue and sold for $12.99. The potentially toxic labels on both toys, which were offered at Target between March and July of 2020, include Nerf branding. No injuries or incidents related to the blasters had been reported as of Thursday.
Hasbro said that the labels had been acquired from an "unauthorized supplier" by a third-party manufacturer "without our consent and in violation of our quality assurance procedures and requirements." At the conclusion of an investigation, the company employed "re-training" across their supply chain in an effort to avoid a similar issue in the future.
"Product safety is our top priority," Hasbro said in a statement to Newsweek. "We follow a rigorous quality assurance process to ensure all of our products comply with applicable global safety laws, regulations and standards."
"We are working with relevant authorities to recall these products and provide a full refund to consumers," they added. "The presence of lead is limited to the decorative sticker that appears on the water tank of the blasters, and no injuries or complaints have been reported to date."
Lead poisoning causes severe illness with potentially long-lasting complications, especially in children, who can be left with seizures and other neurological damage that can cause mood changes and learning disabilities. Even small doses of the metal being ingested can lead to serious damage, while higher doses can be fatal.
Items that contain more lead than federal regulations allow, often in paint that contains the metal, are frequently recalled over public health concerns. Other recalls issued this year due to lead contamination include a Cub Scout outdoor activity pin issued by the Boy Scouts of America and a children's tricycle sold by Amazon.
Update 8/21, 4:51 p.m.: This article has been updated to include a statement from Hasbro.