536-horsepower Bentley Flying Spur Hybrid Creates Company's New Green Family
Bentley Motors has extended its lineup of luxury cars to include a new, green family with the introduction of the Bentley Flying Spur Hybrid. The luxury car joins the Bentayga Hybrid as the second electrified model in the company's lineup and is part of the company's larger Beyond 100 sustainability and electrification strategy.
The car purposefully shares much of its looks with the existing Flying Spur as the company views the Flying Spur Hybrid as simply a powertrain choice rather than a completely new vehicle option. It has a 'Hybrid' front fender badge, quad oval tailpipes and a covered charging port on the left rear fender.
Buyers will be able to spec their Flying Spur Hybrid in their choice of seven colors or opt for Mulliner customization services, which expands the palette to 60 options. A available Blackwork Specification changes exterior brightware to black, including the Flying B mascot.
The car comes with the buyer's choice of standard 20-inch or available 21- or 22-inch wheels in a variety of finishes.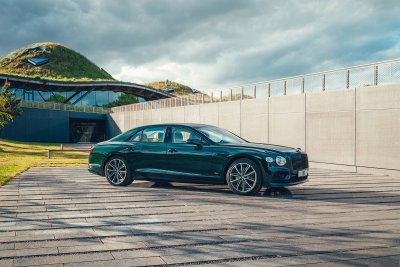 It gets its power from a 2.9-liter V6 engine that is paired with an electric motor. Combined, they deliver 536 brake horsepower and 553 pound-feet of torque. That's 95 brake horsepower more than the Bentayga Hybrid.
The powertrain allows the Flying Spur Hybrid to become the most efficient Bentley to date with a range of 434 miles. It can run 25 miles on a full charge. Power is stored in a 14.1 kilowatt-hour lithium-ion battery that can be charged to 100 percent in as little as two and and a half hours.
Hybridization allows the car to accelerate to near the same level as the Flying Spur V8. It can go from zero to 60 mph from a standstill in 4.3 seconds.
Designers have replaced the car's traditional on/off push-button start with a control that allows drivers to choose between EV Drive, Hybrid Mode and Hold Mode. EV Mode, where the car runs only on electricity, is the default.
Bentley added additional connected car services for Flying Spur Hybrid owners including My Battery Charge, My Car Statistics and My Cabin Comfort.
Model pricing has yet to be announced but is expected to be over the $180,000 Flying Spur base price.
All Bentley Flying Spurs are manufactured at the company's carbon neutral headquarters in Crewe, England. The luxury automaker will begin taking orders for the model starting this summer with the first customer deliveries expected to happen near the end of the year.