A majority of Americans, 54 percent, believe that burning down a Minneapolis police precinct building following the death of George Floyd was justified, according to a new poll.
The survey, which was conducted by Monmouth University, surveyed 807 U.S. adults from May 28 to June 1. It asked respondents if they thought the actions taken by protesters, including the burning of the precinct building, was fully justified, partially justified or not at all justified.
According to the poll, 17 percent said the actions were fully justified and 37 percent said partially justified, for a total of 54 percent. In comparison, 38 percent said that the action was not at all justified. The poll has a margin of error of plus or minus 3.5 percentage points.
The poll's findings come as demonstrations have continued for days across the country in opposition to police brutality against black Americans. On May 28, protesters burned down the Minneapolis Third Precinct building, where the four officers who were involved in Floyd's arrest worked.
On May 25, the four officers arrived at a local Cup Foods store responding to a call that someone was using a counterfeit bill. The officers put Floyd into handcuffs, and then one of them, Derek Chauvin, knelt on Floyd's neck while the three others either held him or watched. In a number of videos of the arrest, the African American man can be heard repeatedly saying that he could not breathe, and he soon lost consciousness and died.
Shortly after the incident, protesters gathered around the Third Precinct, and Minneapolis Mayor Jacob Frey ordered police to abandon the building. Protesters then stormed the building, damaging it and eventually setting it on fire.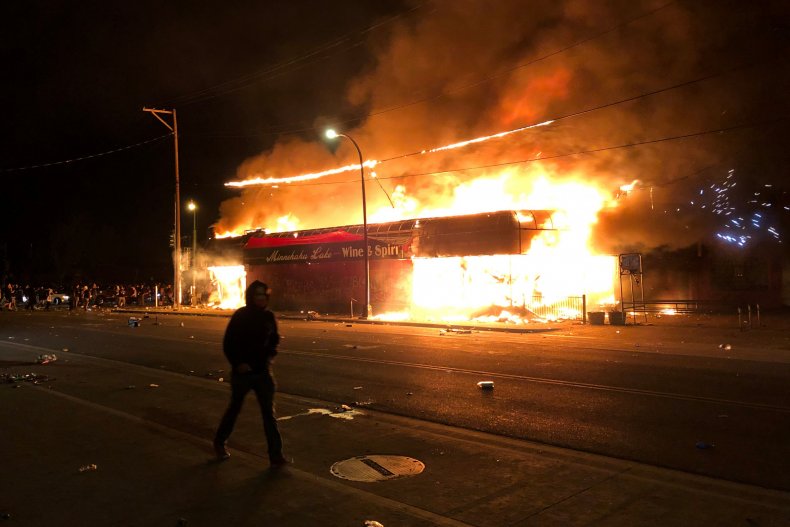 The poll also asked respondents if they felt the anger that led to the protests was justified, regardless of the actions taken by the demonstrators. According to the poll, 78 percent said it was justified, with 57 percent saying fully justified and 21 percent saying partially justified. Eighteen percent said the anger was not justified at all.
This poll also found an increase in the number of Americans who said that police officers are more likely to use excessive force when a suspect is black. According to the poll, 57 percent said that excessive force is more likely to be used on black suspects, an increase of 23 percent from a poll conducted in July 2016.
On the other hand, 33 percent said police were just as likely to use excessive force against black and white suspects, given the same situation. This finding showed a decrease of 19 percent from the 2016 poll, which had 52 percent of Americans answering the same.
Newsweek reached out to the Minneapolis Police Department for comment on the poll's findings but did not hear back before publication.