54 Percent of Liberals Support Abolishing ICE Amid Trump Administration's Calls to 'Save' Agency: Poll
As the White House calls for saving the agency, a new poll this week found that a majority of liberals support abolishing U.S. Immigration and Customs Enforcement, otherwise known as ICE.
The survey from YouGov asked: "Do you support or oppose abolishing U.S. Immigration and Customs Enforcement (ICE) and replacing it with a different agency?"
Fifty-four percent of liberals supported to some degree abolishing ICE—34 percent strongly, 20 percent somewhat. Twenty-four percent opposed. Among Democrats—a group that is different than liberals, it is worth noting—46 percent supported abolishing ICE (25 percent strongly, 21 percent somewhat.) Twenty-seven percent opposed.
Republicans were far less likely to support abolishing the agency, coming in at just 12 percent.
The poll from YouGov surveyed 1,500 U.S. adults from July 1 through July 3. It had a margin of error of plus or minus 3 percentage points.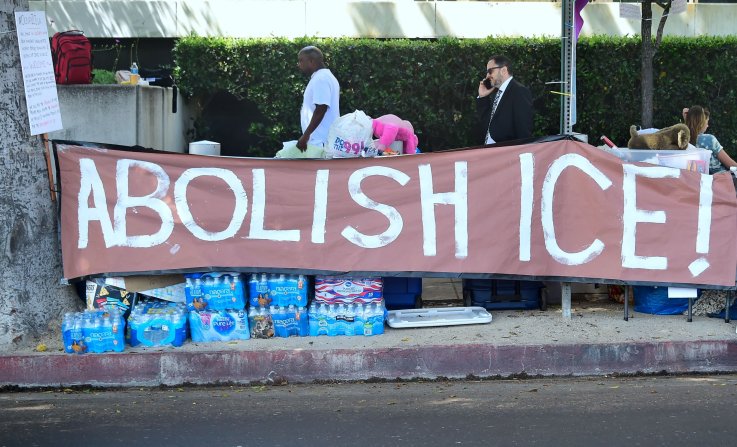 ICE is at the center over the debate over immigration and President Donald Trump's hard-line stances that separated undocumented children from their families. Abolishing ICE has become a popular demand among some progressive leaders, such as Alexandria Ocasio-Cortez (who beat incumbent Democratic representative Joe Crowley in a New York primary), New York Mayor Bill de Blasio and Massachusetts Senator Elizabeth Warren, among others. Some ICE agents even called for the agency to be abolished.
Other high-profile liberal politicians such as Vermont Senator Bernie Sanders and House Minority Leader Nancy Pelosi, however, have stopped sort of calling for completely getting rid of ICE.
"Leader Pelosi believes that ICE has been on the wrong end of far too many inhumane and unconstitutional practices to be allowed to continue without an immediate and fundamental overhaul," said Pelosi's spokesman Drew Hammill, according to the San Jose Mercury News. "No one can watch ICE play such a central role in the heartbreak and horror of family separation without reasonably concluding that a drastic overhaul of its immigration functions is desperately needed, and soon."
Trump, meanwhile, has railed against calls to get rid of ICE. The White House even sent out a document promising it would "save ICE."
"Calls to abolish ICE are an insult to these heroic law enforcement officers," it read.
Trump went further on Twitter on Thursday. "Every day, the brave men and women of ICE are liberating communities from savage gangs like MS-13," he tweeted. "We will NOT stand for these vile Democrat smears in law enforcement. We will always stand proudly with the BRAVE HEROES of ICE and BORDER PATROL!"