54% of Republicans Say U.S. Is Safer Now Than Before 9/11, 24% of Dems Agree
More than half of U.S. Republicans believe the country is safer from terrorism now than it was before the September 11, 2001 attacks in New York City that killed nearly 3,000 people and injured more than 6,000 individuals, according to polling data released Friday. Fewer than a quarter of Democrats agree.
During the 9/11 attacks, terrorists used hijacked airliners to crash into the Twin Towers of the World Trade Center. A third plane also hit a portion of the Pentagon building in Washington D.C. while a fourth went down in a field in Shanksville, Pennsylvania. The administration of President George W. Bush announced its "War on Terror" campaign the following day.
A coalition of U.S. and international troops began ground maneuvers in Afghanistan and surrounding areas in order to destroy al-Qaeda. Since then, the U.S. has sought to prevent new attacks against the country by eliminating terrorist threats overseas. Yearly events have been held to remember the 9/11 attacks, but some Americans believe the threat of a terrorist attack on U.S. soil has diminished.
According to a Hill-HarrisX poll, 54 percent of Republicans think the U.S. is safer against terror attacks than it was before the 9/11 strikes occurred. Democrats polled were less confident with only 24 percent saying they felt a greater measure of safety.
A larger percentage of Democrats said they believed the threat was about the same as it was before 9/11. While 52 percent of Democrats polled said the possibility of a terrorist attack had remained relatively constant through the years, only 35 percent of Republicans polled agreed.
The Pentagon declined to comment to Newsweek for this story.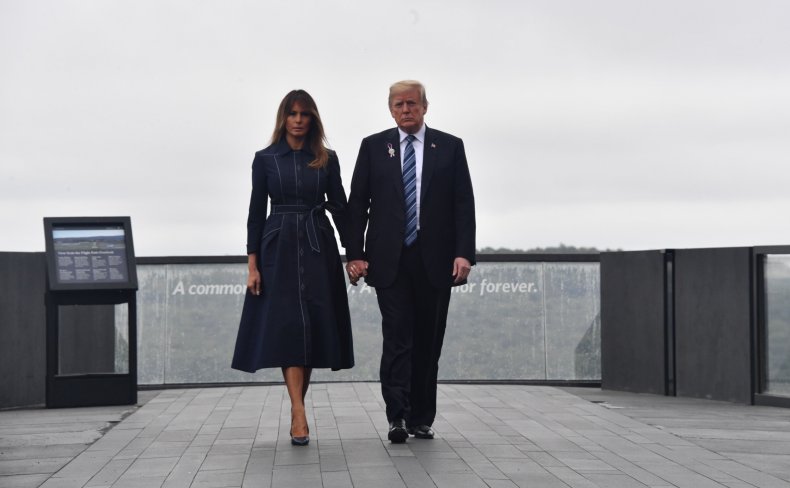 President Trump spoke Friday at the Flight 93 National Memorial in Pennsylvania. Passengers on the flight fought back against the terrorists who had taken over their flight. The plane crashed in a Pennsylvania field roughly 20 minutes away from Washington, D.C., which may have been the terrorists' intended target.
"When terrorists raced to destroy the seat of our democracy, the 40 on Flight 93 did the most American of things," Trump said. "They took a vote and then they acted. Together they charged the cockpit, they confronted the pure evil and in their last act on this Earth, they saved our Capitol."
In 2016, President Trump declared an initiative against what he referred to as "radical Islamic terrorism." Trump singled out the terrorist faction ISIS as one of his administration's main targets.
"My Administration will aggressively pursue joint and coalition military operations to crush and destroy ISIS, international cooperation to cutoff their funding, expanded intelligence sharing, and cyberwarfare to disrupt and disable their propaganda and recruiting," Trump said during a speech at the time.
Trump has spoken about his accomplishments in fighting terrorism during his re-election campaign events.
"We killed the founder and leader of ISIS, al-Baghdadi," Trump told a Michigan crowd on Thursday. "We took out the world's number one terrorist and the mass murderer of American troops. Qasem Soleimani is dead. We kept America out of new wars and we're bringing our troops back home, and they're coming home very rapidly."
Democratic Presidential candidate Joe Biden adopted a low-key approach in remembering the 9/11 attacks on Friday. Biden's campaign suspended all political advertising for the day. Both Biden and his wife, Jill, were observed laying a wreath at the Shanksville memorial.
During a Friday morning visit to the 9/11 Memorial and Museum, Biden told reporters that he had no intention of doing anything newsworthy that day. "It's a solemn day, and that's how we're going to keep it," Biden said.