Another woman has come forward to accuse New York Governor Andrew Cuomo of sexual harassment, alleging on Monday that the prominent Democrat kissed her without her consent during a visit to her home.
Attorney Gloria Allred said in a press release that she would be holding an afternoon press conference with her client to lay out the accusations against the governor. During the press conference, which was held around 2:30 p.m., Allred introduced her client as Sherry Vill, a 55-year-old from Greece, New York. Allred showed a photo of the unwanted kiss, which was captured in a video taken by Vill's son in 2017.
"She has decided to break her silence and overcome her fear," Allred said of Vill's decision to come forward about the incident. Vill, a married mother of three children, said the interaction made her "uncomfortable." The incident allegedly took place at Vill's home as Cuomo toured the area after it was damaged by severe flooding.
"That's when the governor looked at me, approached me, took my hand and pulled me to him," Vill said during the press conference. "He leaned down over me and kissed my cheek. I was holding my small dog in my arms, and I thought he was going to pet my dog. But instead he went to squeeze between the dog...and kiss me on the other cheek in what I felt was a highly sexual manner."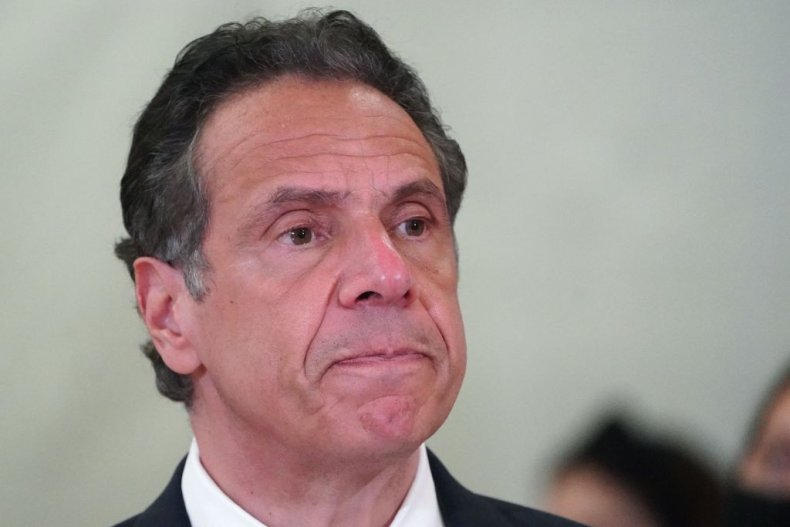 Allred said that she and her client were not immediately calling for Cuomo to resign over the allegation but want an investigation.
Vill also said that Cuomo's staff later called to invite her to an event, which made her uncomfortable because they invited just her, not her family. The governor later sent Vill a letter with photos from his visit, which Allred showed during the press conference.
Newsweek reached out to Cuomo's press office for comment but did not immediately receive a response.
A growing number of women have come forward with allegations of sexual harassment or inappropriate behavior against the governor. The first was Lindsey Boylan, who served as deputy secretary for economic development and special adviser in the Cuomo administration from March 2015 until October 2018. She said a in mid-December tweet that Cuomo had "sexually harassed" her "for years."
With the multiple allegations of sexual harassment, combined with a scandal over the Cuomo administration's alleged cover-up of nursing home death numbers during the coronavirus pandemic, the governor is facing mounting pressure to resign. Top New York Democrats, representing the state at the local and federal levels, have called on him to step down.
But Cuomo has refused to resign, arguing that doing so would be "anti-democratic."
"You know, the system is based on due process and the credibility of the allegation. Anybody has the ability to make an allegation in democracy, and that's great, but it's in the credibility of the allegation," the governor said in a press call with reporters earlier this month.
This story has been updated with additional information and background.