A new poll has found that a majority of Americans, and particularly those in younger generations, want President Joe Biden to prioritize student loan relief.
The survey, released by CNBC and Acorns, comes as Democratic lawmakers are calling on Biden to cancel student debt, which he pledged to do on the campaign trail in 2020.
According to the poll, 57 percent of Americans believe Biden should make student loan forgiveness a high or moderate priority. Among those who were surveyed in Generation Z (those 25 and under), 37 percent believe Biden should make it a high priority, and 34 percent think it should be a moderate one, according to CNBC. Thirty four percent of millennials, or those between 26 and 40 say loan forgiveness should be a high priority. Thirty one percent say it should be a moderate priority.
Among boomers between the ages of 58 and 76, 53 percent of loan forgiveness should be a high or moderate priority. For those in the Silent Generation, those 77 and older, that number dropped to 45 percent.
The poll surveyed 5,162 adults between January 10 through January 13.
On Wednesday, more than 80 lawmakers including Senator Elizabeth Warren of Massachusetts, Senate Majority Leader Charles Schumer of New York and Representative Pramila Jayapal, of Washington announced they had sent Biden a letter urging him to deliver on his "promise to cancel student debt."
They also called on Biden to release a U.S. Department of Education memo "outlining the administration's legal authority to cancel federal student loan debt and immediately cancel up to $50,000 of debt for Federal student loan borrowers."
"Canceling $50,000 of student debt would give 36 million Americans permanent relief and aid the millions more who will eventually resume payments their best chance at thriving in our recovering economy," the lawmakers wrote.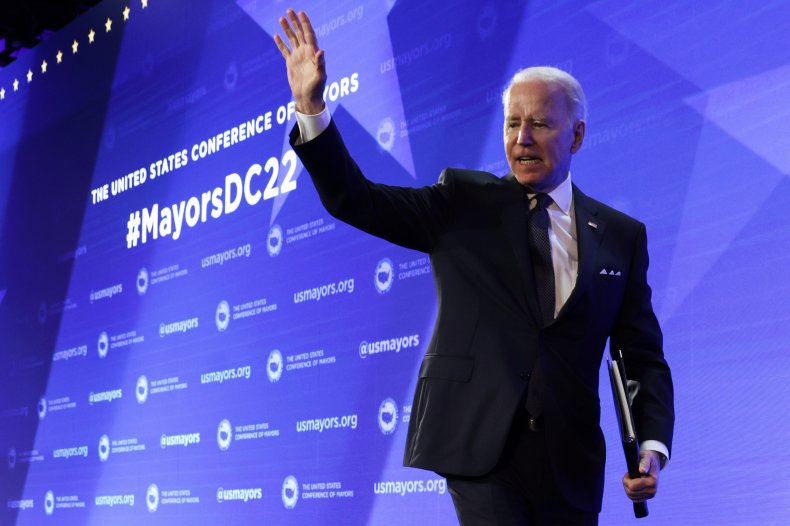 "In light of high COVID-19 case counts and corresponding economic disruptions, restarting student loan payments without this broad cancellation would be disastrous for millions of borrowers and their families," they added.
Last week, the administration noted that it has already canceled $15 billion in student loan debt. In a statement the U.S. Department of Education noted that it "has provided targeted relief to over 675,000 borrowers through executive action." This includes $1.5 billion for borrowers "who have been taken advantage of by their institutions," and $7 billion for more than 400,000 who have a total and permanent disability, the department said.
And in December, Biden moved to extend the pause on student payments until May 1, noting that "millions of student loan borrowers are still coping with the impacts of the pandemic and need some more time before resuming payments."
Asked Wednesday about the letter sent by more than 80 lawmakers this week, White House Press Secretary Jen Psaki mentioned the student loan pause and $15 billion in debt relief.
"So, we have been doing a broad range of forgiveness and also have had this pause in place, meaning that no one who has student loans has been required to pay since the President took office," Psaki said.
On Thursday, she added that if Congress sends Biden "a bill to cancel $10,000 in student debt, he'd be happy to sign that into law."
Newsweek reached out to the White House for comment, but did not receive a response before publication on Friday afternoon.