58 Percent of Americans Say Policing Needs Major Changes, Poll Shows
A majority of Americans say that policing across the country needs major changes, according to a new poll.
According to the poll, 58 percent of Americans believe that major changes are needed to make policing better, while 36 percent said minor changes are needed and only 6 percent said no changes are needed.
The poll, conducted by Gallup, surveyed 36,463 U.S. adults from June 23 to July 6 and has a margin of error of plus or minus 1.4 percentage points.
The survey found drastic response differences when considering political party affiliation, with 89 percent of Democrats saying major changes are needed, 10 percent saying minor changes, and only 1 percent saying no changes. By comparison, 14 percent of Republicans said they believe major changes are needed, 72 percent said minor changes, and 14 percent said no changes.
Among independents, 60 percent said major changes, 36 percent said minor ones, and 4 percent said none are needed.
The poll also indicated Americans' views on various options for policing reform. Ninety-eight percent said they support changing police department management practices "so officers with multiple incidents of abuse of power are not allowed to serve."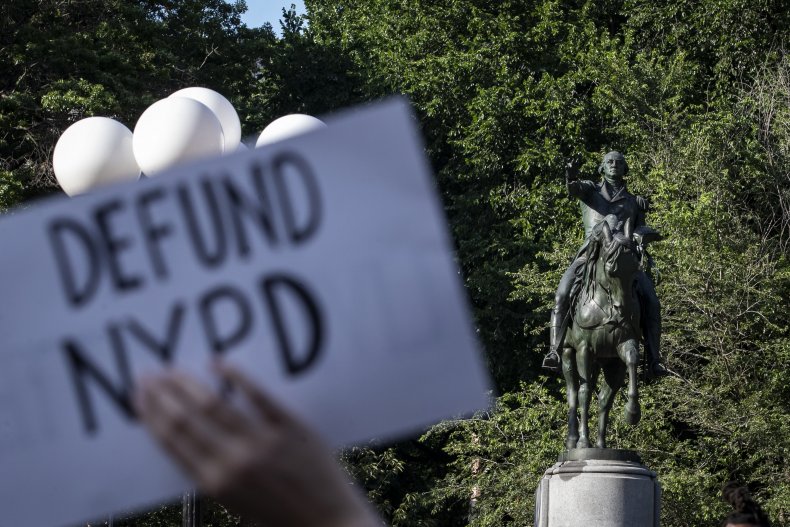 Ninety-seven percent said they support requiring police officers to have a good relationship with their community, 96 percent support changing management practices so officer abuses are punished, 74 percent said they support ending stop-and-frisk policies, 62 percent said they support promoting community-based alternatives "such as violence intervention," and 56 percent support eliminating police unions.
The poll also found that 50 percent of Americans support eliminating officer enforcement against nonviolent crimes, but the percentage changes greatly when looking at different races and political party affiliation. According to the poll, 72 percent of Black Americans said they support this change, as well as 72 percent of Asian Americans, 55 percent of Hispanic Americans and 44 percent of white Americans.
Along political party lines, 75 percent of Democrats said they support this change, while only 16 percent of Republicans said the same. Forty-nine percent of independents also said they support this change.
The poll's findings come as protests over police brutality against Black Americans continue across the country. The demonstrations began following the death of George Floyd, who died on May 25 after being held down on the ground by Minneapolis police officers, including Derek Chauvin, who knelt on Floyd's neck.
Newsweek reached out to the National Association of Police Organizations for comment on the poll's results but did not receive a response in time for publication.