A majority of Americans feel their state is moving too slowly in distributing the COVID-19 vaccine, according to a poll released Sunday. Conducted from January 13 to 16, the survey from CBS News and YouGov also suggests that most Americans haven't received helpful explanations as to why their state's rollouts are taking so long.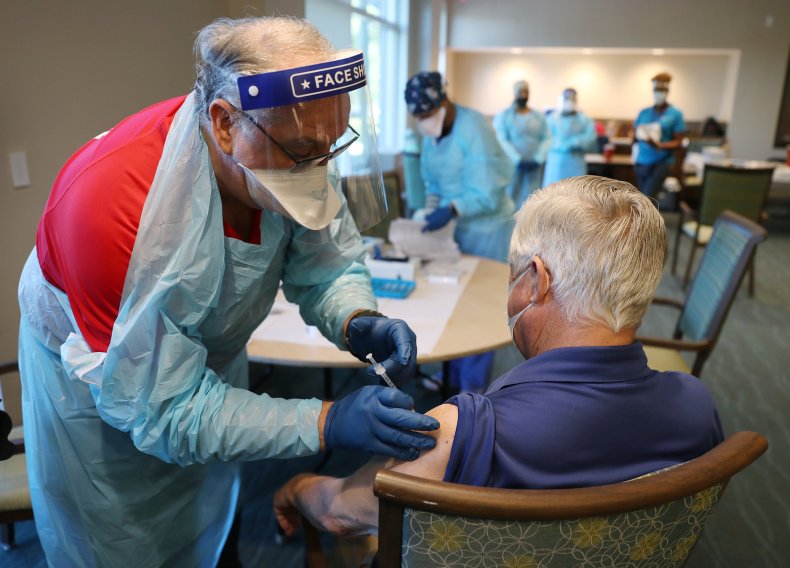 The COVID-19 vaccines from Pfizer and Moderna were both approved for emergency use authorization by the U.S. Food and Drug Administration last month. But as of Saturday, only about 10.6 million Americans have received a vaccine, according to the Centers for Disease Control and Prevention. As of Sunday, there are 23 million reported COVID-19 cases in the U.S., according to data from Johns Hopkins University, and the nation is nearing 400,000 deaths.
The CDC left the task of determining the pace and method of COVID vaccine administration up to states.
A ProPublica report in early November warned that states were behind in planning how to deal with the storage and distribution of the vaccines, especially in rural areas, Native American reservations and areas with migrant workers. Now states are facing low supply of vaccines and a rise in demand.
In the survey, 41 percent of Americans said they would get a vaccine as soon as possible when it becomes accessible at no cost. That's up from 30 percent last July, when more respondents said they would wait to see what happens to others who got it first.
The rise in demand is due to a changing eligibility pool, too. According to The New York Times, at least 32 states recently widened the group of people who can receive a vaccine to include police officers, teachers and grocery store workers. The Centers for Disease Control and Prevention also recommended last week that states should expand vaccines to include people over 65 years, expanding the population of elderly people vying for protection against the virus.
Navigating state eligibility has also put a severe burden on adult children, specifically women, who must determine how their elderly parents can receive the vaccine in their state.
The Trump administration ceased stocking second doses of the vaccine to prevent manufacturing disruptions, but this threatened states' plans when there was no stockpile to disperse as state leaders had anticipated
This week HHS Secretary and Trump appointee Alex Azar blamed some states for stalling vaccine distribution.
"State restrictions on eligibility have obstructed speed and accessibility of administration," Azar said Tuesday, the same day he submitted his official letter of resignation. He then rebuked a letter from state governors accusing him of not providing stockpiles of new vaccines doses.
"It has become abundantly clear that not only has the Trump administration botched the rollout of the safe and effective COVID-19 vaccine, but also that the American people have been misled about these delays," the governors wrote.
In one response to the increased demand, Michigan Governor Gretchen Whitmer and other governors requested federal approval to purchase vaccine doses directly from Pfizer.
On Sunday, incoming White House Chief of Staff Ron Klain told CNN's State of the Union that the Biden administration is "inheriting a huge mess" on the COVID vaccine rollout.
On Friday, President-elect Joe Biden relayed his plan to open up eligibility for the vaccine, increase vaccination sites and boost supply to meet pent-up demand levels. He's set the goal of administering 100 million vaccines in his first 100 days in office.
"If you were to ask most people today, they couldn't tell you who exactly is getting vaccinated," Biden said. "What they do know is there are tens of millions of doses of vaccine sitting unused in freezers around the country, while people who want and need the vaccine can't get it."
Biden has named Dr. David Kessler, a former FDA leader, to spearhead the vaccination plan.
Gustave Perna, the former leader of Operation Warp Speed, has apologized to states for miscommunication leading to states receiving fewer dosages than expected.
According to a report published last week by Becker's Hospital Review, North Dakota, West Virginia, Connecticut and South Dakota are the leading four states in vaccine administration. The report said that success in these states has been accredited to local partnerships, coordination among hospital networks and sharing data, as well as the effort led by CVS and Walgreens to provide dosages (though West Virginia shunned the latter effort).
In October, the HHS announced a partnership with CVS and Walgreens to administer vaccines to long-term care facilities. These pharmacies are reportedly in talks with states to increase available dosages within the next few months.
Some people have even been traveling outside of their states to access the vaccine. According to a report by The Wall Street Journal, tourists from Canada, South America and U.S. states have journeyed to Florida for the vaccine. Unlike other places, Florida does not have a residency requirement to receive the shot.
Despite the challenges, most survey respondents said they believe they'll be able to get vaccinated by this summer.