Why Are 5SOS and Chainsmokers Touring Together? Fans Aren't Happy About 'Problematic' Pairing
The Australian pop rock band 5 Seconds of Summer, shortened to 5SOS, announced Tuesday they would be sharing their North America tour alongside DJ production duo The Chainsmokers. In general, fans were not too happy about the pairing.
With hits like "Youngblood" and "Lie to Me," 5SOS would arguably have no problem selling out stadiums for a solo show. This further frustrated some fans, who claimed they would need to buy tickets to watch a "problematic" group if they wanted to see 5SOS.
"I hate being negative. I love 5SOS with all my heart," one Twitter user wrote. "But I cannot justify spending money on an expensive tour that will go to people who promote racist ideology. The Chainsmokers still haven't apologized for their actions."
"OK so if we wanna see 5sos on tour this year we're gonna have to pay an overhyped problematic group," another added. "I haven't seen one 5sos fan actually LIKE the Chainsmokers. Looks like we're sitting this tour out."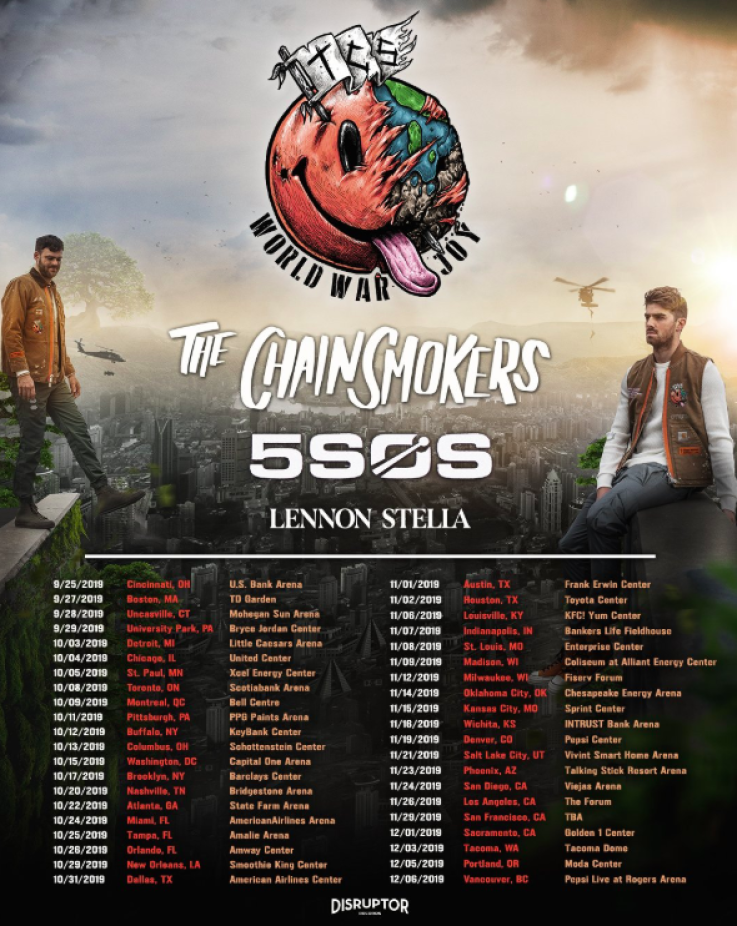 The DJ group was accused of making a racist joke in 2017 during a since-deleted video interview. After Alex Pall was asked whether he brings his dog on every tour he responds that he wouldn't bring his dog to China.
"I try to but she's really like really ill-behaved," Pall said. "I mean if she could come anywhere I'd bring her to, well I don't know if I'd bring her to China."
After the backlash from his comment, Pall later released a statement, trying to provide an explanation: "I made a comment in an interview about being hesitant to bring my dog, Cheddar, to China, because I have read reports about dogs being slaughtered in certain provinces," Pall wrote. "We originally posted a video to share how much we love China and our fans there. We would never intentionally do anything to upset our fans and we apologize if we offended anyone. Anyone who wants to help prevent the slaughter of dogs please visit http://www.stopyulinforever.org."
The Chainsmokers also faced heat from the public after defending their "frat boy" title with Billboard—"We're just frat bro dudes, you know what I mean? Loving ladies and stuff"—and saying Lady Gaga's single "Perfect Illusion" "sucks" during an interview with The Rolling Stone.
"I genuinely wanna know what 5sos was thinking when they decided to do the tour with them, like they already know we don't like that they are collating with a racist and sexist duo," one Twitter user wrote.
"No one is forcing you to go to this tour. If you don't like it, don't go. Simple as that. 5sos aren't going to cancel a whole tour because some fans are upset with the decision they've made," another person concluded. "All anyone is doing is spreading the negativity that they have worked so hard to stop."
The two group share one song together, "Who Do You Love?" Where the response to the lyric video on YouTube was much more positive than the Twitter response.
"I really love the combination of both together," one person commented. "The Chainsmokers and 5SOS is one collab I never knew I needed. Both artists are incredible ... Gonna be playing this song on repeat all day."
The band, which consists of lead vocalist and rhythm guitarist Luke Hemmings, lead guitarist Michael Clifford, bassist Calum Hood, and drummer Ashton Irwin, first formed in 2011 and released their first album LIVESOS three years later. The album included live performances of hit singles like "Amnesia," "She Looks So Perfect" and "Everything I Didn't Say."
"All we want is for our fans to come to the shows, rock out and have one of the best times they've ever experienced. Also when a room is full of you guys from all different walks of life, you can let it go when you come to the shows and be free to be yourself," the band said in a 2014 statement.
Since their debut, 5SOS has had seven singles appear on Billboard's Top 100 List with "Youngblood" hitting No. 1 in October 2018.
Why Are 5SOS and Chainsmokers Touring Together? Fans Aren't Happy About 'Problematic' Pairing | Culture