5SOS Star Luke Hemmings Drives Fans Wild as He Teases Debut Solo Music
5 Seconds of Summer frontman Luke Hemmings sparked excitement among fans on Tuesday, when he appeared to tease debut solo music on social media.
The Australian musician, 24, took to Instagram and Twitter to share images and video footage of himself working on new music in the studio.
Igniting anticipation for the imminent arrival of a new project, he cryptically captioned his social media uploads: "Tomorrow 9pm PT."
Adding to the speculation, Hemmings also updated his official website to show a black background emblazoned with the words: "When facing the things we turn away from."
Fans immediately braced themselves for new music from the star, whose band, 5SOS, have not released new music since the March 2020 unveiling of their album "Calm."
Taking to Twitter, @loloflickerbeat wrote: "luke HEMMINGS 1 isn't just an album, it's an artistic reconstitution, the breeze you respire, it's a motive for existence, a departure from this atrocious cosmos, an embosom from a cherished one, it's a moment for history books, a body of finest craftsmanship."
"I AM NOT OKAY!! LUKE HEMMINGS JUST ANNOUNCED HIS SOLO DEBUT," tweeted @yeeththisbempty.
"Luke Hemmings has solo music coming out," wrote @gracieross430. "LUKE HEMMINGS HAS SOLO MUSIC COMING OUT!"
Pointing out Hemmings' music hint and the announcement earlier in June that he has proposed to his partner Sierra Deaton, @loveoncalum wrote: "LUKE HEMMINGS DISAPPEARS FOR MONTHS AND THEN THIS HAPPENS."
Meanwhile, @chrryluke shared a computer-generated image of a mother ignoring her baby in distress, writing: "not now sweetie, luke hemmings just made a music announcement and 5sos twitter is in shambles."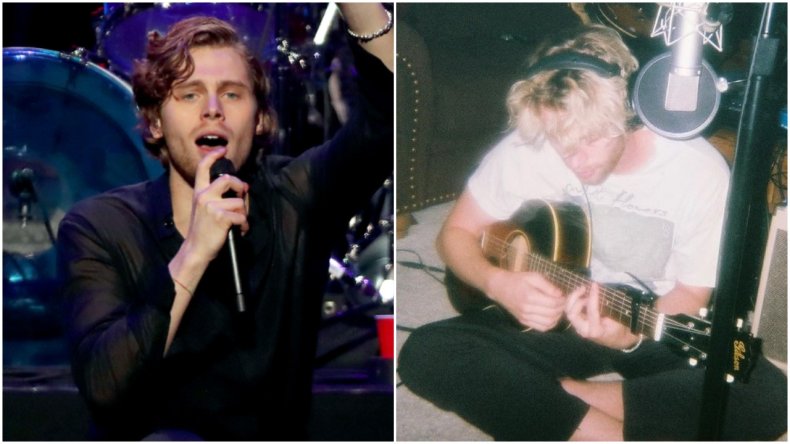 Speculation of a solo project from Hemmings comes as the musician and his bandmates—Calum Hood, Ashton Irwin, and Michael Clifford—marked seven-year anniversary of the release of their self-titled debut album on Sunday.
Irwin was the first of the band members to announce a solo project, with the release of his album, "Superbloom," in October 2020.
Announcing his album on Instagram, he wrote: "The album explores my inner philosophies and feelings about the walk of life I have found myself on.
"I'm ridiculously excited to share this with you, it feels like this record has been over a decade in the making. It brings me the greatest joy of all that I am in a band that allows me to create freely inside and outside of it. I can't wait for you to hear it."
Of the first single, "Skinny Skinny," Irwin said: "We must fight against a common darkness that shadows our ability to live truthfully, to live without self doubt, and without self destruction and love ourselves for what we are.
"When writing 'Skinny Skinny' I first thought of myself, and many other young peoples struggles with body image and particularly body dysmorphia. It's something I've never confronted in a creative form and I am feeling strong in saying 'Skinny Skinny' goes directly to that painful place in my mind."
Newsweek has contacted a representative for Luke Hemmings for comment.