Six Fast Facts About Jill Scott Ahead of the Grammy Award Winner's 20th Anniversary Tour
Award winning singer and songwriter Jill Scott has announced the cities and dates of her upcoming tour, Who Is Jill Scott?
The North American tour, spanning February and March of 2020, is named for Scott's debut album and will be a celebration of her 20 years in the music business since its release in 2000.
Who Is Jill Scott? Words and Sounds Vol. 1 peaked at No. 17 on the Billboard 200 chart, "bringing her unique brand of R&B and spoken word to a mainstream audience," according to her artist page on the Grammys website. The debut launched the singles "Gettin' in the Way," "He Loves Me (Lyzel in E Flat)" and "A Long Walk," which landed in the top 50 of the Billboard Hot 100 that year.
Throughout her two decades in the music industry, Scott went on to release other successful music collections, such as the 2004 album Beautifully Human: Words and Sounds Vol. 2, the 2007 album The Real Thing: Words and Sounds Vol. 3, the 2011 album, The Light of the Sun and the 2015 album, Woman.
"I'm going to be true to the album set list. I'll do every song in the order of the album. My audience should bring their CD covers; some may know the list by heart," the "Golden" singer said in an interview with Billboard on Monday.
"I will create musical arrangements for the songs purposed with new energy, but keep the integrity of the original songs they love. Expect theater. Expect incredible musicianship. Expect love," she continued.
Read on for six fast facts about Jill Scott.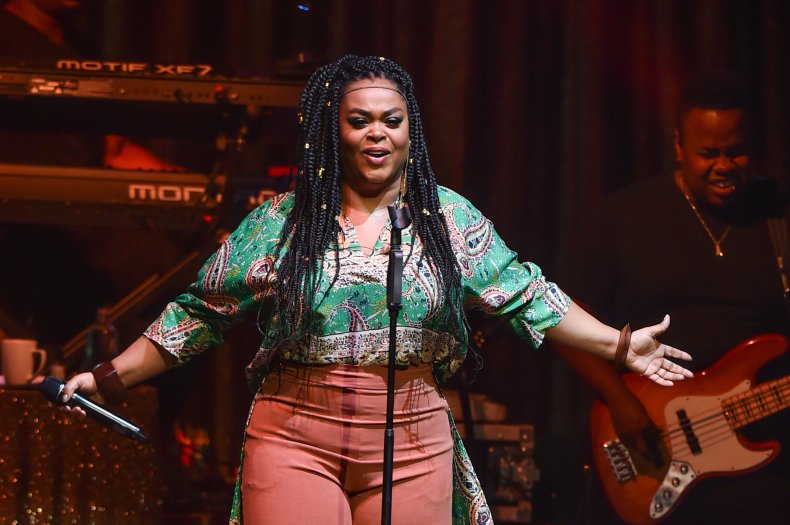 She was born and raised in Philadelphia.
Jill Scott was born on April 4, 1972, in Philadelphia, Pennsylvania. In 2000, Scott told The Washington Post that she and her mother had fled from her abusive stepfather when she was just 5 years old, moving in with her grandmother in a rough part of town. Scott stayed in the City of Brotherly Love through college, graduating from Temple University with a degree in secondary education.
She started out as a spoken word poet.
It has been widely reported that "Jilly from Philly" began her career as a spoken word poet, which led to her discovery by fellow Philadelphia natives The Roots and DJ Jazzy Jeff, who produced her first album.
She's a convincing fibber.
In a 2015 interview for Hello Beautiful's InterludesLIVE series, Scott said a little lie led to her big break. Scott revealed that The Roots band leader Questlove once asked if she wrote songs and to which she replied, "Yeah!" though in reality, "I had never written a song in my life," she recalled. Scott went on to earn a songwriting credit on the group's Grammy-winning song "You Got Me," a track which catapulted her career when the group performed it with established neo-soul artist Erykah Badu.
Who Is Jill Scott? could have been much longer.
Though she was still new to songwriting, Scott drew from her life experiences, to write and record 50 songs for her debut album Who Is Jill Scott? Words & Sounds, Vol. 1, according to her biography on IMDb. The site noted that she had difficulty paring down the track list to the 19 songs that appear in the completed collection.
She has three Grammys.
While Who Is Jill Scott? garnered major accolades for the singer, including three Grammy nominations, her first victory came in 2003 for the track "Cross My Mind" in the "Best Urban/Alternative Performance" category. Her second win was in the "Best Traditional R&B Vocal Performance" in 2006 for "God Bless the Child," while her third came the following year for "Daydreamin." Before she ever won, she appeared as a performer during music's biggest night of the year at the 43rd Grammy Awards in 2001.
She has had a successful career in acting.
After making a name for herself in the music industry, Scott parlayed her stage presence into a successful career in acting. As Billboard noted, Her growing list of film credits include Tyler Perry movies Why Did I Get Married? and its sequel, Why Did I Get Married Too? as well as Lifetime original movies Sins of the Mother and Flint. In 2014 she played the wife of music legend James Brown in the biopic, Get on Up. She also has also garnered a number of TV credits over the years, including her current role in the BET Plus adaptation of the 1996 film First Wives Club (originally starring Bette Midler, Goldie Hawn and Diane Keaton).
Six Fast Facts About Jill Scott Ahead of the Grammy Award Winner's 20th Anniversary Tour | Culture