Six Iconic Locations In New York Featured In Christmas Movies
As Christmas approaches, families and friends across the globe will gather together to share in the cherished tradition of watching their favorite holiday movies. The list of Christmas classics grows each year, bringing the festive magic alive on screen. From black-and-white award-winning depictions of Santa to the cheesy love stories under the mistletoe, one location that's featured above the rest in these seasonal stories is New York City.
Many fans have traveled to New York to recreate the onscreen magic by taking photos under the twinkling lights or spending hours mesmerized by the lavish window displays on 5th Avenue. For anyone who has ever dreamed of visiting New York in December, here's a guide to six of the locations featured in popular Christmas movies.
1. The Rink at Rockefeller Center
At Rockefeller Center's iconic ice rink, skaters glide below the towering Christmas tree that draws spectators from all around the world. In the heart of Manhattan, Rockefeller Center is located just a few blocks away from Times Square. With its proximity to so many tourist attractions, the rink draws a large crowd of visitors during the month of December. Tourists and New Yorkers alike line up around the rink to skate on the ice below as classic Christmas music provides a soundtrack to the experience. The tree is lit during a televised ceremony with live performances following Thanksgiving each year—and remains lit until early January.
It's also a beloved symbol of Christmas featured in the 2003 film Elf, which tells the story of Buddy, a human raised by elves at the North Pole, who travels to New York City. Rockefeller Center is a stop during Buddy and Jovie's first date, where they marveled at the size of the tree and shared their first kiss on the ice.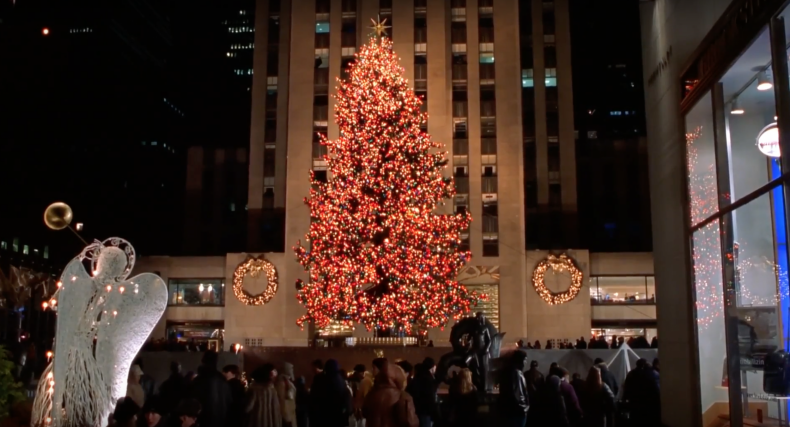 2. Macy's Herald Square
Macy's Herald Square is the department store chain's flagship store, located on 34th street between 6th and 7th avenues. Macy's has been a presence in Manhattan for over 150 years. Though it's original location was 14th Street and 6th Avenue, Macy's has been an icon of Herald Square since 1902 as it covers an entire city block with 11 levels.
This Macy's had a starring role in the 1947 Christmas classic, Miracle on 34th Street, as the location where the real Kris Kringle fulfilled his role as their in-store Santa Claus. Miracle on 34th Street won three Academy Awards for Best Actor in a Supporting Role, for Best Writing, Original Story, and for Best Writing, Screenplay. The film was also nominated for Best Picture.
Though this Christmas classic was remade in 1994, Macy's department store declined any involvement with this retelling, so the fictitious "Cole's" was used as a replacement. Rival store Gimbels featured in the 1947 film went out of business in 1987. It was also replaced by the fictional "Shopper's Express" for the update.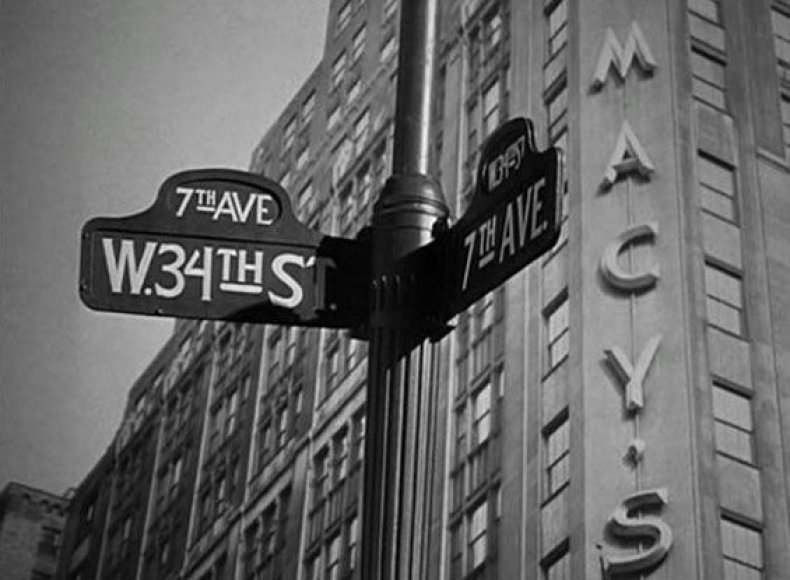 3. The Plaza Hotel
The Plaza Hotel is located at the southeast corner of Central Park. Opened in 1907, the five-star hotel has been the temporary home to notable guests over the years and houses The Palm Court, a popular destination for afternoon tea in the city.
In the 1992 comedy Home Alone 2: Lost in New York, Kevin McCallister finds himself at the Plaza Hotel in New York after getting separated from his family once again at the airport. After stopping then-owner Donald Trump inside for directions to the lobby, Kevin books himself one of the hotel's finest suites for a luxurious Christmas of his own, complete with an ice cream sundae cart for room service.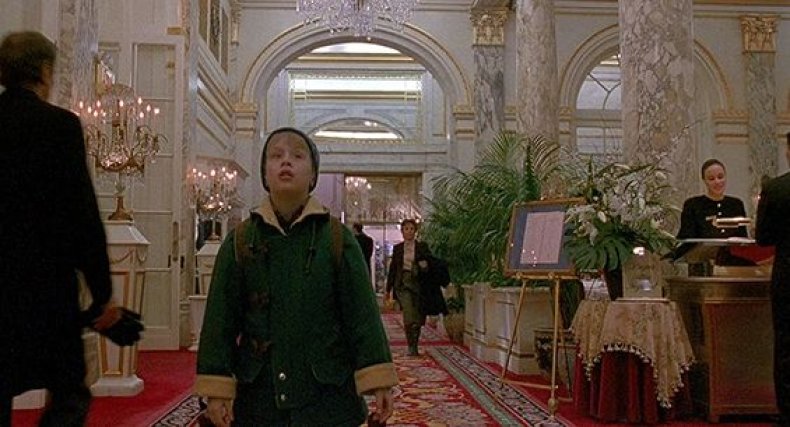 4. Wollman Rink in Central Park
Central Park in mid-Manhattan has familiar spots all throughout the park that can be seen in numerous films and TV shows. In the southeastern corner of the park is Wollman Rink, which transforms into a seasonal ice skating rink each year before Christmas.
In the 2001 romantic comedy Serendipity, Jonathan and Sara are two strangers who fall in love while sharing an enchanting evening together, but choose to leave it up to fate if they will ever see each other again. After first meeting and grabbing dessert at Serendipity 3, the couple ends up ice skating at Wollman Rink. When Sara asks what Jonathan's favorite New York moment is, he tells her that this moment on the ice is climbing the charts. Later in the movie, they both return to the ice rink while searching for each other.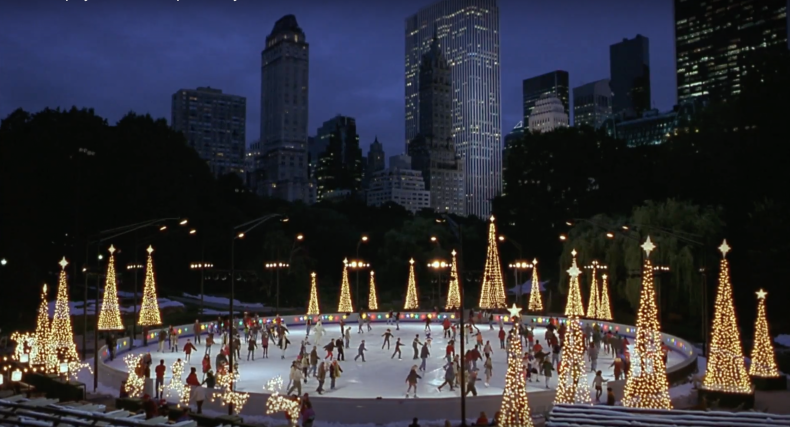 5. PlantShed
PlantShed, located on the upper west side of Manhattan, has its sidewalk lined with Christmas trees for New Yorkers to bring home to their apartments. Featuring 4 floors of flowers, plants, pottery and even a rooftop greenhouse, this shop has been operating on the Upper West Side for over 30 years.
This shop is seen twice in the 1989 romantic comedy When Harry Met Sally. The sidewalk display is where Harry helps Sally buy a Christmas tree and they carry it back to her apartment together. After the two get into a fight and another year passes, Sally goes back to PlantShed and is seen sadly dragging the Christmas tree alone down the sidewalk. Fans of the movie can come pick out their freshly-cut Christmas tree here along with a selection of other Christmas decorations as well.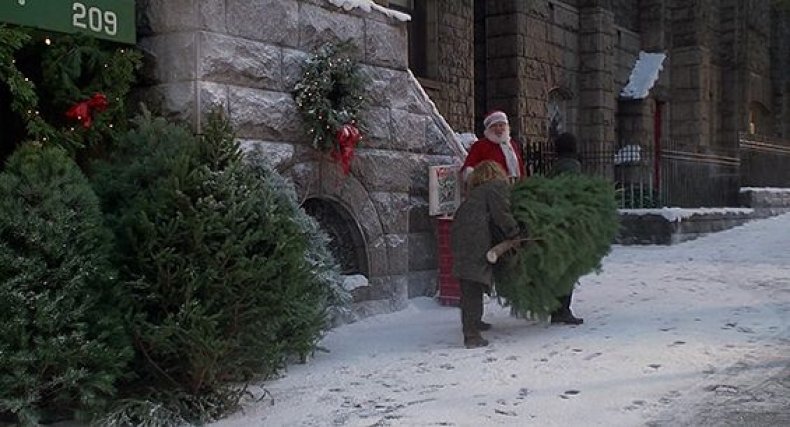 6. Seagram Building
While the Seagram building at 375 Park Avenue is an icon of modernism, its open plaza that sets the building back from Park Avenue is also innovative for its use of space. When the 38-story office and retail structure was completed in 1958, the $41 million construction costs of Seagram made it the world's most expensive skyscraper at the time.
This is where Bill Murray's character Frank Cross worked in the 1988 comedy Scrooged, a modern retelling of Charles Dickens' A Christmas Carol. Cross, a curmudgeonly television executive, is visited by 3 ghosts to help him see where his life has gone wrong.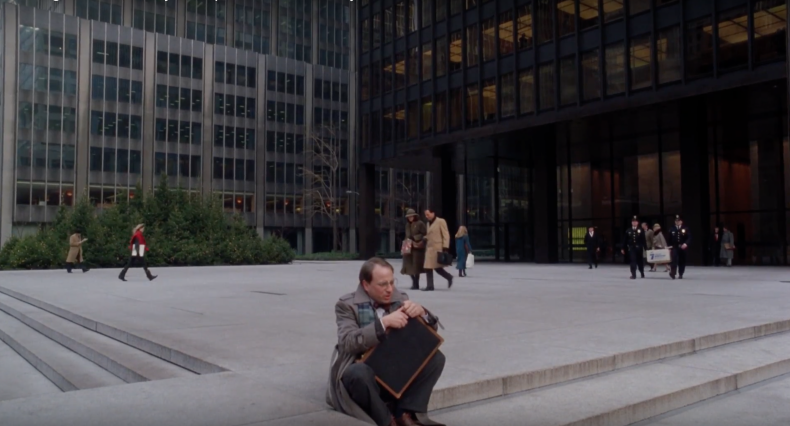 Nicolas Cage's character Jack Campbell also worked at Seagram in another movie centered around Christmas, The Family Man. In this 2000 film, Jack, a single businessman, gets a glimpse of what his life would have been like as a husband and father if he had made different choices in life.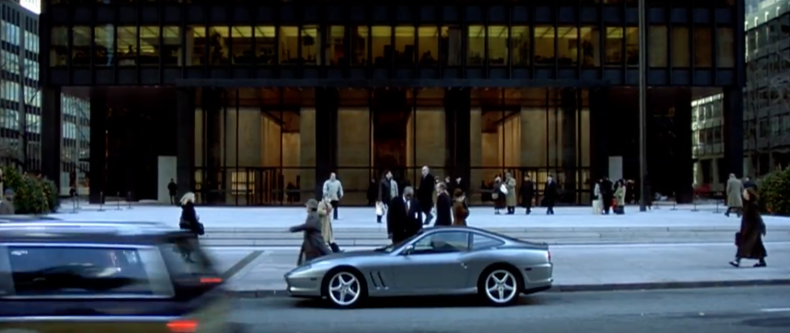 There are many other locations throughout the city where fans can relive the holiday magic seen in Christmas films set in New York and discover new wonders of the season not yet seen on screen. For both first time visitors and local residents, there are a wide variety of activities to explore.