6 Kennedy Children Applaud Gov. Gavin Newsom for Denying Parole to Sirhan Sirhan
Six children of slain political icon Robert F. Kennedy lauded California Governor Gavin Newsom's decision on Thursday to deny parole to their father's killer, Sirhan Sirhan.
A joint statement was released on behalf of six out of RFK's nine surviving children: Joseph P. Kennedy II, Christopher G. Kennedy, Courtney Kennedy, Maxwell T. Kennedy, Kerry Kennedy and Rory Kennedy. Also signing off on the statement was RFK's widow, Ethel Kennedy.
"We are grateful to California Governor Gavin Newsom, and deeply relieved by his decision today to deny parole to the killer of Robert F. Kennedy," the statement read. "As U.S. Attorney General, as Senator, and as candidate for President, [RFK] worked tirelessly so that all Americans were both united and fully equal ... he strove to heal the divisions threatening to tear this country apart."
"All this was cut short by an enraged man with a small gun," the statement continued. "Driven by maliciousness and resentment, the killer's violent act contradicted the values of openness, dialogue, and democratic change that Robert Kennedy embraced and that underlie our political system."
"We are greatly appreciative of the Governor's consideration of the facts and his faithful application of the law. His decision represents the vindication of the rule of law over all who would betray it with hatred and violence."
RFK's assassination occurred in Los Angeles in the early hours of June 5, 1968, when Sirhan, a Palestinian man reportedly angered by Kennedy's support of Israel, shot and mortally wounded him. At the time, Kennedy, 42, was a New York senator, had already served as U.S. attorney general, and was considered the Democratic Party's likely nominee for the 1968 presidential election.
Sirhan was sentenced to life in prison for the murder. While he has previously been denied parole 15 times, Sirhan was granted release this past August by a two-person parole board that determined he was unlikely to be a danger, citing his advanced age and health problems.
However, Governor Newsom decided to block his parole release, meaning that Sirhan, now 77, will remain in prison, at least until he is eligible for parole once more. Newsom's decision was based in part on a letter sent to him this past December from the same six children of RFK, urging him not to allow Sirhan out from behind bars.
"[Sirhan] took our father from our family and he took him from America," the letter read.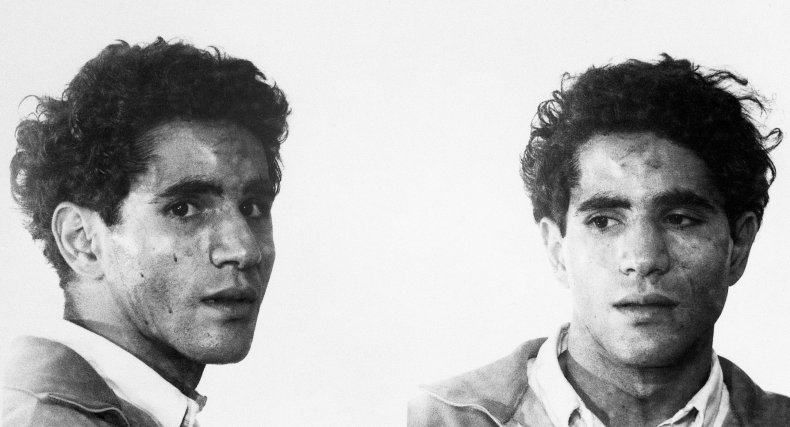 In an op-ed published Thursday in the Los Angeles Times that explained his decision, Newsom stated that "Sirhan has not developed the accountability and insight required to support his safe release into the community."
"The most glaring proof of Sirhan's deficient insight is his shifting narrative about his assassination of Kennedy, and his current refusal to accept responsibility for it," Newsom continued. "The evidence that Sirhan assassinated Kennedy is overwhelming and irrefutable."
"It is abundantly clear that, because of Sirhan's lack of insight, his release on parole would pose a threat to public safety," Newsom argued. "Sirhan is now 77 years old, but he remains a potent symbol of political violence. In the past, terrorists took hostages, and ultimately killed some of them, in Sirhan's name."
However, in the lead-up to Newsom's decision, not all of Kennedy's children agreed that Sirhan should remain locked up.
Two of RFK's sons, Douglas Kennedy and Robert F. Kennedy Jr., were not listed on the statement that commended Newsom's parole block. Both of them have spoken out against denying Sirhan parole.
Douglas Kennedy reportedly told the parole board that his father's killer was "worthy of compassion and love."
Robert F. Kennedy Jr. said that Sirhan should be paroled due to his "impressive record of rehabilitation" throughout his time in prison. He has also stated that he believes Sirhan may not have fired the fatal shot that killed his father.
Another one of RFK's daughters, Kathleen Kennedy Townsend, has not made any recent public statements regarding her opinion on the matter. However, she did state in 2018 her belief that the investigation into her father's death should be reopened.
Newsweek has reached out to representatives for Douglas Kennedy, RFK Jr. and Kathleen Kennedy Townsend for comment.