5 Injured, 1 Dead after Car Strikes 'Multiple Pedestrians' Over 20-Block Span in Portland
One individual was taken into custody in Portland, Oregon, on Monday afternoon after allegedly driving into several vehicles and pedestrians over a 20-block stretch of road in the city's southeastern region.
Six people were taken to local hospitals for treatment of their injuries, officers with the Portland Police Bureau said. During a Monday afternoon news conference, police said one individual suffered potentially life-threatening injuries, while the five other victims suffered injuries that police said they are likely to recover from. Police did not disclose the details regarding what the victims' injuries entailed but said they believed others may have suffered minor injuries in the hit-and-run incident that did not require treatment in a hospital.
Shortly before 5 p.m. local time, the Portland Police Bureau sent out an update on the incident saying that one of the victims had died of their injuries.
"According to detectives, one of the pedestrians struck during this incident has died at an area hospital," the bureau's update said. Police have not yet disclosed the identity of the victim.
Portland police said in a news alert that officers began receiving reports in connection with the incident at about 1 p.m. local time. The vehicle in question hit people and other vehicles between Southeast 33rd Avenue and Southeast 13th Avenue along Stark Street east of the Willamette River, police said.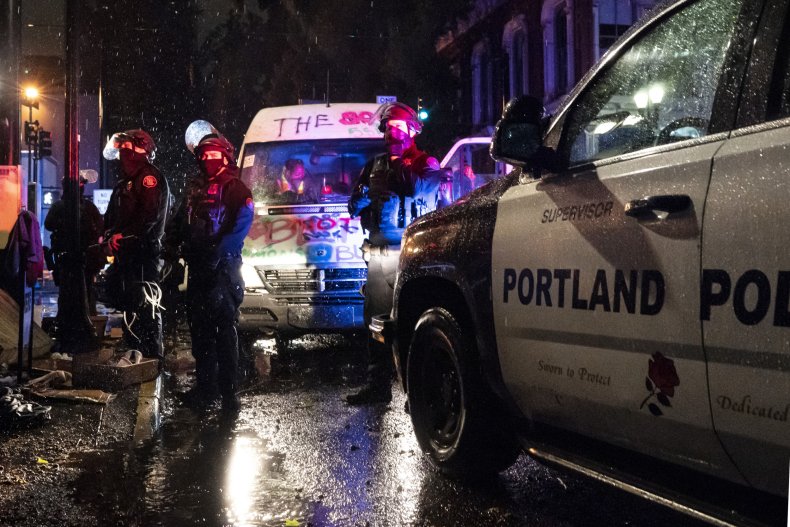 Portland Fire & Rescue first reported in a tweet Monday afternoon that at least five individuals were hurt during the incident.
"Major traffic incident, pedestrian hit by a car. One pedestrian seriously injured. Possibly more injuries," Portland Fire & Rescue tweeted. A few minutes later, the agency followed up with another tweet that said "multiple" pedestrians were hit, with at least one individual critically injured and four or five others who suffered non-critical injuries.
The Oregonian reported that one witness saw a vehicle strike one of the victims once before returning to hit them a second time and then driving away. Another individual told the paper he saw a vehicle pull into oncoming traffic in the area before striking a bicyclist.
Photos shared online of the route on which pedestrians were injured showed caution tape stretching across some streets in the area as police and emergency response vehicles gathered to assist the injured.
Police described the area as a "very large crime scene" during Monday's afternoon briefing. The vehicle believed to have caused the damage crashed and the suspect ran away on foot heading in the southwest direction, police said. Officers said they later took that suspect, whom they did not immediately identify, into custody.
Police said the incident was under investigation and encouraged any witnesses or other individuals who believe they may have relevant information to contact local police or reach out to the bureau's non-emergency line.
Newsweek reached out to the Portland Police Bureau for further information and will update this article with any response.
Updated 1/25 at 7:57 p.m.: This article has been updated to include information from the Portland Police Bureau on one of the victims, who died after they were transported to a local hospital.