'6 Underground' Cast: Who Stars With Ryan Reynolds in the Michael Bay Movie?
6 Underground is the latest movie from Michael Bay, streaming on Netflix now. The cast of the explosive film is headlined by Ryan Reynolds, who leads a team of international crime fighters without names. Instead, each member of the cast, which includes Dave Franco, Ben Hardy and Adria Arjona, is known by a number.
One - Ryan Reynolds
One is a tech billionaire described as "enigmatic" in the film's official synopsis, portrayed by Deadpool and Detective Pikachu actor Ryan Reynolds.
In an interview with iHollywoodTV, co-star Ben Miles said of Reynolds' character: "[He] plays this billionaire philanthropist who is doing work in the Middle East...and there's a chemical weapon which harms a lot of people that he's trying to help and so he decides to...go underground, fake his own death, and recruit this vigilante crew."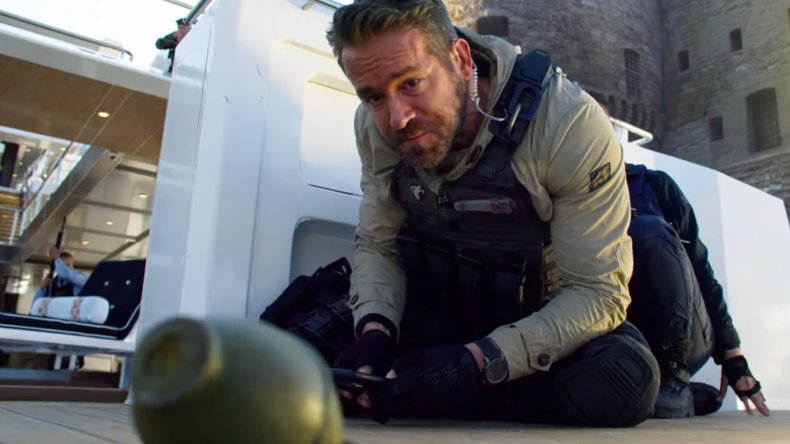 Two - Melanie Laurent
Asked to describe Two by Gulf Today, Laurent said: "She's cold and tough and not always loveable. She is the less broken one... I think Two is disappointed about herself. I think she wants to fix herself for her first," whilst also describing her as, "the one who could shoot guns and fight."
U.S. audiences are most likely to know the French actress who plays Two from her role in Quentin Tarantino's Inglourious Basterds, but in her native country she is an acclaimed actress, twice winning a Cesar Award, the French equivalent of an Oscar.
Three - Manuel Garcia-Rulfo
Three is the hitman of the group, as played by Goliath and The Magnificent Seven actor Manuel Garcia-Rulfo. According to Laurent, he may have some sort of romantic chemistry with Two, with the actress teasing, "If Manuel (Number 3) is not there then my character is less interesting because he is bringing in...so [many] emotions."
Four - Ben Hardy
British actor Ben Hardy, best known for his role in X-Men: Apocalypse and for playing Queen's Roger Taylor in Bohemian Rhapsody, plays Four, a master of parkour described in 6 Underground as a "skywalker."
Hardy, who called the Netflix movie, "a Michael Bay film on steroids" in his iHollywoodTV interview, said of playing the role, "I had to do some crazy stuff, like I was on top of the Duomo in Florence which was terrifying, standing on the top of this cathedral in a harness on day one."
Five - Adria Arjona
Pacific Rim: Uprising star Adria Arjona, who more recently appeared in Amazon Prime Video series Good Omens, is Five. Speaking to DuJour, she said of her character, "she was a strong woman—not a tough one, but a strong character who is also flawed. I don't think I have played that before. I thought there was some level of realism there that I wanted to discover."
She also has a connection according to Laurent's Two, who said of the character, "My character wouldn't survive after 10 minutes of the movie if 5 was not there."
Six - Dave Franco
The final part of the team of six is Six himself, who is an expert driver and is brought to life by Dave Franco, the brother of James and star of films like The Disaster Artist and 21 Jump Street.
The film's supporting cast also includes Lior Raz, Peter Stormare and Corey Hawkins as a sniper called Seven who, seeing as the film is about an elite band of six assassins, suggests he may meet a nasty end in the Netflix movie.
6 Underground is streaming now on Netflix.