6-Year-Old Cancer Patient Gets Wish to Be Air Force Pilot, Meet His Heroes
Venturing into the wild blue yonder was probably the wildest dream imaginable for Korbyn Chinevere before he got a big wish granted to him last month.
He got to meet some of his heroes, fly through the clouds, poke his eye at the sun, talk the talk and walk proudly as an honorary Air Force pilot.
Not a bad day's work for a kid who's only in kindergarten.
If his wish could only last forever, he could maybe fly Air Force One for the president, protect the country against enemy forces, or perhaps man a space shuttle to another planet.
Regardless, Korbyn Chinevere had a day that's out of this world.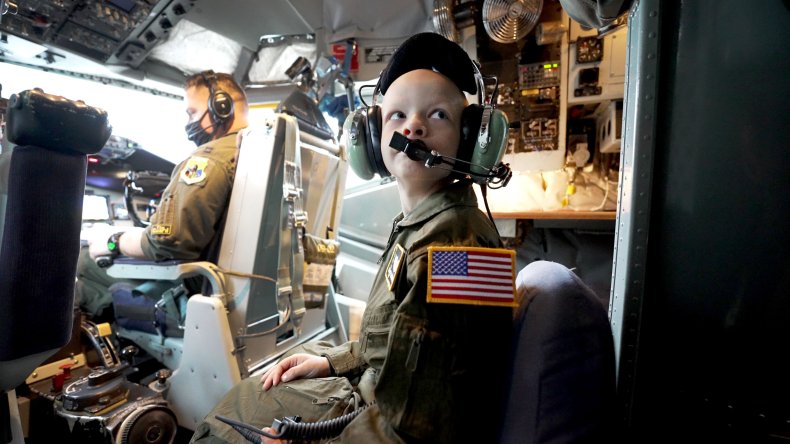 The 6-year-old cancer patient got a red carpet tour of an air base, complete with a personalized uniform and helmet, a session in a flight simulator, radio communication with other pilots and a tour of one of the base's aerial tankers.
Chinevere could have chosen a number of options through the Make-A-Wish foundation. He could have wished to meet a professional athlete, visit a Hollywood movie set, go on a cruise, go to Disney World or a wide array of other popular wishes.
Instead, he chose to meet military members, whom he considers his heroes.
America will celebrate Veterans Day on Thursday with parades, free meals and other commemorations to honor all military members who have served.
Korbyn Chinevere got to thank current members and honorarily serve alongside them two weeks ago at an air base close to his hometown.
Here's his story.
Chinevere last Christmas was diagnosed with Ewing's sarcoma, which is a bone cancer. One of his thighs was larger than the other, and that's when he was checked out by a doctor. His family learned of the tumor on Christmas Eve of 2020. Thankfully, Korbyn's is not terminal.
He's going through treatments at Helen DeVos Children's Hospital in Grand Rapids, Michigan, and an opportunity to make a wish came upon him.
Korbyn has had family members who served in the Army, and this youngster likes to play with his toy soldiers and toy guns. So it didn't take much to determine his wish, which came true on Halloween weekend.
He and his family live in the central Michigan town of Ionia. They made the trip two hours east to Selfridge Air National Guard Base in the Detroit suburb of Harrison Township, which is located near the Canadian border.
Korbyn got decked out in a flight suit and helmet made personally for him. His name was stenciled on the helmet—military style—and his name was also velcroed to his flight suit and plastered on a plane.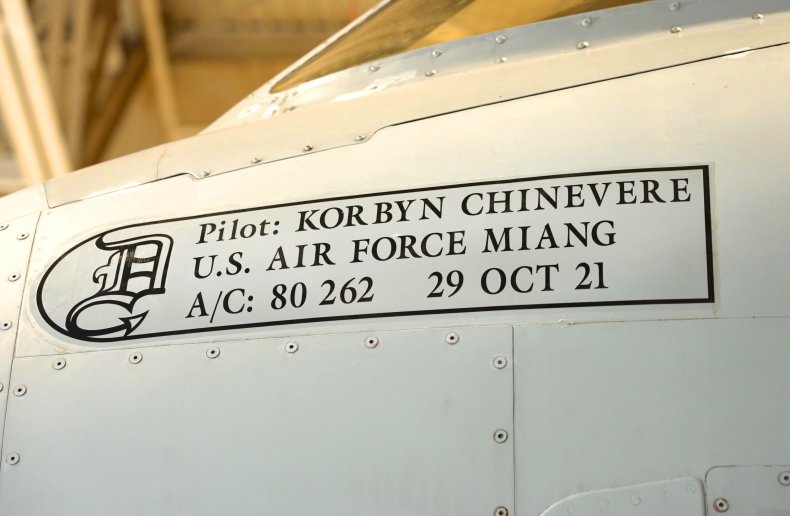 The crew at Selfridge Air Base didn't exactly know what to expect before Korbyn's arrival, but they soon treated him like the "officer on deck" when he got there.
"When he came in with a big smile on his face and wearing the flight suit, that made everything worthwhile," said Brig. Gen. Rolf Mammen, commander of the 127th Wing. "It's an action-packed day for him."
Mammen told candgnews.com that the base was given no direction on how to go forth, only that a little boy was coming to visit. That's when some of Chinevere's heroes stepped in to help.
"It's all these men and women in the organization who dove in and made it happen," Mammen said.
Chinevere got a police escort onto the base. He met some of the military members, he got to fly an A-10 flight simulator, chat with other pilots through radio comms and tour a KC-135 Stratotanker, which the Air Force uses for in-flight refueling.
His treatments are almost complete, and his day with the Air Force was like putting an exclamation point on getting cancer behind him.
"This is a bigger reward than I could have given him," said Toni McCowen, Korbyn's mom. "I think he's definitely going to remember it for a long time. I don't think he'll take off the uniform or helmet. He might even sleep in it."
Make-A-Wish Michigan helped facilitate this by initiating contact with the Joint Forces Headquarters.
The 127th Wing made it happen.
As Korbyn barrels toward the end of his treatments, he got to walk tall with his head held high. He got to see things that not everyone can see. He has a show-and-tell that most elementary school kids probably can't even fathom.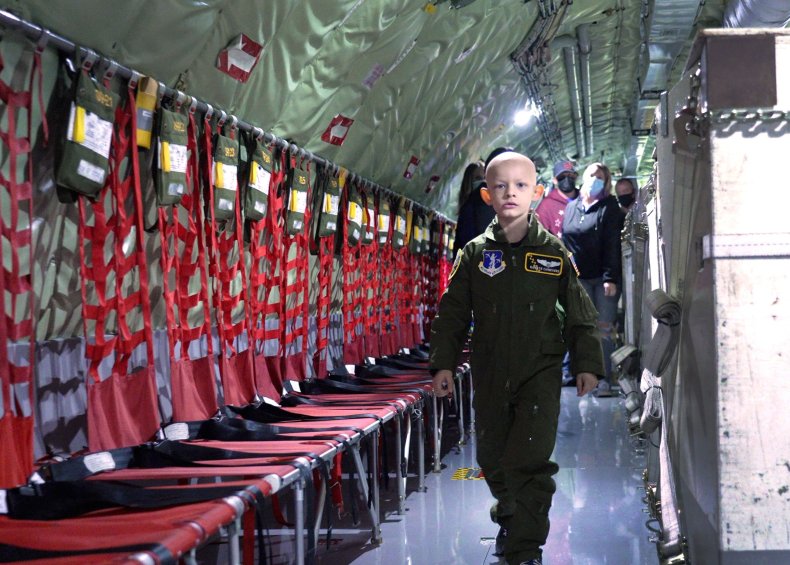 Korbyn Chinevere didn't just take a walking tour into the wild blue yonder, nor is he taking a mere walk through cancer.
He's soaring through both.