6-Year-Old Hit By Bullet While Asleep in Bed
A 6-year-old girl in Utah suffered a minor injury after being struck by a bullet while she slept inside her home early Friday morning.
The bullet traveled through the wall of the girl's bedroom, through her headboard and a pillow before striking her in the foot, KSL TV reported. Someone had fired the shot during an argument at a neighboring home west of the girl's, authorities said.
The incident took place in Kearns, a suburb about 10 miles west of Salt Lake City. Lt. Manfred Lassig with the Unified Police Department of Greater Salt Lake City (UPDSL) said the girl was lucky her injuries were not worse.
"By the grace of God, we're lucky that we're not here investigating the death of a 6-year-old," he said. "By inches over, this little gal would have ended up with a bullet in the top of her head, asleep, because somebody thought bringing out a gun and into an argument, shooting rounds, was the appropriate thing to do."
Because of the multiple objects the bullet traveled through before striking her, the girl suffered only a minor injury to her foot and did not have to be transported to the hospital. The bullet didn't enter the skin and resulted in some bruising on the girl's foot, according to KSL TV.
Police officers on the scene asked the residents of the home in which the shot was fired from to come outside. When they didn't immediately respond, officers used a bullhorn and six people eventually exited the house, KSL TV reported.
No arrests have been made in connection to the incident, but Lassig said that charges will likely be filed. Newsweek contacted the UPDSL for comment, but did not hear back in time for publication.
The town of Kearns has had a slight increase in reported crimes since last year, according to data provided by UPDSL.
Crime report maps for the town show that cases increased slightly in May, June and July 2020 from the same period in 2019. Gun-related incidents remained low in both time frames.
While there were a total of 60 reported incidents involving a weapon or other method of force in the past three months, just nine involved guns, the data showed.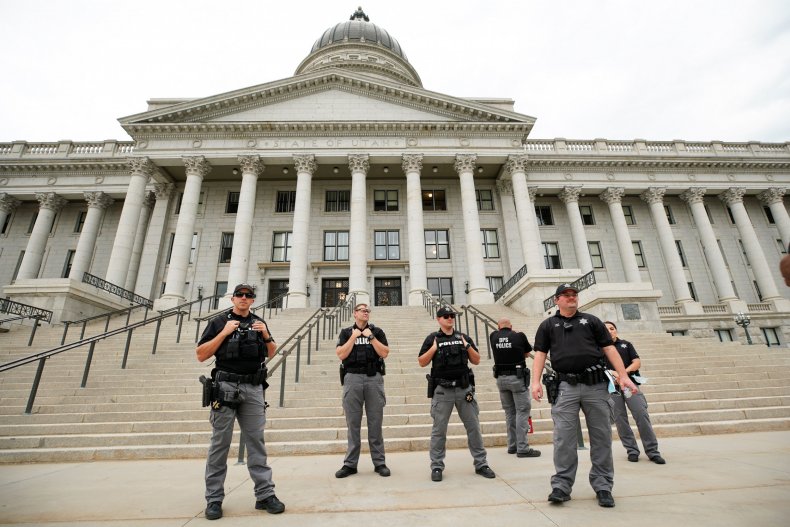 The incident in Utah is not the only recent shooting involving a young child inside their own home. A 10-year-old girl in Macon, Georgia, was shot in the back Wednesday night while inside her home, 13 WMAZ reported. Bibb County Sheriff David Davis said that the home was likely targeted because of a "personal conflict between adults."
The girl had to have emergency surgery but is now in stable condition, her mother told 13 WMAZ.
On Tuesday afternoon, two boys were shot near or inside their homes on separate occasions in Philadelphia, WPVI-TV reported.
A 12-year-old boy was shot in the wrist around 12 p.m. but was in stable condition. About two hours later, a 15-year-old boy was shot in the shoulder while inside his home. He is also in stable condition, according to WPVI-TV. Arrests have not been made in connection with either shooting.