6-Year-Old Overdoses on THC Gummy Packaged as 'Hawaiian Punch'
A 6-year-old girl in Florida overdosed on THC after eating a gummy from a package labeled "Hawaiian Punch." The youth survived, but her mother is calling for federal regulations to prevent cannabis companies from creating packaging that may appeal to children.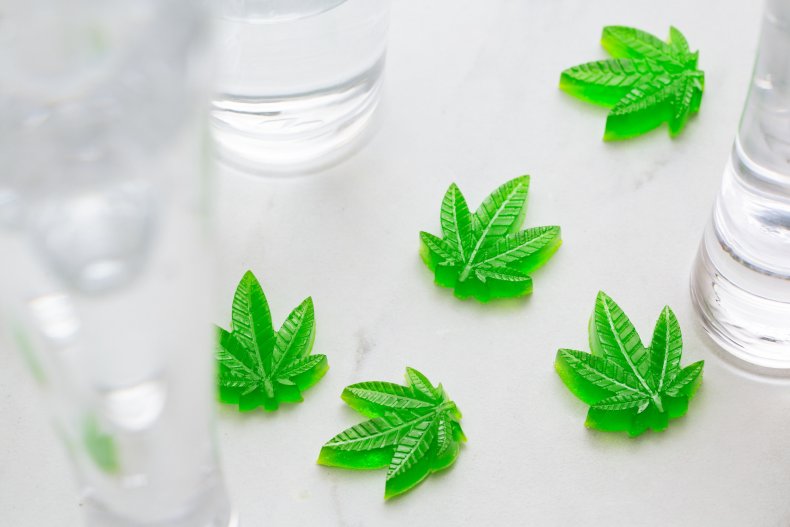 The incident occurred over Memorial Day weekend, when the girl's parents, Morgan and Alex McCoy, took their daughter to her in-laws in Jacksonville, Florida. On a June 1 Facebook post, Morgan recounted that about 30 to 40 friends and their families were there for a holiday pool party. She said many of the people there were "legal, medical marijuana patients."
The CannaMD site states, "If you are a Florida medical marijuana patient, you are allowed to drive with medical marijuana products in your possession within the state of Florida, as long as the products are securely contained in their original packaging."
In Florida, medical marijuana is legal; recreational marijuana is not.
There is no way of verifying at this time where the gummies were purchased.
Morgan said that one of the parents got their clothes wet after getting a 2-year-old child who had jumped into the pool. The parent changed clothes inside and left behind a package containing one gummy—Morgan noted it was a single gummy—which the 6-year-old McCoy girl later found. The label for the gummy not only featured the name "Hawaiian Punch" prominently printed on it, it used the same logo as the popular fruit drink.
Apparently, thinking it was candy, the girl ate the Hawaiian Punch THC gummy, which contained 50 milligrams of THC. For comparison, in 2020 medical marijuana expert Dr. Dustin Sulak wrote on the cannabis resource site Leafly that someone new to consuming THC edibles should consider starting with a dosage of 1 to 2.5 mg of THC.
Morgan, who had left the party earlier, returned to find that all the kids at the house were sleeping, which she said didn't seem unusual since they had been playing in the sun all day. Soon, though, another parent told her that her daughter may have consumed a THC gummy.
She wrote in the Facebook post, "I ran inside and calmly picked her up and moved her from the ground to the couch. She couldn't open her eyes, she was completely non-responsive and when I laid her down she kind of braced herself like she felt like she was falling."
After 911 was called, an ambulance rushed the child to a hospital, where she was monitored and given fluids. Morgan said she and her husband were up all night as the girl's "breaths per minute would drop to single digits at times, her heart rate would shoot up to alarming levels at others."
Morgan called experience "one of the scariest moments of my life."
She wrote that she does not blame the other parent, who she said has "suffered enough" for the ordeal. Instead, she blames the cannabis company behind the misleading label.
"There needs to be regulation in place to keep companies from putting stuff like this on the market," she wrote. "We don't have federal regulation over marijuana because our government won't legalize it."
Morgan, who advocates for the legalization of marijuana, said she's contacted local politicians and even the office of Florida Governor Ron DeSantis.
"THC is a MEDICATION and needs to be packaged as such. Period," she wrote. "This packaging is simply unacceptable."
A web search could not locate contact details for Faded Fruits, the company listed as the gummy's manufacturer. Other brands that showed up in an image search for Faded Fruits included other kid-centric names, such as Grape Ape, Cotton Candy Kush, and Cola.
Katie Gilroy, senior director of corporate communications, senior director of corporate communications of Keurig Dr Pepper, the maker of Hawaiian Punch, wrote to Newsweek about the use of the name and logo of the soft drink: "We are sorry that this child and her family had this terrible experience. This unauthorized use of our brand name is wrong and an example of the dangers associated with such illegal practices. We take this very seriously and will pursue all available legal avenues to protect consumers and our brands."
Update: 06/16/2021 10:57 a.m. This story has been updated to include a comment from Keurig.
Correction: 06/15/2021 3:56 p.m.This story has been updated to include information of Florida marijuana laws and that there is no way of ascertaining where or when the gummies were purchased.
Katie Gilroy, senior director, corporate communications