60 Michigan Schools Close Following Oxford Copycat Threats
At least 60 Michigan schools have been forced to temporarily close as a result of copycat threats in the wake of the shooting in Oxford Township, Oakland County Sheriff Michael Bouchard said Thursday.
Just days after a 15-year-old boy at Oxford High School was charged in the fatal shootings of four students and the injuries of eight others, Bouchard stated that at least 100 instances of direct threats or threatening social media posts have surfaced throughout the state.
This includes a 12-year-old who threatened to "shoot up" his school, Bouchard said.
However, Bouchard stated that officials believed that the majority of these threats were false copycats, adding that most of the people were doing it either as a joke or to get school canceled.
"It is not [funny]," Bouchard continued. "It is a crime, and if you're making threats, we will find you."
The sheriff added that the influx of false flag operations was stretching local law enforcement thin, adding that some of the phony calls were coming from over 100 miles away.
"It's overrunning our resources to investigate these false threats," Bouchard said.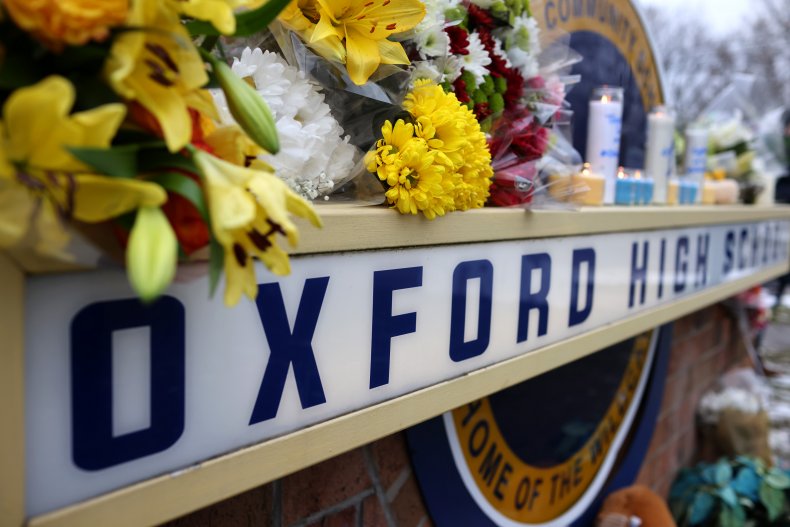 In the immediate aftermath of the Oxford shootings, Bouchard also criticized those who were spreading misinformation online regarding the facts of the massacre, including a number of so-called "related incidents."
"Those that are sharing this information are inflaming the anxiety and fear of people," he stated. "[Those incidents] were investigated and deemed not credible."
This includes a purported "countdown timer" left at a location near the school, as well as a severed deer head left outside the building. While many on social media stated that these incidents were connected, Bouchard stated that this was not the case.
Another of these rumors included a video circulating online, posted by a student inside the school, that purported to show the suspected shooter attempting to impersonate a sheriff in order to enter a classroom. However, Bouchard said that this was most likely an undercover officer trying to calm the students down, adding that authorities do not believe the shooter ever attempted to enter a classroom.
However, Bouchard did add that the suspect had in fact posted a picture of his weapon, a SIG Sauer 9 mm semiautomatic pistol, online before the post was later deleted.
Social media has come under scrutiny as investigators struggle to understand how the suspect managed to fly under the radar for so long. In particular, criticism was aimed at the high school, as it was revealed that school officials had spoken to the suspect and his parents regarding concerning behavior just hours before the massacre.
Bouchard told reporters that "no information" on the suspect's suspicious behavior had been relayed to local authorities or the sheriff's office.
In a statement sent to Newsweek, Michigan State Superintendent of the Department of Education Dr. Michael F. Rice said, "It's an outrage that some individuals would use a tragedy like Oxford to create more upset, fear and disruption. Local school superintendents have the health and safety of their students and staff to protect and always use their best judgment whether to close schools for safety sake."
"School leaders should work with their local law enforcement officials to identify and prosecute, to the fullest extent of the law, those who make threats of violence against their school communities," Rice continued.