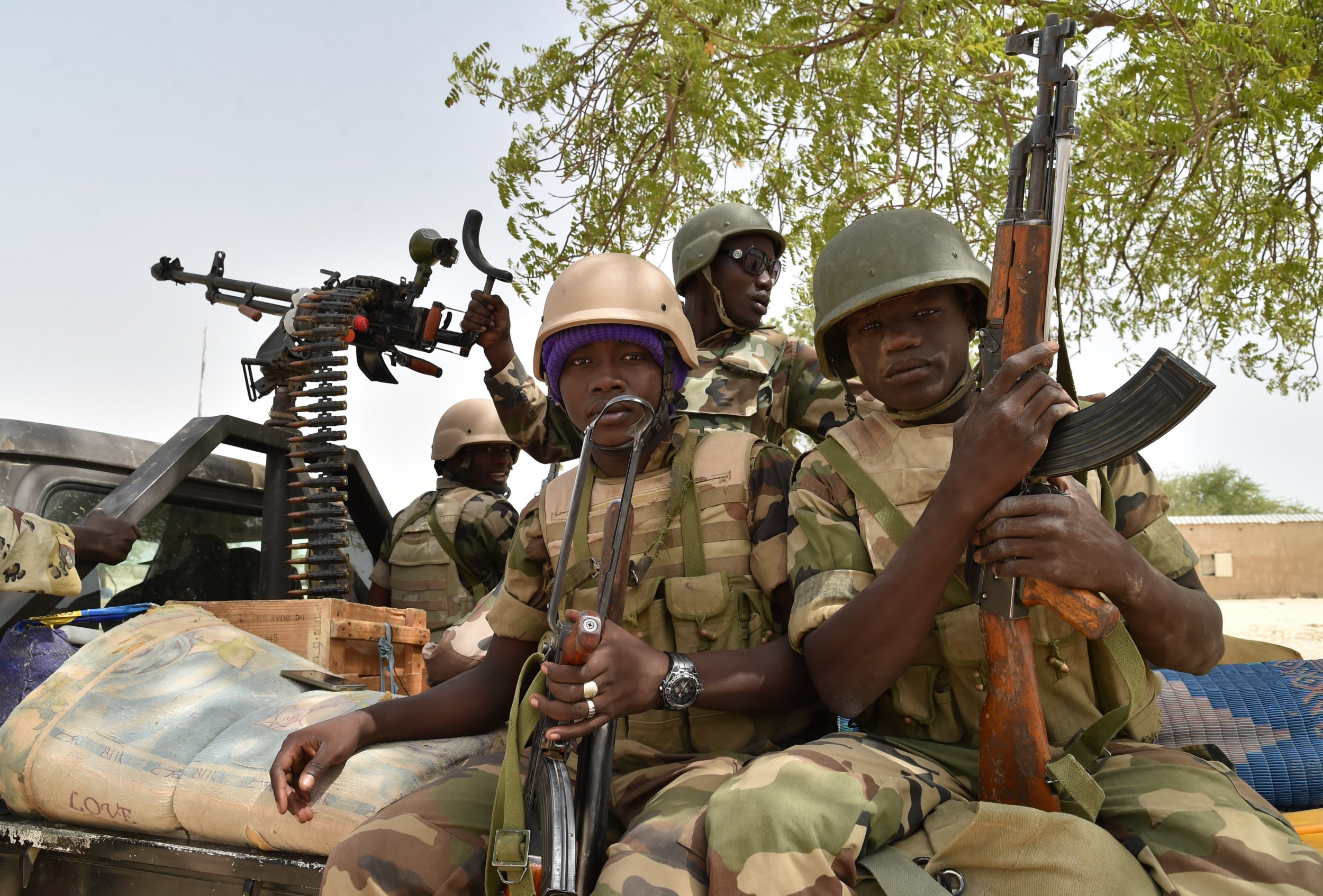 Almost two-thirds of Boko Haram fighters are not Nigerian, according to the head of the country's army.
Nigeria's Chief of Army Staff, Tukur Yusuf Buratai, made the claim on Wednesday while hosting a Special Representative of the United Nations Secretary-General in Maiduguri, the northeastern Nigerian city in which Boko Haram began their insurgency in 2009.
Boko Haram started fighting against the Nigerian government but has fanned out its attacks into neighboring countries—including Cameroon, Chad and Niger—in recent years. The group has killed thousands of people and displaced more than 2 million, with most of its activities focused in Nigeria's northeast Borno state.
"While the Boko Haram [insurgency] can be said to have started in Nigeria, by and large as at today, I can say that almost 60 percent of the insurgents are from our neighboring countries," Buratai told the Special Representative, Mohammed Ibn Chambas, on Wednesday, the News Agency of Nigeria reported.
Buratai cited the claim that "almost all" of the Boko Haram fighters that have recently surrendered to the Nigerian army and regional military forces are not Nigerian.
A Chadian government official told the BBC's Newsday program on Wednesday that more than 1,000 Chadian nationals, some of whom had formerly fought for Boko Haram but had surrendered over a two-month period since September, were being returned to their homes after being screened.
The Nigerian military, in conjunction with a Multinational Joint Task Force set up in the region, has driven back Boko Haram after a renewed emphasis on tackling the militants under Nigerian President Muhammadu Buhari, who came to power in May 2015. Boko Haram has also been hit by infighting: following its pledge of allegiance to the Islamic State militant group (ISIS) in 2015, Boko Haram has split into two factions after ISIS appointed a new leader of the group in August, which was rejected by the group's figurehead Abubakar Shekau.
In Cameroon, the militant group's activities have decreased in recent years, according to a report published on Wednesday by the International Crisis Group (ICG). One of the report's authors, Hans De Marie Heungoup, said that observers had witnessed a "dizzying downward spiral" in the number of attacks carried out by the group, which had fallen from almost daily attacks in 2014 to between six and eight attacks a month since September, according to Reuters.
The report said that Boko Haram had resorted to guerrilla warfare tactics—such as suicide bombings—after suffering heavy losses, and that the group's attacks were now focused in Cameroon's Far North region: an isolated and impoverished area close to the border with northeast Nigeria.
The report said that Cameroonian authorities must promote development and discourage religious radicalism in the Far North to avoid further recruitment by Boko Haram. An estimated 4,000 Cameroonians have joined the group, with some given incentives such as motorbikes and $2,000 sign-on fees, according to interviews with locals cited by the report.