60 Percent of Small Business Owners Will Require New Workers to Be Vaccinated: Poll
More than half of small business owners said they will be requiring new employees to get inoculated against coronavirus, according to a new poll.
The survey, commissioned by Digital.com, found 60 percent of business owners running operations of 100 people or less will mandate newly hired workers receive the COVID-19 vaccination.
Twenty-three percent of owners surveyed said they were considering such a requirement, while 19 percent of bosses surveyed said it won't be necessary for new workers to be vaccinated. The majority of small business owners not requiring vaccination are located in the South and Midwest, according to the poll.
A majority of the businesses asking new hires to be vaccinated or are considering the mandate—78 percent—are also requiring current employees to get the vaccine. Plus, three-quarters of those owners said they'd fire an employee for refusing to get the shot for personal reasons, not health reasons.
Yungi Chu, the owner of Headset Plus in California, told pollsters that he's requiring all employees to be vaccinated now that the Pfizer-BioNTech shot has been approved by the Food and Drug Administration (FDA).
"Unless an employee has a medical reason why [they] cannot, it will not be an option. It's the only way to keep every employee safe in the office and warehouse," Chu said.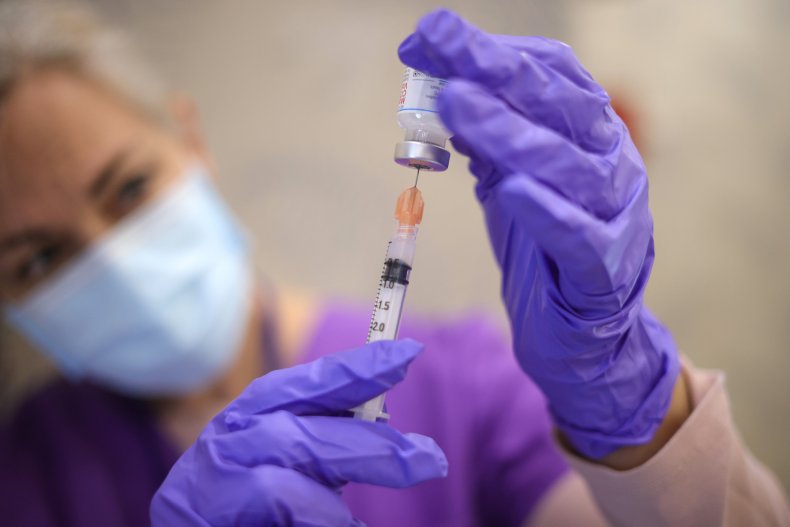 Pollsters found that 65 percent of owners said employees are expressing concern about their coworkers not being vaccinated. On the other hand, 67 percent of the owners polled reported that workers have said they're worried about complying with measures to prevent the spread of the virus in the workplace.
The survey was conducted after President Joe Biden ordered vaccine requirements for hundreds of millions of workers, including a mandate for private-sector employers with more than 100 workers to require them to be vaccinated or submit weekly testing.
Biden is also requiring federal employees and contractors to be vaccinated, though these workers have no option to test out. Health care workers at facilities receiving funds from Medicare and Medicaid will also need to be fully vaccinated.
"We're in a tough stretch, and it could last for a while," Biden said as he announced the new measures.
The president added, "What makes it incredibly more frustrating is we have the tools to combat COVID-19, and a distinct minority of Americans, supported by a distinct minority of elected officials, are keeping us from turning the corner."
While small businesses are taking different approaches to vaccine mandates, 79 percent of owners polled by Digital.com said they will provide paid time off for employees who quarantine or are hospitalized after testing positive for the virus.