60 Versions of Leonard Cohen's 'Hallelujah,' Ranked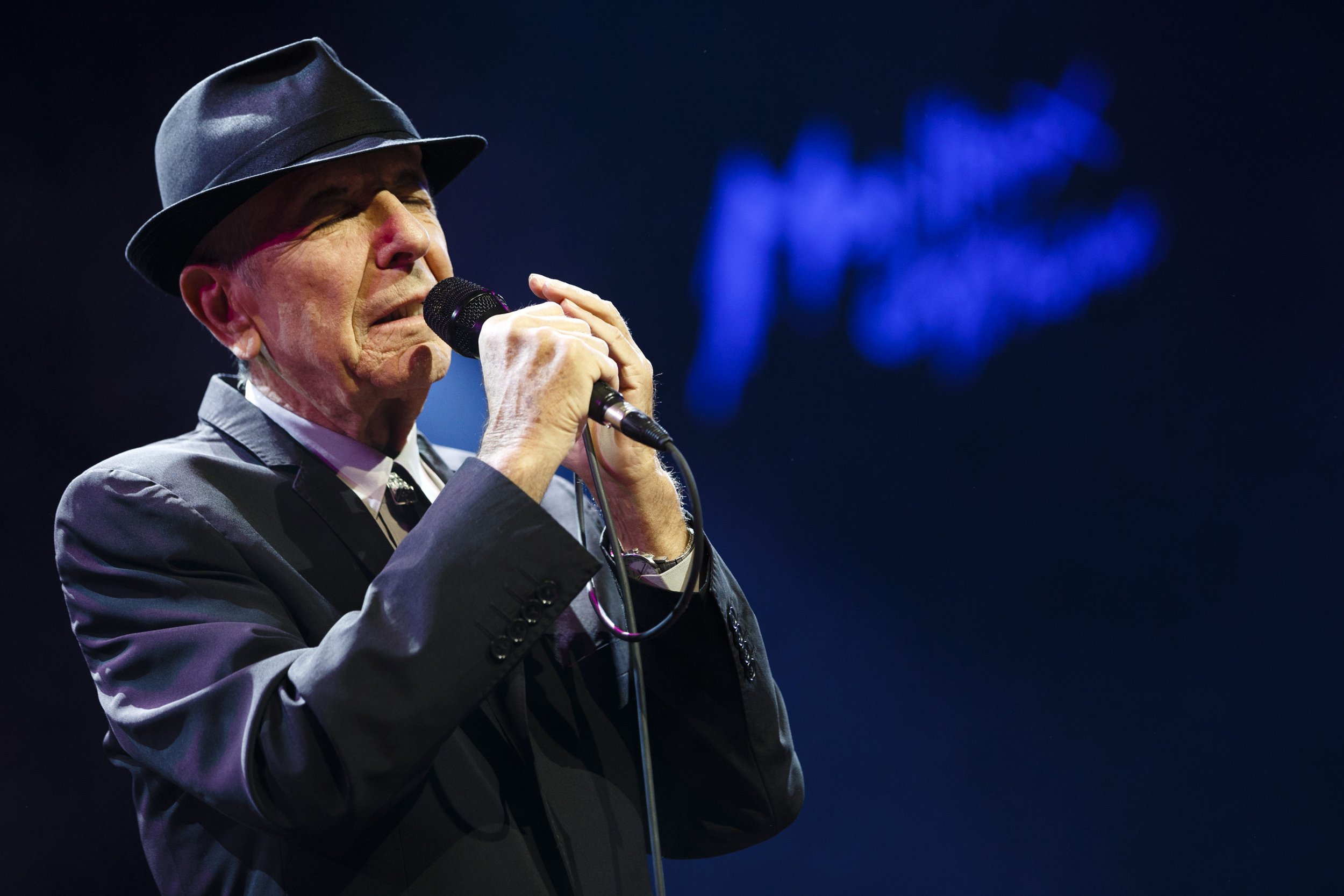 Thirty years ago this weekend, Leonard Cohen first performed a song called "Hallelujah."*
He didn't then know the song would wind its way into the deepest reaches of popular culture, spirituality and, uh, Shrek. He didn't know the song would make much of an impact at all.
The album on which it appeared, the murky, mid-career Various Positions, had been rejected wholesale by Columbia Records in the U.S., and when it finally was released, "the song was still generally ignored," as Alan Light notes in his 2012 book The Holy or The Broken.
Frankly, it's no wonder: "Hallelujah," as it sounds on that record, is a barely recognizable blur of '80s keyboards and overwrought backing vocals that Cohen further confused by changing up the lyrics when he began singing it in concert. (He has said he wrote as many as 80 verses, then whittled it down to four for the album version.)
It was a spate of cover interpretations—first by John Cale and Jeff Buckley, then by dozens and hundreds of others—that lifted the song out of obscurity, though it was something more mysterious that cemented its status as a modern standard, appearing on American Idol and in synagogue services in equal measure. It has become ubiquitous. Tallying versions by Cohen and plenty of others, Light estimates "Hallelujah" has been listened to hundreds of millions of times on YouTube alone. It is "something of a musical Rorschach test," Light writes, invented anew by all who attempt the fourth, the fifth, the minor fall...
Many of those renditions are great. Some are quite terrible. Here, we celebrate the 30th birthday of "Hallelujah" by listening to 60 notable recordings of it that are readily available online and ranking them from worst to best. This list is of course open for debate and is necessarily far from exhaustive, and we are primarily sticking to renditions that are commercially available, as well as a few notable live performances.
60. Jeff Gutt (A Detroit Christmas, 2014): Dreadful, straining delivery, disastrous AOR arrangement that somehow gets worse and worse (hear those chugging, sub-Creed guitar licks?). Naturally, it was a grand slam on The X Factor. —ZS
59. The Canadian Tenors (The Canadian Tenors, 2008): "This song is pretty much indestructible," singer Regina Spektor once said of "Hallelujah." This vomitously overstuffed murdering of the track proves her wrong. —ZS
58. Michael Bolton (Gems - The Duets Collection, 2011): From its opening string swells to its steel guitar flourishes and choir crescendo, Bolton's "Hallelujah" is a miserable grab bag of elevator-core tackiness, with a key change that would make even Jon Bon Jovi grimace. Avoid at all costs. —ZS
57. RMaster (feat. Ingo Lass) (New Anime Nation, Vol 3, 2014): Information about this is quite sparse, but it appears to be several anime stars with throaty, horribly reaching voices performing "Hallelujah" on top of piano, synthesized strings and even some xylophone twinkles. Truly hellish. —ZS
56. Susan Boyle (The Gift, 2010): It is difficult to encompass every trite, melodramatic "Hallelujah" cliché in a single, four-minute rendition, but Britain's Got Talent star Boyle succeeds. Cloying beyond mercy. —ZS
55. Peter Hollens feat. Jackie Evancho (Peter Hollens, 2014): If you traveled to 1985 and told Leonard Cohen that a terrifyingly saccharine a cappella version of "Hallelujah" would one day have 1.7 million YouTube streams, he'd have said, "What the hell is YouTube?" —ZS
54. Bird of Pray (More Sad Songs, 2011): Throaty, exasperating verses meet saccharine, choral-style refrains. At least it's short. —ZS
53. Kelley Mooney (Tomorrow, 2011): Apparently, it's not unheard of for Christian performers to swap out Leonard Cohen's lyrics for their own. Mooney goes all out, axing every familiar verse in favor of worshipful musings like, "The soldier who had used his sword / To pierce the body of our lord / Said 'Truly, this was Jesus Christ our savior'"— in the process obliterating both the rhyme schemes and the spiritual ambiguity that make the song work. —ZS
52. Alejandro Fuentes and Askil Holm and Espen Lind and Kurt Nilsen (Hallelujah - Live, 2006): Splitting the verses between co-vocalists is usually a mistake, and this gratingly oversung version by four Norwegian talents isn't an exception. It's a respite when the crowd takes over for the last chorus. —ZS
51. The Pitchforks (Refraction, 2012): An a cappella group from Duke University offers proof that "beatboxing" and "Leonard Cohen" do occasionally appear in the same sentence. —ZS
50. Jake Coco (Under the Covers, Vol 5, 2013): You've heard Rufus Wainwright's emotive solo piano reading of the song (see No. 3 in this list)? Then you've heard this one, but far better. —ZS
49. Bon Jovi (Live at Madison Square Garden, 2009): Jon Bon Jovi & Co. grind Cohen's song through the Power Ballad Industrial Complex and emerge, six minutes later, relatively unscathed. The same can't be said of the audience. Violin swells and overheated "Wanted Dead or Alive"-style wails included free of charge. —ZS
48. Street Corner Symphony (The Sing Off: Season 3, 2010): Yes, certainly, the world needs another Christmas-y, TV-ready a cappella take on "Hallelujah". Well, no, it doesn't, but if you're nodding along at home, this rendition, from NBC's The Sing-Off, goes out to you. —ZS
47. Michael Henry and Justin Robinett (Simplistic Duplexity, 2011): The world surely doesn't need another muzak-y piano duet of "Hallelujah" either, but this one's blandly inoffensive enough. —ZS
46. Francesco Lazzari, Elena Ravelli (Love Stories, 2011): This cheesy version is sung in a thick Italian accent and pretty heavy on instrumental sentiment. But its goofiness is endearing, and it gets a boost for being titled "Hallelujah, Shrek," as though the lovable green ogre were the song's true spiritual forefather. —ZS
45. Ois Easy (Infinite Contemporary Lounge, Vol 2, 2014): "Hallelujah" has been translated into several languages, but here's another foreign-language singer trying it out in English, a fact that becomes clear when "Bathing" rhymes with "Laughing." The acoustic accompaniment is pleasantly restrained, but the vocals are nothing of the sort, stretching, wailing and convulsing in every needless direction. —ZS
44. Il Divo (The Promise, 2008): Imagine Jeff Buckley was a Spanish member of an "operatic pop" vocal quartet thrown together by Simon Cowell. Even that doesn't quite capture the surreal effect of this delicate, Spanish-language version. The members hail from different countries but each knew Cohen's song, a testament to its 21st-century popularity on Idol and other reality shows. —ZS
43. Jason Mann (Soul, 2010): It's a competent enough guitar-and-voice reading, but why is the tempo so slow? And why must it drag on for six-and-a-half minutes? Or maybe those queries are related... —ZS
42. Sons of Serendip (single download, 2015): "Hallelujah" is frequently mistaken for an ancient religious standard rather than a pop song written in the 1980s. Church-friendly, muzak-y recordings like this one, from an America's Got Talent quartet, don't help matters. It comes complete with a harp, predictably irritating oversinging and strings that flutter all the way to the heavens. Cohen's lyrics, meanwhile, are all too biting and bemused for this sort of soaring majesty. —ZS
41. Lisa Lois (Smoke, 2009): Yet another reality-show-performance-turned-studio-recording, this one from the Dutch X-Factor. Lois's piano-based "Hallelujah" is capably sung but more showy than affecting. Studio flourishes are minimal, but catch that vocal echo trick at 2:59. —ZS
40. Baby Lullaby (Babies Bedtime: 100% Natural Sleep Aid & Nursery Melodies for a Happy Newborn, 2014): From what little information exists online, this is exactly what it purports to be: an acoustic, pared-to-its-essence "Hallelujah" intended to lull your newborn into a non-screaming state. I am neither infant nor parent, so I cannot speak to its efficiency, but be assured—it's instrumental, so there's no need to expose your child to that "remember when I moved in you" line. —ZS
39. On the Rocks (Full Coverage, 2005): Among the earliest a cappella recordings of "Hallelujah." Necessarily cheesy but tastefully done, with doo-wop touches and a full choral effect at the end. —ZS
38. Anna Clendening (America's Got Talent, 2014): "Keep the bar low when it comes to expectations" is the rule on contest shows, and this AGT contestant starts by talking about her "anxiety and depression disorder" and being bedridden for a year--before knocking it out of the park. "A baffled king composing 'Hallelujah,'" indeed. —SE
37. Celine Dion & the Canadian Tenors (Oprah Winfrey Show, 2010): Yes, we had never heard of the Canadian Tenors either, and their earnest, heartfelt cover, redolent of hair product and facial tics, goes into overdrive when they are surprised to have their heroine Dion join them. That's right, their heroine is Celine Dion. And no, love is not a victory march. —SE
36. Josh Vietti (Best of Both Worlds, 2012): Want to hear how an instrumental "Hallelujah" sounds in the hands of a virtuoso violinist? Okay, here you go. —ZS
35. Straight No Chaser (Under the Influence, 2013): An earnest enough a cappella arrangement for those who like their vocal accompaniment with plenty of breathy Ooohs, Aaaahs and Ba-dums. —ZS
34. Noah Guthrie (Hallelujah, 2014): A smoky, campfire-style take from a 19-year-old YouTube-famous singer whose voice sounds triple the age. An odd fit, but an A- for effort. —ZS
33. Rhema Marvanna (Believe, 2011): Okay, here's a fun one. You hear those piano arpeggios and think it's another uselessly uninventive "Hallelujah" until the vocals pop in and you realize the little girl on the album cover is not a ruse—she's the one singing, and a quick bio reveals she was indeed born in 2002. The instrumental backing—key change and all—is a melodramatic mess, but Marvanna is a delight, especially the twang on her voice when she sings "The baffled king composin' Hallelujah!" —ZS
32. Alexandra Burke (Overcome, 2009): The English singer has impressive pipes, and the song helped her win the fifth season of The X Factor. But the best "Hallelujah" covers operate on restraint, and Burke's gospel-tinged, key-change-ready performance has none of it. —ZS
31. Dan Henig (Hallelujah, 2013): It's all a fairly routine singer-songwriter-y "Hallelujah" until the beatboxing comes in—and doesn't let up for three otherwise affecting minutes of wordless cooing. According to Wikipedia, Henig is "notable for his viral YouTube video cover of Get Low," so this is a curious new direction. —ZS
30. Adam Sandler (12-12-12 Concert for Sandy Relief, 2012): An Adam Sandler parody of "Hallelujah" sounds unfunny enough. A Hurricane Sandy-themed Adam Sandler parody of "Hallelujah" is even less so, but it warrants a few points for (1) its Paul Shaffer accompaniment and (2) its rhyming of "Hallelujah" with "32-ounce Mountain Dew-ya." —ZS
29. Kate Voegele (online single, 2008): One Tree Hill performer Voegele tells Alan Light, "I was like, 'No, I can't touch it—it's an untouchable song.' But eventually I decided to say screw it and do it anyways." The result fits in some demilitarized zone between illuminating reimaginings and dreadful X Factor butcherings. It's just…there. —ZS
28. The King's Singers (From the Heart, 2010): One of the earlier and better a cappella recordings of "Hallelujah," by an English sextet that's been around longer than the song has. By the final refrain, these guys are reaching octave levels that would make Leonard Cohen blush. —ZS
27. Jai-Jagdeesh (Of Heaven & Earth, 2013): Performances of "Hallelujah" are nearly always dominated by white, Western voices, so it's an impressive treat to hear Jai-Jagdeesh bring conventionally Indian instruments into the mix. Still, be wary of "Hallelujah" versions that carry on past the six-minute mark—the refrain is almost guaranteed to be stretched beyond its limits. —ZS
26. Allison Crowe (Tidings, 2004): If you are yowling at full throttle by the 30-second mark, your "Hallelujah" cover may be hitting its dramatic arc a bit early. This performance by the Canadian singer is solid but oversung. Its timing was interesting, following the Shrek appearance but predating the American Idol trend by at least a few years. —ZS
25. Popa Chubby (Big Man Big Guitar: Popa Chubby Live, 2005): A blues guitarist whose stage name is a pun on "Pop a chubby" wails about a "cold! and it was a broken! Hallelujah!" gasping each breath like it'll summon the ghost of Stevie Ray Vaughan. At least it's different. —ZS
24. Renée Fleming (Dark Hope, 2010): Hear opera soprano Fleming take on "Hallelujah" on a covers LP alongside titles by Arcade Fire and, uh, The Mars Volta. It's an inventively airy, quick-footed orchestral arrangement, and Fleming's vocals are blandly capable without overdoing it. —ZS
23. Willie Nelson (Songbird, 2006): The self-deprecating bemusement in Cohen's verses ("You say I took the name in vain / I don't even know the name") is a natural fit for the country legend's twang. But the melody—and the slow-building majesty of it all—is an awkward stylistic match at best. —ZS
22. Damien Rice (Rock and Roll Hall of Fame Volume 10: 2008-2009): Performing at Cohen's Rock and Roll Hall of Fame induction, the Irish folk singer competently if clumsily injects drama into the song where it already exists. It's a callback to two superior versions: Rice's voice is similar to Wainwright's, while his guitar accompaniment owes to Buckley. —ZS
21. Justin Timberlake and Matt Morris (Hope for Haiti Concert, 2011): A song for all occasions, including earthquake relief telethons, Cohen's opus still has the power to surprise the people singing it. When Timberlake sings, "Maybe there's a god above," he looks like he is allowing for the possibility for the first time. Yeah, and Charlie Sexton on guitar. —SE
20. Michael McDonald (Soul Speak, 2008): Soul singer McDonald slows things down a notch and substitutes the familiarly lilting vocal melody with his own R&B meanderings. The dude can sing, as Steely Dan will attest. Problem is, "Hallelujah" isn't a sexy slow jam you can pad out with sultry blues guitar flourishes —but the weird stylistic challenge of it all is striking and uniquely done. —ZS
19. Neil Diamond (Dreams, 2010): Yes, that Neil Diamond. Remember: "Hallelujah" was first sung by a 50-year-old Leonard Cohen and then a 40-something Bob Dylan before it was hijacked by youthful Idol contestants, so it's curious to hear it back in the hands of an aging male vocalist. Accompanied by a clean electric guitar, Diamond's recording is unadorned and largely unremarkable, though there's some grace in its absence of fluff. Interestingly, Diamond changes up the vocal melody of the chorus but sticks to Cohen's 1984 lyric sheet. —ZS
18. Jake Hamilton (Freedom Calling, 2011): Here's an odd (albeit interesting) one. The Christian worship singer's "Hallelujah" starts strong, with a driving rock approach that's admirably unique in the "Hallelujah" canon. Then, a misguided and overwrought explosion that seems to hit climax before the song is half over. And a guitar solo! Then—wait for it—an ethereal interlude with Hamilton's own inserted lyrics ("In a still and quiet place / We still can feel his warm embrace"). Another build-up. Another cacophonous guitar climax, some heady drum rolls, and a full 60 seconds of seemingly impromptu audience accompaniment. A truly bizarre marathon interpretation that is so entertaining it is worth hearing. —ZS
17. Fadi Peter (YouTube performance, 2014): One of the great indignities of writing a song as memorable (and singable) as "Hallelujah" is that people use it to hang all kinds of stuff on. Like this Christmas carol version ("The shepherds left their flocks by night/To see this baby wrapped in light"), which must have surprised the Zen Jew Cohen. Got your wisemen three. —SE
16. Bono (Tower of Song: The Songs of Leonard Cohen, 1995): Dubby drum machines, faux-rap delivery and falsetto squeals, oh my. An amusingly weird, if not quite successful, attempt. In The Holy or the Broken, Bono apologizes for this sub-Zooropa bastardization ("I didn't just let myself down, or my parents, I let the whole school down"), but it's miles more fun than the thousandth American Idol run-through. —ZS
15. Jason Castro (Jason Castro, 2010): The dreadlocked American Idol star's recording is stripped down and passable, even if it has little to add to previous versions. In 2008, the singer's Idol performance reportedly shot Jeff Buckley's cover up the charts. At least that's a public service. —ZS
14. Meghan Gray (Just Pieces of Me, 2014): An entirely adept acoustic take from a largely anonymous 16-year-old singer with a smoky voice from Ware, England. Difficult to find much information about her online, but easy to find on Spotify. —ZS
13. Chris Botti (Chris Botti in Boston, 2009): An easy-listening trumpet performance of "Hallelujah" sounds dreadful in theory, and yet I like the silky, minimalistic sound of Botti's interpretation, and the odd liberties he takes with the melodic phrasings. Plus, he keeps it short and sweet. —ZS
12. Hannah Trigwell (The Cover Sessions, 2011): More proof that pretty much anyone with some worthwhile vocal range can upload a cover of the track and wind up with five million YouTube plays, the English singer-songwriter's version is faithfully sung and sparsely accompanied in the style of Jeff Buckley's immortal cover. —ZS
11. Brian Crain (Piano and Light, 2011): A muted and delicate instrumental rendering of the song for piano. Hard to mess this one up. —ZS
10. Jake Shimabukuro (Peace Love Ukulele, 2011): Any great song should be able to pass the ukulele test, and the Hawaiian-born Shimabukuro takes "Hallelujah" for a serious spin here, grimacing like Carlos Santana when he picks the opening notes before settling into some Segovia-like phrasing, and then crushing the chords like Townshend. Sing along if you like, Jake's not going to. —SE
9. Paramore (The Final Riot!, 2008): Is this one even a cover? Sort of! More specifically: The popular Tennessee-based band performs an excerpt from the track on its 2008 live LP just before launching into its own track, also named "Hallelujah." Vocalist Hayley Williams's octave leap is impressive enough; you wish she'd finish off the track. —ZS
8. Leonard Cohen (Various Positions, 1984): Want a laugh? Play Cohen's original 1984 recording of the track out of context for pretty much anyone who isn't a Cohen devotee. "Who's this guy and why's he butchering the melody?" they might ask. "What's with the talk-singing and the cheesy bass synth? He can't sing it! And the lyrics are off!" (Regina Spektor says her reaction to hearing Cohen's version was: "Why did he add all this other stuff?") Here's the thing: They're not wrong! Various Positions marked a critical and commercial disappointment in Cohen's career, and though the recording is a fascinating artifact, the singer turned out not to be the best performer of his own standard. Like "All Along the Watchtower" before it, "Hallelujah" is the rare classic song that remained somehow unfinished until the right interpreter came along and found it. —ZS
7. Brandi Carlile (Live at Benaroya Hall with the Seattle Symphony, 2011): Seems 2011 was a big year for "Hallelujah." The pairing of orchestral string arrangements with otherwise spare guitar arpeggios is an interesting choice, and so are Carlile's odd vocal syncopations on the verses. The climax is big but not cheesy, and obviously indebted to Buckley's rendering. —ZS
6. Bob Dylan (various live performances, 1988): In the late '80s, at a time when American Idol didn't exist and Rufus Wainwright was in high school, Dylan was among the first to grasp the potential of "Hallelujah." (One anecdote has him asking Cohen how long it took to write, to which the singer replied, "A couple of years." Cohen asked the same of Dylan's "I and I" and Dylan replied, "Fifteen minutes.") Not knowing the song would later come to prominence as a theatrical ballad, Dylan began playing it on his 1988 tour as an uptempo blues-rock shuffle. Dylan's gravelly, impatient delivery is a treat ("Halle-looooo-ya!"), and the version's recklessness is charming, as is its total unawareness of the melodic phrasings Cale and Buckley would soon popularize. (Dylan never recorded the track, but you can hear two sample renditions here.) —ZS
5. k.d. lang (Hymns of the 49th Parallel, 2004): There's no single tipping point when an international moratorium on "Hallelujah" started to seem like a good idea, but lang's performance at the 2010 Vancouver Olympics is as good a guess as any. But when she recorded the song half a decade earlier, for 2004's Hymns of the 49th Parallels, she became one of the last great contemporaries of Cohen to make the song her own—just before it slid into American Idol oblivion. Like most piano-driven versions, this one owes a lot more to Cale's "Hallelujah" than Cohen's (like most modern interpreters, she rescues Cohen's abandoned "How to shoot somebody who outdrew ya" verse), but the vocal take is uniquely her own, a performance that is smooth and fluid as it slides up and down the scales, but never soulless. —ZS
4. Regina Spektor (concert for the Jewish Heritage Festival, 2005): Russian-born "anti-folk" star Spektor never actually recorded "Hallelujah," which is a minor tragedy of its own. Her version, performed live at the Jewish Heritage Festival when she was just 25, is vulnerable, searching and understated in the best ways. Even the accompaniment is strangely muted and minimalist, though the staccato cello notes and increasingly prominent swells are a gorgeous touch. And instead of culminating with artificial climax, the song fades into near-silence. As "Hallelujah" chronicler Alan Light notes, Spektor's version "attains some of the triumphant confusion that Cohen intends." —ZS
3. Rufus Wainwright (Shrek: Music from the Original Motion Picture, 2001): Wainwright's take is lovely, unadorned and efficient in tempo—and similar enough that hardly anyone noticed when it was swapped in for Cale's on the Shrek soundtrack. (Cale's pops up in the film, though legend has it producers wanted a Dreamworks artist for the soundtrack. The boost to Wainwright's career was immediate, and deservedly so.) The timing of Wainwright's recording marked a sort of watershed mark for the song's popularity, and because of its soundtrack placement, it remains overwhelmingly recognizable among younger audiences. —ZS
2. Jeff Buckley (Grace, 1994): So many of the song's fans believe Buckley wrote "Hallelujah," and he may as well have, in a sense: He reimagined it in remarkable ways and brought it to popular light, even if he never lived to see the effect. Buckley's unforgettable recording, which serves as the centerpiece of 1994's Grace, opens with a literal exhale and closes with Buckley dragging out the titular exultation for 10 soaring seconds. In between, the singer deconstruct's Cohen's song as a trembling, achingly raw solo performance set to lilting electric guitar figures. There are highlights: the way Buckley's voice threatens to crack on the "Cold and broken" phrase, the way his murmur rises suddenly to a shout around the six-minute mark, the way the ebb-and-flow guitar arpeggio first enters the track 47 seconds in. Buckley described the song as "a hallelujah to the orgasm…an ode to life and love," and his version is a dreamlike gift that guarantees a lasting legacy for the late performer. —ZS
1. John Cale (I'm Your Fan, 1991): Sparse, haunting, and impeccably sung, the former Velvet Underground member teased out the song's melody in a way Leonard Cohen never could. Though he didn't write the song, Cale's interpretation rescued "Hallelujah" from permanent obscurity and established what it could—and should—sound like, rescuing several deserving verses from the cutting room floor in the process. (Legend has it Cohen faxed him 15 pages' worth of abandoned lyrics.) For the piano phrasings alone, Cale deserves credit (or blame) for every "Hallelujah" that has come since. —ZS
*A quick note: Though Cohen may previously have sung it in more intimate settings, Setlist.fm, The Holy or the Broken author Alan Light and 1heckofaguy.com moderator Allan Showalter—"arguably the greatest living Cohen expert"—each confirm that Cohen's January 31, 1985 show marks the first known performance of the song.